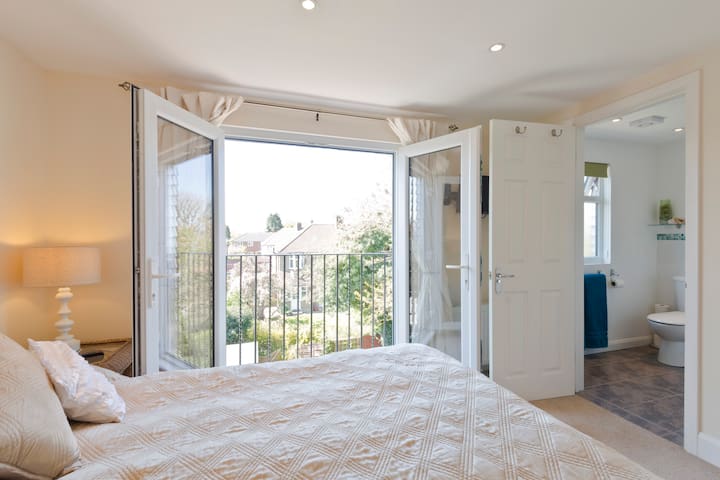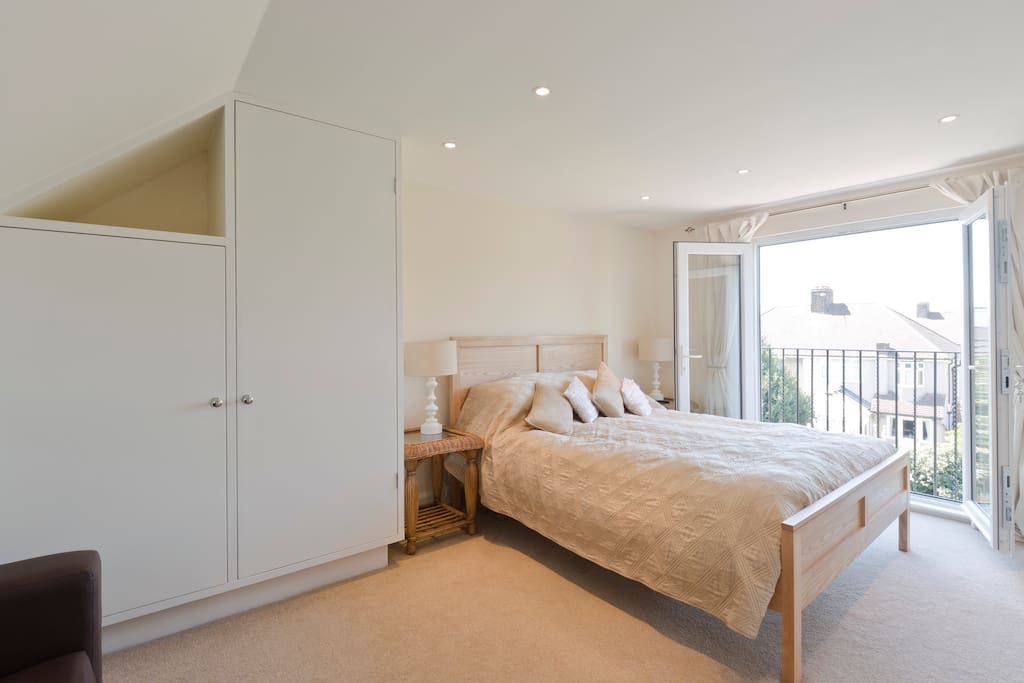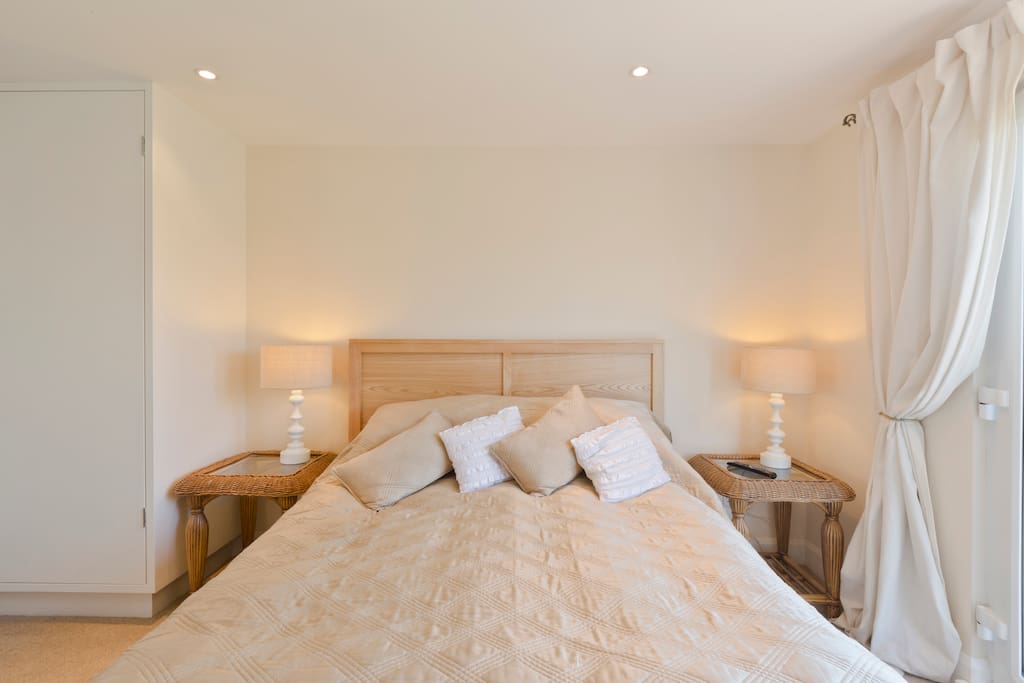 킹 사이즈 침대, 소파 침대, 간이 주방 및 샤워 실이있는 새로 지어진 로프트 공간은 1 인, 2 인 또는 1 인 가족을위한 편안한 객실을 제공합니다. 런던 중심부와 RFU Twickenham에서 본선 열차 연결부에 가까운 거리에 있습니다.
Newly built loft space with king size bed, sofa bed, kitchenette and shower room offers comfortable accommodation for one, a couple or small family. Located a stone's throw from main line train connection to central London and from RFU Twickenham
숙소
이 로프트 스튜디오는 Greater London의 Twickenham 지역에서 편안한 숙박을 위해 필요한 모든 것을 갖추고 있습니다. 2 층의 방은 방금 지어졌습니다. 킹 사이즈 침대, 뒤뜰 정원을 내려다볼 수있는 발코니가 딸린 발코니, 전자 렌지 / 일반 오븐, 2 개의 링 호브, 냉장고, 세탁기, 싱크대 및 다리미 시설, 주전자 및 프리뷰 (웹 사이트 숨김)가있는 간이 주방이 마련되어 있습니다. 어린이를위한 이상적인 인원을위한 소파 베드, 대형 옷장, 좋은 크기의 간이 샤워 실이 있습니다.
This loft studio has all you will need to make a comfortable stay in the Twickenham area of Greater London. The room, on the second floor, has just been built. In the room you will find: king size bed, julliette balcony overlooking rear garden, a kitchenette area including microwave/conventional oven, two ring hob, fridge, washing machine, sink and ironing facility, kettle and (website hidden) with freeview. There is a sofa bed for extra persons ideal for children, a large wardrobe and good sized ensuite shower room.
사용가능 공간/시설
손님들은 숙박 시설이 자체 포함되어 있으며 본관과 시설을 공유 할 필요가 없음을 알게 될 것입니다.
Guests will find their accommodation is self contained and will not need to share facilities with the main house.
기타 사항
차와 커피 및 아침 식사의 필수품이 스튜디오에서 제공되며 도착시 기다리고 있습니다. 주차 공간이 없습니다. 나는 wifi 코드, 레스토랑 추천 및 기타 유용한 정보를 많이 포함하는 방에 폴더를 제공합니다.
Tea and coffee and breakfast essentials will be provided in the studio and will be waiting for you on arrival. Off street parking is available. I supply a folder in the room containing wifi code, restaurant recommendations and plenty of other useful info.
We politely request no smoking, no pets and no extreme noise after 9 pm.
기타 알아두어야 할 사항:
고양이가 숙소에 있습니다
Great stay. Laura's house is an excellent location and just a short walk to local shops and restaurants. Laura advised us on the Indian restaurant which I would highly recommend. The loft where we stayed was particularly quiet and the bed was very comfortable. Parking was easy and we were just a ten minute walk to the train station. Overall, an enjoyable evening and we would go back again!
---
Very nice and buautiful room. LAURA provide everything and also Very helpful to give Me All the infomations. The restaurant she recommended to us also Very nice. The only one thing is the location is bit far away than i image which it took Me 35pounds by taxi from the airport So you better Choose other way to go Then I Will recommend this place. tks!
Thanks for the positive comments Xia. Such a shame you decided to ignore my advice and get a black cab. I did explain to you this is the most expensive method to get here , I recommended using Uber, and I also offered you a telephone number of a local cab company who could have picked you up for half that price.
---
내가 집에서 일하면서 손님들은 나에게 인사를하게 될 것이고, 나는 보통 당신을 맞이하고, 당신을 소개하고, 어떤 질문을 설명하기 위해 선물한다. 나는 현지 지역, 방향, 방의 시설에 관한 질문 등에 대한 더 자세한 정보를 제공하기 위해 체재 중에 도움을 드릴 것입니다. 귀하의 방문 중에 멀리있는 특이한 이벤트에서 전체 정보가에 대한 액세스와 관련하여 미리 주어질 것입니다. 집과 지역 정보.
Guests will normally be greeted by me, Laura as I work from home and I am usually present to greet you, introduce you to the room and explain any queries. I will be on hand throughout the stay to help with any further information about local area, directions, questions about facilities in room etc. In the unusual event that I am away during your visit full info will be given in advance with regard to access to the house and local area information.
I am a Mum of three with a son and daughter at Uni and a daughter at school here in Whitton.

I work from home and love to travel. We have a soft spot for the Algarve and regularly stay at friend's B&B just outside Lagos. Having somewhere comfortable, clean and friendly to stay makes a trip enjoyable and I do enjoy being able to offer this to visitors to our part of London.

I studied in France and Germany many years ago at Uni and although not fluent by any stretch of imagination I can make myself understood and would welcome opportunity to converse again!