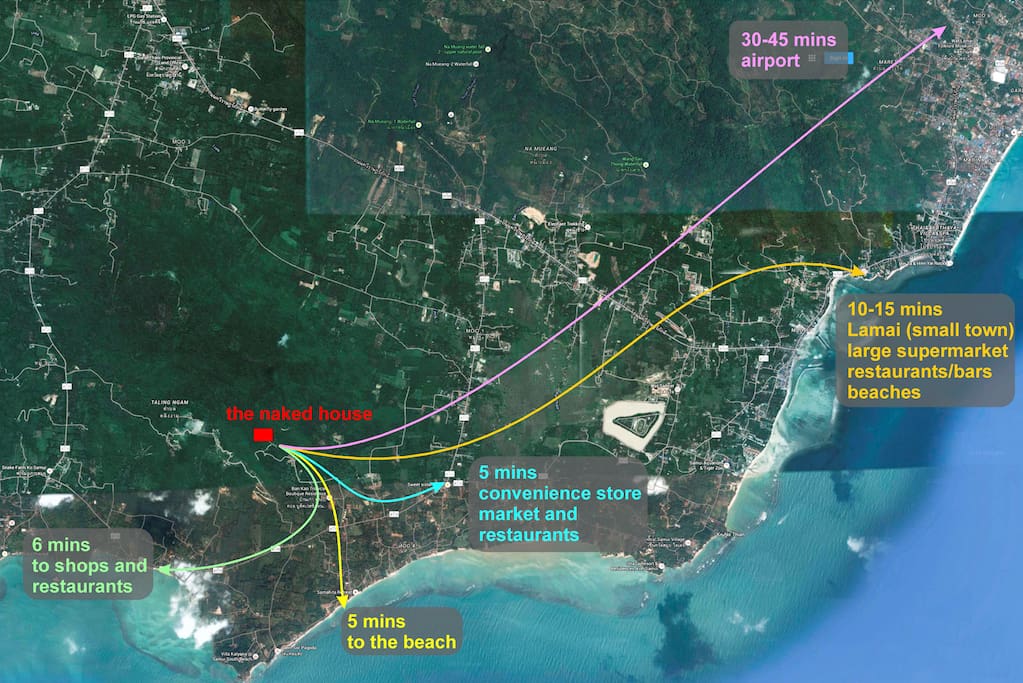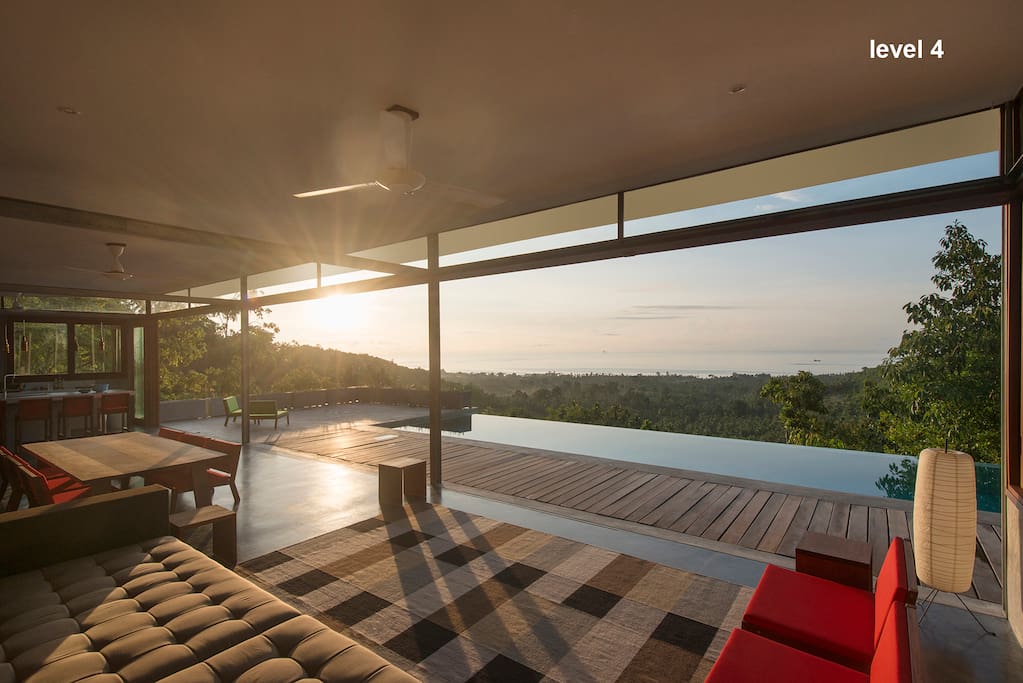 코 사무이 (Koh Samui)의 남쪽에 위치한 건축 빌라는 자연과 자연이 조화를 이루고 있으며 멋진 바다 전망을 자랑하며 훌륭한 해수 무릎 풀이 있습니다. 언덕의 절반 정도, 황혼에도 mozzies없이 자연의 바람을 가져옵니다. 최소한으로 설계되었지만 특성을 최대한 활용합니다. 벽은 벌거 벗고 남겨져 있기 때문에 그것은 벌거 벗은 집이라고합니다. 6 명의 성인과 5 명의 어린이를위한 공간이 있습니다 ... 렌탈 가격은 슬라이딩 스케일로, 더 많은 손님과 가격이 올라갑니다. 한 파티에만!
Architectural villa on the south side of Koh Samui, private and in a natural environment, it has great sweeping ocean views and has a great salt water lap pool. Half way up a hill, it gets natural breezes, whithout mozzies even at dusk. It is minimally designed, but takes maximum advantage of the nature. It is called the naked house because the walls are left naked. It has space for 6 adults and 5 children ... rental price is on a sliding scale, more guests and price goes up. One party only!
숙소
"알몸의 집"에있는 알몸의 집은 벗은 집이 반드시 주민 일 필요는 없다는 것을 의미합니다 .... 이 집은 매우 조심스럽게 계획되고 설계된 집이며, 자연 보호 구역이 3면으로 둘러싸인 자연에 매우 개방되어 있습니다. 그것은 언덕을 사이에 두지 않은 파노라마 바다 전망을 가지고 있습니다. 건물. 건축가, 디자이너, 사진 작가이자 예술가 인 Marc는 지난 몇 년 동안 집을지었습니다. 그는 집을 설계했으며 모든 가구는 맞춤 설계되었으며 그로 인해 제작되었습니다. 세부 사항에 대한 많은 관심이 들어 왔고 귀하가 그것을 볼 수 있기를 바랍니다. 밤에는 특히 조용합니다. 모기가 없기 때문에 창문을 열어 잠을 자거나 안뜰 밖에서 황혼에 앉을 수 있습니다 !!! 가족 및 친구를 수용하면서 편안한 휴가를 보낼 수있는 완벽한 장소입니다. 킹 사이즈 침대가있는 3 개의 메인 침실과 샤워 및 욕조가있는 인접 욕실이 있습니다. 주 침실 두 개에 이층 침대 세트가있는 어린 이용 방이 있습니다. 가장 낮은 층에는 아이들을위한 싱글 침대 2 개와 싱글 침대 1 개를 갖춘 기본적인 작은 방이 있으며, 관리인을위한 기본 객실입니다.이 2 개의 객실은 욕실을 공유합니다. 모든 침실에는 에어컨이 있고 킹 사이즈 침실에는 귀중품을 보관할 수있는 금고가 있습니다. 문이 닫혀있는 부동산이 1km 도로의 끝에 있고 집이 부동산의 끝과 맨 위에 위치해 있기 때문에 매우 안전하고 사적입니다. 주어진 시간에 오직 한 파티가 집을 차지할 것입니다.
The naked in "the naked house" refers to the house being naked not necessarily it's inhabitants....
This house is a very carefully planned and designed house, it is very open to the nature, being surrounded from 3 sides by a nature reserve. It has a panoramic ocean view which is flanked on both side by hills without any
buildings.
Marc the owner, who is an architect, designer, photographer and artist, has build the house over the last few years. He designed the house and all the furniture was custom designed and made by him as well. A lot of attention to detail has gone into it and we hope you will be able to see it.
It is very quiet, especially at night. One can sleep with the windows open, or sit at dusk outside on the patio, as there are no mosquitoes!!! It is the perfect place to have a relaxing holiday while accommodating family and friends.
There are 3 main bedrooms with king size beds with adjacent bathrooms with shower and baths. There is a kid's room with a set of bunk beds close to two of the main bedrooms.
On the lowest floor is a basic large room with 2 single beds for kids as well and a basic small room with one single bed, great for a caretaker, these 2 rooms share a bathroom.
All bedrooms have air conditioner and the king size bedrooms have safes for valuables.
It is very secure and private as the gated estate is at the end of a 1km road and the house is located at the end and the top of the estate.

At any given time only one party will occupy the house.
사용가능 공간/시설
집 유지 서비스는 5-6 일 오전 9 시부 터 오후 5 시까 지 제공됩니다> (주말 서비스는 추가 비용으로 준비 할 수 있음) 요리가 준비 될 수 있습니다. 파티 (1-4 명) 하루 2 끼 식사 대형 파티 (5-11 명(URL HIDDEN) 2-3 일마다 침구와 수건이 교체됩니다. 가정부는 귀하의 개인 정보에 매우 민감합니다. 2 명의 손님 만있는 경우, 아침에 빠른 청소를 제공 할 것이며, 큰 그룹을 위해 하루 종일있을 수 있습니다. 모든 침실과 거실에서 좋은 와이파이. 일년 내내 12mx 3.5m 해수 수영장 (27도) 많은 영화 및 TV 시리즈가있(URL HIDDEN)하드 드라이브 자신의 장치에 연결할 수있는 블루투스 사운드 시스템이 거실에 있습니다.
House keeping service is offered 5-6 days 9am-5pm>
(weekend service can be arranged for extra)
Cooking can be arranged; for parties (1-4 people) 2 meals a day
for large parties (5-11 people) 1 meal per day
Every 2-3 days bedding and towels will be changed.
The housekeeper is very sensitive to your privacy.
If there are only 2 guests, she will only be there in the morning to give a quick clean, for larger groups she can be there all day.
Good wifi in all bedrooms and living room.
12mx 3.5 m saltwater pool at 27 degrees all year round
3tv's and 3 harddrives with many movies and tv series
Blue tooth sound system in the living room, that can connect to your own device.
게스트와의 교류
집은 11 명을 잘 수 있지만 3 개의 메인 침실은 어른이나 아이들을위한 것이지만 아이의 방은 어린이나 메이드만을위한 것입니다. 그것은 단지 2에 대해서만 임대 할 수 있습니다. 집은 한 번에 한 파티에만 임대되며 가격은 파티원의 수에 비례하여 조정됩니다 ...
Although the house can sleep 11 persons
the 3 main bedrooms can be for adults or kids, but the kid's rooms are only for kid's or a maid.
It certainly is possible to rent it for just 2 only
The house will be rented only to one party at a time and prices are adjusted proportionally by the number of people in your party...
기타 사항
성수기에는 최소 2 인의 침실 투숙 가능. 공항 픽업을 준비 할 수 있으며 다양한 액티비티 일정을 계획 할 수 있습니다. 집 관리인은 자동차 또는 스쿠터 대여를 준비 할 수 있으며 하우스 키퍼는 마사지를 준비 할 수 있습니다.
Only in peak season dec-jan a minimum of 2 bedroom occupancy is
Airport pick up can be arranged and also various activities can be scheduled.
Our house manager can arrange rental of cars or scooters and our house keeper can arrange massages.
---
---
추가 인원 요금 ₩52443 / 박 (2명 초과 시)
언제나 에어비앤비를 통해 대화를 나누세요.
안전한 결제를 위해 에어비앤비 웹사이트나 앱 외부에서 송금하거나 대화를 나누지 마세요.
더 보기
---
Although the house is very private and surrounded by nature there are some people who live nearby and they are very keen to keep the area reasonably quiet, so if you are looking for a "party" house please look elsewhere....
Other then that we use "common sense" house rules...
---
---
---
OVERPRICED, DISAPPOINTING. Given the great reviews, pictures, and high price charged, the 7 of us (who stayed at dozens of villas in the past) thought we had booked ourselves something unique here. Our biggest disappointment was to find that the house is fully furnished with a combination of Ikea products and amateurish carpentry that reminded us of cheap hostels. Even bathrooms could hardly have been done more basic. Nothing in the house came quite close to the designer touch or the luxury feel we were expecting to find. Other disappointments included: -Apart from the 3 main bedrooms, one has a choice between the cheapest of Ikea's bunk beds in a viewless shelter or the moist and remote maid's room all the way down the property, neither of which is appealing. -We were told to be warry of small snakes occasionally coming inside the house. Why then use a system of sliding doors and windows that leaves wide gaps for snakes and insects to invite themselves into all bedrooms? We had to hunt cockroaches with a spray and that was not part of our expectations. -Why have a cleaning lady come only Mon-Fri when guests are staying every day? It's a bit like a hotel telling you your room would not be cleaned if you happen to stay on a weekend. -Clumsy communication beforehand, with Ladas taking an average 3 days to answer (half) our questions. The scooter we requested was booked on the wrong dates and the money was collected directly in our wallet by Nok while we were sleeping. -View from the master bedroom was fully obstructed by the roof of the living room. This seemed like some kind of architectural mistake. We did enjoy the great view from the living room, the clean & wide swimming pool, and the well equipped kitchen. But our overall feeling remains that this villa was built solely for tourists, trying to create the illusion of luxury with the cheapest materials around. Most people seem satisfied with this, but most people also tend to forget the value ratio (quality/price) when leaving reviews. High price leads to high expectations, very few of which were met here. Plus you know something is wrong when you pay half price for another Villa elsewhere on the island and find it twice as good. We will not come back to the naked house and do not recommend it.
Everyone is entitled to an opinion, but after hosting more than 150 happy guests in the last 2 years, this is the first time we have received such an out of touch negative review. Instead of arguing with one disappointed guest, I am confident that common sense will prevail after you read what other guests have to say about their stay and about the no-frill design of The Naked House. Also If you (SENSITIVE CONTENTS HIDDEN) "The Naked House" check out what many design bloggers and professionals are saying.
---
The house was just as described and represented in the photos. Absolutely stunning and secluded and private. We also appreciated that it was in a gated private community, making us feel very safe. Do note that the house is very much nestled in the jungle so there are many mosquitos, lizards, and insects. So come prepared with bug repellant, and they won't bother you if you don't bother them. The option for P'noy cooking meals was a life saver as we didn't have a car or scooters and taxis are quite expensive on the island so that was great. Overall an amazing house, very well managed, and we thoroughly enjoyed ourselves. It is quite far from any restaurants and such so you will need to arrange transportation or be willing to pay for taxis or bring food. Thanks again for sharing your beautiful home!
---
I recommend this place for 5 people or more traveling. Really close to nature (mosquitoes), in daylight we spotted a hummingbird, and frogs after dusk (inside the villa). Gets a bit scary at night as the host warned us about snakes... as the house is naked in structure.
The naked house is designed to connect you to nature and let you experience an open style of living that all of our guests love! If you only stay for one night you do not give yourself the chance to experience it, that is why most stay for longer. All bedrooms can also be safely closed off and you can enjoy the views and beautiful surroundings from the safety of an air-conditioned room.
---
It's difficult to describe how amazing the house is only with the word, but I can say the naked house is the best house I have ever lived. Besides to brilliant design, services by house manager and house cleaner are good as well. So if you have choice to live here, don't wait!
---
i am a professional creative, usually busy with design architecture art and photography, i build my places myself putting a lot of effort in special design details


언어:
Deutsch, English, Español, Français, Nederlands