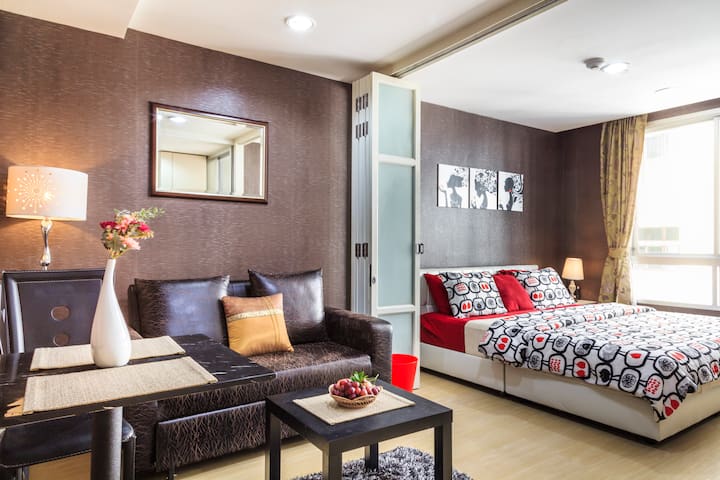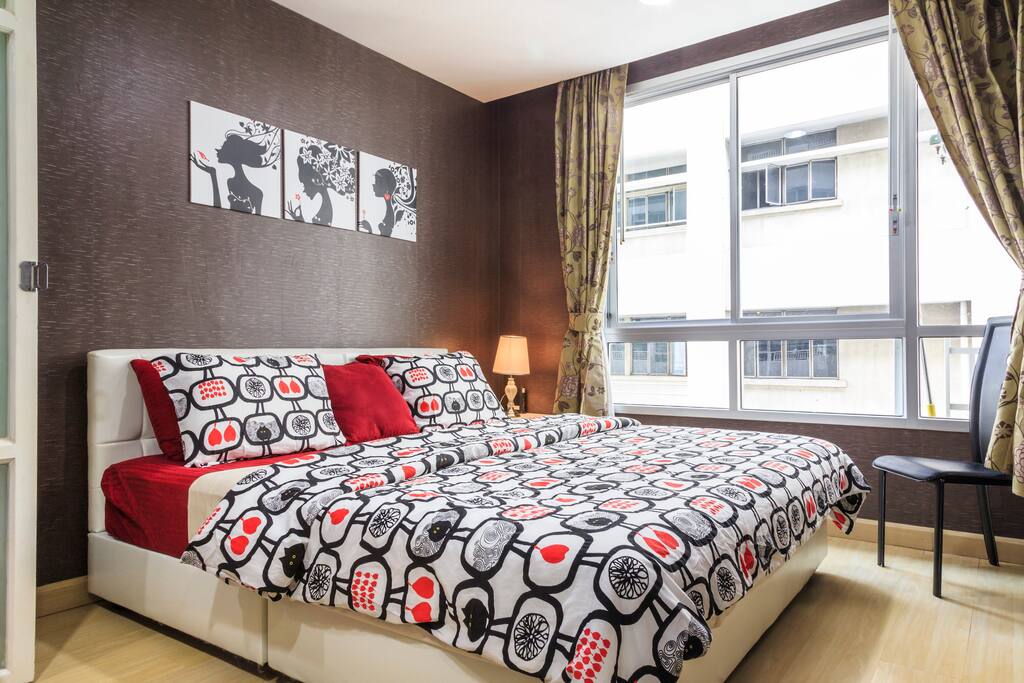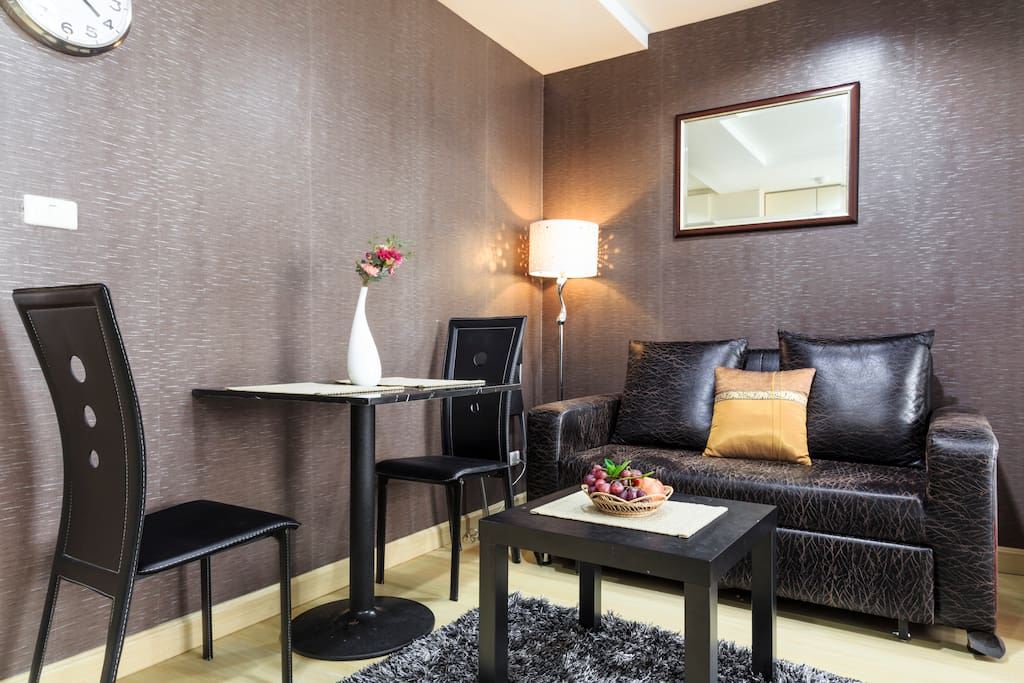 Hip Studio Of BKK+River+BTS+WIFI
###이 에어 비앤비 링크 www.airbnb.ca/c/btymko에 가입하시면 장래 여행 액티비티로 37 달러를드립니다. 돈을 절약 할 수있을 때 더 많은 돈을 버는 이유 !! ### Hip studio는 방콕의 중심부에 위치하고 있으며 BTS 및 Chao Praya River까지 도보로 이동 가능한 거리에 있습니다. 이 객실은 17 층 콘도 콤플렉스의 12 층에 위치하고 있습니다. 객실은 최근 개조 공사를 마쳤습니다.
###Sign up with this Airbnb link www.airbnb.ca/c/btymko and you will get US$37 for your future travel credit. Why pay more when you can save some money right!! ###
Hip studio is located in the heart of Bangkok and is within walking distance to BTS & Chao Praya River. The room is situated on the 12A floor of 17 story condo complex. The room is recently renovated.
숙소
****이 방을 예약하는 데 관심이 있지만 같은 콘도 건물, 다른 층에있는 기본적으로 같은 방에있는 다른 목록을 전체적으로 확인하십시오. 그것은 또한 놀라운 리뷰 !! **** https://www.airbnb.ca/rooms/6489423 https://www.airbnb.ca/rooms/1026451 https://www.airbnb.ca/rooms/4244264 이 현대적인 스튜디오는 별도의 주방, 분리 된 침실 및 거실 공간뿐만 아니라 온수가 나오는 서양식 3 피스 욕실을 갖추고 있습니다. 이 객실에는 킹 사이즈 침대를 갖춘 2 명이 잘 수 있으며 거실에 편안한 소파 베드가있는 다른 손님을 수용 할 수 있습니다. 잘 갖춰진 주방에는 새로운 풀 사이즈의 삼성 냉장고, 가벼운 식사 준비에 필요한 요리 용 전기 핫 플레이트, 토스터, 커피 포트, 식기류, 냄비, 팬, 안경 및 주방이 있습니다. 우리는 또한 인스턴트 커피에 설탕과 크림을 제공합니다. 엔터테인먼트를 위해 새롭게 선보이는 32 인치 LCD TV는 230 개의 채널을 갖춘 케이블 TV와 50 개의 DVD를 갖춘 DVD 플레이어를 제공하며, 고속 ADSL 인터넷 연결도 이용 가능합니다.
**** If you are interested in booking this room but find it full check out my other listing which is basically the identical room in the same condo building, different floor. It also has amazing reviews!!****
https://www.airbnb.ca/rooms/6489423
https://www.airbnb.ca/rooms/1026451
https://www.airbnb.ca/rooms/4244264
This bright modern studio features a separate kitchen, a partitioned bedroom and a living area as well as a western style 3 piece bathroom with hot water.
This room easily sleeps two people with King size bed and could accommodate another guest with a comfortable sofa bed located in the living room.
The well equipped kitchen features a brand new full size Samsung Fridge, an electric hot plate for cooking, toaster, coffee pot, cutlery, pots, pans, glasses and utensils needed for preparing light meals. We also provide instant coffee with sugar and cream.
For entertainment, a new 32" LCD TV is provided with access to cable tv featuring 230 channels, as well a DVD player with 50 assorted DVD's at your disposal. A high speed ADSL wifi connection is available for your stay as well.
게스트와의 교류
나의 부모님, 현지 태국인 거주자는 몇 블록 떨어진 곳에 살며 대부분의 경우 콘도 접근에 필요한 열쇠와 카드를 제공합니다. 뿐만 아니라 초기 오리 엔테이션, 택시, 현지 음식 및 교통에 대한 조언은 물론 특별 요구 사항과 같은 작은 물건도 기꺼이 도와줍니다. 그들은 완벽한 영어를 구사하지 못하지만 손님들과 제대로 의사 소통하는데 문제가 없습니다. 방콕 내 주요 관심사, 문제 또는 여행 조언은 필요하다면 부모님을 통해 지역 조정이 가능하도록 이메일로 보내 줄 수 있습니다.
My parents, local Thai residents, live a few blocks away and will in most cases, provide the key and card necessary for access to the condo.
As well, they are more than willing to help out with little stuff like initial orientation, taxis, advice on local food and transportation as well as any special needs you might have.
They don't speak perfect English, but we have never had issues communicating properly with guests.
Any major concerns, problems or travel advise within Bangkok can be emailed to me with local help possibly coordinated through my parents if necessary.
기타 사항
왜 HIP STUDIO에 머물러야합니까? *************************************************** ******************** 당신이 전형적인 여행자 함정을 밟아 나가는 것을 즐기는 사람의 유형이고 당신이 지방 주민 같이 더 많은 것을 살 수있는 가정에서 멀리 가정을 원하는 경우에, 이것은 당신을 위해이다. 많은 것들에 가깝기 때문에 방콕에서 집처럼 느낄 필요가 없습니다. 뿐만 아니라,이 콘도에 머물면서 방콕 근처에서 실제 생활을 즐길 수 있습니다. 지역 주민들이 일하고 음식을 먹고 술을 마시고 쇼핑을 즐기면서 방콕의 삶에 대한 통찰력을 얻을 수 있습니다. 관광 지역에 체인 호텔을 세우는 것보다 훨씬 낫습니다. 예약 고려를 위해 2 개의 검증, 사진 및 간단한 설명이 포함 된 프로필을 작성하십시오. 나는 당신의 프로필이 단지 이름으로 비어 있다면 받아들이기를 거부했다. 모든 예약은 에어 비앤비를 통해 이루어져야합니다. 에어 비앤비 취소 정책을 존중해야합니다. ~~~~~~~~~~~~~~~~~~~~~~~~~~~~~~~~~~~~~~~~~~~~~~~~~~~~~~~~~~~~~~~~~~~~~~~~~~~~~~~~~~~~~~~~~~~~~~ 조기 체크인 및 체크 아웃 시간은 객실 가용성에 따라 달라질 수 있습니다. 전날 밤 다른 게스트가 콘도에 머물렀다면 그 장소에 조기 접속을 허용하는 것은 불가능합니다. 잠정 체크인 예정 시간보다 오후 2시 이전에 체크인을 하시거나 오전 11시 이후에 체크 아웃 하시려면 출발하기 전날 밤 예약을하셔야합니다. 도착하기 전날 밤 달력에 공석이 표시 될 수도 있지만 언제든지 바뀔 수 있습니다. 한 번의 여행으로 2 개의 별도 예약을하는 경우, 부재시에는 객실에 물건을 보관할 수 없습니다. 이는 귀하의 부재시에 임대 할 수있는 능력을 분명히 저해 할 것입니다. "두 어린 소녀의 부모로서, 우리는 태국이나 다른 나라의 매춘 현장에 팬이 아니다. 그러한 활동을하고자하는 손님은 대체 숙박 시설을 찾는 데 더 적합 할 것이다" 이러한 정책에 대해 궁금한 점이 있으면 문의하십시오. 우리는 손님들이 자신의 집에 머물 때처럼 편안함을 느끼도록 최선을 다할 것입니다. 나는 모든 질문에 매우 신속하게 응답한다. 건배, 벌 추신. 우리는 샴푸, 컨디셔너 및 샤워 목욕을 제공합니다. 헤어 드라이기도 장치에 있습니다.
WHY STAY AT HIP STUDIO?
**********************************************************************
If you're the type of person who enjoys stepping out the the typical tourist traps and wants a home away from home where you can live more like a local, this is for you. So close to many things, you don't have to go far to feel right at home in Bangkok.
As well, staying in this condo provides access to real life in a Bangkok neighbourhood. You'll gain insight into life in Bangkok, with locals residents working, eating, drinking, shopping right around you. Much better than staying at a chain hotel set in a tourist area.
For reservation consideration please have a profile with 2 verifications, your photo and a brief description of yourself. I refused to accept if your profile is empty with just a name.

All the reservations need to be made thru Airbnb. Airbnb cancellation policy should be respected.
~~~~~~~~~~PLEASE FINALIZE YOUR TRIP BEFORE YOU MAKE RESERVATION~~~~~~~~~~~~~
EARLY CHECK IN AND LATE CHECKOUT ARE SUBJECT TO ROOM AVAILABILITY. It is impossible to allow early access to the place if another guest was staying in the condo the night before.
If a potential guest wants guaranteed access to the room earlier than the 2:00 pm check in or check out later than 11 am time they will have to book the night before they arrive or book a night after your departure. Despite the fact that the calendar might show a vacancy the night before you arrive, this could change at any time.
If you are making two separate bookings at the room on one trip, we don't have the ability to store your stuff in the room during your absence. This would clearly impede our ability to rent it out in your absence.

"As the parents of two young girls, we are not fans of Thailand's, or any other country's prostitution scene. Guests desiring to host such activities would be better suited to find alternate accommodations"
If you have any questions on these policies please ask.
We will try our best to make our guests feel as comfortable as they stay at their own home. I respond to all inquiries very quickly.
Cheers,
Bee
PS. We provide shampoo, conditioner and shower bath. Hair dryer is also at the unit
---
이 숙소는 출장용 숙소로서의 편의 시설을 갖추고 있습니다.
---
---
---
- Children and adults of all ages are welcome to stay here
- No drugs or other illegal activities
- No parties
- No shoes in the apartment (to keep clean)
- Local Thai's will be your next door neighbor in the condo so we would expect a common sense, respectful attitude to make life pleasant for all especially after 10 PM.
- There is a $26 charge if keys and access card are lost or not returned
- Checkout is scheduled for 11am. If you must leave earlier or wish to stay later, then you need to arrange that in advance. And we will do our best to accommodate your request.
-No smoking inside the facilities, please refrain and smoke outside the condo if the need arises.
-Notify immediately in the case of any damages (however minor), relax and make yourself at home.
-For your safety please lock the doors when you are inside, and when going out as well.
-No pets are allowed.
-We would respectfully request that during your absence, your would turn off the AC and lights to conserve.
-As the parents of two young girls, we are not fans of Thailand's, or any other country's prostitution scene. Guests desiring to host such activities would be better suited to find alternate accommodations.
---
---
---
Host is very very kind :-) The condo is very clean and convenient!! This cosy hotel is an excellent base from which to explore the city, with many delicious food and asiatique close by. While traveling, I lost my passport... but, she helped me so I could arrive at my country safety. Thank you again for all your detailed information. :-)
---
Bee&Pimon was very kind. And Room's condition was good. Room furniture was same as picture. I didn't comply with time of check-in. Because my flight was delayed. Pimon waited me until 12:30AM. Also location was good. Grand palace, Kaosan, Wat pho : walk 10min(boat station) + Boat Siam, Chatuchak Market : walk 10min(Saphantaksin station)+BTS Bee와 pimon은 매우 친절합니다. 방 상태도 사진과 같았고 좋았습니다. 사진에서도 느껴지듯이 방의 크기는 크지 않지만 2인이 여행하며 사용하기는 좋습니다. 숙소가 있는 곳은 아주 로컬적인 곳인것 같습니다. 주변 건물이나 상점들이 아주 로컬느낌이 납니다. 그래서 당황스러울 수가 있지만 위치는 아주 좋습니다. 왕궁 왓포 카오산로드를 갈때는 십분정도 걸어서 보트 타는 곳까지 가신 후 보트를 타면 교통체증없이 갈수가 있고 씨암이나 짜뚜짝 가실때도 사판탁신역까지 걸어간 후 BTS를 타면 되서 좋습니다. 하모니크라는 근처 맛집이 있다고 해서 그곳을 찾아갔는데 갈때는 1번버스를 타고 갔습니다. 혹시 가시게 되면 참고하시기 바랍니다. 아쉬웠던건 저는 수영을 아주 좋아하는데 수영장의 크기, 시설, 뷰 등이 별로였다는 점이 아쉽습니다.
---
It was my first visit to Bangkok, and it was my first Airbnb experience. And, I will definitely use Airbnb again wherever it is available. The host of this comfy condo, Bee, and her father, Pimon, were the every reason that made me feel at home. First off, Bee is a great communicator. Although she is not physically in Bangkok, it is so easy to sense her sincerity to help my stay as comfortable and wonderful as possible. She wrote me an e-mail with valuable information for a first-time visitor. Her e-mail was so detailed that I could find many places as if I visited them many time before. But the real thing was from her father, Pimon. He is such a nice and kind man. He brought me dinner as I arrived there on the first day, and during my stay, he brought the breakfast that I would never forget. Although Bangkok is well known for its second to none dishes, the tasty food he brought to me was to be found no where in the city. I'm sorry, but I couldn't get the address of the restaurant he goes to. My sincere thanks should go to Bee and her father, I must say. The city of Bangkok presented me an unforgettable memory, but it was Bee and Pimon who made that memory irreplaceable.
---
Bee and her Father are extremely friendly and accommodating. On our trip to Bangkok, Bee was able to answer any questions we had. Her father met with us check us in and check us out when we left. He was very thorough in making sure we were familiar with the room, and answered any questions we had about Bangkok! The room was clean and had everything we needed. The location of the apartment is about a 10 minute walk to the BTS. To be honest, we had issues travelling around Bangkok quickly in general due to the constant heavy traffic, and everything is quite spaced apart, so the location is really a non-factor. Overall, I would definitely recommend booking with Bee.
Thanks Colin for your kind words. I totally agree on the traffic. It is really bad! Def, other options than taxi or bus would be BTS, MRT, Boat or Motorcycle taxi are around Bangkok. I would suggest my guests to try Boat or even motorcycle taxis. Absolutely great experience :) and faster for sure! We hope to welcome you back soon.
---
이 호스트의 다른 숙소에 대한 544개의 후기가 있습니다.
다른 후기 보기
I was born and raised in Bangkok. Now, I have been living in Canada with my husband and 10 years old twin girls for 14 years. I am a self employed and run a retail business in Southern Alberta.

I mostly enjoy eating, shopping, technology and travels to fun destinations and with fun people.

I LOVE to travel and embrace the passion of adventure. Getting to know countries by seeing, doing, eating, smelling and adventuring is more my style. I am not the tour group style traveller.

My hosting style could be described as helpful, if a person would like a bit of advice or need a bit of help orientating in the area. I certainly can lend a hand on food, destinations and travel recommendations within Thailand and also my father "Mr. Pimon"is nearby and always available to help out. I have encountered the frustrations of language barriers and being scammed when travelling sometimes, so to help other travellers avoid that is a pleasure!!

언어:
English, ภาษาไทย