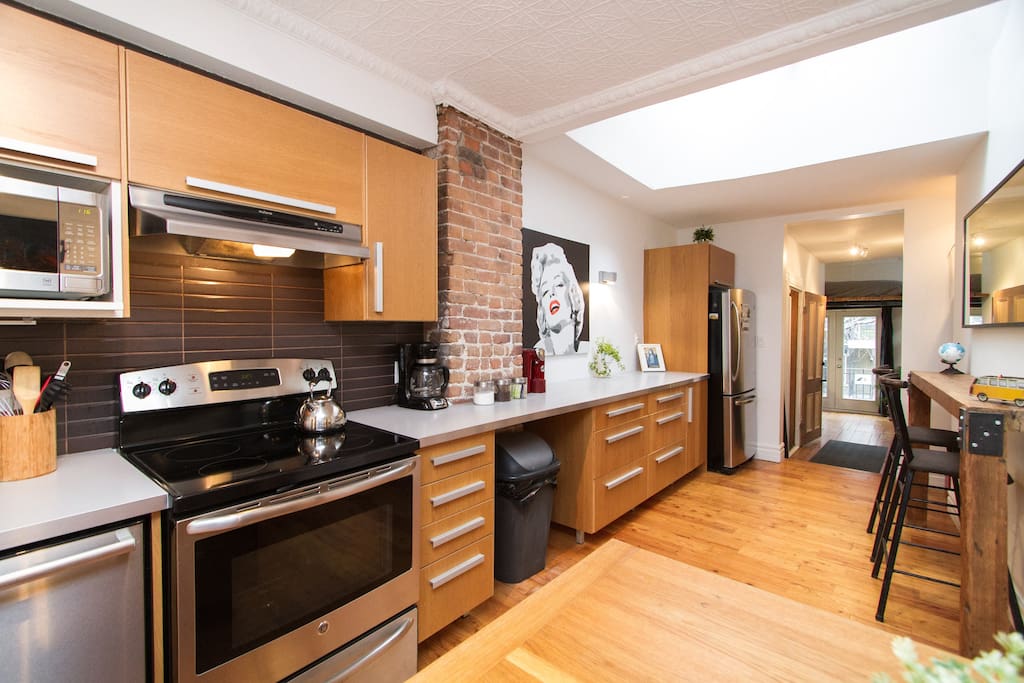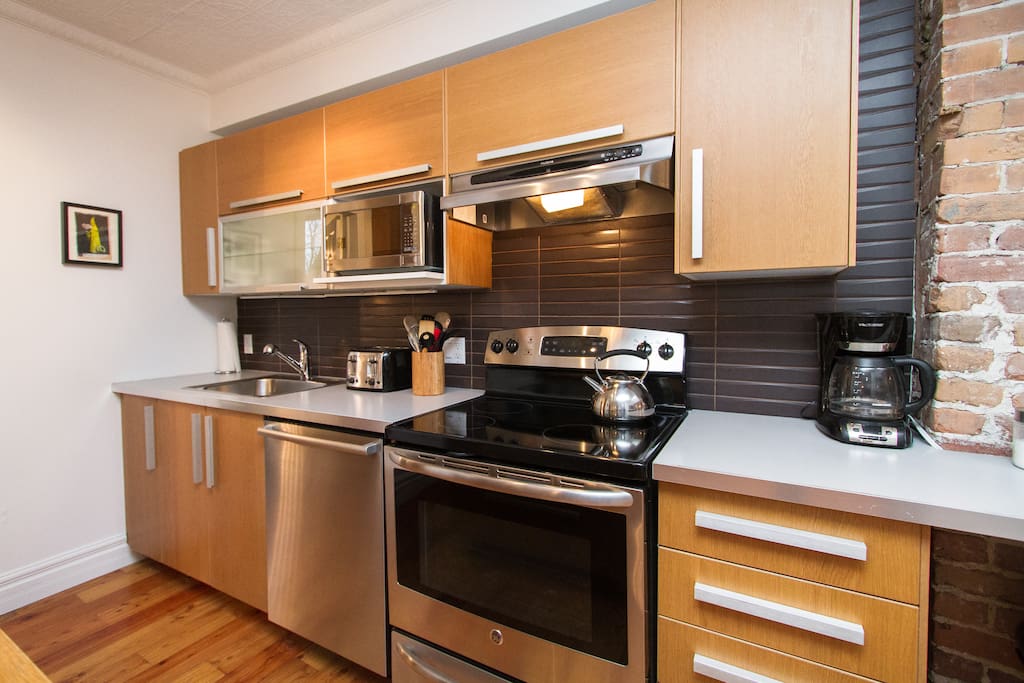 야외 옥상 파티오 및 바베큐 시설을 갖춘 밝고 넓은 몬트리올 로프트 (Montreal Loft)는 여름의 맑은 날씨를 즐기기에 완벽한 곳입니다. 이 독특한 공간은 Plateau의 모든 센터에서 조용하고 질적 인 숙박을 원하는 친구 및 가족에게 좋습니다.
A bright & spacious Montreal Loft, featuring an exterior rooftop patio & BBQ, perfect for enjoying the sunny days of summer outside. This unique space is great for friends and family who want to spend a quiet & quality stay at the center of everything on the Plateau.
숙소
우리가 시작하기 전에, 여기 몬트리올 로프트에 대해 사랑하는 사람들이 있습니다. 1 - LOCATION은 간단합니다. 우리는 모든 곳의 중심에 있으며, 우리 마을의 모든 곳을 우리 곳곳에서 걸을 수 있습니다. 2 - 우리 건물에는 많은 성격이 있습니다. 그것은 1800 년대 후반에 지어진 전형적인 고원의 집이고 로프트는 SPACIOUS를 느낍니다. 천장은 매우 높고 하늘 빛 때문에 자연 채광이 많이 있습니다. 장소는 원래 ARTWORK의 많은 기능과 우리는 따뜻한 여름 동안 시원하게 유지하기 위해 단위에 에어컨을 최근에 설치했습니다. 3 - ROOF TOP PATIO는 바깥 여름 최고의 계절을 즐기고 바베큐 파티와 함께 즐거운 시간을 보내실 수있는 곳입니다. Montreal DreamLoft를 임대하기 전에 고려해야 할 사항은 다음과 같습니다. 1 - 우리는 주거 지역에 살고 있으므로 체류하는 동안 항상 우리 집에서 아무도 허용되지 않습니다. 2 - 우리의 건물은 100 년 이상되었습니다. 우리가 그것을 유지하기 위해 많은 시간과 사랑과 노력을 기울이긴했지만, 화장실은 갓 다시 칠한 CLAWFOOT BATHTUB을 특징으로하는데, 이는 이동성 문제가있는 사람들에게 최선의 선택이 아닐 수도 있습니다. 바닥은 약간 비뚤어져 있으며, 오래된 고원의 전형적인 집이기 때문에 우리가 할 수있는 일은 없습니다. 사실, 대부분의 손님은이 호텔의 매력이 아주 매력적이라는 것을 알게되었습니다. 3 - 다른 모든 오래된 건물과 마찬가지로, 벽은 더 새로운 구조물보다 얇을 수 있으며 이것은 몬트리올에서이 시대에 구축 된 모든 주택에서 전형적입니다. 즉 거주자로서 우리를 괴롭히는 것은 아닙니다. 그래서 우리는 모든 손님들에게 이웃을 존중하고 체류 중에 항상 건물 안팎에서 시끄 럽거나 큰소리로 외 쳐서는 안되는 소리를 지르지 말아야합니다. 또한 우리는 손님들이 오후 11시 이후에 조용해질 것으로 기대합니다. 그래서 당신이 파티 동물처럼 행동하려는 경우, 우리의 장소는 당신을위한 것이 아닙니다. 그러나 당신이 지역처럼 행동하고자한다면, 당신은 당신의 체류를 사랑해야합니다. 이제 이것이 분명해졌습니다. 장소에 대한 설명을 들어 봅시다!
Before we start, here are 3 THINGS PEOPLE LOVE about this Montreal Loft:
1 - The LOCATION is simply amazing. We are at the center of everything and you can walk everywhere around town from our place.
2 - Our building has a lot of character. It's a typical plateau home built in the late 1800's and the loft feels SPACIOUS, the ceilings are very high and it has a lot of natural light because of the SKY LIGHTS. The place features lots of ORIGINAL ARTWORK and we have recently installed AIR CONDITIONING in the unit to keep you cool during the warmer summer days.
3 - The ROOF TOP PATIO is awesome since it allows you to enjoy the best days of summer outside and grill to your heart's delight with the BBQ found there!
Here are 3 THINGS TO CONSIDER before renting the Montreal DreamLoft:
1 - We live in a residential area, so NO PARTIES are permitted in our home at all times during your stay.
2 - Our BUILDING IS MORE THAN 100 YEARS OLD. Although we put a lot of time, love and effort to maintain it, the washroom features a freshly repainted CLAWFOOT BATHTUB, which might not be the best option for people who have mobility problems. The floors are slightly crooked and there's nothing we can do about it since this is very typical of older plateau homes. Actually, most Guests found this feature of the property quite charming.
3 - Like any other older buildings, the walls can be thinner than newer constructions and this is something very typical of all homes build in this era in Montreal. That said, it's not something that bothers us as residents and that's why we ask all our guests to respect the neighbors and to not be loud or yell or play loud music inside and outside the building at all times during their stay. Also, we expect our Guests to be quiet after 11h00PM. So if you intend to behave like a party animal, our place is not for you but if you intend to behave like a local, you should love your stay.
Now that this is clear, let's get to the description of the place!
사용가능 공간/시설
1885 년에 건축 된이 아파트는 플래 토 (Platea)의 심장부에 위치한 이중층의 최상층에 위치하고 있으며, 최근에 보수 공사를 마쳤으며 8 명의 손님을 수용 할 수 있도록 리폼되었습니다. 걸어서 몇 분만 가시면 3 베드룸, 1000 평방 피트의 LOFTY APARTMENT에 12 개의 풋 천장, 스카이 라이트, 오리지날 소나무 숲 바닥, 벽돌 벽, 현대의 몬트리올 건축 스타일이 있습니다. 키친 (KITCHEN)과 인상적인 프라이빗 루트 파 티오 (Parma ROOF TOP PATIO)는 야외에서 최고의 계절을 즐길 수있는 곳입니다. 주방에는 NEW POTS 및 PANS, TASSIMO & REGULAR COFFEE MACHINE, 4-SLICE 토스터, 블렌더, 저속 조리기구, 주니어, 기본 조리 키트 및 기타 모든 기능을 갖춘 DELUXE HOUSE에서 찾을 수있는 모든 것이 갖춰져 있습니다. 당신의 손님을 즐겁게 해줄 것입니다. 3 개의 침실에는 모두 새로운 침대 시트와 SUPER COMFY DUVET COVERS가있는 새로운 DELUXE QUEEN SIZE BEDS가 있습니다. 완전 폐쇄 된 1 개의 침실이 있으며 사진에서 볼 수있는 것처럼 2 개의 다른 침실은 개방형 로프 개념입니다. 거실에는 여분의 2 명이 이용할 수있는 숨겨진 침대가 있습니다 (총 8 명). 멋진 SAMSUNG 46 "HD / 3D TV는 NETFLIX, YOUTUBE, 영화 온 디맨드, 웹 브라우저, 스마트 폰 화면 공유 등과 같은 완벽한 인터넷 기능을 제공합니다 .600WATT SOUND SYSTEM은 영화를 감상하고 컴퓨터 장치 또는 전화를 제공합니다. 장소에는 초고속 무선 인터넷 네트워크가 함께 제공됩니다. 화장실에는 샤워, 헤어 드라이어, 다리미 및 보드, 세탁기 및 건조기가있는 CLAWFOOT BATHTUB이있어 장기간 투숙 할 때 세탁물을 돌볼 수 있습니다. ROOF TOP TERRACE가 아름답습니다. 성숙한 나무들로 둘러싸인이 호텔은 조용하고 매우 조용한 곳으로 PATIO SET와 DELUXE BBQ가있어 여름이면 맑은 날을 즐기실 수 있습니다.
Constructed in 1885, this apartment is located on the TOP FLOOR of a duplex located at the heart of the PLATEAU and it has recently been renovated and refurnished to accommodate as much as 8 GUESTS.
The minute you'll walk in, you'll fall in love with the cachet of this 3 BEDROOM, 1000 sq/ft LOFTY APARTMENT featuring old Montreal architectural style with 12 FOOT CEILINGS, SKY LIGHTS, original PINE WOOD FLOORS, BRICK WALLS, MODERN KITCHEN and an AMAZING PRIVATE ROOF TOP PATIO to enjoy the best days of summer outdoors.
The kitchen is fully equipped with everything you would find in a DELUXE HOUSE, such as NEW POTS AND PANS, TASSIMO & REGULAR COFFEE MACHINE, 4-SLICE TOASTER, BLENDER, SLOW COOKER, JUICER, BASIC COOKING KIT, and everything else you can think of to entertain your guests.
The 3 BEDROOMS all have new DELUXE QUEEN SIZE BEDS with new bed sheets and SUPER COMFY DUVET COVERS. There's 1 Bedroom that is fully closed and as you can see in the pictures, the 2 others bedrooms are of an OPEN LOFT CONCEPT.
The living room has a HIDE-A-BED COUCH that can fit an extra 2 people (for a total of 8 guests). The awesome SAMSUNG 46" HD / 3D TV has full internet capabilities with NETFLIX, YOUTUBE, FILMS ON-DEMAND, WEB BROWSER, SMARTPHONE SCREEN SHARING and much more. The 600-WATT SOUND SYSTEM is great to watch movies with and play music from any computer device or phone. The place also comes with an ULTRA HIGH-SPEED WIRELESS INTERNET NETWORK.
The washroom has a CLAWFOOT BATHTUB with SHOWER, HAIR DRYER, IRON & BOARD, and WASHER & DRYER so that you can take care of your own laundry when on a longer stay.
The ROOF TOP TERRACE is beautiful. Surrounded by mature trees, it's quiet and very private and it features a PATIO SET and a DELUXE BBQ so that you can truly enjoy those long sunny summer days.
기타 사항
호텔 바로 앞에 무료 주차권이 있으며, 예약 완료 후 몬트리올에 주차하는 방법을 보여주는 비디오를 보내드립니다. 공동 소유자이자 예술가 인 BRAD FIRMINO가 우리 벽면에 보이는 모든 원래 작품을 만들었습니다. 모든 제품은 판매용이며 온(SENSITIVE CONTENTS HIDDEN)으로 구매할 수 있습니다. 어떤 검색 엔진에서 ENJOY-ARTWORK를 보아서 그의 컬렉션을 발견하고 그의 WEB STORE를 방문 할 수 있습니다.
You'll find some FREE PARKING right in front of our property and I'll even send you a video showing how to park in Montreal once you complete the booking!
The co-owner and artist BRAD FIRMINO made all the ORIGINAL ARTWORKS that you see on our walls. Every piece is FOR SALE and AVAILABLE FOR PURCHASE ON-LINE. You can look up ENJOY-ARTWORK on any search engine to discover his collections and visit his WEB STORE.
---
이 숙소는 출장용 숙소로서의 편의 시설을 갖추고 있습니다.
---
---
We live in a quiet residential area and we are looking for respectful Guests who will treat our neighborhood and our place as their home.
This means that respectful friendly gatherings are ok.
That said, wild parties are strictly forbidden and extra Guests not mentioned in the booking are not tolerated. Any sign of disturbance, wild music & noise, or party, including disturbance reported by neighbors, will be penalized, and in extreme cases ticketed and kicked out of the premises.
Please advise us if you want to enjoy late checkout. In the event where it's possible, there is no charge, otherwise please respect the 11h00am checkout since cleaning crew must prep the place for the next guests. If you do a late check out without notice, a penalty fee may be applied.
There is no smoking allowed inside but you are welcome to smoke outside.
Please remove your shoes when entering our home.
Thank you and enjoy! :-)
---
Bonjour! My name is Dany and I'm a filmmaker/entrepreneur who loves to meet people and travel the world. Over the last few years, my filmmaking journey led me to become an Airbnb Host and I've recently hosted thousands of travellers from all over the world in my properties. I…
언어:
English, Français