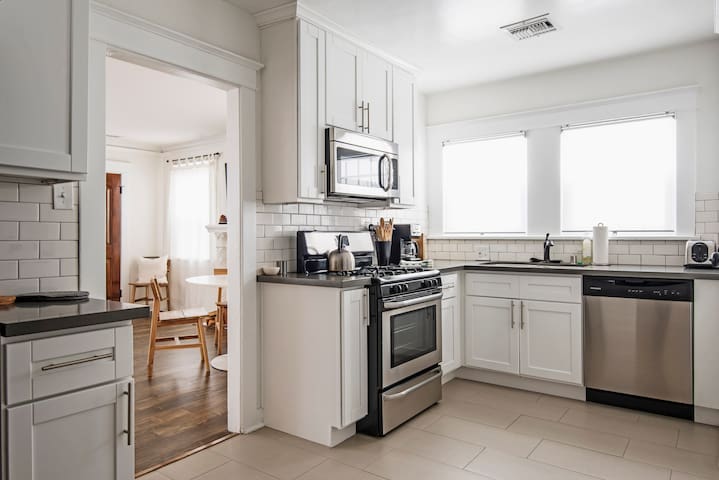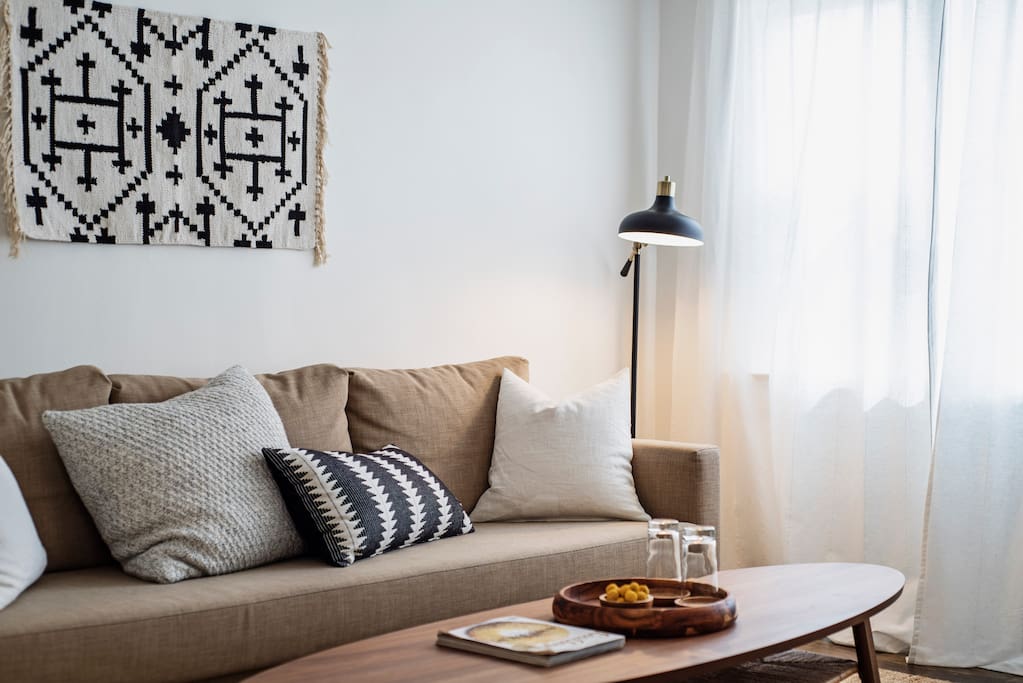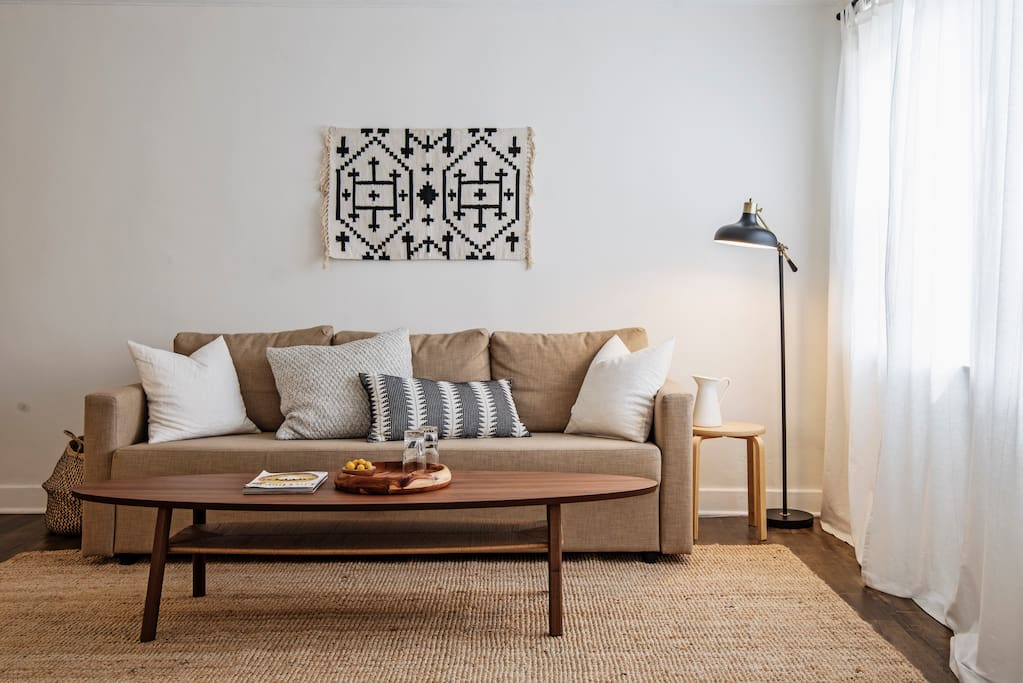 이 사랑스러운, 반짝이는 깨끗하고 편안한 2BD 듀플렉스 홈에 머물러보십시오. 올드 할리우드 스타일의 오리지널 매력과 억양을 유지하면서 완벽하게 복원 된 1922 년 싱글 스토리의 스페인 데코 방갈로. 응석과 함께 밝고 통풍이 잘됩니다. 디자이너 가정, 아름다운 미술, 아주 새로운 가구, 가전 제품 및 중앙 AC / 열. 빛이 쏟아져 나옵니다. 평화 롭고 친근감있는 걷기가 가능한 로스 엔젤레스 미드 윌셔 (Los Angeles Mid-Wilshire) 지역의 최고의 위치. 무료 전용 주차장! 저렴한 가격으로 5 인을 호스트하십시오!
Come stay in this darling, sparkling clean & comfortable, 2BD duplex home. A 1922 single story Spanish Deco bungalow, perfectly restored while keeping the original charm and accents of Old Hollywood Style. Bright & Airy with a pampered touch. A designer home, beautiful fine art, brand new furnishings, appliances & central ac/heat. Light pouring in. Prime location in a peaceful, friendly walk-able Los Angeles Mid-Wilshire neighborhood. Free Private Parking! Hosts 5 at a great price!
숙소
우주 이 2 베드룸, 1 욕실 스페인 데코 아파트는 Los Angeles Mid-Wilshire 지역 Queen Anne Village에 위치하고 있습니다. 그것은 하나의 이야기 이중 방갈로, 개인 입구, 전용 주차장 및 풀 사이즈 부엌. 매력적인 프런트 베란다가 있는데, 게으른 모닝 커피 또는 조용한 저녁 시간에는 와인 한 잔을 즐기기에 완벽한 곳입니다. 구내 전용 주차장, 방갈로 바로 옆에! 도착시, 손님들은 반짝이는 깨끗한 집, 많은 빛, 풍부한 신선한 수퍼 부드러운 흰색 수건과 린넨, 개별 개인 샴푸, 린스, 비누 및 로션 필수품. 집에는 호텔의 모든 작은 접대에 흠뻑 빠지면서 따뜻하고 편안합니다. 이 사랑스러운 부대에서는 모든 것이 완전히 새 것이며 원래의 미술은 모든 방에 매달려 있습니다. 2 개의 넓은 침실, 각각 메모리 최고급 매트리스 침대가 비치되어 있습니다. 2 인용 잠실 소파에는 추가 침대 겸용 소파가 있습니다. 모든 베개와 매트리스는 알레르기 항원, 먼지 진드기, 침대 벌레, 박테리아, 땀 및 체액에 대해 보호되고 보호됩니다. 욕실에는 샤워 시설 / 욕조 및 충분한 수납 공간이 있습니다. 거실에는 55 인치 평면 케이블 TV와 케이블 패키지가 마련되어 있으며 무선 인터넷과 세탁기 및 건조기가 무료로 제공됩니다. 이 숙박 시설은 Airbnb 게스트 전용이며 숙박 시설에 정기적으로 거주하는 인원이 없습니다. 또한, 재산은 다른 사람들과 공유되지 않으며 확정 된 손님은 전체 주택을 스스로 소유하게됩니다. 도보 점수는 83입니다! 우리 집에 오신 것을 환영합니다! 우리는 머무는 동안 당신을 더 잘 호스트하기 위해 인접한 방갈로에서 바로 옆집에 살고 있습니다! 소유주는 옆집에 위치한 이중 방갈로에 거주합니다. 목요일과 금요일에 Gardener는 재산의 측면에서 쓰레기를 제거 할 수있는 통로를 제공합니다. 이웃 LA의 모든 곳을 돌아 다니기에 완벽한 중심지. Mid-Wilshire는 역사적인 Hancock Park, Larchmont 및 Los Angeles의 Miracle Mile 지역과 인접한 곳에 위치한 유서 깊은 지역입니다. 로스 앤젤레스 다운타운, LA 타운, LA 라이브, 로스 앤젤레스 컨벤션 센터, 미드 타운 교차점, 비벌리 힐즈, 할리우드, 센추리 시티, 컬버 시티, 캘리포니아 과학 센터, LACMA, 웨스트 할리우드, 농민 시장 및 그 로브, 유행 멜로즈 수단. Queen Anne Tennis Courts, Memorial Library & Park에서 두 블록 떨어진 곳에 있습니다. 스타 벅스는 중서부 횡단 Ralphs 옆집, UPS, 체이스 은행 등에서 3 블럭 떨어져 있습니다. 많은 훌륭한 식당, 슈퍼마켓, 주요 은행 및 편의점이 인근에 있습니다. 주변 정보 렌트카 / 소형차 전용 주차장 차를 가지고 계시다면 컴팩트 또는 중간 크기의 차량을위한 구내에 무료 전용 주차 공간이 있습니다. SUV 또는 대형 차량 없음. LA는 Uber, Lyft, 택시를 이용하실 수 있으며 메트로 버스는 두 블록 떨어져 있습니다. 호텔이 아닌 집에 머물 것임을 기억하십시오. 그러므로, 우리는 당신이 당신 자신의 것과 똑같은 존경심으로 당신의 공간을 다루어 주길 바랍니다. 우리 집에는 출입구 앞문에 lockbox가 있습니다. 조기 또는 늦은 수하물 보관소가 없으며,이 숙박 시설에서 하차하거나 픽업 서비스를받을 수 있습니다. 도시의 다른 저장 시설을 사용하거나 운송 위치에 보관하십시오.
The Space
This 2 bedroom, one bathroom Spanish deco apartment is located in the Los Angeles Mid-Wilshire area Queen Anne Village. It's a single story duplex bungalow, with private entrance, private parking and full-size kitchen. There is a charming front porch, perfect for lazy morning coffee or quiet evenings with a glass of wine.
Private Parking Spot on Premises, Right next to your bungalow!
Upon arrival, our guests will find a sparkling clean home, lots of light,
ample fresh, super soft white towels and linens, individual personal guest shampoo, conditioner, soap and lotion essentials. The home has a wonderful, relaxed warmth mixed with all the little extra hospitality touches of a hotel. Everything is brand new in this lovely unit and original fine art hangs in every room.
Two spacious bedrooms, each furnished with memory top King Mattress beds. There is also an additional sleeper sofa full/queen size in the common room that sleeps two. All pillows and mattresses are surrounded and protected against allergens, dust mites, bed bugs, bacteria, perspiration and fluids. The bathroom has a full shower/bath and plenty of storage space. The living room has a 55" Flat Screen TV with full cable package and there's free Wireless Internet and a Washer & Dryer available in unit.
This property is exclusive for Airbnb guest/s only and no persons reside on the premises on a regular basis. Further, the property is not shared with others and the confirmed guests will have the entire home to themselves.
Walk score is 83!
Welcome to our home! We live right next door in the adjacent bungalow to better host you during your stay!
Owner lives on site in the next door duplex bungalow.
On Thursdays & Fridays, Gardener will have access to the property's side pathway for trash removal.
The Neighborhood
Perfectly central location for getting around all of LA. Mid-Wilshire is a prominent neighborhood located adjacent to historic Hancock Park, Larchmont, and the Miracle Mile neighborhoods of Los Angeles. Close proximity to Downtown Los Angeles, Korea Town, LA Live, Los Angeles Convention Center, Midtown crossing, Beverly Hills, Hollywood, Century City, Culver City, California Science Center, LACMA, West Hollywood, Farmers Market & The Grove, and trendy Melrose Avenue.
Two blocks from Queen Anne Tennis Courts, Memorial Library & Park. Starbucks just three blocks away at Mid Town Crossing with a Ralphs next door, UPS, Chase Bank etc.
There are numerous great restaurants, supermarkets, major banks, and convenience stores nearby.
Getting Around
Private Parking Spot for rental/compact car!
If you have a car, there's free private parking spot on the premises for compact or medium size car. No SUV or large vehicles. LA is Uber, Lyft, & Taxi friendly and the Metro Bus is two blocks away.
Please remember that you will be staying in a home, not a hotel. Therefore, we ask that you treat our space with the same respect you would show your own.
Our home has a lockbox located on the entrance front door.
There is no early or late luggage/baggage storage, drop off or pick up available for this property. Please use alternative storage facilities in the city or store at your transportation location.
사용가능 공간/시설
집 전체. 전용 현관. 개인 입구. 전용 주차장. 거리 수준 액세스. 이직 탑승 수속 체크인 / 체크 아웃 시간 때문에 일찍 또는 늦게 수하물 / 수하물을 맡을 수 없습니다.
The entire home. Private front porch. Private entrance. Private Parking. Street Level access.
Due to booking turnover check-in/check-out times, there is no leaving luggage/bags early or late.
게스트와의 교류
우리는 체류 전, 도중, 후에 멋진 경험을하도록 노력합니다. 현지 경험을 원한다면 언제든지 추천을 받아 주시기 바랍니다.
We strive to ensure a wonderful experience before, during and after their stay. Guests should feel free to reach out to us for any recommendations should they desire a local experience.
기타 사항
예약 회전율로 인해 체크인 / 체크 아웃 시간은 확고합니다. 늦은 체크 아웃시 30 분에 45 달러가 부과됩니다. 이 요금은 오전 11 시부 터 언제든지 건물을 떠난 후에 적용됩니다. 미리 감사드립니다.
Due to bookings turnover, check-in/check-out times are firm. There is a $45 charge per half hour when late in checking-out. This fee is applied once leaving the premises anytime past 11 a.m. Thank you in advance.
이 숙소는 출장용 숙소로서의 편의 시설을 갖추고 있습니다.
추가 인원 요금 ₩33755 / 박 (4명 초과 시)
안전한 결제를 위해 에어비앤비 웹사이트나 앱 외부에서 송금하거나 대화를 나누지 마세요.
어린이(만 0-12세)에게 안전하거나 적합하지 않음
체크인 가능 시간은 15:00 - 00:00입니다
BEFORE BOOKING, PLEASE READ & UNDERSTAND all the house rules:
Buy booking our Select home, you are agreeing to take great care of our property. It is NOT a hotel. It is our home. You are agreeing to leave our home in the same wonderful tidy condition as it was on your arrival day...
Take shoes off once inside the home.
NO smoking, vaping or drugs of ANY KIND in or on the property.
NO parties, events, heavy alcohol drinking or rough housing whatsoever.
NO EXTRA GUESTS ALLOWED.
ONLY registered guests allowed in the home.
** EXTRA GUEST FEES: If non registered guests are invited in the home, the automatic listed extra guest fee per person/per night is charged.
DO NOT give us false information on the total amount of guests. This rule will be strictly regulated/enforced and there will be a charge automatically with a report to Airbnb.
You may inquire to book our home with guests under the age of 18 but be please be advised extra fees apply and we will send you a special offer if we agree to the guests under age.
If a booking party does not disclose guests that are under 18 years of age, we reserve the right to automatically cancel the booking or charge the extra fees of $60 per child/per night.
DO NOT BLOCK THE SECOND PARKING SPOT OR DRIVEWAY EXIT RAMP!
**PARKING FEES: If you block the driveway EXIT or access for the second car to get out, there is an automatic charge of $150.
No early/late luggage/baggage drop off or pick up.
No packages/mail delivered or accepted to the home. Send packages to an Amazon Locker near us or a UPS/FedEx/USPS office.
** LATE CHECK OUT FEES: $45 fee for every 30 min, any time after 11 a.m.
Take OFF shoes at the entrance, when you are inside the home.
Do not bring mud/sand/dirt into the home or wash sand down the bathroom drains.
This is NOT a party house! This property is for peaceful relaxing stays in Los Angeles, tourists, business trips, retreat or restful vacations.
NO running/jumping around in the home
Please keep a reasonable volume so as to not disturb our neighbors.
No loud noise after 10pm.
NO loud music.
DON'T leave the home unlocked or windows/shades open while not at the residence.
DONT leave the drapes open at night while not at the residence.
DON'T leave the bathroom vent running for long periods as this is a fire hazard.
Please make sure the windows are closed when raining.
DON'T flush any feminine products down the toilet. Use provided waste bin.
Do not put peels, oils or coffee grounds in the kitchen sink.
Do NOT wash food down the LEFT sink drain. Use the RIGHT sink drain. The sink to your right has the garbage disposal attached.
DON'T USE TOWELS TO CLEAN MAKE UP OR SPILLS!
Please leave the laundry door open when w/d machines are in use for safe ventilation.
DONT put detergent in the washing machine's blue cup or/white triangle. Detergent is to be poured directly on top of clothing.
NO candles or burning of anything of any kind.
DON'T bring food out side of the kitchen and dining/living room area.
Wash any dishes you use during your stay.
Take out the trash when you leave. RECYCLE!
Blue- recycle bottles, cans, paper, cardboard
Black- garbage/trash
Please leave the house in the same condition you found it as when you first arrived.
***WE HAVE THE RIGHT TO CANCEL YOUR RESERVATION WITHOUT A REFUND IF ANY OF THE HOUSE RULES ARE BROKEN
Please make sure to lock up the house when you leave and remember to LEAVE THE KEY in the lockbox.
**Fee for losing any of the keys is $35
We are NOT responsible in any way for your car/belongings/items lost/stolen or damaged. If items left behind are found, they can be returned to you for $30/hr for time, plus additional shipping and handling costs will need to be paid in advance.
WE ARE NOT LIABLE FOR ANYTHING THAT HAPPENS TO YOUR VEHICLE.
***NOTE FOR NON ENGLISH SPEAKING GUESTS***
- AT LEAST 1 PERSON in your group must speak english, or at least translate all of the house rules, any communication with us and any appliance manuals into English. You must confirm once you receive your welcome message after booking, that you fully understand the house rules.
***YOU ARE RESPONSIBLE FOR ALL YOUR GUESTS KNOWING THE INFORMATION IN THE HOUSE RULES & WELCOME/HOUSE MANUAL/APPLIANCE INSTRUCTIONS.
Leave the home clean and tidy as you found it.
Let us know immediately of any damages to the property/home/furnishings.

THANKS & ENJOY YOUR STAY!!!!
I am a fashion illustrator and singer/songwriter, born and raised in Los Angeles. Passionate about design, fine art, photography, food & music.
Before my career in the arts took off, I spent years in hospitality industry, finding great joy in providing people with a wonderful experience. Now with this amazing Airbnb community, I get to live in one bungalow, and host wonderful guests from all over the world in the other.