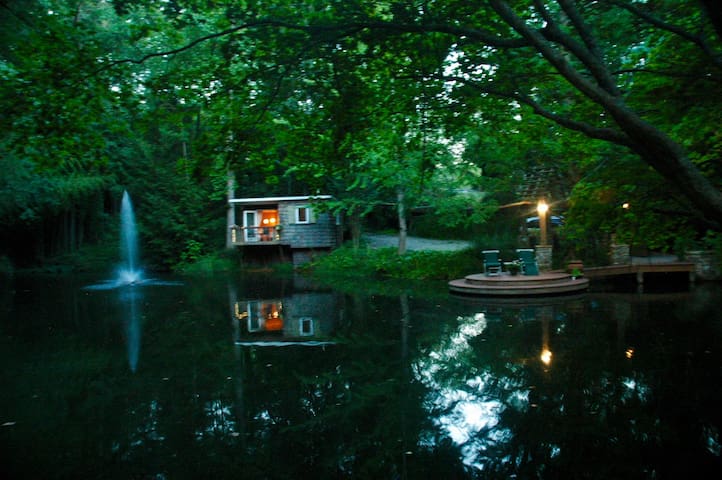 Zen Pond Oasis & Bamboo Bungalow on Lake Lanier
호수 연못을 내려다 보는 젠 연못 휴양지. 매력적인 대나무 방갈로는 장엄한 대나무 숲에 인접한 자연 연못 위에 자리 잡고 있습니다. 개인 갑판에서 일몰 호수의 전망과 고요한 물 분수와 폭포 소리를 즐겨보십시오. Lanier 호수의 심해 선착장까지 짧은 산책을하십시오. 자신의 보트를 가져 오거나 우리의 외륜선으로 코브를 크루즈하십시오. Bamboo Bungalow는 지속 가능한 다목적 대나무로 만든 훌륭한 린넨 및 제품을 선택하여 완성되었습니다.
Zen Pond retreat overlooking Lake Lanier. Charming Bamboo Bungalow perched over a natural pond, adjacent to a majestic bamboo forest. From your private deck, enjoy sunset lake views and the serene sounds of a water fountain and a waterfall. Take an easy short stroll to a our deep-water dock on Lake Lanier. Bring your own boat or cruise the cove in our paddleboat. The Bamboo Bungalow is complete with a selection of fine linens and products made from sustainable, versatile bamboo.
숙소
젠 연못 (Zen Pond)은 라니에 호수 (Lake Lanier)에있는 3 에이커의 호숫가 오아시스의 중심지이며, 반사, 글쓰기, 사진 촬영, 낭만적 인 휴양지 또는 편안한 장소를 찾고있는 사람들을 위해 한 두 곳의 고요한 분위기입니다. 호수와 노스 조지아 산의 즐거움. 또한 Carefree Cottage (https://www.airbnb.com/rooms/18366604?s=51)도 이용하실 수 있으며 최대 4 명까지 투숙 할 수 있습니다. 함께 여행하고 별도의 숙박 시설을 즐기려는 커플은 Bamboo Bungalow와 Carefree Cottage를 임대 할 것을 고려할 수 있습니다. 우뚝 솟은 대나무 숲, 우아한 일본 단풍 나무, 은행 나무 및 삼나무 나무로 둘러싸인이 연못에는 물고기, 거북이, 개구리 및 새가 서식합니다. 대나무 방갈로는 연못 위에 직접 자리 잡고 있습니다. 개인 갑판에서 연못에 물고기 음식 (제공됨)을 뿌려 번개처럼 빠른 물고기 주위를 조종하면서 거북이 가족의 장난을 지켜보십시오. 아침에는 새들의 짹짹 울음 소리를, 저녁에는 귀뚜라미 소리와 개구리 소리를 즐기십시오. 조경 된 정원, 테라스 및 대나무 숲을 둘러보십시오. 라운지 의자, 수레 및 코브 탐험을위한 외륜선을 이용할 수있는 개인 독에서 레이니어 호수를 즐기십시오. 원하는 경우 독에 보트 (또는 대여)를 가져갈 수있는 공간이 있습니다. Bamboo Bungalow는 대나무 천장, 바다 잔디 벽, 넓은 판자 나무 바닥 및 복원 된 헛간 나무 캐비닛을 갖춘 아늑하고 사랑스러운 스튜디오입니다. 완비 된 효율성의 주방에서 간단한 식사를 준비하거나 인근의 다양한 레스토랑 (배달 및 테이크 아웃 가능)을 즐기십시오. Bamboo Bungalow는 다양하고 지속 가능한 대나무로 만든 훌륭한 제품을 경험할 수있는 기회를 제공합니다. 대나무 침대 린넨, 목욕 가운 및 타올의 부드러운 부드러움을 느끼십시오. 아름다운 대나무 제품뿐만 아니라 대나무 칫솔과 화장실 티슈와 같은 친환경적인 개인 용품을 발견하십시오. 대나무를 완전히 새로운 차원으로 끌어들입니다.
Zen Pond is the focal point of our three-acre lakefront oasis on Lake Lanier and is a serene setting (for one or two) for those seeking an inspiring place for reflection, writing, photography, a romantic getaway, or restful place to explore the lake and the delights of the North Georgia mountains. Additionally, our Carefree Cottage, https://www.airbnb.com/rooms/18366604?s=51, is also available and accommodates up to four guests. Couples who wish to travel together and enjoy separate accommodations may consider renting both the Bamboo Bungalow and the Carefree Cottage. Surrounded by a forest of towering bamboo, graceful Japanese Maples, Ginko and Cedar trees, the pond is home to fish, turtles, frogs and birds. The Bamboo Bungalow is perched directly over the pond. From your private deck, sprinkle fish food (provided) into the pond and watch the antics of our family of turtles as they maneuver around the lightning-fast fish. Enjoy the chirping of birds in the morning and the sounds of the crickets and frogs in the evening. Explore the landscaped gardens, terraces and bamboo forest. Enjoy Lake Lanier from our private dock where you have access to lounge chairs, floats, and a paddleboat for exploring the cove. There's room at the dock to bring your own boat (or rental) if you'd like. The Bamboo Bungalow is a cozy, adorable studio featuring a bamboo ceiling, sea grass walls, wide-plank pine floors and restored barn-wood cabinets. Prepare simple meals in a well-equipped efficiency kitchen or treat yourself to the wide variety of nearby restaurants (delivery and takeout available). The Bamboo Bungalow offers you an opportunity to experience a selection of fine products made from versatile, sustainable bamboo. Sink into the silky softness of bamboo bed linens, bathrobes and towels. Discover beautiful household items as well as eco-friendly personal items such as bamboo toothbrushes and toilet tissue - taking bamboo to a whole new level.
사용가능 공간/시설
손님께서는 호텔 전체의 아름다운 정원과 테라스뿐만 아니라 Lanier 호수의 전용 부두를 이용하실 수 있습니다. 손님께서는 그물 침대, 패들 보트, 라운지 의자 및 수레를 사용할 수 있습니다. 우리는 우리 선착장에서 귀하의 보트를 수용 할 수 있습니다 (예약시 문의).
Our guests have access to the landscaped gardens and terraces throughout the property as well as our private dock on Lake Lanier. Guests may use the hammocks, paddle boat, lounge chairs and floats. We may be able to accommodate your boat at our dock (inquire when booking).
게스트와의 교류
우리는 메인 하우스에 거주하며 손님 방문 중에 현장에 있습니다. 우리는 당신을 맞이하고 대나무 방갈로, 정원 및 선착장을 둘러 보겠습니다. 궁금한 점이 있으면 알려 드리겠습니다. 그렇지 않으면 귀하의 개인 정보를 존중합니다.
We live in the main house and will be onsite during guest visits. We will greet you and give you a tour of the Bamboo Bungalow, gardens and dock. We are available to you if you have questions, otherwise, we respect your privacy.
기타 사항
우리의 재산에 또 다른 영빈관은 방금 개조되었으며 손님에게 제공됩니다. Carefree Cottage는 개인 침실, 1 베드룸, 1 욕실 홈으로 풀 사이즈 주방, 개방형 거실 공간, 스크린이있는 베란다가 있으며 최대 4 명까지 수용 할 수 있습니다. 함께 여행하기를 원하지만 별도의 거실이있는 커플은 Bamboo Bungalow와 Carefree Cottage를 임대하십시오. https://www.airbnb.com/rooms/18366604?s=51 완벽한 솔루션이 될 수 있습니다.
Another guesthouse on our estate has just been renovated and is now available to guests. Carefree Cottage is a private, one-bedroom, one-bath home featuring a full-size kitchen, open living space, screened-in porch, and comfortably accommodates up to four guests. For couples who wish to travel together but have separate living spaces, renting the Bamboo Bungalow and the Carefree Cottage https://www.airbnb.com/rooms/18366604?s=51 could be the perfect solution.
---
이 숙소는 출장용 숙소로서의 편의 시설을 갖추고 있습니다.
---
---
어린이(만 0-12세)에게 안전하거나 적합하지 않음
- Zen Pond Oasis is a retreat ideal for one or two people. No guests are allowed.
- The Bamboo Bungalow is a guesthouse and is located far enough away from the main house to provide privacy. The gardens, terraces and docks throughout the property are available for your enjoyment. The Bamboo Bungalow is furnished comfortably with a full size futon and dressed in silky bamboo linens, down pillows and comforter (down alternative available). For some people, a full size (double) bed may be too small.
---
Dan and Sandra made us feel so very welcome. This was our first airbnb experience so I wasn't sure if it would be awkward and it wasn't in any way. I felt so at home, thank you both so much! Perfect location if you want to stay put at the bungalow or if you want to explore the surrounding areas! We spent a lot of our time relaxing and fishing off the dock. We also took advantage of the paddle boat and went exploring for a few hours! We ate lunch at the "Twisted Oar" and dinner at "Tam's backstage"-I highly recommend both. We also went hiking on Amicilola Falls and Sawnee Mountain (referred by Dan) and both experiences were amazing. We shopped at Hammonds for fishing accessories and the employees were very helpful. We did all of this with just a two-night stay. You will get a full experience regardless of the time you have here. The bungalow is perfect. Small but much bigger than I expected!!! Perfect mini-vacay!
---
I rented the bungalow this past weekend for my brother and his new bride. It was one of the most stunning places I've seen, and to think it's in Cumming. The place was immaculate. The newlyweds didnt even want to leave. Sandra helped me with any questions I had leading up to the day and was incredibly nice. I recommend staying here and I can't wait to be able to stay my self.
---
We could not be more thankful for Sandra and Dan the wonderful hosts and caretakes of the Zen Pond Oasis and Bamboo Bungalow on Lake Lanier. We came to find this rental through absolute necessity during tragedy, not as a vacation. My 48-year old husband suffered a massive heart attack while we evacuated Hurricane Irma. We were displaced and living at Northeast Georgia Medical Center about 35 minutes away. His cardiologist ordered us to stay in town for 8 days for follow-up care. With his new strict diet and an order for zero stress, the bungalow is exactly the medicine we both needed. A place to be quiet and heal and absorb what had happened. The bungalow is so very zen. The yogi in me felt so at home. It's bamboo and earthy feel puts you at instant ease and melts stress. It's small but for his recovery was perfect. The kitchenette allowed me to prepare his new strict diet and there is a grocery store 10 minutes away. Sandra and Dan helped with any need and accepted a few packages of medical supplies we needed. They are just down the hill and are beyond gracious. The bungalow has basic cooking supplies. We enjoyed eating on the little deck and feeding the fish. The lake has natural relaxation powers and you're tucked away from the world. I would highly recommend this little piece of zen paradise for a honeymoon, retreat with a loved one, spot to heal or just a place to get away from the world for a weekend. I will cherish my time at the bungalow for providing the calm after a storm. Sandra and Dan are very special people and will make your stay for relaxation or celebration absolutely perfect! five stars!
---
Stay here. My girlfriend and I needed a weekend away to reconnect after life got in the way, and this place was exactly what we needed. We did not expect the level of welcoming that we received from Sandra and Dan. The place is unquestionably beautiful, and the amenities are first rate. If you need peace and a place to get away, go here first. You can thank me later.
---
If I was limited to one word to use for Sandra & Dan's Zen Pond Bungalow, it would have to be paradisaical! My wife and I spent a couple days here following our wedding for a "mini moon" to decompress and enjoy serenity with each other. They say a happy wife is a happy life, and I'd say I started it off right! The pure bliss and relaxation found on her face, due to our tranquil, fulfilling locale, will be a sight I'll never forget. Dan & Sandra are truly kind and thoughtful people with an astoundingly beautiful homestead for your enjoyment. Even the little things...the bottle to celebrate you, the spices ready for you, the fish food to sprinkle below you; thought was put into everything for the guest...for you. Thanks again for the memories, Katy and I will be back! P.S. be sure to explore! You may just find some hidden places to reflect on that crazy thing called life!
Thank you Grant for this wonderful, thoughtful review! Love your word "paradisaical!" It was such a pleasure hosting you and Katy on your first nights as a newly married couple. We wish you a lifetime of love and happiness, and we hope to see you again whenever you need a bit of R&R and rejuvenation!
---
We have been enjoying the beauty and serenity of Lake Lanier for almost 30 years. In our early years we sailed and weekended aboard a 34-foot sailboat. In 1999 we discovered Zen Pond. We were enchanted by the private pond surrounded by a grove of bamboo, graceful Japanese map…