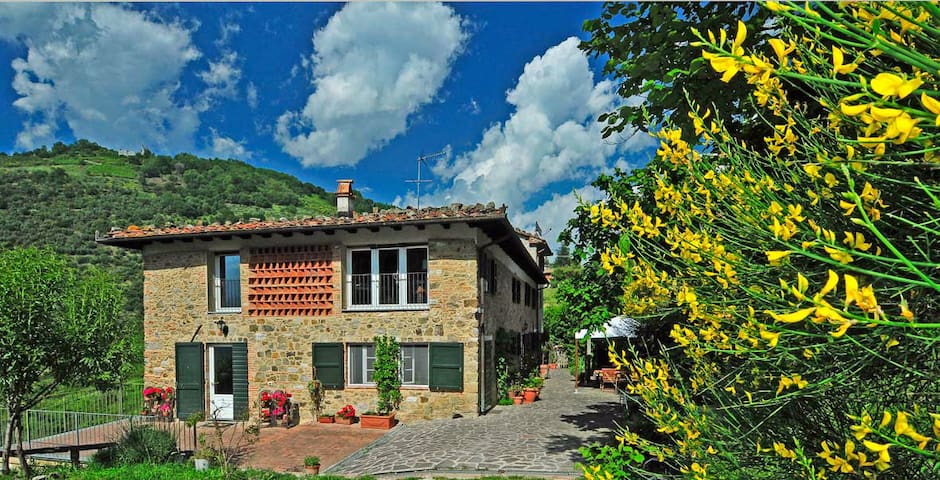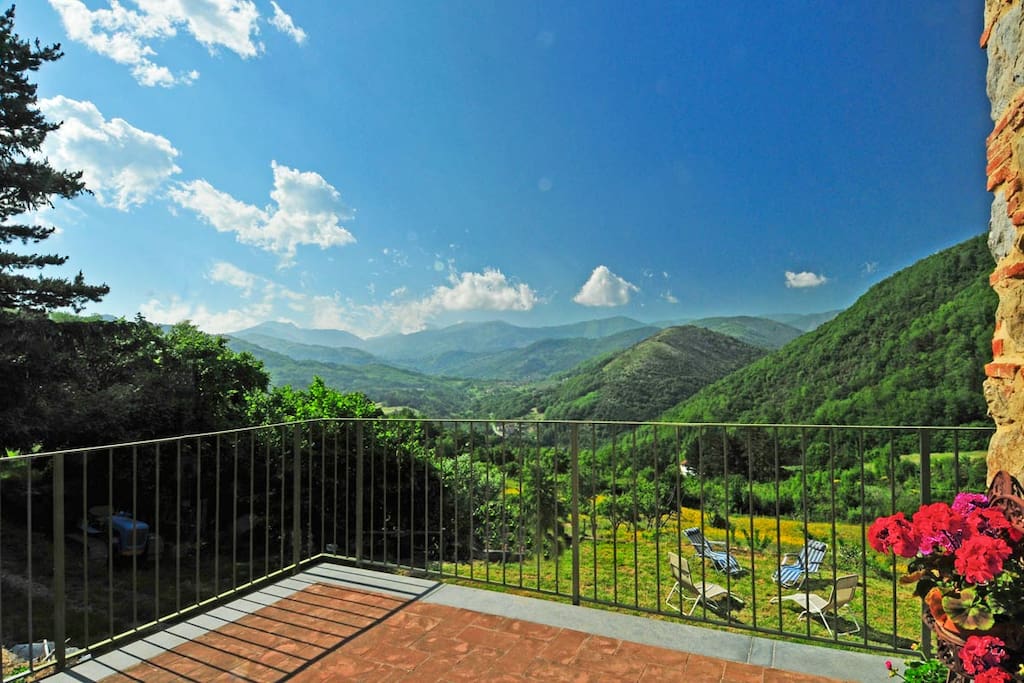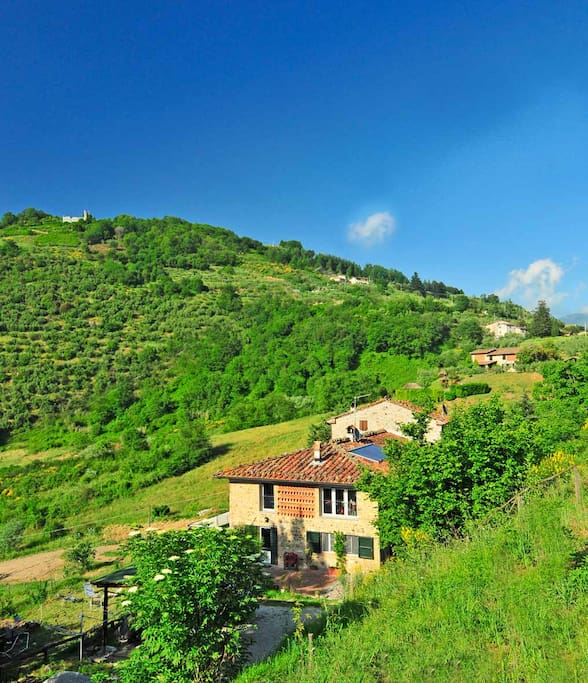 We have 3 apartments that we can rent out : this is a Studio with a fully equipped kitchenette with dishwasher and washing machine, a double bed (or 2 single beds)and a large bathroom with shower.
This Studio cannot be adjoined to the other units.
숙소
Our small organic farm sits on a hill along Lucca's beautiful northern countryside in the hamlet of Aquilea, with stunning views over the Valdottavo valley, the high peaks of the Apennines, and the National park in the distance. We produce our own olive oil, bake our own bread, make jams from our own fruit trees, prepare home-made yoghurt and classic Italian sauce from our own tomatoes, and grow a variety of vegetables.
Our solar powered and beautifully restored farmhouse has 3 comfortable, fully furnished apartments that will feel like home the moment you step inside! Each has its own entry on a lovely terrace where you can relax and enjoy outdoor dining, including pizza from a brick oven. At our above ground swimming pool and at our hot tub our guests can enjoy sunbathing with an incredible view.
The 2-story apartment sleeps 4+2. The ground floor includes a kitchen/eating area and a sitting room with a sofa bed. On the second floor, there are two bedrooms (one has 2 twin beds, but can easily be transformed into a double bedroom) and a large bathroom with shower and a bathtub. A door next to the living room leads to an adjoining studio apartment that has a dinette kitchen, bathroom, and bedroom and sleeps 2. The two apartments can be combined into a large 3-bedroom and 2-bathroom apartment sleeping 6+2.
We have also an other nice,cosy Studio on the ground floor that is not adjoinable to the others and sleeps 2.
So in total we can accomodate 8+2 people.
Since our 3 apartments can be rented separately as well as combined, updating is difficult and the calendar is not always correct. So, please send us your enquiry if you are interested in staying at our farmhouse.
It's only possible to post one rate so we have decided to post Studio rates, as we have 2 Studios that have the same rate and so please, ask for the quote of large apartment that usually is a little less than the double rate of one Studio. Further we offer a special rate, a discount on full property rental.
Each unit has its own space in the shadow with table and chiars for eating and resting "al fresco".
Our love and respect for the environment can be seen in our organic farm with free-range animals, olive groves, a vegetable garden, and fruit trees. We use solar panels for hot water, to help with the wood boiler heating system, and to heat the swimming pool. We chose an above ground, moveable swimming pool because it has less environmental impact. We have two gazebos near the pool with photovoltaic roofs.
Here a car is really necessary. We have a special agreement with a car rental agency and can help you to rent a car with a cheap rate.
We also have a special agreement with a thermal Spa so you can enjoy the thermal pool or the "natural grotta" or have a massages taking advantage of a discount.
Driver service: If you don't feel like driving, the owner or one of her relatives can be your driver and guide: they can pick you up at the train station in Lucca or at the airport in Pisa or Florence, bring you to the farmhouse to get settled, help you to visit undiscovered surroundings and Tuscan beautiful towns.
Cooking lessons and catering : You can learn how to make classic Italian dishes in our large country kitchen and enjoy your meal in our lovely dining room. The owner speaks excellent English and is a talented cook. You can choose the menu with her, deciding what you would like for your delightful cooking lesson. If you do not feel like cooking, you can enjoy authentic Tuscan dinners for €25 per head ( only catered) or EUR 30 if served too.
Italian language lessons : We can organize Italian language lessons upon request.
Car or driver, cooking lessons or catering, Italian lessons – the choice is yours. Join us for a true Tuscan vacation.
사용가능 공간/시설
Our guests will have their own space outside in front of each apartment and they will have their own privacy as even if we live in the same building the access of our family house is on the other facade, but thay are welcome everywhere in the garden and around the property.
기타 사항
DRIVER SERVICE : If you don't feel like driving, the owner or one of her relatives can be your driver and guide: they can pick you up at the train station in Lucca or at the airport in Pisa or Florence, bring you to the farmhouse to get settled, help you to visit undiscovered surroundings and Tuscan beautiful towns.
Our area is very safe and quiet, you can just relax enjoying the farmhouse, good food, cooking lessons and the sorroundings or you can use our place as a base for daily trips and come back at home in the evening.
---
---
체크인 가능 시간은 15:00 - 17:00입니다
We love to share our farmhouse and garden with our guests and we do our best to prepare a scrupulously clean, fully equipped apartment for you. For your first arrival needs you'll find toilet paper, soap, dish soap but please, remember this is only to help you on your arrival as these items are not normally supplied for weekly rentals.

Here are a few simple requests and we hope you will accept them in the friendly spirit in which they are intended: it may appear that we are listing obvious norms for civil behaviour but not all folks understand these things :
ARRIVAL TIME is normally intended between 2.30 pm and 4.30 pm and we can assure to be at the farmhouse welcoming you only during this period time if there is no different arrangement , but we are flexible to arrange a different time depending on your travel details. Anyway we ask you, please, to be anyway precise and respect the arrival time we have arranged together . Please advise as soon as possible in case of train or plane delay.
We prefer to work in an atmosphere of mutual trust so we don't ask for any security deposit. That's why we ask you to tell us immediately if something (objects or furniture) gets broken.
As you have chosen our eco-friendly farmhouse and therefore we hope you share our respect and love for the environment, we kindly ask you NOT TO WASTE WATER and ENERGY

Rubbish can not be left in the apartment on departure day. We are happy to help you in recycling paper (but only paper), so you can leave paper in the apartment or put it outside in our paper bin. We don't have a proper bin for other rubbish at the house but up on the road you'll find grey big bins for that and little bins for recycling (glass, aluminium, plastic, tetrapack).

Unlike most holiday rentals, we don't routinely charge a cleaning fee. Final cleaning is included, which means that we'll clean bathrooms, floors, windows and furniture and we will wash sheets and towels.
However, we will have to ask you for an extra cleaning charge of EUR 80 for the large apartment or EUR 35 for the small one if you don't have the time to at least follow these minimal reasonable requests:
We ask that the kitchen be left cleaned: dishes, cups, pots and pans washed up, stove microwave and oven cleaned, benches wiped and fridge EMPTY and cleaned.
We would appreciate it if you could leave sheets and towels in a basket.
If you have moved any furniture, we ask you to move it back again.

We would hope than the house and the garden would receive the care and the consideration given to a home rather than a rental unit.
No smoking, please.
Thank you for your help
Lella
---
We can only say good things about Lella's place. We regularly checked in, and the house was clean and well equipped. We had our own table in the garden where we could enjoy our dinners outside. The view is stunning. I went there by car, so it was easy for me. The place is a bit secluded, so you'll need a car of your own. Piece of advice: cooking class was really nice, and dinner afterwards was excellent! thank you Lella and Piero, we enjoyed very much! we definitely recommend this place.
---
Abbacca-là est une escale à part, une grande maison pleine de charme, où tout est réuni pour passer un merveilleux séjour, authentique, doux, calme, gourmand, souriant, convivial, et en prime central pour découvrir le nord de la Toscane. Lella, est une femme pleine d'énergie, que ce soit pour l'exigeante culture des Olives, la gestion de cette magnifique bâtisse avec une vue magnifique et apaisante, donner le tempo à sa grande famille, et pour les guests bien sûr, pour qui elle déploie beaucoup de bienveillance pour que le séjour se déroule à merveille, avec tout le sens de l'hospitalité italienne. Petites attentions, conseils de visites, cours de cuisine, ouverture d'esprit aussi, bref la maîtresse des lieux est à l'image de sa maison, impressionnante, authentique, accueillante, avec simplicité, charisme et chaleur. Poser ses bagages à Abbacca-là c'est la garantie d'une belle expérience et d'une belle rencontre. Pas besoin de chercher plus loin... c'est là !
---
We would definitely advise having rented a car when staying here as we found it hard getting about. Though saying that, our host was very welcoming and will give you the authentic Italian experience. The setting is absolutely beautiful and very much outweighs the seclusion. Our host runs on a very eco-friendly idea which is also great to be part of. Would recommend :).
On the advertisment is clearly written that here the CAR IS NECESSARY and that is what I also wrote you personally when you asked me for a "shared car". You live in London where is possible to do it but not here, we are in a remote area,so I tried to explain you that probabably you were not aware what you had booked. Probably due to your young age you didn't take care of my suggestions.....I did my best to send you my son at the airport to pick you up on arrival when you send me a text that the "shared cab" had cancelled your trip and you had sent the text only a couple of hours before your arrival at the (URL HIDDEN) I kindly suggest to read carefully next time you are booking a place where to stay so you will not be surprised about what you could just have known in advance.
---
The place is exquisite and the hosts are very friendly and helpful. The hosts started taking care of us even before we arrived by warming the house up nicely. The spaces, we occupied two of them, were more pleasant than described; comfortable beds, a large kitchen in the bigger unit, and absolutely fantastic views. The scenery is really special with a panorama over a valley with several picturesque villages along the bottom. At the top of a hill nearby there is a church that was destroyed by bombing in WWII. Lella and Piero were truly excellent hosts; helpful when asked but completely discreet. We felt totally comfortable with them and will try and go back again at the first opportunity.
---
I live in the farmhouse with my family so I'll be available for my guests for any needs and suggestions , anyhow is during the cooking lessons when we spend a few hours together that we have more time to be in contact.
On request we can prepare your breakfst and/ or your dinner.
Living so close I'm always available in case of any needs, but if you don't need anything you can be sure I'll respect your privacy.
Sono nata a Lucca e vivo in campagna con la mia famiglia e 2 cani,dove ho un Agriturismo. Questo lavoro mi piace molto perchè mi permette di godermi la mia casa e di incontrare tante persone interessanti, amo cucinare e fare corsi di cucina per i miei ospiti.
언어:
English, Italiano