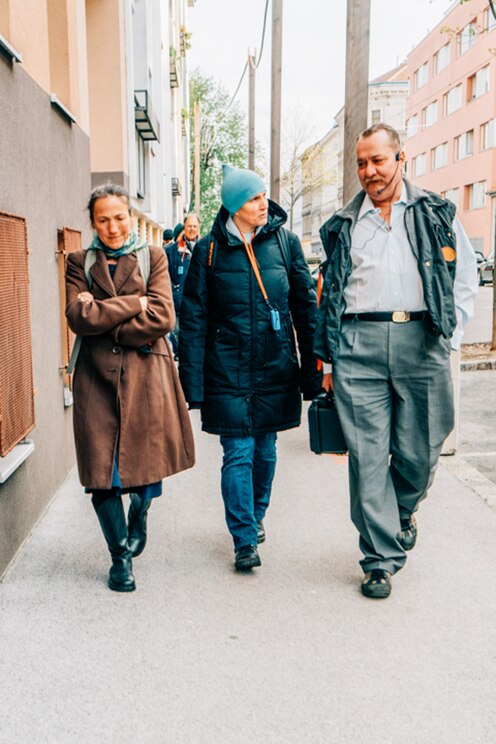 You will plunge into the world of formerly homeless Ferdinand, who has been hit hard by fortune. Born and raised in the 16th district Ottakring, he will take you on a tour full of witty anecdotes, tragic memories and insightful contemplations. Ferdinand spent three years of his life in inadequate living…
As a tourism expert, tour guide and project manager, I am deeply rooted in the Austrian sustainability movement. For me, the support of our SUPERTRAMPS-Guides is a great privilege, as I work with unfortunate yet fascinating personalities, helping them to develop their talents. In the responsible role of tour guides these formerly homeless people can once again live reciprocity, experience normality and regain their self-confidence. I am passionate about building up solidarity and mutual respect as well as immersing into other everyday realities. Your Host and Guide for this Tour is Ferdinand.
The non-profit association SUPERTRAMPS defines people not by their deficiencies, but their often hidden qualities, personalities and incredible knowledge. Having been homeless has made our guides true city experts and survival artists. Our mission is to support these unfortunate yet lovely individuals by helping them to unfold their many talents while overcoming biases and raising compassion.
참가비 전액이 SUPERTRAMPS에 기부되는 착한 트립입니다.
From the police station, Ferdinand will take you on a tour to his personal sites of homelessness. You will discover nice public squares, places steeped in Ferdinand's history and other places that are metaphoric for the daily struggles of a life without a home. Ferdinand will also introduce you to local organisations that helped him out of misery. The walk ends at Wurlitzergasse 89 from where you can easily make your way back to the city center.
향후 예약 가능 일자
원하시는 시간에 예약 가능한 트립이 없다면, 하실 수 있습니다.
9월 3일 화요일  

오후 6:00~오후 7:30.
10자리 중 10자리 남음
Ferdinands tour takes place in all weathers, which is why we recommend to bring weatherproof clothing. To get to the meeting point e.g. take tram 44 from Schottentor (U2) until stop "Familienplatz".