La nostra splendida villetta si trova a circa 1 km dall'uscita "Castelnuovo di Porto"dell'autostrada A1 ed a 12 km da Roma. E'fornita di 2 camere da letto e 2 bagni,salone e cucina. Ampio giardino con piscina e possibilità parcheggio
Bequemes Einfamilienhäuschen im Grünen in der Nähe von Rom mit Schwimmbad, großem Garten und internem Parkplatz. Alle Räume haben Parkettboden. Die Zimmer sind mit geräumigen Bädern ausgestattet. Das Doppelsimmer besitzt eine begehbare Schrankkabine. Das Häuschen ist vollständig möbliert, mit allem Komfort versehen und befindet sich neben der Villa des Eigentümers. Die Gäste dürfen das Schwimmbad (14m x 6m) kostenlos benutzen. Es besteht die Möglichkeit, in dem großen Garten zu grillen und spazieren zu gehen. Die Hauseigentümergemeinschaft "Colleverde", in der das Häuschen liegt, ist eine kleine Insel des Friedens .Kurz vor dem Wohngebiet gibt es eine Bar/Eisdiele, einen Zeitungskiosk, eine Eisenwarenhandlung, ein Käsegeschäft und einen Frisör. Man kann in den Straßen des Wohngebiets, die asphaltiert und gut beleuchtet sind, angenehme Spaziergänge machen. Das beste Verkehrsmittel für Anreise und Aufenthalt ist sicher das Auto (Autobahnausfahrt Castelnuovo di Porto in etwa 1 Km Entfernung). Alternativ gibt es einen Bus mit Pendelservice zum Bahnhof von Monterotondo, von wo man mit dem Zug bis Rom-Tiburtina oder weiter zum Flughafen Fiumicino fahren kann. Weitere Busverbindungen gibt es auf der nicht weit entfernten Via Tiberina bis Prima Porta (bereits Stadtgebiet Rom), von wo eine U-Bahnverbindung direkt ins Zentrum von Rom führt.
Il consorzio residenziale "Colleverde" in cui si trova la villetta è una piccola oasi di pace. All'ingresso è presente un bar gelateria, un'edicola, un negozio di ferramenta ed una rivendita di formaggiE' molto piacevole passeggiare per le strade del consorzio che sono tutte ben illuminate ed asfaltate.
Une vraie belle rencontre avec Antonino et sa femme, des gens de qualité et adorables. Nous avons été reçu comme des invités. A notre arrivée des boissons fraîches et des fruits frais nous attendaient; la maison est telle que décrite dans l'annonce, la piscine est magnifique. La maison est très bien placée par rapport à Rome (environ 20km ). Nous avons passé un superbe séjour.
isabelle
2015-08-07T00:00:00Z
Antonino and his wife made us very welcome. They were in touch with us and when we phoned that we would be late, they were very accommodating. They showed us around and were very friendly.
Dawn
2015-05-27T00:00:00Z
Nous avons passé un agréable séjour dans la petite villa d'Antonino et Christine qui nous ont réservé un accueil très chaleureux. Le frigo était rempli (lait, beurre, fromage, boissons fraîches...) avec ce qu'il faut pour le petit déj et une marmelade excellente faite maison par Christine. Les enfants étaient contents d'avoir leurs paquets de bonbons. Bref, un c'est la première fois que nous avons eu un accueil aussi chaleureux ! Nous nous sommes sentis comme à la maison car Antonino et Christine étaient discrets et nous ont laissé pleinement profité des commodités en particulier la superbe piscine rien que pour nous! Antonino et Christine étaient toujours au petit soin et toujours disponibles pour rendre service ou donner des indications... Nous avons découvert des gens très sympathiques avec des valeurs. Nous recommandons chaudement cette habitation pour toute famille désireuse de profiter d'un séjour au calme loin du vacarme des voitures et tout proche de la magnifique ville de Rome (moins de 30min en voiture). Vous n'avez rien à apporter, la maison est très bien équipée.
Soufiane
2016-07-31T00:00:00Z
Si vous voulez découvrir les splendeurs de Rome et en même temps vous détendre au bord de la piscine , c'est l'endroit idéal! ( prévoir un petit 40 minutes voiture plus train pour arriver dans le centre ) L'accueil est formidable: quel plaisir de ne pas devoir faire les courses à peine arrivés! ( fruits, lait, pain, charcuterie et même petite bouteille de vin!) Le logement est spacieux et propre, le jardin très arboré et fleuri, la piscine est formidable mais plus que tout il faut retenir la jolie rencontre avec les propriétaires... Merci à Antonimo l'artiste et sa jolie muse .... Une adresse donc à retenir et à conseiller..
Valerie
2016-08-14T00:00:00Z
Antonio and his wife gave us a warm welcome. They were helpful discovering the neighbourhood and Rome. Antonio gave us great tips for traveling to and parking in Rome, good restaurants and a place we could change our tires. The pool is great and we were the only guests so had it all to ourselves. Great place when you are a family.
Roos
2015-07-15T00:00:00Z
Nous avons été remarquablement accueilli par Antonio et son épouse. Nous avons passé une semaine géniale dans une maison idéale pour visiter Rome (20 min voiture + 25 min train jusqu'à Flaminio) et la région du Latium. La maison et la piscine permettent de se reposer avant ou après les excursions. Antonio nous a recommandé la visite du site antique de Lucus Feroniae à 5 min de la maison. Top et gratuit et en plus nous étions seuls ! à faire absolument. Un grand merci pour tout !!!
pierre-yves
2016-08-08T00:00:00Z
Nous étions attendus avec un frigo rempli de boissons fraiches (jus d'orange, coca pour les enfants, lait etc... et pour nous un bon vin blanc italien, également du café du thé, nutella, du pain, des gateaux UN VRAI FESTIN, quel accueil généreux !!!!
christelle
2015-07-24T00:00:00Z
Antonino und seine Frau Christine haben eine Kollegin und mich für zwei Wochen in ihrer tollen Unterkunft beherbergt! Wir wurden mit einem gefüllten Kühlschrank empfangen und durften auch die Räder benützen um die rund 5km nach Monterotondo zu fahren. Die beiden Gastgeber waren sehr bemüht und Dank Christines Deutsch, konnten wir uns immer problemlos unterhalten. Das kleine Häuschen in dem wir wohnten hat uns als gemütliche Behausung gedient und lässt dank 2 separaten Zimmern, 2 Bädern und einer gemütlichen Wohnküche keine Wünsche offen! Die Möglichkeit im wunderbaren Garten zu grillen, hat unseren Aufenthalt noch mehr verfeinert. Auch bei kleineren Problemen wie falschen Zugfahrplänen oder geschlossenen Mietwagenstationen, haben uns die beiden immer sehr sehr hilfreich zur Seite gestanden. Wir freuen uns diese tolle Bekanntschaft gemacht zu haben und derart schöne Tage dort verbringen zu können. Es empfiehlt sich ein Auto zu mieten um mobil sein zu können und die tolle umliegende Landschaft ausführlich zu genießen. Mit dem Auto sind es ca. 30 min nach Rom. Wir können einen Aufenthalt einem jeden nur Nahe legen!
Konstantin
2015-04-25T00:00:00Z
숙소 유형
집 전체
---
건물 유형
별장/타운하우스
---
수용 인원
4
---
침실 수
Castelnuovo di Porto , Lazio, 이탈리아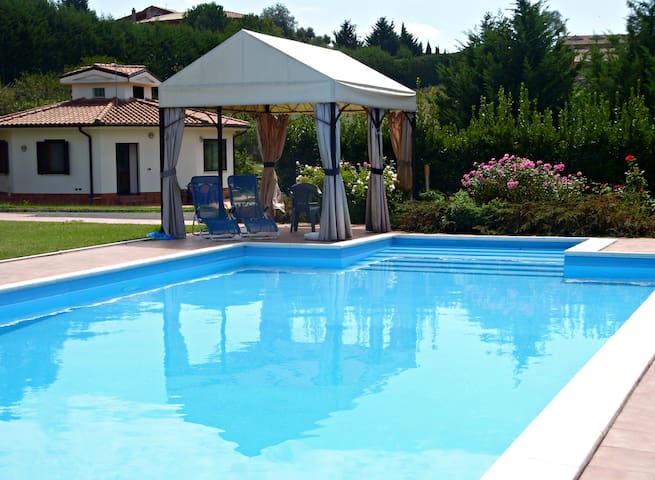 The large apartment, bright and quiet, enjoys a panoramic view over the tiber valley. On the first floor of a quiet, green building, it consists of living room, kitchen, three bedrooms, two bathrooms, garden, parking.
숙소 유형
집 전체
---
건물 유형
아파트(콘도미니엄)
---
수용 인원
5
---
침실 수
Tre Pontoni, Lazio, 이탈리아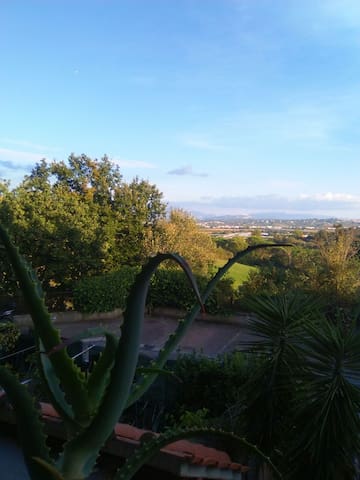 A stone's throw from Rome (26 km) a cozy room where also stay with prorio friend quattrozampe.wi fi.servizio transportation to and from airport and stazione.ampio garden.
Room overlooking the garden
숙소 유형
개인실
---
건물 유형
단독주택
---
수용 인원
2
---
침실 수
Tre Pontoni, Lazio, 이탈리아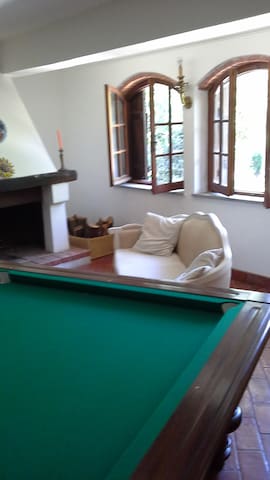 A 20 minuti da Roma nord, Villa unifamiliare di 200 mq con giardino, in cima ad una collina, tra natura e nella privacy assoluta. Alloggio luminoso, ambienti spaziosi, confortevole e familiare. I bambini fino a 3 anni non pagano ( fino a 2 culle )
Fabiana's house is wonderful, tastefully and stylishly decorated, spacious and very relaxing. She and her husband were kind and charming hosts, despite the late hour of our arrival they met us at a designated area and guided us (by car) to the house which is in a gated area; this made it feel very secure and private, which we all appreciated. They then phoned around for us to find a restaurant that would stay open to feed the nine of us and again guided us to this place. She had baked a cake which tasted delicious. My one regret is that we did not stay there for longer. We all agreed that we wished we had. The surrounding area is lovely and a good place to stay to get to a lot of different places. Thank you Fabiana for being such a charming hostess with such a lovely residence,.
Jane
2016-07-24T00:00:00Z
Abbiamo soggiornato qui per due weekend consecutivi... inutile dire la bellezza della villa e la tranquillità del posto. Casa organizzatissima... curata in ogni minimo dettaglio. Si sente la mano di una famiglia che ha a cuore questo posto! Fabiana è una persona molto disponibile e dolce... ci ha fatto anche trovare tutte e due le volte un dolce fatto da lei come benvenuto. Io e i miei amici sicuramente ci torneremo... ormai che l'abbiamo scovato nn lo lasciamo più
Pamela
2016-05-02T00:00:00Z
A beautiful villa owned by a very hospitable family. We had a comfortable stay there with perfect air conditioning. Communication works great with this family. Very nice view from the villa. I will surely recommend this place as it is worth for the money paid.
Ponnulakshmi
2016-05-23T00:00:00Z
Superbe maison au calme!! Proche de Rome on a passé une super semaine je recommande. En plus Fabiana est très accueillante
Eline
2016-08-13T00:00:00Z
Fabiana è stata molto attiva e disponibile nella preparazione del nostro arrivo e durante il soggiorno, si è adeguata a ogni nostra richiesta. La casa è grande, comoda e situata nella cornice della campagna romana, ma a soli 20 minuti di Roma. È un posto ideale per stare in famiglia perché ti permette di conoscere anche posti meravigliosi come Trevignano, Bracciano, l'Abbazia di Farfa, a pochi chilometri in macchina, sempre nel relax e la calma di una casa fornita e comodissima. Ha una vista panoramica molto bella della campagna circostante. Tutto ha fatto del nostro soggiorno un' esperienza bellissima e consigliatissima.
melisa
2016-08-01T00:00:00Z
Fabiana estuvo atenta antes del viaje y durante. Nos despidió con sus hijas que incluso nos han traído de regalo un regalo para el más pequeño de la familia. La casa es espectacular, las fotos no muestran lo hermosa que es. La vista es hermosisima! Creo que sin gps no sería muy fácil de encontrar, pero con uno no hay grandes problemas. Nuestro vuelo se retrasó unas horas y Fabiana muy amablemente nos espero pata guiarnos. Incluso nos dio dos juegos de llaves para que estemos más cómodos. Tuvimos un pequeño problema con el portón de entrada al estacionamiento de la casa pero pedimos ayuda y fue solucionado rápido. De todos modos esto nos hizo pensar que sería muy bueno que haya indicaciones básicas de la casa por escrito para no tener que preguntar ante cualquier inconveniente...! Gas, luces, guardado de cosas, funcionamiento de los portones, etc. Al llegar muy tarde no pudimos retener toda la información. Creo que ayudaría a la dueña y también a los huéspedes. La estancia fue hermosa! Vale cada centavo.
Tamara
2016-09-12T00:00:00Z
Villa CountryRome is a beautiful place to relax and having a good time. We were seven friends and really enjoyed our stay there. At the arrival, our navigation system didn't show us the right place, but thankfully Fabiana's husband Maurizio picked us up and showed us the way. He showed us the house and gave us the keys and everything was perfect. The house was clean and welcoming. The beds were comfortable and the bathrooms were also great. We cooked by ourselves and we found everything we needed to do so. The neighborhood is very safe and quiet, it's a private area, which you can only access with keys for the gate. There are enough spaces for the cars to fit. I can't say much about the prize, it was just perfect. Overall we enjoyed our stay and I would recommend this house to everyone.
Lukas
2016-08-16T00:00:00Z
Fabiana e suo marito sono stati molto gentili e professionali. La villetta è anche meglio di quanto non sia in foto ed è in un complesso di appartamenti tranquillo e discreto. Noi abbiamo usato la casa per un off-site aziendale ed ha pienamente rispettato le nostre aspettative. Torneremo volentieri!
Valentina
2016-06-18T00:00:00Z
숙소 유형
집 전체
---
건물 유형
별장/타운하우스
---
수용 인원
10
---
침실 수
Riano, Lazio, 이탈리아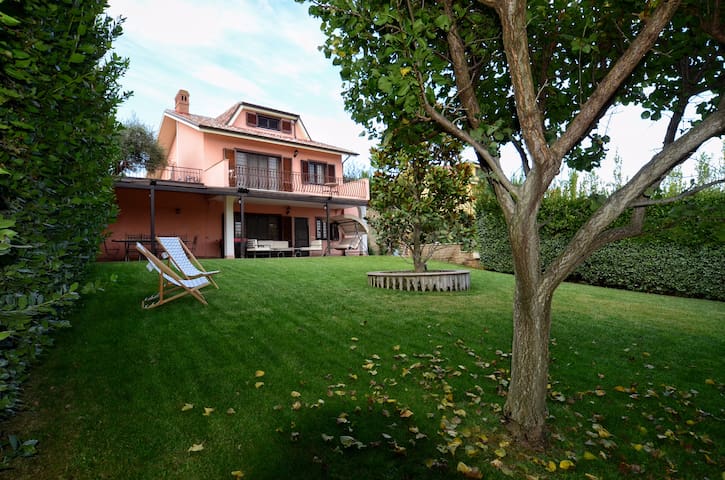 The Villa is located in the countryside of the Tiber Valley.
The Villa is located in the countryside of the Tiber Valley. The B&B is equipped with 2 double rooms + 1 single room tastefully furnished with a private bathroom . Living room of large dimensions. The rooms are in a villa with private garden and beautiful view on the bend of the Tiber . The center of Rome (Piazza del Popolo and Villa Borghese) is reachable in 10 minutes by free and private shuttle service and 20 minutes by train. For those arriving by car , the B & B is only 5 km. from the exit of North of Rome . Free private parking . Breakfast is served in the kitchen or in the garden. The indicated rates are for 1 room
숙소 유형
개인실
---
건물 유형
B&B
---
수용 인원
5
---
침실 수
Belvedere, Lazio, 이탈리아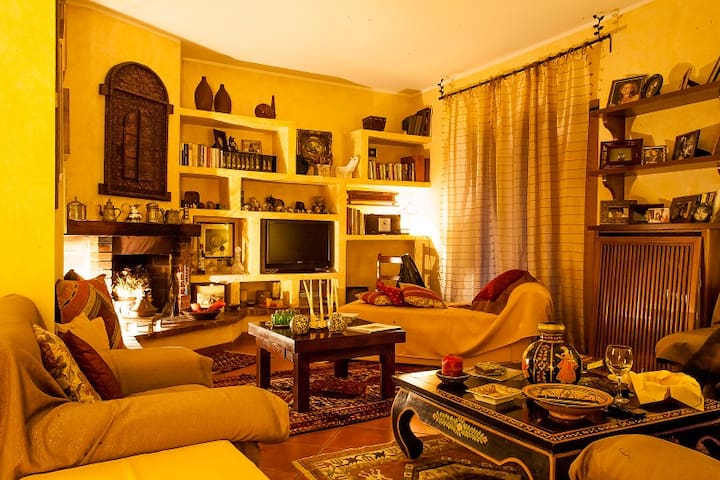 Welcome to Willow House, in the heart of Riano countryside, located about 7 minutes from the toll booth, 20 from the GRA and 30 minutes from the centre of Rome. Here you will find all the comfort you need to enjoy your stay in this oasis of peace!
Welcome to our Willow House, in Riano countryside, locatad about 7 minutes from the toll booth, 20 minutes from the GRA and 30 minutes from the centre of Rome. Entering the house, you will find yourselves surrounded by an unusual world of forms and colours. With its wall paintings, cardboard shapes of fantastic characters and its paintings, our house is a little art gallery, rich in incentives but also discreet and relaxing.
The hamlet Willow House is located in a district consisting of 20 villas surrounded by a oak wood, with a wide view of the "Tiber Valley"; in the background, the majestic peaks of "Monti Sabini". Although it is just outside the city, our villa is an oasis of peace, infused with aromas and colours. You can at times hear some sheeps and cows in the distance, surrounded by the quietness of the countryside. Being a protected area, it is also possible to admire a great variety of wild animals, among which porcupines, foxes, "funny" boars, pheasants, robins and so on. Riano Riano is a Hill Resort located to the north of Rome(URL HIDDEN)The traditional medieval village is highly suggestive with its "Boncompagni-Ludovisi" castle with its frescoes from the school of Zuccari. Locals' favourites Ristoranti are all around this area(URL HIDDEN)The riding stables situated in proximity of our villa will offer you the opportunity to go horseback riding in woods enjoying a romantic and reinvigorating walk. The area The village of Riano is situated right in between the two consular roads Flaminia and Tiberina, on the borderline with the "Veio Park" and in the middle of the Etruscan area. This means you'll be surrounded by archeological and naturalistic sites that are just a drive away and that you can't miss. Some of these include: Veio, Calcata, Farfa and the nature reserve of Nazzano Tevere-Farfa, the lakes of Bracciano and Martignano, Sant'Oreste and the nature reserve of "Monte Soratte", the peaks of Gennaro and Pellecchia in the regional nature park of the "Monti Lucretili", "Villa Adriana" in Tivoli and the numerous medieval village of the area: Sacrofano, Castelnuovo di Porto, Morlupo, Rignano, Capena, Fiano, Civitella san Paolo, Nazzano, Ponzano, Filacciano, Torrita Tiberina.
Laura and Felice are wonderful hosts. We felt like meeting old friends again, like arriving home away from home. Their place is cozy and you will find a story behind every painting, candle and cd which will be gladly shared by them. We found everything we need, were served a nice breakfast and given tips on what to see in the area. We hope that it was not the last time we met this inspiring couple! Thank you for having us!
Selva
2016-05-18T00:00:00Z
We highly recommend staying at the Willow House close to Rome. Our hosts were very kind and went out of there way to make it a pleasant stay. It was easy to get to the city center of Rome by car, and we enjoyed the evenings at the house.
Mette
2016-07-26T00:00:00Z
Amazing stay! If we gonna have a chance we'll definitely come back! Thank you beautiful people!
Lukas
2016-05-10T00:00:00Z
We really can't say how generous, nice and warm-hearted the host family are and how much we're grateful! Definitely the best hosts ever in Italy! Five stars are far not enough for the recommendation! Their house is located in the half way of a mountain so that we had an open sight over the city of Rome. The house is spacious and beautiful, we also have the access to the kitchen, we've got hot water to make tee, a rich breakfast in the morning. Felice gave us a lot of advice and Laura even personally guided us to the metro station. Most highly recommend this place and if I'll be back to Rome someday, definitely back to visit them. Thanks again for their hospitality and so much help!
Yunxi
2016-08-04T00:00:00Z
Willow's place Was good to stay at if you are looking for somewhere outside of Rome to stay at. We had a little trouble finding the place but willows husband helped us out. The place was located in a gated community so you had to let the hosts know when you wanted to leave. It was good for a quick one night stay. Hosts were very friendly!
Alana
2016-05-23T00:00:00Z
Very frendly host, recommended accommodation. Thanks, and hope to see you again.
Sanzi
2016-09-02T00:00:00Z
Je tiens à remercier Laura et Felice pour leur accueil et leur gentillesse. Dès les premières minutes, tout est fait pour que vous vous sentiez comme chez vous (tasse de thé, petit gâteau), la maison est très agréable, confortable et fonctionnelle... La chambre était très plaisante, décorée avec goût. Ce que j'ai adoré par dessus tout, c'est le fait d'être à la "campagne" à proximité du centre de Rome. Bien sûr, il faut une voiture mais le déplacement n'est pas du tout un souci comparé au confort et aux services offerts par nos hôtes!!! Concernant nos hôtes, Laura et Felice, ce sont des personnes adorables avec qui il est très agréable de discuter. Ils sont à l'écoute de notre moindre besoin sans être envahissants,... Bref ce sont des personnes aux grand cœur qui valent la peine d'être connues. I want to thank Laura and Felice for their hospitality and kindness. From the first minutes, everything is done to make you feel at home (teacup, cupcake), the house is very nice, comfortable and functional ... The room was very pleasant, tastefully decorated. What I loved about it is the fact of being in the "campaign" near the center of Rome. Of course, you need a car but the trip is not at all a concern compared to the comfort and services offered by our hosts !!! Regarding our guests, Laura and Felice, they are lovely people with whom it is very pleasant to talk to. They are attentive to our every need without being overbearing ... In short they are people with great heart that are worth knowing.
Olivier
2015-05-30T00:00:00Z
숙소 유형
집 전체
---
건물 유형
별장/타운하우스
---
수용 인원
4
---
침실 수
Riano, Lazio, 이탈리아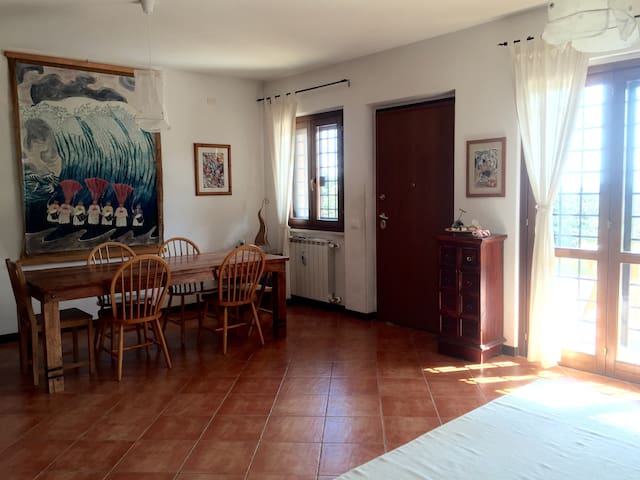 Nous mettons à votre disposition quatre chambres très lumineuses donnant sur un petit jardin, situées au rez de chaussée, ainsi qu'une salle de bain indépendante . Le lieu est calme et reposant et est situé dans une rue avec accès privée. De Riano vous êtes à 24 km du centre de Rome que vous pouvez atteindre par train ou par Bus. Nous pouvons mettre à votre disposition un véhicule pour vos déplacements à un prix très compétitif. Plusieurs commerces se trouvent a 10mn a pieds.
Maison très agréable, tranquille et lumineuse. Son atout majeur : elle donne sur une vue de la campagne romaine. Les chambres sont faites pour un couple ou une personne seule.
RIANO est un village atypique italien avec un centre historique de l'époque médiévale à 10 mn de marche.
숙소 유형
개인실
---
건물 유형
단독주택
---
수용 인원
4
---
침실 수
Riano, Lazio, 이탈리아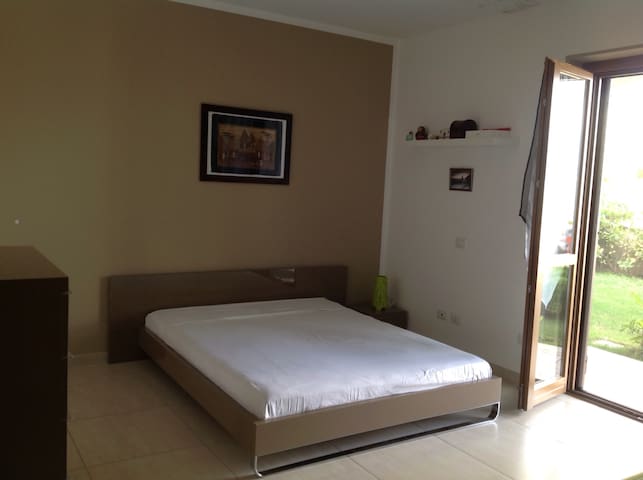 Un beau Casale situé au bord de la magnifique parc régional de Veio, dans un quartier calme, à seulement 13 km. de Rome, accessible en voiture par l'autoroute (A1). Le calme de son petit parc, la piscine et la beauté architecturale de la structure typique de l'endroit, ont une belle atmosphère relaxante et romantique, idéal pour les loisirs ou les affaires. Le Casale a été construit à la fin du 19ème siècle. A l'intérieur, la grande salle de séjour, un salon, une cuisine entièrement équipée, un trois grandes suites ont été entièrement rénovées et joliment meublées. Vous pouvez louer la villa entière pour une grande réunion de famille ou d'un groupe de familles. Une grande terrasse et les jardins accueillent les clients de découvrir le dehors. Une piscine est disponible du 10 mai au 15 Octobre. La proximité de Rome en font un lieu idéal pour des vacances en Italie. Casale dispose de 3 suites, chacune avec salle de bains privative, dotées de tout le confort moderne. Les suites sont lumineuses, calme et ensoleillé avec vue sur le parc, sur les champs verdoyants de la campagne ou la piscine extérieure. Le décor est un mélange de meubles modernes et anciens. Les suites sont équipées de tout le confort: - TV satellite et lecteur DVD - Air conditionné et chauffage avec réglage individuel - Wifi - Sélection de café et thé. Le Casale a quelques places de stationnement en plein air, devant l'entrée. Sont gratuits. Casale ne propose pas de restaurant à l'intérieur de sa structure. Le partenaire de restaurant "I Mulinari", se trouve à quelques minutes en voiture de la maison, à Capena. Réputé pour la qualité et la sophistication de sa cuisine. Appliquer à tous nos clients une réduction de 10% (hors boissons).
Im Sommer 2013 verbrachten wir mit 6 Personen aus Deutschland und Hong Kong 2 Wochen in dem großzügigen Haus von Olga in Castelnuvo di Porto, das eine charmante Altstadt hat. Die Lage und die Ausstattung des Hauses waren für uns in jeder Hinsicht perfekt. Insbesondere hat allen der gepflegte Garten mit dem Pool und den Haustieren gefallen. Hier konnten wir uns erholen und viel unternehmen, vor allem in Rom. Wir sprechen gerne eine Empfehlung für dieses Haus aus. In the summer of 2013, we spent two weeks with six people in the spacious house of Olga in Castelnuovo di Porto, which has a charming old town. The location and the amenities of the house were perfect for us in every way. All of us particularly enjoyed the well-tended garden with the pool and the lovely pets. There we could relax and do a lot of things, especially in Rome. Therefore we would like to make a recommendation for this house.
Karl-Ludwig
2013-08-11T00:00:00Z
My husband and I and our four children stayed here for three weeks in August. Everything was fantastic. The house was spotless and very comfortable and large. The gardens and pool were just perfect. I would highly recommend this house! Thank you so much.
Kristen
2016-08-24T00:00:00Z
Открывали для себя Рим этой весной! Путешествовали на автомобиле большой семьей: 2 взрослых и 3 детей, из которых 2 подростка. Просидев в Инете месяц, нашли идеальный для нашей семьи дом: красавец, модернизированный, уединённый, совершенно тихий (но цивилизация рядом, до центра Рима примерно 20 км), с бассейном и великолепной ухоженной территорией! Гостеприимство хозяев - такого ещё поискать! Цены - приемлемые, доброжелательность персонала - на высоком уровне. Жили на вилле 11 дней, дополнительно заказали ужин в итальянском стиле. Всё было организованно с учётом всех наших пожеланий! Приятный момент: если вы чего-то пожелаете, то вам это организуется. Например: экскурсии или обслуживание прямо на вилле. По дому: стильный дизайн, действующие камины, комфортабельные комнаты, вода - без проблем, хорошая уборка территории. Очень красивый сад. Вокруг дома - зелень, постоянно поют птицы. Бассейн хороший, чистый, бельё и посуда достойные. Вся семья осталась в восторге! В общем, рекомендуем со спокойной совестью.
Natalia
2013-05-30T00:00:00Z
숙소 유형
집 전체
---
건물 유형
별장/타운하우스
---
수용 인원
7
---
침실 수
Castelnuovo di Porto, Lazio, 이탈리아
Appartamento indipendente all'interno di una casa in pietra, situata nella verdeggiante campagna di Capena. E' composto di 2 camere matrimoniali, bagno, salone con camino , giardino chiuso utilizzabile per accogliere cane e un giardino aperto.
E' ubicato al km 11 della Via Provinciale Capena- Morlupo e vi si accede attraverso una stradina sterrata .
Nelle vicinanze oltre alla cittadina d'arte, ai siti archeologici tra cui Locus Feronie e altri, si può visitare facilmente il parco di TEVERE FARFA che dista pochi chilometri. La zona industriale di Capena/Fiano dista poche centinaia di metri.Nelle vicinanze ci sono varie case automobilistiche tra cui Mercedes e Nissan, oltre alla Wurth e centri commerciali Outlet.
숙소 유형
집 전체
---
건물 유형
단독주택
---
수용 인원
4
---
침실 수
Rosetoli-maleranca, Lazio, 이탈리아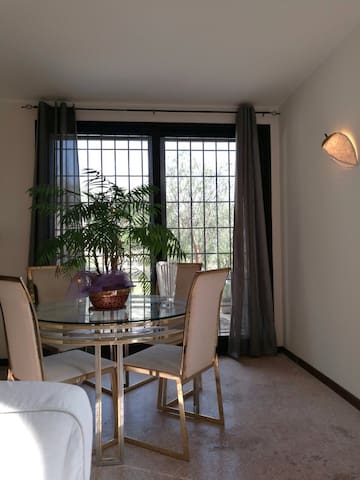 La nostra villa sta a pochi chilometri da Roma centro, vicina all'autostrada Roma Firenze. Camera privata con bagno attiguo ed ampio salone adiacente comune. Ambiente multiculturale e ospitale, Possibilità di ospitare fino a 4 persone
C'è la possibilità di riposarsi lontano dai rumori della (URL HIDDEN) camera è spaziosa e confortevole. Possiamo ospitare fino a 4 persone.
Viviamo in una zona tranquilla nel parco di Veio. C'è la possibilità di visitare borghi antichi e di fare trekking.
숙소 유형
개인실
---
건물 유형
별장/타운하우스
---
수용 인원
4
---
침실 수
Belvedere, Lazio, 이탈리아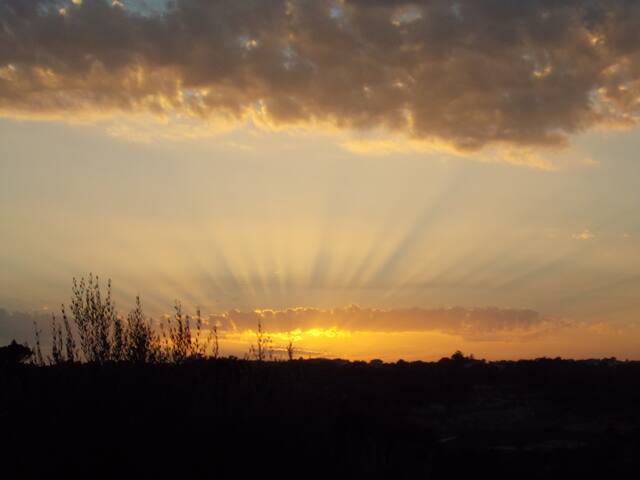 Delizioso appartamento in villa con giardino,posto auto. Ad un km circa dalla stazione dove il treno porta a piazzale flaminio per prendere la metro.ospita 2 persone comodamente ,cucina attrezzata(lavatrice) bagno con doccia.disponibile da fine aprile 2015 anche gay friendly
Giardino e posto auto
Il paese antico è molto caratteristico
숙소 유형
집 전체
---
건물 유형
별장/타운하우스
---
수용 인원
2
---
침실 수
Riano, Lazio, 이탈리아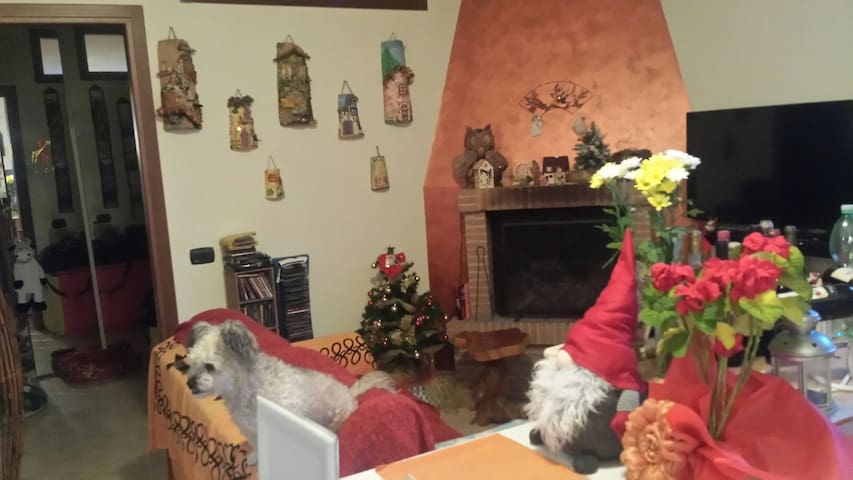 Maison avec jardin assez 30 min. de Rome
C 'est un mini-villa de plus de 80 mètres carrés. Moderne, parquet, lumineux, ensoleillé, calme, avec un grand jardin habitable, loin des regards indiscrets Il dispose de deux entrées: une qui traverse la propriété privée de mon mari, pas possible par des clients autres que dans des cas exceptionnels, et un autre indépendant, accessible par une route privée. (Où les clients seront accompagnés) Equipée et confortevolej
Capena est une ville avec un beau centre ancien. Il est 10min. de l'autoroute et est entouré par des collines et des campagnes.
Rosa's house is not only beautifully appointed it is also extremely comfortable. We were warmly welcomed by her and her husband who showed us how to reach the house's private entrance and also gave us some fresh salad from the garden and some home made olives. What a perfect start to our stay! We are a family of four and Rosa had stocked the kitchen with a generous amount of snacks and drinks to make sure we could settle straight in without the need to run off to a supermarket first. We enjoyed staying in the house immensely, it feels like a haven away from the hustle and bustle of Italian city life. It was a real pleasure to just relax and unwind there. The location was perfect for us to visit friends in the area and is also a good base for day trips to other local towns in the area and even for visiting Rome. You do need a car though. We hope to return to Capena again one day and would definitely love to stay at Rosa's house when we do. We highly recommend it to others looking to stay outside of Rome and looking to experience a taste of the real Italy.
Catherine
2016-01-17T00:00:00Z
Sono stato a casa di Rosa con la famiglia ed una coppia di amici. Rosa ci ha accolto in modo caloroso, i nostri bambini hanno potuto giocare con i loro nipotini nella sua casa adiacente. La casa è molto bella, circondata dal giardino. Le foto sull'annuncio danno una idea dettagliata e precisa degli ambienti. Adatto per il soggiorno di una famiglia. La casa è silenziosa e tranquilla, vicina al centro storico (meno di 5 minuti in macchina).
Claudio
2016-01-02T00:00:00Z
Rosa e suo marito sono stati molto ospitali e gentili. La casa grande comoda e pulita. A Capena eravamo di passaggio e purtroppo il paese e i luoghi circostanti sono rovinati dall abusivismo edilizio.
valeria
2016-10-08T00:00:00Z
Rosa et son mari sont très accueillants et disponibles. la maison est très agréable, et suffisamment spacieuse pour 4 et proche de toutes commodités. la proximité des axes routiers nous a permis de visiter Rome, et une grande partie des alentours, nous étions également à 2h30 de Florence et 2h30 de Pompéi. un très bon rapport qualité prix pour 3 semaines au mois d'Août.
olivier
2016-08-29T00:00:00Z
La casa de Rosa es ESPECTACULAR, es amplia y tiene un jardín maravilloso en el que puede tomarse el sol. Es un sitio ideal para desconectar del estrés de la cuidad y descansar del ajetreo turístico de Roma.
Dakota
2016-08-07T00:00:00Z
Rosa è stata un host attento e gentile. La casa è molto comoda e ben accessoriata. Ci ritorneremo senza dubbi!
LA FLUIDOTECNICA SRL
2017-02-03T00:00:00Z
My wife, my daughter and myself were looking for a place near Rome, and we chose Rosa's place based on the description and the reviews. And we did not regret it. The place is very clean, very beautifully furnished and very well equipped, with a lot of attention to details. The garden is very large, we had a lot of fun playing and having breakfast in it, you could even have a nice BBQ. There is a safe place to park the car. Rosa and her husband were very friendly, welcomed us in this apartment and had already prepared for us some snacks, fruits and drinks. She explained everything and told us where we can do our shopping (right next to the place), and how we can get to Rome by train. They were always there for us when we had a question or needed their help. We even got some of their home grown salad and olives. We enjoyed our stay very much, my daughter (8 years) loved the place and the host. Next time we go to Rome, we would definetly choose Rosa's place again.
Mohammed
2016-05-27T00:00:00Z
WOW What a wonderful B&B Rosa and Pino are amazing hosts, they made us feel like part of the family! They were very hepful with everything we needed and more. Their B&B is like a little paradise... Beautiful secluded guest house with beautiful grounds complete with beautiful olive trees, flowers, tables, chairs and parasols. The house was clean, spacious and fully equiped for cooking. Our experience here was by far the best ever for us! We will defenitly return one day, highly recomended.
Brad & Claudette
2016-09-23T00:00:00Z
숙소 유형
집 전체
---
건물 유형
단독주택
---
수용 인원
4
---
침실 수
Capena, Lazio, 이탈리아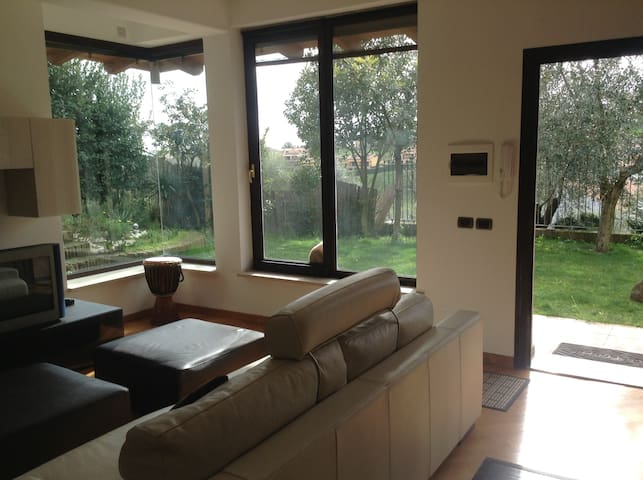 The reservation was canceled 8 days before arrival. This is an automated posting.
Serena
2014-12-23T00:00:00Z
Ewa and Nicola made me feel most welcome with cheese and wine on my arrival, and were happy to provide help with travel tips and any other information. The self contained studio provides a quiet spot to relax after the bustle of Rome. It is 5 mins from the freeway which provides easy access to Rome (though better to get the train), Tivoli, Palestrina and other locations.
Warren
2015-10-07T00:00:00Z
Som sagt jeg følte at jeg kjent Ewa & Nicol for lenge siden. Jeg følte ikke meg at jeg var gjest. Jeg følte meg at jeg var hjemme til min egen familie. De har tatt godt ta være på oss. Så Alt stemte det som ble beskrevet i profil. Så Anbefaler for det sterkeste.
Miriam
2015-05-10T00:00:00Z
Accoglienza molto calorosa. L'annuncio descrive l'appartamento fedelmente. Ci siamo trovati benissimo e consigliamo vivamente di prenotare questa sistemazione se si è in zona.
Adriano
2015-04-25T00:00:00Z
Ewa e Nicola hanno fatto il nostro soggiorno a Castelnuovo di Porto un'esperienza eccezionale. Con tutte le loro premure ci siamo sentiti come a casa di parenti. L'appartamento e' comodo, la vista piacevole. Ci vuole solo una mezz'ora per arrivare a Roma in macchina. Speriamo di tornarci un giorno!
Olga
2015-03-05T00:00:00Z
Ewa and Nicola where just great. Super welcoming and arranging, flexible and kind. They only wanted us to have a great time in Rome and would even pay attention to details for us to enjoy the maximum. We felt like home and we even shared some nice moments with them. It would have been great to share some more but our visiting schedule didn't allow us much. The apartment was tip top, too! What you see in the picture, you get in reality. Everything very clean and some edible surprises out of kindness. Fully equipped kitchen and a beautiful view from the window. The weather is always a little bit more chill in Castelnuovo than in Rome so bare it in mind, it's just a little bit though. One thing to really have in mind when you come to Castelnuovo: if you don't have a car, you need to arrange with the hosts if they can take you to Castelnuovo's train station. They always can and are super sweet, but you just need to remember it. It might be more difficult to come from Rome at night since there are no trains all night long. It is doable, though, to go for a drink at night or something but, again, you should communicate with Ewa and Nicola. I would definitely come back to their place, with a little bit more time and less things to see, in order to share some more quality time together and discover some more about Italy with them. If you are looking for nice human connection, this is the right place.
Sofía
2016-07-20T00:00:00Z
The listing description was spot on! The room was so clean and perfect and they provided us with breakfast and all kinds of amenities!
Donia
2015-07-14T00:00:00Z
Это были чудесные несколько дней проведенные у Ева и Никола! Хозяева гостеприимны доброжелательны! Студия чистая уютная красивая! Есть абсолютно всё необходимое..мы были встречены тёплой улыбкой..фрукты,домашнее вино,пицца..нас встретили как близких людей...было очень приятно! Место очень красивое в горах..оливковые деревья..сосны..кипарисы..старые каменные дома..яркое солнце..голубое небо..чистейший воздух!До Рима несколько минут езды..неподалёку прекрасное озеро с красивой набережной... Хозяева всегда готовы прийти на помощь..помогли нам когда была проблема с машиной..прекрасные люди! Очень рекомендую всем! И сама мечтаю ещё раз приехать к Еве и Никола..
Ирина
2014-12-30T00:00:00Z
숙소 유형
집 전체
---
건물 유형
단독주택
---
수용 인원
3
---
침실 수
Castelnuovo di Porto (RM), Lazio, 이탈리아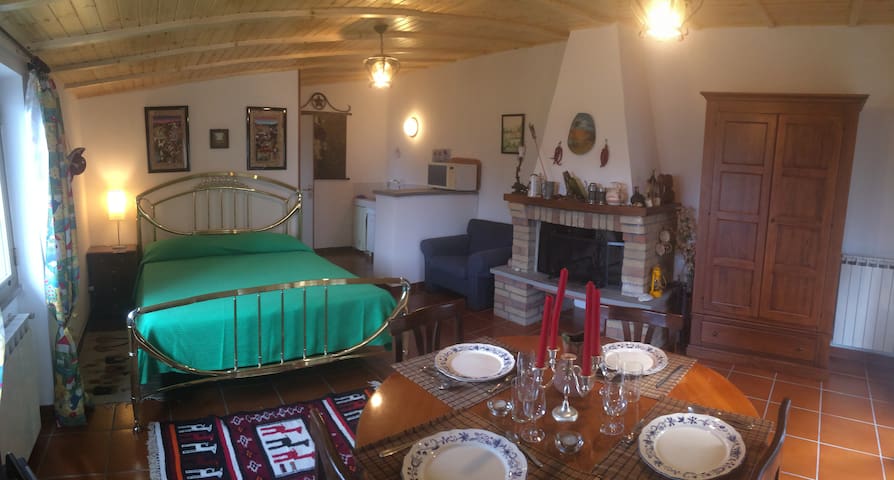 Casa con con piscina, palestra e centro benessere immersa nel verde a 32 km dal centro di Roma . Situata nella cittadina di Capena dalla quale si può Roma tramite la via Tiberina oppure l'autostrada o attraverso il servizio di trasporto pubblico.
Casa con piscina, palestra e centro benessere immersa nel verde a 32 km da Piazza del Popolo. Situata a Capena dalla quale possibile raggiungere Roma tramite la via Tiberina oppure l'autostrada o attraverso il servizio di trasporto pubblico. Il soggiorno in questa bella proprietà è adatto per le famiglie e per tutti coloro che visitano l'Italia in auto . Durante il periodo estivo si può usufruire gratuitamente di una bellissima piscina all'aperto , e durante tutto l'anno con uno vantaggioso sconto di 20 % si possono usufruire dei servizi della Beauty Farm come il bagno turco la sauna finlandese ed anche la rilassante jacuzzi; completa la struttura una bella palestra attrezzata ed anche bar e ristorante situati dentro la villa. Le famiglie con i bambini possono godere in pieno di questa struttura perché è circondata dal verde ed ha una bellissima fontana con i pesci dorati, grande ucceliera , un piccolo orto durante il periodo estivo. Ed è perfetta anche per il soggiorno romantico e rilassante per coppie grazie alla zona benessere e ristorante di famiglia. Durante periodo estivo si possono organnizare le cene a bordo piscina. L'Appartamento è situato al primo piano di questa grande villa in stile rustico ed è composto da un comodo salone con divano letto matrimoniale , angolo cottura e soppalco con ulteriore letto matrimoniale, una camera da letto matrimoniale, bagno con vasca.
Centro a Nord di Roma, nella Valle del Tevere. Eredita il passato storico della romana Capena (i cui resti sono a poche miglia di distanza). Borgo di impianto medioevale con casette a schiera, conserva importanti costruzioni civili e religiose. Produzioni vinicole che danno luogo alla Sagra del Vendemmiale. Interessanti località vicine sono, oltre agli altri centri della Valle del Tevere in prossimità della Capitale, Fara Sabina ( con la storica Abbazia di Farfa). A pochi chilometri da Capena si trova anche il centro archeologico di Lucus Feroniae
숙소 유형
집 전체
---
건물 유형
아파트
---
수용 인원
6
---
침실 수
Rosetoli-maleranca, Lazio, 이탈리아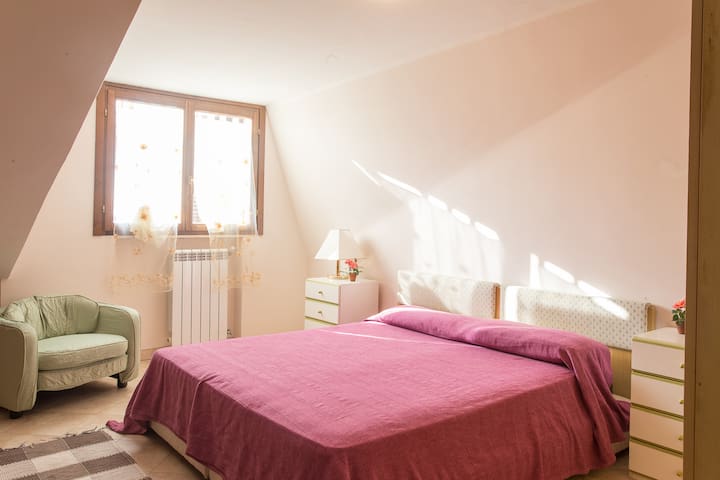 Tre Pontoni - Airbnb
:
69

개의 게스트 후기에서 별

5

개 중 평균

4.88

개
전체 요금을 보려면 날짜를 입력하세요. 추가 요금이 적용되고 세금이 추가될 수 있습니다.