Perfect retreat for skiing, hiking, wine tasting and enjoying the Hudson Valley only 45 mins from NYC. Open floor plan, bright, with cathedral ceilings, roomy kitchen, 65" smart TV with surround sound and huge outdoor deck with table & BBQ grill.
The house is very pretty and cozy. All the amenities available for home accommodations, should you be looking for that. Lots of window area for beautiful sunshine to brighten the house. We enjoyed cooking outdoors and sitting in the patio area. Although it was snowing and a bit cold when we were there, we enjoyed the change from our home in Florida. We loved the kitchen area for cooking and hanging out. The living area is open and close to the kitchen, so made it convenient when watching football to get goodies. Plenty of wood for the fireplace which kept us warm. Bedrooms are upstairs and are situated well and spacious. Bathroom is roomy and it's a pretty view from upstairs. Enjoyable and accommodating is this pretty house in the mountains of Tuxedo Park area.
Nancy
2017-01-01T00:00:00Z
John was an excellent host. We felt very comfortable in his home. The home is roomy, cozy, bright and comfortable. We were snowed in and the fireplace was great! The home is on a beautiful property but also close to parks and shopping. We would stay again!
Jessica
2017-02-18T00:00:00Z
Everything was accurate and the stay wss comfortable
Mike & lisa
2016-07-30T00:00:00Z
My girlfriend and I were extremely pleased with everything this location had to offer. Having traveled from FL to NY to visit her friends and family, this house was the perfect relaxing, yet reachable, getaway. Accommodations were spacious and very comfortable. Both the indoor and outdoor spaces were equally enjoyable with plenty of room to cook & grill. In addition, John was an exceptional host. We were able to reach him with a guaranteed quick response if we had any questions. Would definitely recommend staying here.
Mike
2016-07-02T00:00:00Z
John's cabin in the woods was perfect for my colleagues and I for a work event we were doing in Tuxedo Park. Beautiful house set in the woods, relaxing with a wood burning fireplace and a porch made for entertaining. I wish there was a house manuel when we arrived that gave us directions for wifi, TV, AC, etc instead of contacting the host constantly asking questions. Also, the house was not as clean as we would have liked but not terrible by any means (sofa bed was covered in cat hair and dust on bottom and fridge was not cleaned out for us to put groceries in) but overall we had an excellent stay. John got back to me with any questions we had and was very accommodating for the 4 nights we stayed there. Wish we could have stayed longer and enjoyed the space!
Heather
2016-06-21T00:00:00Z
숙소 유형
집 전체
---
건물 유형
단독주택
---
수용 인원
8
---
침실 수
Tuxedo Park, 뉴욕, 미국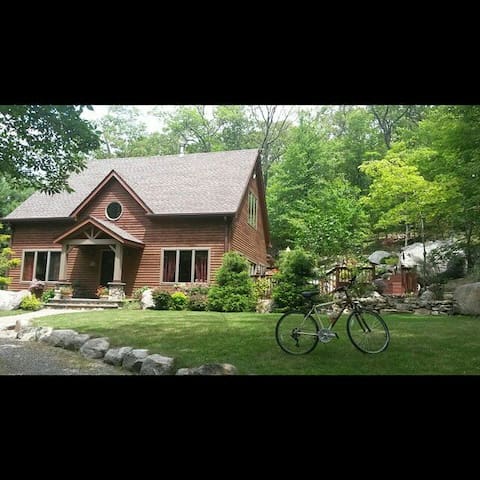 Former carriage house overlooking a brook, totally refurbished in 2013 by architect owners. A fabulous kitchen opens up to a large, luxurious living space, full dining room, three bedrooms and baths, in the exclusive gated community of Tuxedo Park. AVAILABLE MONTHLY STARTING IN THE FALL / WINTER 2016.
A fabulous kitchen opens up to a large, luxurious living space with 75" flat screen TV, two large couches and charming fireplace. Dining room seats 6-8, with a breathtaking bay window overlooking a babbling brook. Casement windows, a large patio and flat 1 acre of yard and woods. This cottage is nestled between grand estates in historic gated Tuxedo Park. Nature lovers can walk, hike, and explore this amazing escape only one hour from New York City. Minutes from state parks, and 15 minutes from world-class shopping at the Woodbury Commons outlets.
Tuxedo Park is a gated community established in the 1890's by tobacco heir Pierre Lorillard, who envisioned this escape as a summer playground for New York society. Great mansions were constructed, many of which remain today.
숙소 유형
집 전체
---
건물 유형
단독주택
---
수용 인원
6
---
침실 수
Tuxedo Park, 뉴욕, 미국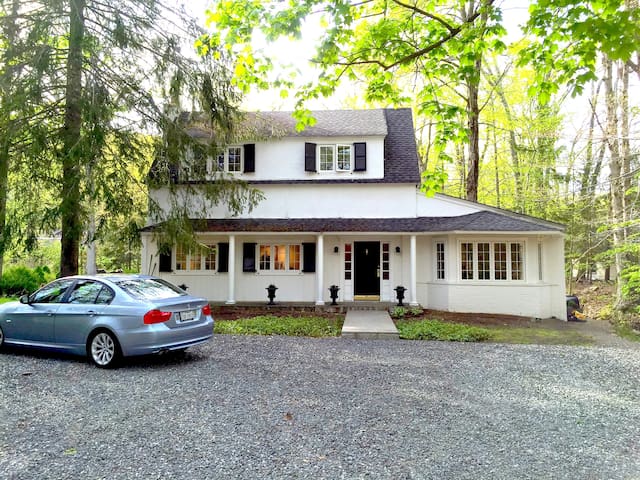 Built in 1930, this magnificent brick country house, set on a lake in historic Tuxedo Park is 4000 square feet large with five bedrooms and 4.5 bathrooms.
The host canceled this reservation 35 days before arrival. This is an automated posting.
E
2016-07-15T00:00:00Z
.
Brian
2016-02-23T00:00:00Z
숙소 유형
집 전체
---
건물 유형
단독주택
---
수용 인원
6
---
침실 수
Tuxedo Park, 뉴욕, 미국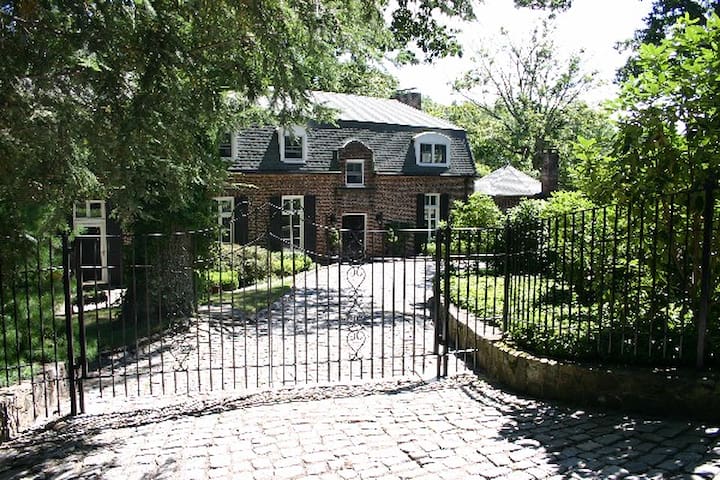 Historic Shingle style home located on a very private cul de sac. 35miles from NYC situated close to the Catskills at the base of the Hudson Valley. Lots of outdoor activities,museums,shops,antiquing! A perfect place to unwind+get away!
This historic home from 1886 located in the cradle of the Hudson Valley only 40 miles from NYC, offers 6+ bedrooms with each one evoking a different proof of time and place. Sleep in Tuscany one night, Venice, another, a Shaker village the next, an English Manor rose room and a petite corner of France. There is a small maid's/au pair room with walk in closet. There is a whimsical playroom with a walk in closet full of toys,board games and a full entertainment center. A young child's and adults delight! The downstairs with 14' ceilings features a grand dining room, living room, kitchen, great hall, biblioteque and TV/game room. The dining room is beautifully decorated with an antique Baronial dining table that easily seats 12. The living room is perfect for entertaining and has mini music entertainment center with a Bose sound dock. The kitchen has top of the line appliances an 8 burner range with 2 indoor grills. There are two ovens and two dishwashers. There is a large outdoor area with grill, picnic table, hammock and Adirondack style chairs to relax by the fire. Among the many things you see and partake in, visit the Dia Museum, West Point Military Academy and various civil war sights, visit and picnic at the Storm King outdoor art center, beautiful Harriman State Park, shop at the famous designer outlet Woodbury Commons, and all of Manhattan is at your doorstep. If you don't like a house with personality , this house rental isn't for you. Remember on Airbnb, you rent a home , not a hotel room.
Tuxedo Park is a 5000 acre wonderland located a mere 1hr drive north of Manhattan. The village is home to three stunning lakes, endless forests, rolling hills, and unforgettable scenery. It has been home to prominent figures such as Mark Twain and Emily Post and a number of celebrities.
Paola was very prompt with replying to email messages prior to our stay and gave us detailed instructions on arriving to the house. We celebrated a bachelorette party and wanted a comfortable home in the Hudson Valley. A few things: the entire community is gated. It's about a 10 minute drive from the gate entrance to the house. The exterior of the house is quite old compared to others in the neighborhood. The house itself is very large and accommodated all of 8 of us. The inside of the house is old and it looks and feels that way. The house is ridiculously cluttered with trinkets EVERYWHERE. For some, this offers a unique feeling but for others, it's just overbearing. The house feels dusty, old and smells like old/moldy fabric...I think because it's impossible to clean around everything in the house. The sheets didn't feel particularly clean and almost had a damp/moldy feel too. The kitchen is quite stocked. The outdoor area is really nothing that can be used. The picnic table/ benches and hammock were falling apart and had cobwebs on them. While the house is very artistic and unique, we were disappointed with the lack of openness and cleanliness. We were surprised by all the reviews left before us.
Aparna
2016-06-06T00:00:00Z
Paola was a very gracious, accommodating hostess. She welcomed us with wine and cheese and was very flexible with our large group. There were many of us, and we came and went on different schedules, yet Paola stayed unruffled through it all. Tuxedo Park is quite the tony neighborhood. Driving past all those mansions and knowing you have a place here makes you feel special. Being in this house was like visiting a magical Victorian museum. It has been created from a hundred and twenty year old carriage house, and its origin is still very visible. I could have spent hours just investigating the architecture alone. On top of that, it is decorated with a plethora of interesting things. Those things were the only real drawback to our stay, because we had a two year old with us, and two year olds like to touch everything. This made us, and Paola nervous. I wouldn't recommend this house to anyone who had trouble with stairs, or had small children, but for everyone else it's a lovely place to spend time.
Jennifer
2015-05-25T00:00:00Z
Paola was a wonderful host, and we had a very nice time staying in her home for a family vacation. She was generous, communicative, and extremely sweet—it was really lovely getting to meet her and find out about the history of the house. The space itself is ENORMOUS, with over six bedrooms, a regal dining room, and several living/congregating areas. There are numerous antique curios and collectibles that she's acquired over the years displayed throughout the house, ranging from portraits to little statues and trinkets to a collection of masks from around the world and some interesting taxidermy. Her kitchen was stocked full of the necessary pots, pans, and spices we needed, and she was kind enough to provide us with English muffins, toast, butter, and assorted breakfast items. Paola also accommodated a few special requests we had (early check-in, late check-out, last-minute changes in the number of guests), and we really appreciated her flexibility. She also attended to a slight SNAFU we had immediately—very, very helpful. She truly went above and beyond for us (thank you!!!). While we had plenty of space in Paola's house, and enjoyed her unique point of view in design and decorating, one caveat is that most of the walls upstairs are covered in a beautiful silk brocade fabric, which is hard to tell in the photos. This caused some allergy flare-ups for a couple members of our family, so if you have an especially sensitive nose, bring a lot of Claritin! Thanks again, Paola, for being such an excellent host.
Brinda
2016-07-17T00:00:00Z
Paola, the host, was amazing! She made us feel at home right from the start. The actual house was exactly as shown in pics. The neighborhood was very clean and amidst lakes and woods. We did a bonfire in the evening as well. Also there was enough space for 14 of us to sleep as per the description. I would love to visit it again!
Nikit
2015-08-10T00:00:00Z
This listing was everything as advertised and more. Paola was a gracious hostess who helped us make this a memorable Thanksgiving weekend. Our group was nine people and we fit into the house without ever feeling cramped for space. Overall, a wonderful experience.
John
2015-11-28T00:00:00Z
Paola was the most gracious and supportive host! She was extremely accommodating to me and my party, always offering to provide us with whatever we needed, beyond our expectations. Her home was like a beautiful set from a Wes Anderson film. Totally one of a kind. Every square inch of the mansion contained something unique and interested to look at. The surroundings were most peaceful and quiet and my entire group of 10 was completely comfortable in each of the themed rooms. We will be sure to come back and revisit at some point! I highly recommend this house!
Rob
2015-07-01T00:00:00Z
Paola thoughtfully accommodated our large party, including great directions, a personal introduction to the property, a bag of trucks for the 5 year old grandson, tablecloths for outdoors, and instructions on how to properly care for her extremely interesting and comfortable home. It is a truly unique property, restored as labor of love. It is historical, well and personally cared for and restored. The house is filled with family pictures and travel treasures - a truly loved personal home. We enjoyed our time there even though the occasion that brought us there was a sad family occasion. Paola understood and accommodated our needs so sweetly. I recommend this property highly.
Tod
2016-06-27T00:00:00Z
Paola was an incredible host. Upon arrival, she greeted us and gave us a tour of the entire house. The refrigerator was stocked with plenty of breakfast items...juices, coffee, muffins, yogurt and lots of extras! We were a group of 6 women in our mid-60's that hadn't been together in almost 50 years since our early college days. The house was very spacious and we each had our own bedroom. All rooms were as depicted in the listing. We had wonderful dinners at the baronial dining room table. Since we had so much to catch up on, we didn't venture out into the town, but took advantage of the beauty of the area and did lots of walking. The area is breathtaking!
Barbara
2015-11-17T00:00:00Z
숙소 유형
집 전체
---
건물 유형
단독주택
---
수용 인원
13
---
침실 수
Tuxedo Park, 뉴욕, 미국
전체 요금을 보려면 날짜를 입력하세요. 추가 요금이 적용되고 세금이 추가될 수 있습니다.