This is newly renovated guest house which is entirely self-contained and private with a separate entrance. You have the whole place to yourself! It is a home away from home!
This is an open plan guest house with ample space. As you enter, you will be greeted with a large open plan kitchen, comfortable lounge space and dining area. The bedroom has a comfortable double bed and a walk-in closet. Access into the Guest House can also be gained through bedroom. Lastly, the bathroom has been completely re-done with a very stylish and modern finish.
You will love this place based on its location - close to Parks, Shops, Bars, Fast Food Restaurants, Fremantle & Beaches, Murdoch University, and Bus/Train Services. It's in a very safe and quiet neighborhood.
Very private and quiet. Has all the amenities you need. Super clean and renovated bathroom is amazing. Perfect spot very close to Fremantle and Perth. It was perfect! Thank you for squeezing us in last minute!!
Tilly
2017-04-10T00:00:00Z
The stay is cozy,clean and comfortable. The kitchen is well equipped.
Kim
2016-12-12T00:00:00Z
Friendly and caring host, close to shopping and restaurants, well equipped kitchen. Me and my wife had a enjoyable stay over the xmas, looking forward to go back again!
Robert
2016-12-30T00:00:00Z
Very close to several bus routes into Fremantle or to Murdoch train station. Great private space and secure with its own separate gated entry. Clean and comfortable accommodation with good air conditioning for Summer. The Samson nature reserve nearby is definitely worth checking out for a morning walk.
Aaron
2017-02-19T00:00:00Z
clean and at a price that I could afford ... suited my purpose as i was doing stuff in Perth and Fremantle ...
Murray
2017-03-17T00:00:00Z
Our stay was quite short, however Suresh and his family made us feel welcome and they were very responsive to our needs. We found eggs, bread and butter in the fridge for our first breakfast. Will definitely stay here again :)
Alex
2016-11-22T00:00:00Z
No complaints and everything was well taken care of given the booking was made short notice i have no dramas reccomending this.
Tristan
2017-03-19T00:00:00Z
Чистая квартира, дружелюбные владельцы, прекрасная цена !
Evgeny
2017-03-24T00:00:00Z
숙소 유형
집 전체
---
건물 유형
게스트하우스
---
수용 인원
2
---
침실 수
Samson, 웨스턴오스트레일리아 주, 오스트레일리아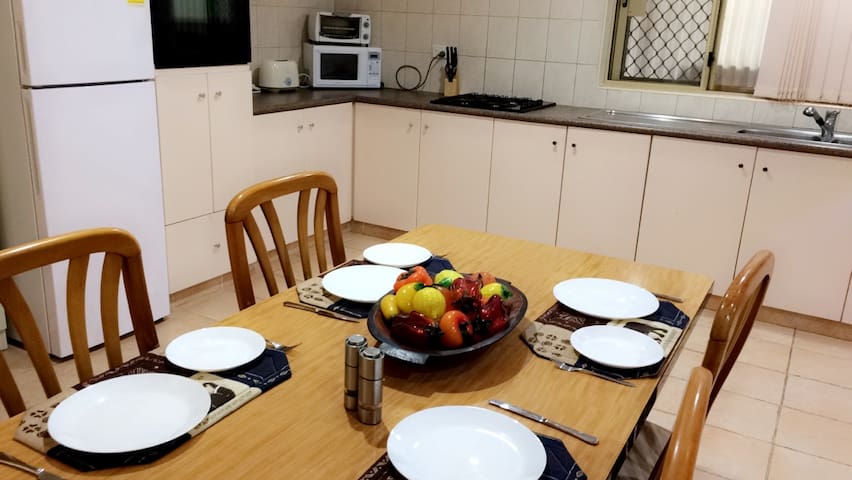 A warm&clean house with nice backyard&fruit trees in the quiet suburb of Samson.Your room is bright&spacious, a retro kitchen with your own fridge + a cozy living room will make you feel at home. Down the road is the amazing native bush Samson Park!
Clean, quiet and comfortable!
Safe and quiet neighborhood
Bruno is a nice friendly host. I had a late check-in and he's happy to help out. The house is amazing, and it has a big room, however wifi is not available. The tree outside keeps the house cool even in summer. Good experience :)
Joey
2017-02-26T00:00:00Z
I stayed with Bruno for 6 nights while I studied at a course nearby. It was a very nice experience. Bruno made me very welcome and I had a set of keys and came and went as I wanted. His accommodation is comfortable and homely. I highly recommend you experience Bruno's hospitality.
Nigel
2016-02-20T00:00:00Z
Le sejour chez Bruno s'est tres bien passe. La maison est tres agreable et propre. Entre Fremantle et Perth, celle-ci est tres bien situee et est bien desservie en transports en commun. Bruno est un hote tres agreable. Il est respectueux et attentionne. Il est toujours present en cas de besoin. En bref, que du positif sur ce sejour !
Julien
2016-08-21T00:00:00Z
Nice home. Good company. And fluffy cat. The bedroom's a bit bigger than it looks it the photo: comfortable, with everything you need. Bruno's a friendly host and Moumoutte, the cat (named after an "ushanka", those fluffy Russian hats, I believe) likes to say hello too. Good location, not far from Fremantle, beaches, or the city, with reasonable public transport. No internet, but Telstra Air hotspot (and McDonald's wifi) nearby. A good opportunity to practice your French too :)
David
2017-02-19T00:00:00Z
숙소 유형
개인실
---
건물 유형
단독주택
---
수용 인원
2
---
침실 수
Samson, 웨스턴오스트레일리아 주, 오스트레일리아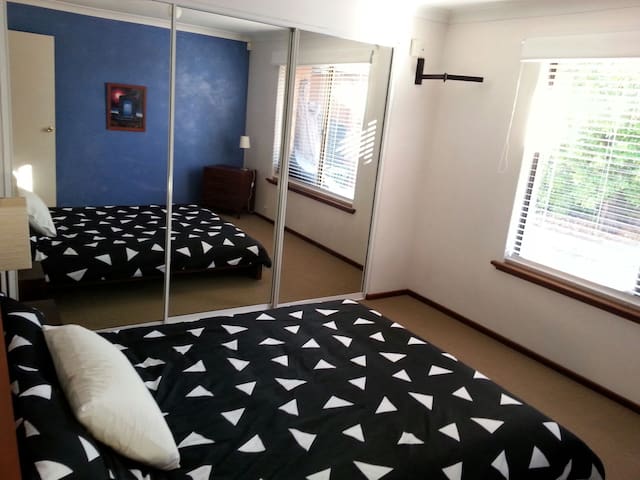 Two bedrooms available, one sleeps two adults on one queen bed and the other sleeps two adults on a double bed, please note the price is for one bedroom only, you will need to pay double if you want both bedrooms. My place is close to Murdoch Uni Fiona Stanley Hospital, parks, freeway. My place is good for couples, solo adventurers, business travellers, and big groups.
Beautiful Samson Park is nearby, great for walks and to admire the local flora and fauna.
Rocio was an awesome hostess! With a beautiful home and lovely cats! Our room was at the back of the house with our own toilet and bathroom. There is also a sliding door so when you want to chill out alone there is space for you to do so. Pool table great and really nice garden!!. I would reccomend for if you have your own transport just to make life easier but the house is very close to freo anyways! Thanks Rocio for our month at yours we had a great time!!!
Milena
2016-12-02T00:00:00Z
숙소 유형
개인실
---
건물 유형
단독주택
---
수용 인원
2
---
침실 수
Samson, 웨스턴오스트레일리아 주, 오스트레일리아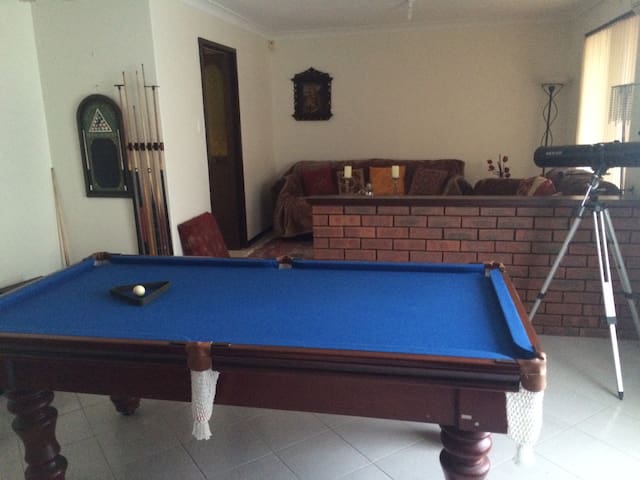 Notre calcaire lavoir a été construit par des bagnards en 1893 et a été transformé en un gîte de charme avec des draps de coton fin, cuisine entièrement fonctionnelle, la climatisation et un accès Internet. Découvrez le patrimoine architectural spécial de Fremantle dans le style dans un endroit ombragé, jardin clos. Breakfast par le fishpond et profiter d'un choix de cafés en route vers la plage.
South Fremantle est une communauté vivante et créative offrant une atmosphère de village avec de petites boutiques indépendantes, des cafés et des restaurants dans un cadre côtier avec des ports et des plages bénie par un climat méditerranéen avec des brises de mer frais.
The cottage was just as depicted, unique and well done with nice touches. The location was great - a short walk to great restaurants and the ocean. Easy street parking. Tim was helpful when needed, but the cottage feels secluded and private as well. Would highly recommend.
Lisa
2017-03-27T00:00:00Z
We loved our stay at The Washhouse! It was tastefully presented and wonderfully kept. Not only was the Washhouse a treat in itself, Tim really went above and beyond with the complementary food and bathroom additions. With an easy distance to Fremantle, we would definitely recommend this delightful spot to everyone!
Lucy
2017-04-12T00:00:00Z
Wow! What a fabulous little gem! Everything was so tastefully finished! The personal touches were fabulous! The best surprise was the stocked fridge with fruit, home made spreads, local honey and so much more! Tim was great to deal with and we will definitely be back again!
Chloe
2017-04-07T00:00:00Z
Tim's property is simply divine! I would recommend this to anyone looking for a lovely and relaxing stay in Perth out of the hustle and bustle of the city. The house is simply gorgeous and put together so well. It feels secluded and private. It is in a fantastic location to explore from and is in such an idyllic setting under a fig tree. Tim clearly takes care and pride in his listing on AirBnb. We loved everything about this property! And there are some a lovely touches too with the breakfast provisions provided (delicious homemade jams and local honey!!!!) and soaps. We felt very spoilt. We will be back when we return to Perth. Thank you again. Hopefully we see you again soon. Kind regards, Charlotte & Eddy
Charlotte
2017-03-22T00:00:00Z
This is a fantastic place. All amenities are there and access to beach and restaurants and the cat bus. Tim is gracious and generous host. Enjoy it!
Lara
2017-04-03T00:00:00Z
Tim is a great host, the place was full of homely features and the property was clean and tidy! We enjoyed our stay, thank you.
Josh
2017-03-12T00:00:00Z
My mother, and husband stayed with Tim for her very first AirBnB experience. Thanks for the great time and below are her comments We both felt that this was a perfect place to unwind. We were comfortable in the space and appreciative of how this lovely heritage building was respected while accommodating some very good modern facilities. The location is perfect for exploring Fremantle and Tim our host most welcoming.
Casey
2017-03-05T00:00:00Z
숙소 유형
집 전체
---
건물 유형
단독주택
---
수용 인원
2
---
침실 수
사우스 프리맨틀(South Fremantle), 웨스턴오스트레일리아 주, 오스트레일리아

Situé sur un studio lumineux et aéré style loft assez street.Our se trouve à 2 min à pied de la belle plage du Sud, des cafés et des transports publics gratuits. Ce loft salle de bains est équipée d'air conditionné, des ventilateurs de plafond et cuisine. 5 min à pied de la zone commerçante locale.
Lumière, loft de style chalet. Près de la plage.
J'adore que nous sommes sur la route de la meilleure plage de Perth J'adore l'ambiance détendue Freo, et tous les grands cafés. Le loft est situé sur un cul-de-sac.
Graeme's little beach loft was lovely and had everything we needed for a casual week at the beach. We were able to make a light breakfast or lunch and coffee/tea when needed. The loft is a quick jump to the beach and South Beach is fantastic. Thank you, Graeme for a lovely stay.
Laura
2016-04-12T00:00:00Z
The place was amazing and Graeme made the experience very pleasant and easy. The loft itself was great, awesome location and very comfortable and cool. Can defiantly recommend this to anyone want the free experience.
Cameron
2015-12-28T00:00:00Z
The loft is such a well-used space! It is in a quiet street, very close to the ocean, with its own entrance. It's a nice walk into central Freo, or else there are plenty of cafes/restaurants nearby, as well as a few cute little shops. The kitchen is very well equipped, and the place as a whole is rather sweet. Graeme was fantastic to communicate with, and made sure we had everything we needed, plus a few extras like milk and bottled water. Would definitely stay again :)
Lauren
2015-08-30T00:00:00Z
Très joli loft, bon rapport qualité-prix. La situation géographique est aussi bonne, surtout en été, les transports gratuits et le centre commercial sont à quelques minutes à pieds.
Mathilde
2016-06-08T00:00:00Z
I loved my mini break at the Beachside Loft, cute, cosy, clean and of course beachy space. The location is fantastic, a hop & skip to the beautiful South Beach with great cafes and restaurants at your doorstep. The street is a no through Rd which means you don't get any noise from traffic and a secure park space out the front. I also loved their yummy selection of loose leaf teas and little pot to brew them in, a nice touch! Graeme was a very welcoming host who happened to be there to meet me when I arrived, a nice way to start the stay with a friendly chat. I'd definitely stay at Graeme's place again and look forward to another trip of chillaxing in South Beach! Thanks Graeme!
Peppa
2015-05-13T00:00:00Z
Had a great stay! Two seconds to the beach, nice quiet little loft.
Max
2017-03-02T00:00:00Z
Deluxe place to stay, comfortable, private with excellent beach & bike hire close by. Cafes excellent also - highly recommend "The Roasting Warehouse" on south terrace.
Nicholas
2015-04-24T00:00:00Z
Great spot--just steps from the beach and walking/biking trails. Some distance to the main Cappucino strip but certainly walkable and a nice quiet street. Very spacious and comfortable. Graeme provided basics like bottled water and coffee which were much appreciated our first morning there. Thanks for such a wonderful stay in Fremantle!
Celia
2016-11-24T00:00:00Z
숙소 유형
집 전체
---
건물 유형
로프트
---
수용 인원
2
---
침실 수
사우스 프리맨틀(South Fremantle), 웨스턴오스트레일리아 주, 오스트레일리아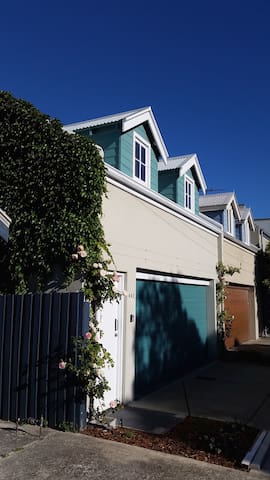 The reservation was canceled 7 days before arrival. This is an automated posting.
Matthew
2015-01-15T00:00:00Z
Sue and Steve' s place is centrally located in Fremantle .Close to cafe and eateries as well as free public transport into town. A place to feel safe and secure with plenty of room to relax and enjoy your stay.
Thomas
2016-12-05T00:00:00Z
Lovely apartment with well appointed kitchen, living room and bedroom. Bathroom has a great tub and shower but lacks door and counter space. Overall it was a great find. Very private place yet it's just a short walk to the ocean and shops.
Stephen
2015-04-05T00:00:00Z
Fantastic little apartment in a great location in South Fremantle. Just a 15 minute walk to the markets and central Freo and 5 minutes to the beach. Light and bright apartment with everything you could need for your stay. Steve & Sue were great hosts and made sure we were welcomed. Would definitely stay here again.
Nathan
2015-10-13T00:00:00Z
The apartment is quiet and comfortable and easy to cool - just as described by Sue and Steve. And the location is sensational. It was easy strolling distance to cafes and restaurants serving interesting and delicious food and coffee. The beach is also close and the bus stop which provides free travel into Fremantle. It was great, would definitely recommend, thanks Sue and Steve.
Marina
2016-01-05T00:00:00Z
Great, wonderful appartment to stay in. has everything you need, with an awesome location.
Michelle
2016-08-12T00:00:00Z
Fantastic location and lovely place to stay. Hosts where lovely, approachable and very helpful. This place has everything you need and I found it perfect for my needs as a business traveler. Beautiful walks to the beach and such lovely cafes etc all in walking distance. Highly recommend.
Adele
2016-07-08T00:00:00Z
We were welcomed by email and set up with a code for the key box so that we could let ourselves in off a late flight for our 6 night stay. The apartment was as described, roomy and private, in a very quiet location and with a choice of good cafes nearby. Steve was quick to help when one of the LED lamps started flashing and to explain the TV system that was different from ours in NZ. The off street parking was convenient. We would have appreciated a second bath towel each, particularly as my wife would wash her hair and then have no way of drying the towel for the next day. The weather was too changeable to rely on the clothesline and there's a washer but no drier. To be fair, we didn't think to ask Steve and Sue for more, but they live next door and knew our situation. The sofa is saggy and just not comfortable for watching the TV. The mattress was 10 to 15 cm shorter than the bed, which was only a minor nuisance. The exhaust fan in the bathroom was broken although the ceiling was so unusually high that there was plenty of ventilation. In mid-winter the two heat pumps warmed the house rapidly after we came in late. We were out each day visiting family so we didn't get to try the well equipped kichen and its appliances. It's a small detail but we were delighted to find about 30 coat-hangers on the rails rather than the 5 or 6 of a modern hotel.
Malcolm
2015-08-02T00:00:00Z
숙소 유형
집 전체
---
건물 유형
아파트
---
수용 인원
2
---
침실 수
사우스 프리맨틀(South Fremantle), 웨스턴오스트레일리아 주, 오스트레일리아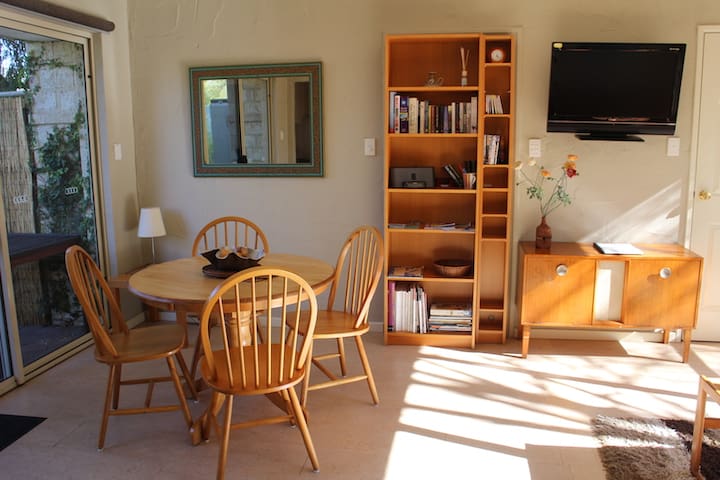 Eingebettet zwischen Strand und Cafés, unsere geliebte Heimat liegt im Herzen von South Freo auf einer ruhigen Straße. Es ist ein Zwei-Schlafzimmer familienfreundliche Strandhaus mit viel Licht und viel Charakter. Eine renovierte Küche / Essbereich öffnet sich auf eine Terrasse und einen schattigen Garten, die eine einfache Indoor-Outdoor-Lebens (eine gute Möglichkeit, das Beste aus Fremantle berühmten Meeresbrise zu machen). Schöne polierte Holzdielen im ganzen Haus, aufgeteilt Aircon-Systeme in allen Schlafzimmern und Parkplatz abseits der Straße.
Dies ist eine friedliche kleine Ecke von South Fremantle. Sie befinden sich direkt vor der Tür von schönen Stränden und wunderbares Essen. Eine kurze Fahrt mit dem kostenlosen CAT-Bus bringt Sie in das Herz von Fremantle für großen Cafés, Einkaufsmöglichkeiten, Museen, Märkte und mehr. Besuchen South Beach nur einen kurzen Spaziergang von der Haustür dann mit dem heißen / kalten Dusche im Freien abzuspülen, bevor Sie ein Glas Wein auf der Terrasse neben dem Bougainvillea genießen.
Sie ist ideal mit dem Süden Fremantle Café Streifen und ein Gourmet Deli eine einfache 50-Meter zu Fuß zu einem Ende der Straße, und der Fremantle Sailing Club und South Beach am anderen Ende befindet.
We thoroughly enjoyed our stay, great location, lovely linen on beds, clean and tidy.
Michelle
2017-03-13T00:00:00Z
Kim's house is a great place! It's very comfy, has a nice little garden and everything you need for a relaxing stay in Freo. We enjoyed it very much and Kim was excellent in communication.
Bettina
2017-03-25T00:00:00Z
We loved the place and our stay in Sth Freo. Such a cool part of the world and such a gorgeous and comfortable home. Perfect.
Andrew
2017-04-10T00:00:00Z
A great place. Very central to coffee, shops, restaurants and the beach.
Kate
2017-04-01T00:00:00Z
숙소 유형
집 전체
---
건물 유형
단독주택
---
수용 인원
4
---
침실 수
사우스 프리맨틀(South Fremantle), 웨스턴오스트레일리아 주, 오스트레일리아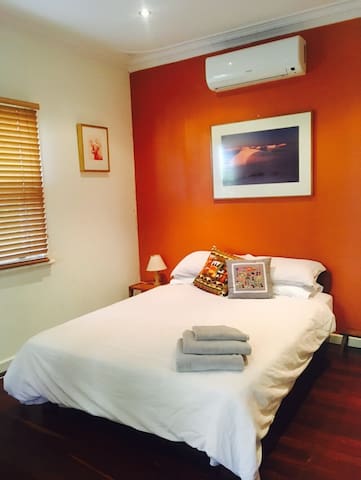 Chambre privée avec balcon et vue sur la mer dans une maison de ville confortable à 2 minutes à pied de la belle South Beach. Cafés, boutiques et l'une des meilleures boulangeries en Australie juste autour du coin! Bus gratuit à Fremantle toutes les 10 minutes disponibles sur votre porte.
Cozy 2 chambres maison de ville dans un quartier calme de South Fremantle. Cuisine ouverte / salon en bas. Portes arrière ouvrent sur une petite terrasse qui est très agréable pour le petit déjeuner, repas du soir ou tout simplement un moment de détente. Parfait pour les couples, les aventuriers en solo, les voyageurs d'affaires.
South Fremantle est un joyau et il est très difficile de ne pas tomber en amour avec ce domaine. Entouré par quelques restaurants délicieux y compris le poisson et des frites, des hot-dogs, tacos, indienne, Pizza pour ne citer que quelques-uns et quelques excellents bars. magasins d'alimentation biologique locale et des magasins de super marché se trouve à seulement quelques minutes de marche. L'accès à Fremantle et la ville est très facile aussi. Plage BBQ et parcs sont visibles de la maison et il est difficile de ne pas se leurré à la plage tous les soirs pour regarder les couchers de soleil incroyables de la côte ouest. Tôt le matin, promenades sur la plage sont un must, l'eau est magnifiquement calme et plat et une joie de nager dans à ce moment de la journée, vous pouvez même être assez chanceux pour les dauphins locaux ou des phoques à venir dire bonjour.
Karl's place is close to good places to eat, and most importantly the beach. He is very down to earth and easy to communicate with. Recommended spot if you enjoy the beach.
Kim
2017-01-28T00:00:00Z
Karl was happy and welcoming, giving good instructions how to get there. He even got us a nice discount in one of our activity. Had no problems with anything, everything run smoothly without hiccups. Will recommend.
Aku
2017-01-22T00:00:00Z
Karl was a very welcoming host with his guidebook and friendly personality. The room comes with a private balcony and a very comfy bed. The stairs to the room are pretty tight and steep but were no issue for us. Bathroom was very clean and kitchen was easy to use.
Liam
2017-01-08T00:00:00Z
What a great spot and excellent hosts. Tucked away behind the quaint neighborhood of South Terrace, Karl's place is perfectly situated to enjoy a short jaunt to the beach, cafe's, pubs, bakeries and coffee shops while maintaining peace and quiet. Karl and Rose were delightful hosts and full of recommendations for me while I made a speedy acclimation to my new city for a new job. I highly recommend their spot.
Courtney
2017-02-19T00:00:00Z
It was a very nice place to stay. Super close to the beach, nice cafés and restaurants. Karl and his girlfriend was very friendly.
Linda
2017-02-10T00:00:00Z
We had a lovely and relaxed stay at Karl's place. The location was fantastic with beach, transport and great eating very close by. For us the bike hire 2 doors away was a bonus and the bike track along the beach to central Fremantle a beautiful ride. The room was comfortable (on the small side) and Karl was very easy going and friendly. He helped us with lots of information about places to go and where to find the things we needed. We hope to be back.
Kathy
2017-04-13T00:00:00Z
Karl was waiting at the time we arranged and was very friendly. The bed very comfortable and I loved the balcony. Very close to the beach, had a lovely relaxing time. If in the area again would definitely stay.
Maureen
2017-01-06T00:00:00Z
The host canceled this reservation 3 days before arrival. This is an automated posting.
Cam
2017-03-22T00:00:00Z
숙소 유형
개인실
---
건물 유형
단독주택
---
수용 인원
2
---
침실 수
사우스 프리맨틀(South Fremantle), 웨스턴오스트레일리아 주, 오스트레일리아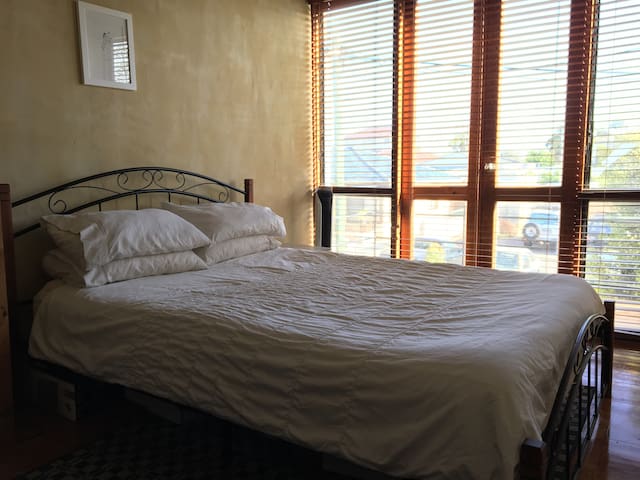 Art Retreat Den est une maison Iconic Fremantle. Il est un espace généreux, situé à côté d'un magasin dans la rue animée South Terrace. Il voisins café populaire de, des bars et des commerces, tout en étant une grande retraite et refuge. Il est à 5 minutes à pied de la plage, et Fremantle se trouve à 10 minutes à pied. En variante, le bus de boucle libre (Cat) laisse 20 mètres de la façade de la maison. Chaque chambre est pleine de couleurs et de l'art dynamique. la place de Den est idéal pour les couples, les aventuriers solitaires, les voyageurs d'affaires, et les animaux domestiques.
250サウステラスは、世紀の変わり目にお店が家の前に建設されたいくつかの後の時点で建設されました。店は当初、その後、イタリアのコブラー、イタリアのデリ、最近で美しい空間をいくつかのブティックのギフトや衣料品小売の努力のために使用されてきました。 家は横に座っているとお店の後ろに、入り口は店の横にある中庭を介しています。家は美しいオリジナルの天井のバラ、華やかなスカート、床板を誇り、文字とその初期の頃の魅力を漂わせます。これは、旅行や他の物語の物語を隅々まで芸術とカラフルで折衷スペースです。ラウンジで巨大なデイベッドは、ここで数時間離れ削るにしたいようになります。 あなたが庭に外に出るときは、あなたがプライベートオアシスにいるようにあなたが感じるだろう。初期の頃から非常に古いオリーブとレモンの木、およびブドウの木があります。これまで足 - 足、ライムや彫刻やお茶を飲むために少し領域のうち野菜のパッチを結実鳥、花、熱帯及び非熱帯植物があり、... 非常に裏庭の時にも背中を全う店のテナントと鶏で使用されているバスルームがあります。これらのラッキー鶏は、いくつかの家族が供給され、近所の周りにおいしい卵を提供しています。したがって、裏庭には、他人との共有スペースです。
J'adore mon quartier que je sors de la porte d'entrée et être au milieu de tout. Je suis entouré par de nombreux grands magasins d'alimentation du café, les cuisines d'aliments entiers, des hôtels, des bars, des restaurants, des boulangeries. Ou si je préfère un peu de temps loin de l'agitation il y a beaucoup de parcs, pistes cyclables et bien sûr les grandes plages de sorte à proximité. Et bien sûr, il y a ma cour ... Je sentais aussi très en sécurité dans mon quartier qui est important pour moi. Dans l'ensemble de mon quartier me donne un sentiment de grande communauté, l'amitié et la créativité. La maison est un 8-10 minutes à pied du centre de Fremantle, ou vous pouvez sauter sur le bus de boucle libre et vous êtes à seulement quelques minutes. Fremantle est un port de travail dynamique qui est plein de caractère, des personnages et des histoires. Fremantle est célèbre pour avoir accueilli la Coupe de l'America en 1986 et abrite de nombreux lieux emblématiques dont le célèbre Marchés Freo, Little Creatures Brewery, Le Musée Maritime, le Centre des Arts Fremantle et The Strip Cappuccino. Plus récemment Fremantle est devenu la maison pour quelques très groovy de nouveaux cafés, bars et espaces d'art. Il y a beaucoup de choses à faire et à voir autour de Fremantle et du Sud Fremantle.
Thank you Den for a wonderful stay. We were made to feel very welcome, we slept peacefully in your comfortable bed. We loved your quirky rooms; none of those boring "minimal" stays with empty shells for rooms here. Beautiful paintings, photographs, lots of colour, lovely back garden with two gorgeous little dogs. Free bus service on the street, great little shops all around and quality dining available everywhere. We tried Mexican, Indian, Vietnamese as well as the local pub. Den knew where to recommend. We will be very happy to return in the future.
Jim
2016-11-05T00:00:00Z
Den's house was super comfortable, I felt like I was staying with an old friend! Den has thought of all the little touches, that make a stay memorable. Bed super comfy, shower awesome everything was great. Would recommend for comfort and location, thanks Den !
Geraldine
2016-10-06T00:00:00Z
I loved my stay at Den's. I was visiting, on business from South West WA. Her home is beautiful, inspiring & full of beautiful art & interesting stuff! It is a warm, inviting space & Denise kept in touch all the way. She was away when I arrived so I had the place to myself for the first two nights. Comfy bed & despite being on the main road, I slept like a baby. I love the location as you can walk in either direction to cafes, interesting shops or the heart of Freo. In summer, you could walk to South beach for a dip. I was out & about most of the time during the day but really enjoyed having coffee in the morning sitting out in the back garden. I look forward to staying again!
Neen
2016-09-12T00:00:00Z
Denise was so incredibly welcoming! Her home is beautiful and so is she. I had a lovely stay here and would highly recommend it to anyone.
Natalie
2016-10-03T00:00:00Z
Denise is a super host I ever met. She is a cheerful, helpful person and happy to share her interests with her guests. She even generously offered to share her dinner with us. Her house is full of treasures and delightfully decorated. You turn your head and constantly see something different. The room is cozy with very comfortable bed. It is a great pleasure to just sit in the garden, having lovely doggie Annie and Daisy around, watching the two puppies Betty and Winnie snoozing. Midnight the adorable cat, Princess the beautiful bird and the chickens all become a memorable part of our stay. I wish I stayed longer there. It is a home full of warmth and fun. Thank you Denise for taking care of us so well.
Avise
2016-10-29T00:00:00Z
Would absolutely recommend staying here. A magical home decorated so beautifully with adorable animals and a lovely host. Great location as well.
Mary
2017-02-18T00:00:00Z
We had a wonderful time at Denise's place. The house is charming and lovely. Simone, Denise's daughter, was very helpful with everything and very nice :) I would definitely recommend and stay again.
Aurélia
2017-02-23T00:00:00Z
Denise's place is a delight, really felt like home away from home. Beautiful bedroom and house. Denise was very relaxed with our presence which made it easy to use the kitchen and bathroom. Breakfast in the garden was a great start to both our mornings there. The location is great too, amongst the very hip (in a nice way) South Fremantle but only a 15 minute walk o downtown Freo. Highly recommend.
Adrian
2017-01-09T00:00:00Z
숙소 유형
개인실
---
건물 유형
단독주택
---
수용 인원
2
---
침실 수
사우스 프리맨틀(South Fremantle), 웨스턴오스트레일리아 주, 오스트레일리아
Coordinated check-in and check-out with Theresa over the phone and via SMS. Key was deposited safely. Great South Freo location. Well equipped and furnished, but no dishwasher – which the description had made clear, but just to let you know. Balcony door locks you out even if you bring the balcony door key outside, but Theresa mentioned she'll have this fixed and there had been a warning note (which didn't mention that it also locks shut and the key won't open it, either). Thanks to the neighbors who let me back in again ;-).
Steffen P
2016-03-25T00:00:00Z
Theresa's Studio is fantastic, great location, very modern and private with easy access to Fremantle. Theresa contacted me prior to arrival and was very accommodating. The Studio is spotlessly clean, well equipped with a comfy king bed and nice cold air conditioning. Thanks Theresa, I enjoyed my stay is you Studio.
Graeme
2016-03-11T00:00:00Z
Theresa was extremely welcoming and friendly.And the room was exactly what I was after.perfectly located close to the heart of fremantle.I couldnt have asked for more.And would definitely love to stay there if I am ever back in fremantle.I highly recommend this room it is quiet and private and has everything you could ask for.
Jeff
2015-10-22T00:00:00Z
We absolutely loved our stay at Theresa's. Unfortunately we couldn't meet her face to face but she still gave us excellent hosting vibes with a check in phone call, providing excellent recommendations for near by food and shops and was all around lovely. The place itself is very small but perfect for what we wanted. The most comfortable bed! I haven't slept so well in yonks - perfect for the relaxing holiday vibes we wanted. Freo is easy to get around and this place was located in an excellent spot. Happy to recommend!
Amy Jane
2016-05-03T00:00:00Z
5 stars accommodation. Extremely clean, modern design, parking space, cosy, warm with heater and the place smells great. 3mins walk to cafes for breakfast and a short distance drive to the fishing port area. Highly recommended!
Darren
2016-09-16T00:00:00Z
Theresa made us feel very welcome and we enjoyed staying in her lovely apartment in the heart of Freeo. We stayed for 5 nights and enjoyed talking to the locals and went for walks each evening around South St where there is plenty to see and do and a great choice of shops and restaurants to choose from. We look forward to staying at Theresa's apartment again in the near future. I couldn't ask for a better location for easy access to shops and being so close to the train for shopping in Perth.
Nicola
2016-03-21T00:00:00Z
Really enjoyed staying at Theresa's place. The location was excellent, easy walk to beach, shops, cafes and buses. The accommodation was modern and quite luxurious with everything you could need. Great place to relax, nice and quite. Theresa was a great host, very flexible with checking in etc. I would stay there again and will recommend to friends.
Paul
2016-01-17T00:00:00Z
This is a great place for quick and easy access to Fremantle. Extremely comfortable bed and unit. Highly recommended.
Brad N Deb
2016-12-16T00:00:00Z
숙소 유형
집 전체
---
건물 유형
아파트
---
수용 인원
2
---
침실 수
사우스 프리맨틀(South Fremantle), 웨스턴오스트레일리아 주, 오스트레일리아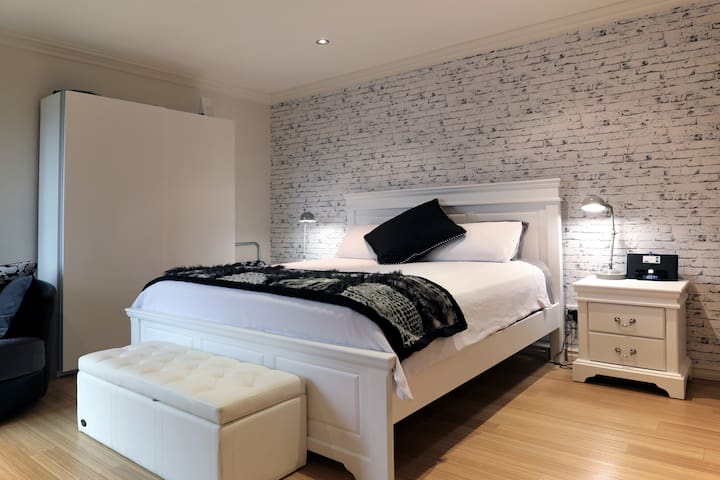 Ma place est à proximité de la plage (à travers la route), Free bus « cat », activités pour les familles, la vie nocturne, les transports en commun, Cafés / restaurants. Vous allez adorer ma place à cause de l'emplacement sud parfait Beach, samedi soir marchés de marchands ambulants. Une fois que vous garer votre voiture dans votre espace fourni, vous aurez pas besoin pendant toute la durée de votre séjour. Marcher ou prendre le bus gratuit partout où vous devez aller ..
We had a very warm welcome upon arrival and were able to check in straight away, Gavin had clearly made an exceptional effort to get it ready for us. Absolutely perfect location and a great nights sleep on a really comfy bed. Only sad because i wish we could have stayed longer.
Lloyd
2017-02-26T00:00:00Z
I had a great stay at Gavin's place. The major reason behind this was the excellent location of the private unit - across the road from the lovely South Beach, walking distance to get groceries, and pretty much on the free CAT bus route for access to Freo town and trains. Gavin was accommodating, making sure I was settled in and had everything I needed. Recommend.
Ben
2017-01-31T00:00:00Z
This humble yet affordable accomodation is prefect for the traveller on a budget. We knew we weren't going to use the room for more than getting showered and sleeping and it was perfect! Thanks Gavin, I gave it 5
Davi
2017-02-06T00:00:00Z
I had a great time at Gavin's place. The granny flat and its cooking amenities are very basic - so don't come with high expectations of a pampering hotel accommodation or a fully equipped kitchen to make a roast. However everything else in my experience has been fantastic. The location is the best ever, 100m from the beach, 100m from the Free Cat bus, over a dozen restaurants and cafes around including Gavin's one, right in front of the flat.Having a private place to yourselves for that price is unbeatable. On the top of these Gavin is a great guy, friendly, relaxed, and easy to talk to and fix whatever little problem you may have, just talk to him, he is very generous and has gone out of his way to help me. Overall is a great value for money and if you come to have a good time enjoying Fremantle, you won't regret it.
Myhel
2017-02-14T00:00:00Z
Nice little flat to myself. The host attended to my needs and made me feel very comfortable
Aaron
2017-02-28T00:00:00Z
We enjoyed our stay and are appreciative of the host's kindness. This location is a bit rough around the edges in terms of decor, the television is small by modern standards (but had plenty of channels available), the kitchen isn't fully equipped, and the washroom has a laundry tub rather than a typical sink. However, if you don't expect luxury and modern decor, and want a comfortable, quiet place to get a good night's sleep that is close to the beach and other Fremantle services, you won't be disappointed. The host Gavin was friendly and helpful and went out of his way to ensure a comfortable stay. A parking space is provided and is secure behind a locked gate but it is tight and may be problematic with a larger vehicle.
Brent
2017-02-27T00:00:00Z
숙소 유형
집 전체
---
건물 유형
아파트
---
수용 인원
2
---
침실 수
사우스 프리맨틀(South Fremantle), 웨스턴오스트레일리아 주, 오스트레일리아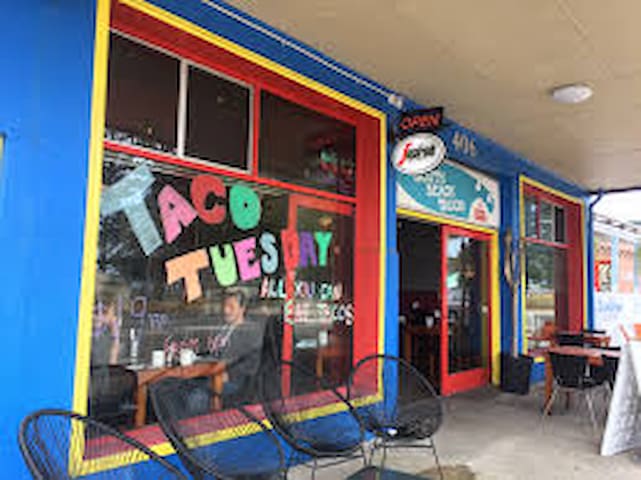 I had a wonderful stay here with my 2 year old son. Perfect location, walking distance to the beach and centre of Fremantle. Close to public transport, cafes and shops. House was exactly as described, lovely and clean and there is clearly a lot of love put into this home. Sara was most helpful and easy to contact, a very welcoming host. I would definately recommend staying here.
Julie
2017-03-03T00:00:00Z
숙소 유형
집 전체
---
건물 유형
단독주택
---
수용 인원
4
---
침실 수
사우스 프리맨틀(South Fremantle), 웨스턴오스트레일리아 주, 오스트레일리아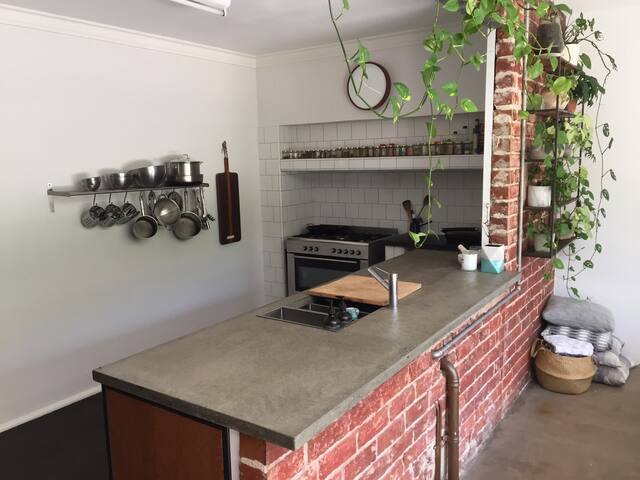 Magnifiquement restauré chalet en bois dans un arbre rue calme bordée à proximité des cafés, les transports publics et les supermarchés. Vous vous sentirez comme à la maison dans ce joli cottage 1 chambre avec sa plus spacieuse et moderne, nouvelle salle de bains et cuisine entièrement équipée.
'Freo Gold' est la combinaison parfaite d'hébergement divin et emplacement fabuleux. Chaque partie de l'architecte l'extension conçue est glorieuse, de la douche à la lumière salle de bain remplie de détente sur la terrasse extérieure. Vous voulez parler à travers le banc de cuisine que l'on prépare des amuse-gueules tandis que l'autre verse un verre de vin. Ou incliner ensemble sur la lecture d'un salon ou regarder la télévision. Le charme du vieux monde de la maison originale brille à travers dans le bois chambre lambrissée et vitrail éclairé couloir. Il y a même une cour intérieure en verre fermé pour regarder ou l'accès de la cuisine. Ce chalet est disponible uniquement pour une courte période afin s'il vous plaît ne pas hésiter - Réservez et sécuriser Freo or pour votre séjour à Fremantle.
South Fremantle est un quartier éclectique de l'art d'aimer les gens qui aiment vivre dans des maisons uniques qui ont été principalement rénovés, étendus et personnalisés. Je recommande serpentant à travers les petites rues pour découvrir les poches de jardin et des conceptions d'origine inhabituelles. Faites partie de la scène de café vibrant sur South Terrace en dînant à Manna Wholefoods, pizza et les pâtes restaurant de Rocco, Vespa café ou le rôtissage Warehouse. 'Freo Gold' est une promenade facile à Fremantle ou vous promener sur South Beach et regarder le coucher de soleil sur l'océan.
Freo Gold was beautiful. So close to beautiful cafes and shops and only short walk to Little Creatures. Cosy, light and airy. Loved the fresh flowers and herbs. Great magazines, books and DVD's for rainy days. Highly recommend this gorgeoys place!
Rebecca
2016-09-28T00:00:00Z
This cottage is very aptly named Freo Gold... It is an absolute treasure ! Clean quiet light filled great garden I didn't want to leave !
Diane
2016-03-25T00:00:00Z
Had a wonderful stay, home is very charming, beautiful decor and artworks, clean and cosy, the garden and courtyard really add to the charm, it has everything you would need for a comfortable stay, would definitely stay there again!! Bed is older style so not huge, if you are particularly tall perhaps not the place for you :)
Tamara
2016-09-16T00:00:00Z
After early accomodation issues in Freo, this place saved the day. It's got everything you need, is better than the pics. Lovely outdoor areas, nice kitchen/bathroom, walking distance to town, quiet location with parking.
Cody
2017-03-19T00:00:00Z
Absolutely stunning light filled and very comfortable cottage in a brilliant location.
Karen
2016-10-30T00:00:00Z
The house was comfortable and airy providing everything that we needed. We did appreciate both the courtyard and the garden, giving a choice of place to relax in according to the temperature outside. The house is also very accessible for walking either to the beach or into town.
Lydia
2016-10-21T00:00:00Z
Amazing home in South Freo - had great weekend and this is an awesome location, and beautifully restored historic cottage Alison was a very accommodating host throughout and I would definitely come back :)
Michael
2016-06-06T00:00:00Z
I thoroughly enjoyed my stay, very comfortable and clean and will make a point of staying there again on my next visit to Fremantle
Michael
2017-03-28T00:00:00Z
숙소 유형
집 전체
---
건물 유형
단독주택
---
수용 인원
2
---
침실 수
사우스 프리맨틀(South Fremantle), 웨스턴오스트레일리아 주, 오스트레일리아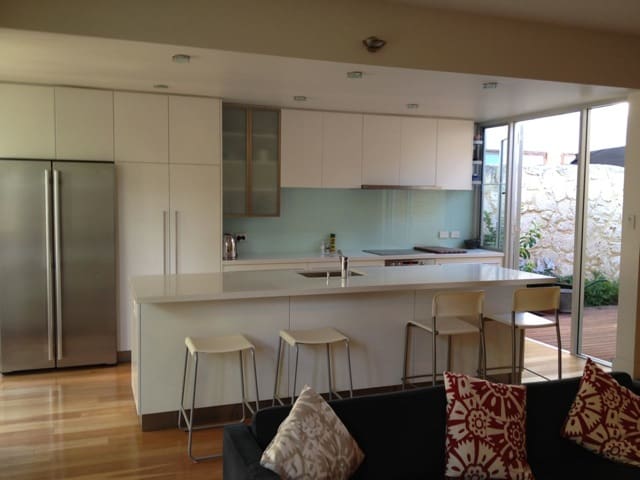 Ma place est à cinq minutes à pied de la plage, des cafés, des Abhi Bakery, aliments Manna entiers, pubs et restaurants. Vous allez adorer mon studio de jardin en raison de sa tranquillité et un cadre paisible. Vous vous sentirez comme à la maison, en plein cœur de Fremantle. Le bus de CAT gratuit pour Fremantle fonctionne également juste devant la maison. Il y a un joli lapin et un sympathique Cocker Spaniel. Mon studio jardin est bon pour les couples, les aventuriers en solo et toute personne qui a besoin d'un endroit tranquille pour rester.
Nous avons une entrée commune à travers la porte du jardin arrière de 171 South Terrace, South Fremantle. En dehors du Studio est une zone de cuisson en plein air avec un nouveau, étonnant Weber barbecue à gaz - la réponse australienne ultime pour cuisiner tout - y compris un poulet rôti et le gâteau! Nous n'avons une cuisine classique à l'intérieur du studio, mais ont un micro-ondes qui cuit également (c.-à-Pas poêle.); une mijoteuse; poêle à frire électrique et casserole électrique - donc tout ce dont vous avez besoin. Nous ne disposons pas d'une machine ou des vêtements à laver sèche-linge dans le Studio. Nous avons un évier de buanderie profonde pour le lavage des mains et il y a un joli lavoir sur notre rue et une ligne de vêtements dans le jardin. Les vêtements sèchent facilement sur la ligne ici! Quelques portes haut de la rue est Mannas Health Food qui avait des produits biologiques merveilleux et salades impressionnantes, gratins et desserts végétariens. Tout le long de South Terrace nous avons cafés, pizza Ruocco et le Copper Chimney Indian Restaurant pas à manquer. Ceci est un grand espace pour la nourriture!
South Fremantle est un quartier très sympathique - alors ne soyez pas timide pour demander un local pour l'aide, des conseils ou des instructions.
Not a modern upmarket accommodation, but very welcoming and a very comfortable bed. Jo was extremely helpful and made me very welcome.
Linda
2017-02-12T00:00:00Z
Jo was a fantastic host, checking in on us, offering us two bikes to cycle around Fremantle and free tickets to her Australia day pop up bar. The studio had everything we needed and was in a great location. There was even a bunny and dog to say hello overtime you came home.
Alison
2017-01-29T00:00:00Z
Lovely garden with fish pond and an enthusiastically friendly rabbit. Accommodation cosy and quite basic. Expected a few more mod cons for the price; there wasn't a stove, tv, wifi, or bedside tables, and it could have been cleaner. Communication was ok, but we had to contact three times before we were given the address on check-in day. Great location and access to bikes made getting around town super easy.
Yaelle
2016-12-31T00:00:00Z
Easy walk to South beach, restaurants, local hotel and shops make it a really pleasant and relaxed place to stay. The garden and pets are a delight. Very cosy!
Liz
2016-12-19T00:00:00Z
We stayed here while visiting our daughter, who lives on Freo. Jo was really helpful in accommodating our arrival early in the morning (3am!) from our flight. The best thing is the bed, which is really comfortable. A bonus is the clothes rack, with lots of hangers. First time we've ever had enough hangers, in an airbnb or a hotel! The area is great, lots of nice places to have coffee, eat out, etc. Jo was very helpful with recommendations. Very close to central Freo, beach, etc. There's no WiFi in the house, but if you're suffering withdrawal, most of the restaurants nearby have free WiFi. Would definitely recommend, we had a lovely stay.
Deirdre
2017-04-11T00:00:00Z
An amazing little private house. You could live there almost full time. And if you like animals you're in luck, a lovely dog and a bunny are running about. Here you are close enough to walk almost everywhere, to town, the beach, its a nice walk. You also have a big coffee shop across the street Well worth a stay. You have privacy and security too. And Jo (host) is lovely and can point out many places to head to in Freo.
Daniel
2016-12-12T00:00:00Z
Great location. Friendly host with plenty of information to share
Kate
2017-03-13T00:00:00Z
Place is self contained single bedroom unit with plenty of room. Close to the beach and restaurants. It is very quiet and located within a picturesque suburb. Well worth it!
David
2017-03-28T00:00:00Z
숙소 유형
집 전체
---
건물 유형
기타
---
수용 인원
2
---
침실 수
사우스 프리맨틀(South Fremantle), 웨스턴오스트레일리아 주, 오스트레일리아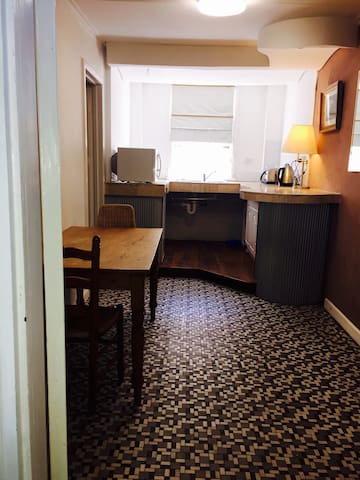 Ett mycket bra boende i South Fremantle. Perfekt för en småbarnsfamilj som oss med lekpark utanför dörren. Nära till strand och gratis buss in till Fremantle. Huset var nyrenoverat samt rent och välstädat. Skulle varmt rekommendera boendet. Möjligen kan det vara lite ocentralt om man är ute efter party och stort restaurang utbud i nära anslutning till boendet. Michael o Sara med familj.
Michael
2015-02-14T00:00:00Z
Great location in Fremantle. Short walk to the beach and shops. The apartment is in great condition and really clean and fresh. We stayed with three children. Free WiFi and satellite TV was a plus. Very friendly host that made us feel at home.
Martin
2015-07-10T00:00:00Z
Very well situated and lovely renovated house. Walked to local pub and breakfast was provided which was a lovely thought. Would definitely stay again everything was provided. Will recommend
sharon
2014-12-23T00:00:00Z
Love that there is a park right outside the house. It's 10 mins from Fremantle markets. The facilities in the house are awesome. Michelle provided basic toiletries, cooking and laundry essentials. She was there to assist us readily whenever we need help. I would recommend this house.
Candice
2015-09-07T00:00:00Z
Familia cottage was exactly what we needed for our week long trip with 2 little boys. It was very well presented, very clean given that the last occupants checked out just hours ago. Michelle was a very responsive and reliable host, who replied promptly when contacted and was very helpful with our requests. I loved that there were plenty of fresh towels, plenty of cleaning supplies, a large clean fridge thoughtfully stocked for breakfast, and of course, that Michelle had provided all that a young family on holiday would need - pram, high chairs, cot, kid-friendly dining ware, a library of cartoons and even panadol for that holiday stress head. The location was perfect - quiet, yet so accessible. Right across the cottage was a fenced playground and park, and good coffee and cafes were just a walk away. A free cat bus took you into the heart of fremantle. Would have loved to have had time to use that gas BBQ in the courtyard. Thank for a lovely stay!
Michaela
2015-06-21T00:00:00Z
A nice little cottage directly opposite a lovely park which our three kids loved. The house had everything we needed. South beach was a short walk away. As was the free CAT bus. The host was welcoming but not intrusive.
Richard
2015-04-07T00:00:00Z
Awesome family cottage which make one feels at home. A perfect location too to almost everywhere around Freo. Michelle is a great host who is very responsive. Not forgetting the "breakfast bundle" in the fridge! Highly recommended!
Nur Shahidah (Shah)
2015-12-04T00:00:00Z
Such a thoughtful and comfortable mini home and fabulous location! Michelle was prompt and the way the home is organised makes everything too easy to enjoy all Fremantle has to offer.
Adrienne
2016-03-24T00:00:00Z
숙소 유형
집 전체
---
건물 유형
단독주택
---
수용 인원
4
---
침실 수
사우스 프리맨틀(South Fremantle), 웨스턴오스트레일리아 주, 오스트레일리아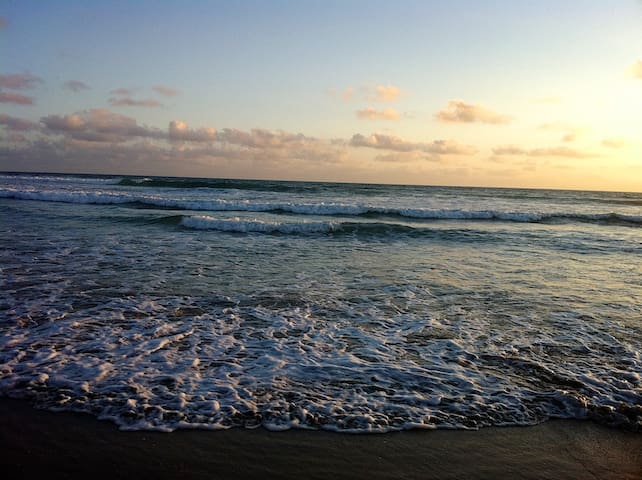 Ihr Studio-Apartment. Gehen Sie die vordere Tor, rechts abbiegen nach Fremantle, biegen Sie links ab zum Strand und drehen sich um South Terrace mit seinen zahlreichen Cafes und Restaurants zu genießen. Die voll ausgestattete Küche und Bad sind in getrennten Räumen.
Die separate / in sich geschlossene Studio ist ideal für ein oder zwei Personen, ob Sie hier für einen Urlaub oder für Geschäftsreisen sind. Das Zimmer ist sehr ruhig und privat, aber es liegt in der Nähe alles, was Fremantle zu bieten hat. Wir sind auf Marine Terrace rechts auf halbem Weg zwischen dem Hauptzentrum von Fremantle und wunderbar South Beach. Nur 10 Minuten oder so zu Fuß. Das Studio ist auf eine Treppe, von der Rückseite unseres Hauses abgerufen. Es hat einen großen Wohn- / Schlafbereich, mit separatem Bad und Küchenzeile. Das Zimmer ist hell und luftig, mit Qualität Vorhängen Lichtblockier--out für den nächtlichen Schlaf bieten. Französisch Türen öffnen sich auf einen Juliette Balkon mit Blick auf die lokale Nachbarschaft. Das Doppelbett ist im Resort-Stil Komfort mit hochwertiger Bettwäsche. Dies ist ein großes Zimmer mit einem Viersitzer weißen Korbrohr Einstellung der Fernseher zu betrachten oder in Komfort während Ihres Aufenthalts zu entspannen. Sie werden meine handgemachten 'Flickenteppich' lieben gemacht, diesen Bereich mit seinen schönen Strand Farben zu verbessern. Die Küchenzeile ist mit den grundlegenden Gütern ausgestattet, darunter eine Kühl- / Gefrierschrank, convention Mikrowelle, Wasserkocher, Toaster, Induktionsherd, Sandwichtoaster, Kaffeebereiter, Mixer und Geschirr / Besteck für Ihren Gebrauch. Wir bieten auch Tee, Kaffee und Grundversorgung. (Es gibt viele Cafés und Restaurants in der Nähe, vor allem auf South Terrace, aber manchmal ist es schön in Ihrem eigenen Raum zum Entspannen und ein gemütliches Frühstück hat, werden wir haben Getreide und Milch und Brot in dem Gefrierschrank für Ihren ersten Morgen - bis zu Ihnen .) Das separate Badezimmer verfügt über eine Full-Size-Waschtisch, Dusche, WC, Handtücher und Badetücher.
Fremantle, Süd Fremantle und South Beach sind vor der Haustür. Fremantle (Freo zu den Einheimischen) ist bekannt für seine Geschichte und lebendige Atmosphäre bekannt. Das Hotel liegt in einer schönen Hafenstadt, wo der Swan River auf den Indischen Ozean. South Beach ist eine schöne Strecke von sauberen, leicht zugänglich und familienfreundliche Strände, mit vielen Grillplätze im Freien, Cafés und Annehmlichkeiten. Süd Fremantle (Süd Freo) ist bekannt für seine vielseitige Mischung aus lokalen Bäckereien, Cafés, Restaurants, Pubs und auch viele lokalen Kunstgalerien und Boutiquen entlang South Terrace gut bekannt. Sie brauchen kein Auto, wenn hier zu bleiben, nur zu Fuß oder mit dem Fahrrad alle lokalen Lebens zu erleben, die Freo und Süd Freo zu bieten haben, aber wenn Sie es vorziehen, die CAT Touristenbus nutzen die vielen Sehenswürdigkeiten in Fremantle zu besuchen. CAT Bushaltestelle ist in unmittelbarer Nähe zum Studio.
Sherryl is hospitable and her place is clean, convenient and comfortable. Ideally located for a couple wanting to experience Fremantle and all it has to offer.
Theo
2017-04-10T00:00:00Z
Vi bodde i Sherryls loft i 5 veckor och kunde inte vara mer nöjda. Hon hjälpte oss från flygplatsen till Fremantle och fick oss att känna oss hemma från start. Hon hjälpte från början till med att peka ut mataffär och busstationer på en karta och hon meddelade alltid om hon sett information om något lokalt event etc. som kunde vara intressant för oss att uppleva. Det märktes att hon verkligen anstränge sig för att vi skulle ha en så bra vistelse som möjligt och hade man frågor var hon alltid tillgänglig. Läget ligger lagomt nära fremantle centrum för att det ska vara enkelt att ta sig in men ändå så avlägset att det är lugnt om nätterna. Det finns dessutom gratis buss i närheten som tar en runt om i fremantle. Ville man in till Perth centrum tog det bara 30 min med tåg. Loftet är perfekt om man vill vara nära till mysiga restauranger, strand och bo i ett lugnt område men samtidigt vill kunna ta sig in till Perth utan problem. Vi rekommenderar verkligen boendet och Sherryl!
Linnea
2016-12-13T00:00:00Z
Beautiful studio located in the prime stop of Freo's best eats! It's the perfect size for a mini getaway. We arrived late from Melbourne and it wasn't a bother checking in- we even got a late check out which was heaven when our flight home was late. Thanks for having such a beautiful place on offer and we'd definitely stay again. It made me love Perth even more- which I didn't think was possible.
Kate
2016-05-24T00:00:00Z
My parents in law loved the place and had a lovely 3 week stay. Sherryl & Pat are kind and warm-hearted hosts that gave tips for local activities and invited them for dinner and drinks. Place was clean, exactly as it is shown on the pictures, location great and they felt at home straight away!
Evert
2017-01-23T00:00:00Z
A cozy house which is clean and has everything that a traveller needs. Highly recommended for anyone who travels with car as car is allowed to park for free on the street. Thanks for arranging the key and clear instruction for me as I arrived only after 12mignight.
Yhui
2016-03-22T00:00:00Z
Great location, lovely hosts. The apartment was perfect, thoughtfully set up with everything you'd need. Beach, cafes all in walking distance. Highly recommended!
Jon
2015-12-22T00:00:00Z
What a fabulous studio this is and what wonderful hosts sherryl and pat are! The studio is light and spacious , immaculately clean and very well equipped! It's very central to both the town and the beach, I didn't use a car the whole time I was there. There are lots of basics and many extras which make this air BnB stay so great The best thing about it are the hosts sherryl and pat, they are so welcoming, friendly and helpful, but respect your privacy should you want it. I went walking with sherryl and enjoyed a cuppa and cake with her and pat, thanks so much for a pleasurable stay. One of the best air bnbs I have stayed in!
Geraint
2017-03-26T00:00:00Z
This place was just perfect for what we needed, only 15 minute walk to Fremantle, and 15 min walk to South Beach. Very quiet location away from the hustle and bustle of Freo's nightlife, easy to get some well needed rest after spending the day checking out all that Fremantle has to offer. The kitchen has everything you need too, even though we ate out you could easily make breakfast/lunch easily if you wanted.
Marty
2016-01-17T00:00:00Z
숙소 유형
집 전체
---
건물 유형
로프트
---
수용 인원
2
---
침실 수
사우스 프리맨틀(South Fremantle), 웨스턴오스트레일리아 주, 오스트레일리아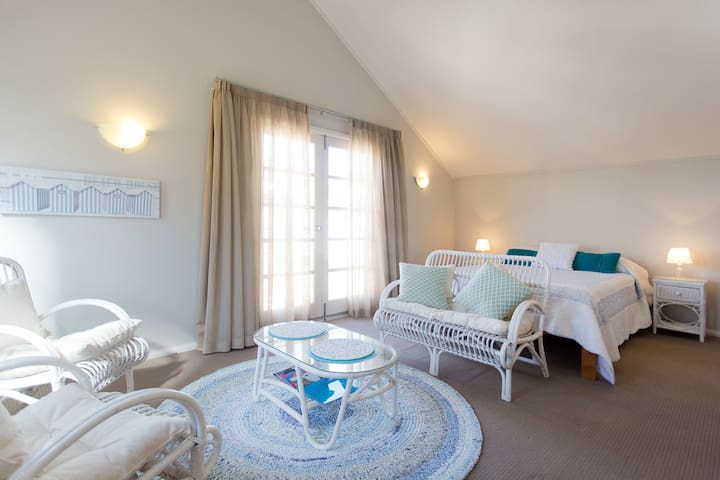 Free parking for one car Laundry facilities are in the communal laundry on site Wifi Fully equipped kitchen Queen bed Spectacular views into the harbour Spectacular view at night Located on free CAT bus This apartment is suitable for a single or a couple. Laundry facilities are in the communal laundry on site Located centrally in the heart of Fremantle across the road from the Fremantle Hospital There is secure parking available. There is a FREE Cat bus that will take you around Fremantle every ten minutes. Fremantle is approximately a 45 minute drive from the airport. This apartment is located on the 5th floor. There are stairs and a lift in the complex.
Great location! Nice view. Loved being able to walk to all the pubs, cafes and shops of Fremantle. We also had a rental car, so the secure parking was a plus. Wifi worked great! This apartment suited our needs as a home base while we were visiting family and friends in the Perth area. We also took advantage of the on site laundry. Can't beat it for the money.
Kim
2014-11-15T00:00:00Z
The locations was great and the place was very clean!
Allyson
2016-10-30T00:00:00Z
Fantastic location, an easy walk to the Fremantle markets and lots of shops and restaurants nearby. Public transport also very accessible for venturing further into Perth. Very easy and comfortable place to stay.
Hannah
2017-02-27T00:00:00Z
The accommodation was wonderful. The view is great and the balcony overlooks gorgeous sunsets - a perfect place for dinner outside for two. Walking distance to all the restaurants and harbor, and only 10 minute walk to the train station. Mary is understanding and easy to get a hold of with ant questions. Would gladly stay there again.
Spencer
2015-03-30T00:00:00Z
Showers were a little small, hot and cold baths were not consistent as showers could turn cold and hot and cold after turning on.
Maggie
2017-02-15T00:00:00Z
A wonderful location close to Fremantle for exploration and eating out. The views especially as the sun came up in the morning were lovely. Thought has gone into the unit and it has facilities in place to cook. Some aspects show signs of ageing which may be important to some and not to others.
Christine
2017-01-11T00:00:00Z
Fab location. Good value for money. Sound carries in the apartment so bring ear plugs if you're a light sleeper. Mary is great and quick to respond to any questions or queries.
Mandy
2017-01-15T00:00:00Z
The apartment was in a great location - walking distance to cafes, restaurants, bars and stores. The neighborhood felt very safe and very walkable. The kitchen was well-stocked with cooking utensils, which we appreciated since we made our dinners every night.
LeBraun & Shalan
2016-07-20T00:00:00Z
숙소 유형
집 전체
---
건물 유형
아파트
---
수용 인원
2
---
침실 수
Fremantle, 웨스턴오스트레일리아 주, 오스트레일리아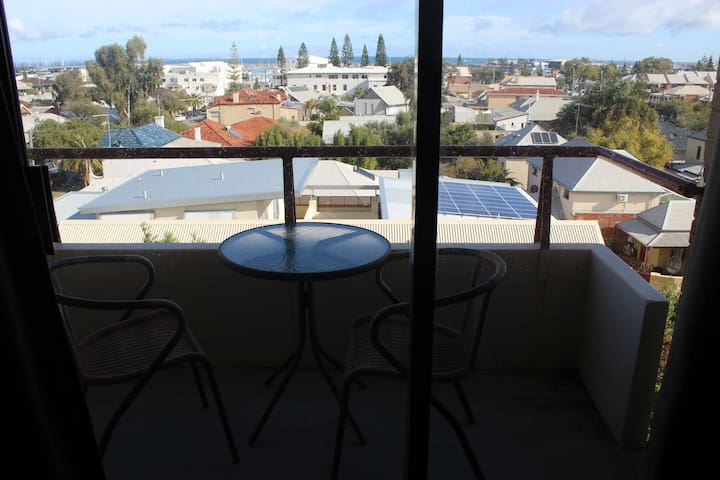 전체 요금을 보려면 날짜를 입력하세요. 추가 요금이 적용되고 세금이 추가될 수 있습니다.