전체 요금을 보려면 날짜를 입력하세요. 추가 요금이 적용되고 세금이 추가될 수 있습니다.
예약 가능 숙소 6 개
· Green River
예약 가능 숙소 6 개
· Green River
This comfortable, quiet house has a front deck and plenty of off street parking. A nice place with washer & dryer, coffee & tea.
Cozy house with everything you need. 10 out of 10
Sean
March 2017
Really enjoyed my stay at Arlo's! It was a great value as well as being very clean and comfortable. Cant ask for more than that! If your passing through Wyoming I think you will really enjoy your stay in this comfy home.
kevin
March 2017
I was so lucky to find this place! After 1-80 closed due to snow, this place felt like a sanctuary. Lots of natural light, free coffee and treats! Catch up on some reading,do some laundry, or veg out. Will definitely try to book this place again on future trips.
Brittany
February 2017
Perfect!! Super clean and friendly! I highly recommend this cute house.
Scott
March 2017
Our stay at Arlo's was quite comfortable... he was quick to greet us upon arrival and the accommodations were quite comfortable. Would definitely recommend staying here.
Jared
February 2017
숙소 유형
집 전체
---
건물 유형
단독주택
---
수용 인원
2
---
침실 수
1
Rock Springs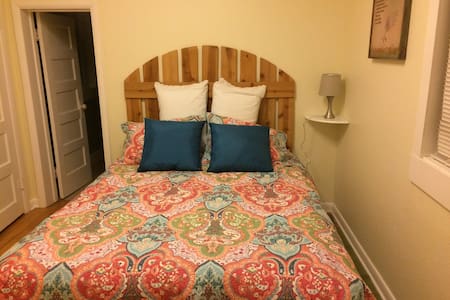 This home is close to the Downtown Area, Flaming Gorge, the Green River, the 2nd Largest Living Sand Dunes, Gateway to Jackson Hole and Yellowstone. You'll love my place because of the easy access to parks, restaurants, recreation center (Lazy River), the large kitchen, the quiet neighborhood. My place is good for couples, solo adventurers, business travelers, and families (with kids), Hunters, Fisherman, Outdoors people.
We had such a nice relaxing, down-home experience that it's too bad we had to get back on the road towards home! We had everything we needed, enjoyed baths, the circular nature of the house suited our Australian Shepherd's natural tendencies, we enjoyed the quiet view from the porch and "patio" area - everything was wonderful. Was also great to have eggs and bread, which Debra provided, amongst other things. Loved the art, book selection, comfy beds and other furniture.
Cathie
August 2016
This is our 2nd time staying here. We like it for the size and the amenities upgraded from the last time we stayed. There is a full kitchen with most everything I needed to cook a complete turkey dinner for Thanksgiving. Anything I needed, DJ was able to provide. Like the new queen bed too.
Kim
November 2016
DJ was great, checking in with me before and throughout my stay in her house, making sure to answer questions and provide assistance. Nice porch out front and beautiful views of Rock Springs. Overall, it is a great place to stay in Rock Springs.
Katie
November 2016
In short, I would stay here again. JD is a very flexible host who accommodated date changes, cancellations, and guest additions. Getting the key from the lock box couldn't be easier. It's a pleasant clean house with a full kitchen (stocked with eggs, bread & everything you need to cook). The livingroom has places to sit. The bathroom is nice. The queen bed is comfortable but the twin bed & twin cot are mostly just to get you by (so sleep on the queen). You can enjoy the front yard & porch and have room to enjoy the house while you are there. The wifi was speedy & consistent so (based on earlier reviews) it seems JD is continuously improving the house. If you're all about the big picture, overall the house has a very nice atmosphere and is affordably priced for the generous space and has a flexible host. Thanks JD!
Natalie
September 2016
DJ was very quick to get back to us when we reached out to her and the house was very comfortable for our night stay. Thank you!
Briana
February 2017
Lots of room
Sherri
August 2016
One of the best Airbnb experiences we have had! DJ was flexible about check-in and was great about making sure we had everything we needed, even providing coffee and breakfast fixings. She was very warm and welcoming, and even suggested some good lunch places for us to check out. Her house is clean and comfortable, and has a cool artsy vibe. The house didn't have wifi (she said she'll have it soon) but that was no problem for us as we were just making a quick overnight trip. We were overall very pleased and would definitely recommend!
Taylor
July 2016
This place was great! Super cozy and warm. The street was a bit icy and my little Yaris was unhappy maneuvering it but other than that, I had a great time! It was such a comforting place to rest my head on my trip out west. So lovely. I highly recommend it.
Tracy
March 2017
숙소 유형
집 전체
---
건물 유형
단독주택
---
수용 인원
5
---
침실 수
3
Rock Springs
Our newly finished basement with two bedrooms, a bathroom, and living room is all yours to enjoy! One bedroom has a comfy queen bed and the other has a spacious king bed. You will fall in love with the walk in shower while enjoying the over sized rain shower head and heated floors. You can also enjoy the gas fireplace (located in the living room) during cold nights. We do have two very nice dogs but will keep them separate from your living space.
Guests will have access to a washer and dryer.
Our neighborhood is within a block away from White Mountain Mall and Smith's Food & Drug.
We arrived late at night and Brett was so kind to stay up for us and even gave us a quick tour when we got there. Everything downstairs looks brand new. The king bed was very comfortable and the heated floors and rain shower head in the bathroom were great too. Will definitely look to stay here again if I'm in the area!
Emily
March 2017
What a great place and value! Brett did a great job remodeling the whole basement and now it is a nice and quite suite for anyone looking for a comfortable stay. If I need a nice room when I am traveling by rock Rock Springs I will look to see it Brett's accommodations are available first. Love your dogs as well - So friendly!
kevin
February 2017
The host canceled this reservation 9 days before arrival. This is an automated posting.
Alex
숙소 유형
개인실
---
건물 유형
단독주택
---
수용 인원
4
---
침실 수
2
Rock Springs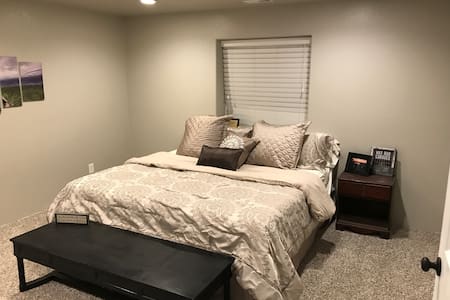 Check out our DISCOUNTS (week21% ,monthly 47%) Excellent for couples, business travelers, and families (with kids). perfect for anyone in Sweetwater county for a night, weekend, week or two , or month . It even has its own washer and dryer, Cable TV AND WIFI. Here to help you with anything.
Quite area , easy access to down town and the mall for shopping and eating out.. The complete lower unit. No shared interior space..
Shared trash container, container needs to be put on street at curb, on Wednesday night or Thursday morning to be picked up..
Correct description, overall cozy and spacious for 5 persons. Getting into the house was a bit of a chore: had I not talked to Randy before arriving, it would have made our entry nearly impossible. Make sure you listen carefully to the instructions, otherwise you may not be able to get into the house. Otherwise good follow up from Randy.
Daniel
December 2016
Randy was great and he wanted to make sure everything was perfect for our stay. Which it was. Hope to be back next year.
Tom
December 2016
We were traveling through on a cross country road trip & found this place last minute. The accommodations were cozy & comfortable. Randy's communication was excellent & it was nice to find a place on such short notice. I found the bed very comfortable. The kitchen well stocked & coffee/oatmeal for breakfast was a bonus!
Petey
December 2016
While Randy wasn't able to be there in person, he communicated very well and made sure I had all the necessary information to get into the apartment, and make my stay as comfortable as possible. The apartment is very clean and well kept. No complaints at all.
Stefan
December 2016
Good value and clean place
Chris
February 2017
Randy was available when needed. Dated but nice.
Gena
February 2017
Randy was very welcoming and tried to make my experience the best it could be he went out and got a tv and movie player for my children and even supplied some old Disney movies for them and left a map to a near by park I was very happy with my experience
Eric
August 2016
Was a good place to stop in while traveling through with our family. The kids loved it!
Eddy
December 2016
숙소 유형
집 전체
---
건물 유형
타운하우스
---
수용 인원
7
---
침실 수
2
Rock Springs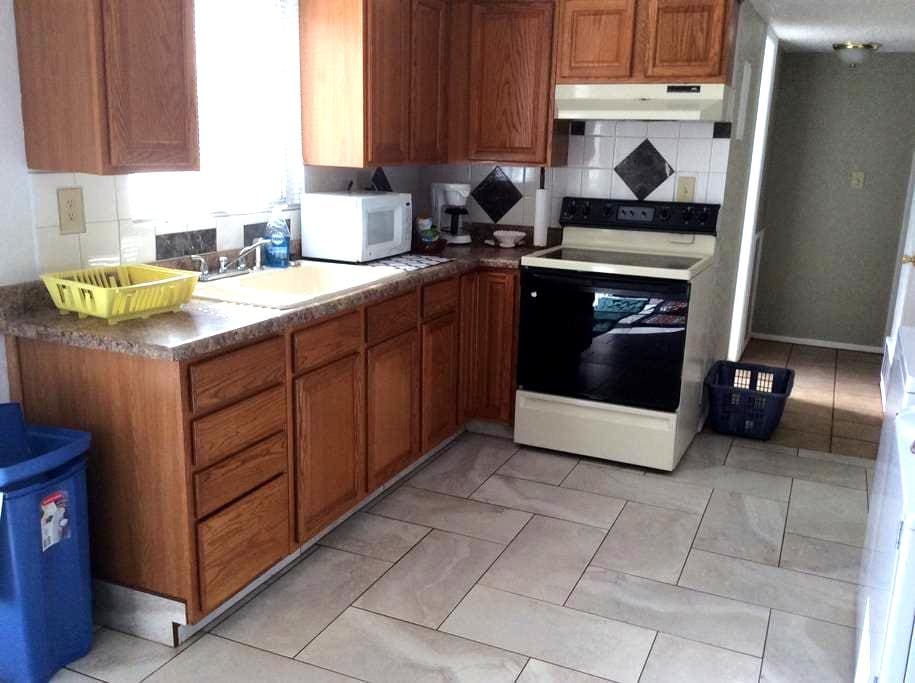 Comfy double bed in spacious private room. The room also has a large sofa. Private bathroom with shower/bathtub. Enjoy access to the kitchen and washer/dryer. Fast WIFI, and plenty of parking. I am a non-smoker, have no pets, and live in the house alone.
Your private bedroom and private bathroom are in a modern single family home in a pleasant, quiet neighborhood. The room is spacious, has a comfy double bed and night stand, a large leather couch, a desk, and a large closet. I am a non-smoker, have no pets, and live in the house alone. You will have a private bedroom, private bathroom and access to the kitchen (refrigerator, freezer, microwave, coffee pot, toaster) and washer/dryer. I offer WIFI, free parking, and excellent water pressure. Help yourself to coffee or tea in the morning! I work a lot from home, but I am more than happy to help guests with information about Rock Springs and the surrounding areas and attractions. Just ask!
Pleasant residential area, walking distance (half mile) to large grocery store, library, park, restaurants, shopping mall. No public transport.
Great, smooth, easy and very pleasant stay. Great location, and a great value. I would recommend staying with Jim to anyone.
Adam
September 2016
It was everything very nice. I enjoyed the stay very much
Michael
November 2016
Jim is an excellent host, good communication, very friendly and helpful and we had some great conversations with him. His place is the perfect airbnb experience. Privacy if you want it, as you have the downstairs of his home, but also great for interaction with host as you share the kitchen and he is so accommodating. Highly recommended.
Muddasar
September 2016
Fabulous host, cozy, comfy room, beautiful mountains surrounding the neighborhood. What's not to like?! Would definitely recommend to all my fellow travelers out there!
Robyn
September 2016
Jim was warm and welcoming, providing a safe place to rest my head as well as the hospitality of tea and coffee in his kitchen. The room and restroom were very nice and private. If you need anything, he's quick to reply and help.
Jack
August 2016
It is a very nice place. Enjoyed our stay, nice bathroom and bed!
Zhuo
August 2016
Jim was a really nice host and we really appreciated his accommodations. I'm not sure the next time we'll be in Rock Springs again, but if/when we do we'll definitely look to stay here again.
Trevor
October 2016
I arrived and Jim had made arrangements for me to get in. The place was downstairs in the basement. It was clean and well lit. The stairs were easy to use. The bed was very comfortable and there was great water pressure. I would definetly stay here again.
Melinda
August 2016
숙소 유형
개인실
---
건물 유형
단독주택
---
수용 인원
2
---
침실 수
1
Rock Springs
You are welcome to use my kitchen. I will leave cereal biscuits bread for toast out. Juice and milk in fridge. I have put a small kettle with milk tea and coffee in the room for you whilst you stay.
숙소 유형
집 전체
---
건물 유형
단독주택
---
수용 인원
4
---
침실 수
2
Rock Springs