Spending the night in our barrel will make you feel like a hobbit living in the Shire. It can be used as a single or twin room. It's located in the heart of the Findhorn Community and Ecovillage, with the beach only 10 minutes walk away.
You will have your own entrance through the front porch, a lush greenhouse with lots of plants and flowers. Your B&B room is round (3.5 m or 11'6″ across) and has a warm and cosy wooden interior. It contains an upper and a lower single bed. Due to the roundness of the room the beds do not have a rectangular shape, so there will be less space than you're used to, and very tall people would probably be uncomfortable in the lower single bed. You'll have to climb a little ladder to get into the upper bed. There are cupboards, a curving desk and some comfy chairs for your convenience.
Our own two storey house is a large whisky barrel and is part of a cluster of five barrel houses. Looking out the windows and walking around you cannot avoid the feeling of being a hobbit in the Shire. The little borough lies at the edge of the Park in Findhorn, with direct access to the surrounding woods and dunes. It will take you about 10 minutes to walk to the beach. All destinations in the Park itself are within easy walking distance. There's a lot to see and do in our community and ecovillage: the Universal Hall, Community Centre, Phoenix Community Stores, Visitors Centre, Living Machine, Moray Art Centre, Blue Angel Cafe, sanctuaries, workshop spaces and the original garden. The Park is located on the edge of the pittoresque fishing village of Findhorn. It takes about 20 minutes to reach its centre, with a little marina, a small supermarket and post office, the Bakehouse Cafe and two inns, the Kimberley and the Crown & Anchor.
Petit dej' de roi! Shanti est très sympathique et accueillant. Par contre les lits sont petits...
Marine
2016-08-24T00:00:00Z
A delightful respite on my journey. The Whisky Barrel had lovely short walks through the dunes to the coastal walkways and it was a short walk to the Findhorn town and bay. My hosts were delightful.
Siobhan
2015-05-06T00:00:00Z
Hosts were very helpful and kind. The room was cozy. If you are over age 60 you might find the ladder to the upper bed intimidating but there is the option of sleeping in a lower bed. I liked the large surface of the desk area in the room for journaling or using laptop.
Trudy
2014-11-15T00:00:00Z
Das Haus liegt sehr ruhig in der besonderen Atmosphäre der Findhorn Foundation. Durch seine hilfsbereite Art hat uns Shanty sehr wertvolle Tips gegeben.
Tanja
2015-08-20T00:00:00Z
Staying in my own wee whisky barrel is hands down one of the coolest experiences I have ever done. Ariane & Shanti were extremely friendly and kept a clean home. My room was very spacious, warm, and even had updated tech gadgets (wifi, large monitor). The house was very clean and the breakfast was wonderful! I had them both tag-team my breakfast which was fun to watch! The location is incredible. A 5 minute drive from Findhorn Bay and a 10 min drive from Forress. Great deal. Great hosts. Great stay!
Samuel
2014-04-12T00:00:00Z
The wee Whiskey barrel is absolutely delightful and I had a wonderful stay here. Santi and Airane were very friendly and welcoming. Highly unique and recommended ;-)
Bella
2016-03-27T00:00:00Z
It was a superb experience in Ariane & Shantis 'Whiskey barrel'. They are are very friendly hosts and the Eco-village is a very good environment around the barrel. Watching the fantastic win of Netherlands against Spain together with Shanti, a Dutch guy, was great. We can only recommend this place even the second bed is a little bit small.
Uwe
2014-06-15T00:00:00Z
I had a short but sweet stay with Ariane & Shanti in preparation for attending a (EMAIL HIDDEN)munication beforehand was brilliant in advising how to get to bnb from Inverness airport using public transport. I was made to feel very welcome, room was as described and enjoyed chatting about the history of the park! Would definitely recommend staying in a whiskey barrell!
Matt
2014-12-07T00:00:00Z
숙소 유형
개인실
---
건물 유형
B&B
---
수용 인원
2
---
침실 수
포레스, 영국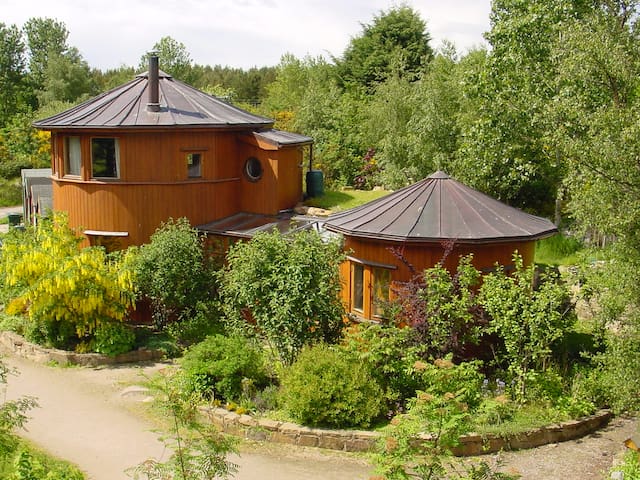 Bothy er en konverterede kvæg kostald, som er en selvstændig lejlighed, den har sin egen lille have med siddepladser med en fantastisk udsigt over det omkringliggende område. Beliggende i hjertet af Glenlivet på kanten af Cairngorm National Park og tæt på Speyside Way.
Der er en indgang med lagerplads. Førende off dette er et rummeligt brusebad (bemærk det er ikke en magt bruser grundet vores vandforsyning) og en opholdsstue. Hovedrummet indeholder en dobbeltseng og to meget hyggelige stole med fod afføring, en morgenmad bar og et fuldt udstyret køkken med alt hvad du behøver for en self-catering pause. Der er en lille komfur og ovn sammen med en kombination mikrobølgeovn og mini køleskab. Vaskemaskine er til rådighed på anmodning bemærk der er et ekstra gebyr for dette. Der er et tv med grundlæggende Sky-kanaler, en dvd-afspiller og musikanlæg med et udvalg af dvd'er og bøger samt wifi gennemfører din underholdning pakke.
Bothy er situationen i en smuk del af det skotske højland. Vi er surround ved en fantastisk udsigt, og der er en overflod af dyreliv at opdage. For vandrere er der skov og landskabet ture og for dem, der gerne nogle ting lidt mere udfordrende er der mange bakker og bjerge at bestige.
Perfect place to escape to, and within easy driving reach of both the Cairngorms and the beautiful Eastern Coast. The scenes were breath-taking and the surrounding landscape feels as if it were steeped in an ancient magic. We had everything we needed and The Bothy was cosy and warm. Colin and Lisa gave us space but let us know they were there if we needed anything. A Peaceful, beautiful place to rest our heads and warm our hearts.
Deborah
2017-02-06T00:00:00Z
A really cozy, comfy place to come back to after some long walks in the beautiful surrounding area. Everything you could need to feel at home. (And really clear directions made it very easy to find!)
Kate
2017-03-16T00:00:00Z
It was absolutely amazing as the peace of the farm made it a great escape from the hustle and bustle of exploring. Colin and Lisa were great hosts and everything inside was grand. The WiFi was a particular bonus.
Gavin
2015-05-14T00:00:00Z
Wow! What a special little piece of Scotland. The cottage was like a mini home away from home, well laid out with all the right amenities right down to dvd's for the guys and romcoms for the girls.
Eve
2014-09-19T00:00:00Z
Our stay in the small chalet was lovely and peaceful. Thanks Lisa
Federico
2016-05-08T00:00:00Z
Great accommodation in a beautiful setting. Very comfortable bed, extremely clean throughout the flat and well equipped kitcen area. Would definitely recommend The Bothy to anyone that is travelling in this area of Scotland
Deirdre
2015-06-26T00:00:00Z
Brilliant stay in a brilliant area! loved our stay and will definitely come back if we need a place to stay in that area again!
Sam
2016-07-31T00:00:00Z
We had a very comfortable stay in the Bothy. It was well appointed, clean and private
Laurence
2015-06-20T00:00:00Z
숙소 유형
집 전체
---
건물 유형
아파트
---
수용 인원
2
---
침실 수
Shenval, 스코틀랜드, 영국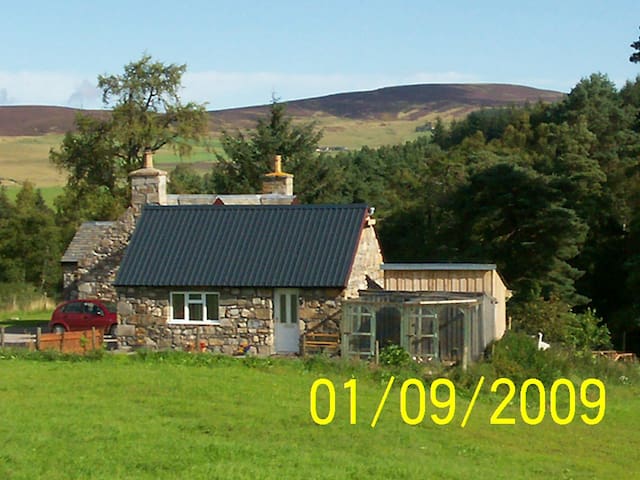 Traditional & relaxed B&B in the 16th century Scottish tower wing of our family home. 2 bedrooms for 4 people over two floors with large bathroom and small sitting room with tv. Full breakfast included.
The castle dates from the 13th century and is full of original features but has been extensively improved for modern living! It is an excellent location for exploring the area or for business in Aberdeen or even a wedding at one of the excellent local venues. The property is about 45 minutes' drive south of Aberdeen off the main A90. Edinburgh is 2 hours to the south. Royal Deeside is about 20 minutes away, across the Cairn O'Mount pass. Our main guest room is a bright room, overlooking parkland, on the second floor of the L-shaped tower built in 1531. It has a superking sized bed and there is plenty of storage with a wardrobe & chest of drawers. A cosy sitting room with TV is adjacent. Up a further flight of the impressive stone spiral stair is the bathroom and a further guest room, with twin beds. The bathroom, for exclusive use by guests, has a power shower and bath. All linen, towels and basic toiletries will be provided. Duvets and pillows are feather/down, but synthetic may be available. A hairdryer is available, as well as an iron & ironing board. There are tea and coffee making facilities and a fridge with ice box. White waffle weave robes can be used for the short walk between the bedrooms and bathroom. On the ground floor is a Billiard room with full sized billiard / snooker table and selection of board games which guests are welcome to use by separate arrangement. On inclement days or chilly evenings we would be happy to light a fire. A full breakfast is provided in our dining room, depending on requirements. A selection of cereals, fruit juices and yoghurt are all available, with home made bread and preserves. A simple cooked breakfast can be provided. For larger parties there are other rooms available by arrangement. Reasonable Wi-Fi is available throughout the house limited in places by the thickness of the walls!
The house is located in a tranquil and quiet rural setting midway between the villages of Fettercairn and Laurencekirk in the fertile farming area of the Howe of the Mearns. River and woodland walks are on the door step Fettercairn has an award winning distillery with visitor centre. Slightly further afield over the Cairn O'Mount road, is Royal Deeside with Balmoral Castle and other attractions. The property is not far from the coastal towns of Stonehaven, Catterline, Johnshaven and Montrose. There are superb beaches at St Cyrus. The nearest golf courses are in Edzell, Auchenblae, Montrose and Stonehaven. Carnoustie and St Andrews are within an hour's drive. There is an abundance of walks and cycling for all abilities and interests on our doorstep. The coast to coast walk from Fort William passes through Glen Esk en route to Montrose. The area has a number of excellent hotels, restaurants and coffee shops for eating out.
A fantastic experience staying in Thornton castle. It was exactly as described and a very interesting and comfortable place to stay. The breakfasts had all bases covered and were very tasty. Griselda was the perfect host and we hope to return.
Andy
2016-03-30T00:00:00Z
Our stay at the castle exceeded anything we had hoped for. Griselda is THE most gracious and thoughtful hostess and made our time in Scotland the highlight of our stay. The accommodations were impeccable and breakfast was such a treat. Thank you for everything! We will think of you fondly forever. Lisa & Cassie
Lisa
2016-07-23T00:00:00Z
Where to begin? This is easily the most amazing stay I have ever had through Airbnb or anywhere else! The atmosphere, the decor, the hospitality were bar none. Griselda went above and beyond - she picked us up in Laurencekirk, she took us to Stonehaven via the coastal scenic road, drove us to Montrose to catch a train when we were leading. Eating breakfast in a large dining room that could easily sit 14, being served a hot breakfast in addition to a selection of fruits, cereals and yogurt was also top notch. And don't get me started on her homemade rolls!! Not only would I strongly recommend this to anyone, I may be planning another visit to Scotland and including this again!
Carla
2016-09-04T00:00:00Z
Thornton is a fantastic place to stay. Griselda is a wonderful host, friendly and welcoming. She is helpful and knowledgeable about the surrounding area and makes a great breakfast! We would definitely recommend her place to others x
Ellen
2016-08-29T00:00:00Z
What a great night. They are fantastic host's. The Castle has well maintained but still has the character that makes it so interesting to visit. Breakfast was great and there is was everything you could ask for. I would stay again for sure.
Jon
2016-06-25T00:00:00Z
Griselda had tea and cakes ready for us hen we arrived and a fire in the fireplace. We felt so welcome. She was the perfect host. She made our stay perfect, we felt we had a new friend when we left. Breakfast was wonderful, I've never had such delicious scrambled eggs! The castle and the grounds went way above our expectations. we so wanted to stay in a castle and really had no idea what it would be like, this was way above any hopes we'd had. I can't say enough about what a wonderful experience it was.
Nancy
2016-11-21T00:00:00Z
Stayed here with three friends for two nights and it has been one of the highlights of our trip to Scotland. We felt like values guests. Griselda was very helpful and breakfast was fantastic. I was excited about staying in a castle and this more than met my expectations.
Evelyn
2016-09-16T00:00:00Z
The castle was magical in so many ways. And we welcomed in a lovely fashion with a tour and explanations that made for a delightful stay. The weather was a bit Scottish, but we still enjoyed walking around the grounds, discovering the secret garden, cosying up in our gorgeous room and bathing in that huge footed tub. The breakfast was better than expected and we expected great things. Thanks for such a wonderful stay!
Emily
2016-06-15T00:00:00Z
숙소 유형
집 전체
---
건물 유형
성
---
수용 인원
4
---
침실 수
Aberdeenshire, 스코틀랜드, 영국
Xalet de vacances, situat al quadrant nord-est del Parc Nacional Cairngorms. Situat als Braes de Glenlivet, el xalet és les parelles refugi perfecte. Amb molt per descobrir, des de rutes a cavall, senderisme, ciclisme, esquí i piragüisme, als whisky i castell senders. Pau i tranquil·litat l'esperen aquí al final de cada dia emocionant.
Wendy i Mike ofereixen respectuoses hostes no fumadors, madurs que comparteixen l'esperit Airbnb, ús exclusiu del nostre acabat de reformar (octubre de 2016) acte xalet de càtering que es troba dins dels nostres terrenys cabana i té el seu propi accés de vehicles i aparcament. Amb fabuloses vistes del Brae i és vessants boscoses, es pot gaudir de la tranquil·litat del camp però a distància dels serveis locals. Tomintoul (el nostre poble més proper) és a 8 minuts amb cotxe; hi trobareu bars, botigues i un restaurant. Sent només una tarda amb cotxe de l'aeroport d'Edimburg, la seva primera nit pot ser aquí dalt a les terres altes i en una fracció del preu d'allotjament de la ciutat! Un munt de gent fan d'aquest la seva base fins per una setmana ja que hi ha molt a veure i fer aquí. D'aquí a 90 minuts amb cotxe es troba tota la costa nord a l'est amb ella és miríada de platges i pobles d'interès, l'Illa Negre i per descomptat el llac Ness. Si el whisky és la seva cosa llavors vostè està en el centre del cel degustació; The Glenlivet és a 10 minuts de distància. Total privacitat o una bona xerrada amb Wendy i Mike; Whisky o castells, cims de muntanyes o llacs, és tot seu aquí a Xalet Woodend. El procés de registre és estrictament entre les 16:00 i 19:00 llevat que hi hagi establia mesures específiques per arribar tard, per telèfon o correu electrònic 24 hores abans de l'arribada. NOTA: dissabte check-in de 17: 30hrs a causa dels nostres compromisos de treball menys que en contacte amb vostè un moment anterior; poseu-vos en contacte amb nosaltres si això és probable que causi algun problema; si podem ajudar, ho farem. Recanvi de l'escapada moment ........? No us oblideu de comprovar si hi ha ofertes especials d'última hora durant tot l'any. Podem acceptar una estada mínima d'una nit al nostre criteri, si us plau missatge amb la seva sol·licitud. ocasió especial, regal sorpresa d'aniversari o aniversari .......? mail jo i farem que succeeixi.
A l'estar situat a la finca Glenlivet Los Coronas al parc nacional de Cairngorms té molts beneficis per al viatger, però les principals raons la majoria de les persones vénen aquí són la pau i tranquil·litat, impressionants vistes i la vida silvestre. Si es tracta d'activitats a l'aire lliure li sembla, llavors també són aquí en abundància, visitar la finca Glenlivet o llocs web Cairngorms per trobar la seva passió.
Wendy et son mari sont des gens adorable, ils nous on très bien reçu, et on su nous mettre a l'aise. La description du logement était exacte, voir meme encore mieux en vrai!
laurene
2015-09-29T00:00:00Z
We had a wonderful time at the Chalet. It is a lovely place and a great spot in the wonderful area. Nearby for visiting the speyside distilleries. Wendy and Mike are a lovely couple and made us feel very welcome. The chalet is very nicely furnished and decorated and really has everything you need.
Peter
2015-09-25T00:00:00Z
Le chalet Woodend est tout simplement parfait. On s'y sent très bien et il n'y a pas meilleur endroit pour être en pleine nature au calme avec tout le confort possible. Wendy nous avait préparé un gâteau maison, nous nous sommes régalés!
Marie
2015-06-16T00:00:00Z
Our stay at Woodend was great! The chalet is well equipped, cozy, has a beautiful view and a nice location, close to the distilleries and some walking trails. Wendy was very kind and helpful and made us feel at home!
Alexandra
2016-05-31T00:00:00Z
Being my first booking with Airbnb, I did have my reservations and doubts, however, Wendy provided an excellent service from the moment I confirmed the booking. I am extremely pleased with the quality of hospitality demonstrated by Wendy and Michael, they were conveniently present when needed but very respectful in terms of privacy. The place itself really felt like a home away from home, extremely comfortable, brilliantly furnished and very clean. Will certainly be returning to this lovely chalet and beautiful country.
Mohammed
2015-10-29T00:00:00Z
This was a lovely retreat for a few days break. Wendy couldn't have been more welcoming, and the cottage was very cosy and comfortable.
Sue
2015-10-07T00:00:00Z
A very tranquil cabin, in such a beautiful space. Wendy was extremely helpful and recommended some great spots. If you stay, make sure you get down to Scalan at the end of the road. It's incredible!
Chaz
2016-11-09T00:00:00Z
A spotless and very well equipped accommodation for two people. The location is really good. A quite glen setting but not far to drive to a village with a shop. Our hosts were very accommodating about our slightly late arrival.
Ella
2016-11-13T00:00:00Z
숙소 유형
집 전체
---
건물 유형
샬레(Chalet)
---
수용 인원
2
---
침실 수
Moray, 스코틀랜드, 영국
This 18th century cottage sits atop this stunning coastal peninsular that once formed the thriving fishing community of Old Castle Slains. Nestled in the shadow of the 13th century castle ruin this is the seascape-lovers paradise.
The cottage adjoins our house but has its own private entrance and garden area. It comprises 2 bedrooms, 1 bathroom, a small self-catering kitchenette (complete with a 2-ring cooker/mini oven, fridge, microwave, electric kettle, dishes, pans, cutlery, cooking utensils, etc.). There is also a washing-machine and dryer. There is a breakfast bar nook, but please note that there is no separate dining-room or lounge. The sea views on all sides are stunning! Puffins nest on Blind Man's Rock just off the peninsula and are clearly visible in the spring and summer. This is a bird/nature/sea-lovers paradise, and also a Site of Special Scientific Interest.
Old Castle Slains sits on a remote and stunning cliff top peninsula about 35 minutes north of the city of Aberdeen. Surrounded by sea on three sides, our house is built on the grounds of the 15th century ruined Castle, the ancestral seat of the Hay family, the Earls of Erroll. With its own beach, and Blind Man's Rock just behind the house to which puffins flock to nest and raise their young each year, this Site of Special Scientific Interest is breath taking. The surrounding area with its rugged cliffs and secluded bays offers days of hiking, exploring, wild swimming, birding and ocean kayaking.
Had a great time, cheers Vishnu and Rebecca!
David
2016-10-29T00:00:00Z
What can we say, there cottage is in the most scenic and beautiful location imaginable! I loved being able to wake up and sit outside with my coffee and watch the sun rise each morning. Being able to walk along the cliffs to Collieston, walk down the hill to the beach, and soaking up the beauty of the Scottish coastline were priceless moments spent as a family. Vishnu and Rebecca were amazing hosts who made us feel at home and were sincerely concerned with our comfort during our stay. They provided us with accurate directions to find their place which was helpful since our GPS would not have got us there (although I think (SENSITIVE CONTENTS HIDDEN) maps would have). The cottage is small, but had everything we needed and is accurately described in the listing. I hope that one day we can return and stay with Vishnu and Rebecca again and I would highly recommend their cottage!
Jennifer
2016-08-16T00:00:00Z
Old Slains is an amazing part of the world, and we were so grateful for the opportunity to stay there. We took a walk down to the beach and watched seals play in the water, and explored the amazing castle ruin. Vishnu was very helpful and friendly. If you're considering staying here, what are you waiting for?!
Simon & Gillian
2016-10-04T00:00:00Z
We had the most amazing time at Rebecca and Vishnu's cottage. The cottage was comfortable and well-equipped, and the hosts were warm, welcoming and laid back. But the best feature of this place is of course the beautiful setting: the unrestricted views of the Aberdeenshire coast in both directions, the exciting drive up to the cottage, the sheep grazing where ever you look, and what remains of the Old Slains Castle right next to the cottage. The location feels very remote and wild, but it is very accessible (by car) to local villages, beaches and other sights and it is a reasonably quick drive from Aberdeen.
Minna
2016-08-04T00:00:00Z
Rebecca en haar mijn zijn super vriendelijk. 6 vrienden en ikzelf zijn op roadtrip door Schotland en het is zeker de moeite om NEW Slains Castle te bezoeken (15 min rijden) en om dan te kunnen slapen naast de ruïne van OLD Slains Castle. Het was wel een verrassing dat de weg wel erg bumpy is. Een normale auto kan er wel over rijden maar er waren momenten in de laatste km dat we er over twijfelden :D Het huisje zelf is erg klein maar de prijs is ook erg klein. Mijn engste opmerking is dat het 4e bed niet echt een bed is, iets te oncomfortabel. Voor ons was het niet zo erg want we bleven maar 1 nacht maar voor enkel dagen zou ik het niet aanraden.
Samuel
2016-06-05T00:00:00Z
Merveilleux ! Rebecca et Vishnu sont très accueillants et font leur possible pour que l'on passe un bon séjour. La maison est très agréable, située dans un cadre sublime, très reposant. Le chemin pour y arriver n'est pas très carrossable mais un endroit comme celui-ci se mérite. Nous espérons y séjourner à nouveau....
Nathalie
2016-05-29T00:00:00Z
非常感谢Vishnu的接待!他非常好心地把我们车到supermarket采购,为我们介绍了很多美妙的景色和old slains catsle城堡的历史。 房子的位置毫无疑问绝佳!历史感很强,很有意思。 这是个体验生活本身的好地方,当地人也十分友好,值得再来。
楠曦
2017-04-08T00:00:00Z
Fantastico! The days we spent there were amazing. The house is nice, quiet and pieceful. The scenario is very picturesque. The host are also very kind and supportive.
Marco
2017-04-03T00:00:00Z
숙소 유형
집 전체
---
건물 유형
단독주택
---
수용 인원
6
---
침실 수
Collieston, 영국
Die Wohnung ist ein in sich geschlossenes 1 Schlafzimmer Erdgeschoss-Wohnung zentrale Aberdeen. Ideal für 1 oder 2 Besucher zentrale Lage und Geschäftsreisende wollen. Es hat ein Schlafzimmer mit einem Doppelbett. Handtücher und Bettwäsche werden zur Verfügung gestellt, so dass keine Notwendigkeit, Ihre eigene Musik mitbringen.
Die Wohnung ist komplett eigenständig. Der Zugang ist auf Straßenniveau und die Wohnung befindet sich im Erdgeschoss. Es gibt gebührenpflichtige Parkplätze auf allen umliegenden Straßen und Parkschein ist auf Anfrage erhältlich.
Es ist sehr zentral in Aberdeen, alle Innenstadtlagen sind innerhalb von 10 Minuten zu Fuß. Es gibt zahlreiche Geschäfte, Pubs und Parks in der Nähe.
Very conveniently located and well-equipped. Everything you can think of is provided: cooking and washing facilities, heating, TV, internet, free parking, shower amenities, comfortable bedding, etc. There was a small miscommunication with our arrival (I will not discuss it here because it's bad form), but in the end Fiona was flexible enough to rearrange her plans to be there to welcome us. I would recommend this as a good base to explore Aberdeen and the east coast.
Monica
2016-07-16T00:00:00Z
Very nice, well situated flat, with everything you could want at a walking distance. Fiona was very welcoming, also providing a parking permit. Would recommend.
Baptiste
2016-12-26T00:00:00Z
Un endroit idéal pour visiter Aberdeen. Fiona est charmante et fait tout pour rendre votre séjour très agréable. Un appartement au top et très bien équipé. Je recommande. Eric
Eric
2017-04-08T00:00:00Z
L'appartement de Fiona était absolument parfait. Elle nous a attendu pour notre arrivée et nous a laissé une carte pour se garer gratuitement. On s' est garé juste en face de la maison. Le wifi fonctionne très bien et l'emplacement est idéal pour visiter Aberdeen et sa région pleine de châteaux. On n'est restés qu'une nuit mais vu le confort c'est idéal pour de longs séjours également. Merci pour tout.
Laurent
2016-04-24T00:00:00Z
Had a great week in Aberdeen, staying in the perfectly located flat. All facilities and a super helpful host! Did everything possible to fit in around my crazy schedule and make my stay as enjoyable as possible.
Friðþjófur
2013-12-02T00:00:00Z
Fiona was a great host! She was so nice to pick us up from the train station. The flat had everything we needed. We'd definitely stay there again if we are ever back in Aberdeen.
Cindy
2014-04-22T00:00:00Z
Unit is larger than it appears in pictures. Great location as a base for exploring surrounding countryside. Kitchen well equipped, cooked dinner there several nights. Parking was close and convenient.
William
2016-07-30T00:00:00Z
Lovely little flat in a great location, only a ten minute walk to union street and the host was very welcoming.
Rhiannon
2017-02-25T00:00:00Z
숙소 유형
집 전체
---
건물 유형
아파트
---
수용 인원
2
---
침실 수
애버딘(Aberdeen), 스코틀랜드, 영국
Our beautiful hand crafted shepherd's hut is the ideal retreat for those who like the best of both worlds, located in the market town of Forres you would never know you are right in the centre of town, nestled at the bottom of our mature garden.
The red caravan offers a cosy living space with wood burning stove, kitchen area and a comfy double mezzanine bed with two fold out chair beds. There is an outdoor compost toilet just a stones throw from the caravan door and a hot outdoor bush shower. Included in the space is a veranda and a secluded patio area for barbecues or a small outdoor fire, there is also a decking area. The space has fantastic double windows which open up to a third of the width of the space and lead on to the decking area where you can relax under the apple tree and watch the garden birds or look out on to the beautiful garden. There is electricity in the cabin that is provided by a solar panel.
Forres is a wonderful little town and Tolbooth street is in our opinion the best street in town, boasting a great restaurant, the best cafe in town, a brilliant butchers, a lovely pub, more hair dressers that you can shake a stick at, a pet shop and even a museum! not bad for a little town! We are right in the heart of Forres, just about 100m from the high street and also close to the lovely Grant park which leads in to beautiful woodland which surrounds the town. The local swimming pool is also just a short walk away in case you are not brave enough for the bush shower and prefer a hot shower and steam room or sauna instead. Forres is also just five miles from the wonderful coastal village of Findhorn which has fantastic unspoiled beaches complete with resident seals. The world renowned Findhorn Foundation is also close by which has its own cafe, whole food shop and Arts centre with regular exhibitions. There is a great cycle track all the way from Forres to Findhorn.
Had a fantastic stay at Steve and Caroline's. They were really flexible with our arrival time and didn't mind we were almost 2 hours late. They gave us heaps of recommendations of places to visit and eat. The Shepherds van was very sweet, wonderfully decorated with beautiful surrounding garden. The location is in the middle of town with a fantastic local pub within a 2 minute walk. We loved all the environmental considerations and wished we'd booked another night in this quirky lovely accommodation. Cheers!
estelle
2016-07-13T00:00:00Z
A hidden gem in the centre of Forres, great quirky place to stay. We were greeted and made very welcome by Caroline and really enjoyed the quirky accommodation she and Steve have created. There is lots to do in the locality and would highly recommend a visit, we would love to go back.
Charlotte
2016-07-31T00:00:00Z
Excellent! Very cool little retreat in the heart of Forres. Beautifully presented and very comfortable. It was too warm for me to need the log burner but will return in the winter to enjoy that. Thank you to my lovely and welcoming host Caroline.
Jetta
2015-06-28T00:00:00Z
I had a magnificent stay at Steve and Caroline's cosy Eco cabin. Steve and Caroline were really helpful and quick to respond to questions. I particularly enjoyed having a morning cup of tea in the hammock looking out over the beautiful garden, waking up to the sound of birds and showering under a blue sky. I would highly recommend the cabin. Thank you Steve and Caroline.
Poppy
2016-08-08T00:00:00Z
The absolute perfect hosts - genuine warm friendly welcome and they made us feel instantly as home. The place blew our minds too... bigger and much cuter/cosier then expected and in an absolute idyllic setting. It really couldn't have been more perfect. We found it very hard to leave the place and wished we had stayed longer then only 3 nights =)
Trystan
2015-09-14T00:00:00Z
We (two couples) had a great night in the eco cabin! It is perfect for two and also still comfortable for four. There was everything we needed and Steve was a great host. Too bad, we only had one night. We definitely think about coming back one day and in the meantime we recommend this place to everyone who likes something special!
Miriam
2015-07-21T00:00:00Z
Nutrition for your soul and senses. It is as simple as that :-) We arrived on a rainy day and thought it might be a little small for a family of 5, but we had a WONDERFUL time in the eco cabin. Woke up to the sound of playing seagulls and sunshine through the windows. Wow! And on top of this, it was a very healthy experience for the kids. Thanx to our lovely host, Sreve and Caroline for bringing up this great opportunity :-)
Peter Munch
2015-08-01T00:00:00Z
Once we arrived we were greeted by Steve who showed us round explaining all the things we needed to know. He chatted away with us for a little while before leaving us to it. The cabin itself was perfect with everything that we could need from a mini fridge, plenty candles, a pack of cards etc. It was comfy and cosy (when the log fire got going) and a real treat to experience. Not to be missed
Poppy
2016-04-18T00:00:00Z
숙소 유형
집 전체
---
건물 유형
통나무집
---
수용 인원
4
---
침실 수
포레스, Moray, 영국
Glenmore Eco Cabins are set in a private garden area next to Pine Marten Bar Modern timber design compliments the glorious mountain and forest environment at the very heart of the Cairngorms National Park. Superb location for all outdoor activities.
Glenmore Eco Cabins are set in a private garden area next to Glenmore's Pine Marten Bar. A quiet location set in the trees, yet only a few steps away from everyday facilities you might need. We are right at the heart of the world class Cairngorms National Park where you can partake in all sorts of outdoor activities including skiing, crosscountry skiing when conditions allow, hillwalking, mountainbiking and just about any other activity you can think of. A few steps from the cabins we hire all ski equipment and mountain bikes during the summer months. From Easter until October, the Boathouse on the beach nearby rents out all sorts of sailing craft, rowing boats and kayaks. Watersports lessons provided too. Compact modern timber cabins featuring 4 beds in each cabin. Heater, microwave, kettle, table, chairs on the balcony. Towels, sheets and pillowcases provided, as well as hair dryer and iron.....please ask. There is plenty of Lap Top ready space. PLEASE (URL HIDDEN) GET TO US USING SAT NAV.....ITS ....PH22 1QY.....NOT PH22 1QU. Toilets, showers and sauna (instead of hot tub) plus dish wash facilities are in our main building about 30 metres away. WIFI........... Due to the poor record of superfast cable in rural parts of the UK due to London centric succesive governments we have to rely on satellite. It (URL HIDDEN) is reliable .....but slower than in a city environment. This may sound outrageous to mainland Europeans but this is the reality of the the UK. Any complaints about wifi should be addressed to Theresa May, 10 Downing Street, London, SW1 Ha ha.
We are right at the very heart of the Cairngorms National Park. masses of walks, bike rides, cross country skiing, downhill skiing, snowboarding. Sailing and canoeing in summer and wildlife everywhere. You will like to be here.
Great place and experience, the whole area just has week mobile signal so people should note that
Mohamed
2016-11-14T00:00:00Z
My experience at the Ecocabin in Glenmore was one of the best I have had. The hosts were very friendly and extremely helpful with all the questions we had. The cabins were perfect and exactly what we were looking for, very clean and comfortable. The bar, which was a 30 second walk from the cabin, was a lot of fun and filled with some of the nicest people I have ever met. At night they have live music and we had an amazing time. This is definitely a trip I want to do again and I highly recommend staying here if you get the chance!
Nate
2016-03-26T00:00:00Z
Le lieu est très sympa comme point de depart de ballades et les cabanes sont confortables.
Jo
2016-10-26T00:00:00Z
Lovely little cabin! Had great times in the pub next door and the cabin was really cosy once the heater was on. Glamping like kings.
Maurice
2016-01-25T00:00:00Z
Great location, easy access by car or bus [hourly] . The whole team were very welcoming and most helpful with advice and guidance. The Eco Cabin is new and therefore in great shape. It is bright and warm - you control the heating and temperature. It was just me so plenty of space for one but also more than enough room for 2 or a small family. 1 double bed and 2 camp beds within plus chairs and hammock outside. Bedding and towels [hand] supplied which helps with reducing your luggage. Plenty of power points for charging phones etc. Microwave and kettle makes feeding yourself easy but you have the bonus of the Pine Marten Bar and shop on your doorstep. Aviemore just 10 mins by car and Loch Morlich a short walk away as is Glenmore Lodge. Showers, toilet and washing area again within easy reach [steps] and with under floor heating and a washer dryer more than enough to deal with all kinds of weather options. Did not try the sauna but it came highly recommended and was in good condition. I have camped and travelled a lot and have no hesitation and recommending Glenmore Eco Cabins as a welcoming and great value place to stay for all kinds of outdoor activities.
George
2016-01-30T00:00:00Z
We turned up late to the lodges but this was no problem for Bill , he was happy to show us around, loved the pub and very friendly even wished the girls happy valentines
Mark
2016-02-16T00:00:00Z
Excellent setting and great host. Thanks
Trevor
2016-08-26T00:00:00Z
We enjoyed our stay at Bill's cabin. It is equipped with bunk beds + a foldable sofa, a microwave and a kettle. We felt quite cosy in it! The showers, toilets and sauna are located next door and are perfectly maintained. Both Bill and James were very helpful: dining advice (the hostel and the lodge across the road both serve savoury and filling meals), turning on the sauna for us, providing extra bed linen, storing our food in their fridge, etc. The location is good to enjoy outdoor activities: the lake is a few minutes walk away, the ski resort is 10 minutes drive, Aviemore 15 minutes. You can rent skis, snowshoes, bikes. In one word, we wished we could have stayed a bit longer!!
Camille
2016-04-23T00:00:00Z
숙소 유형
집 전체
---
건물 유형
통나무집
---
수용 인원
4
---
침실 수
Aviemore, 영국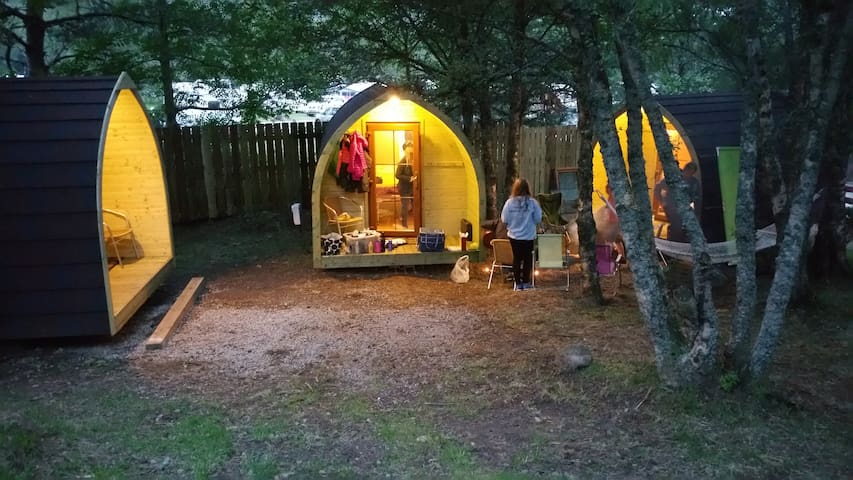 This modern bothy, situated on the edge of ancient forests, would make an ideal retreat or base for adventures. As well as local walks and the riverside village of Nethy Bridge, it's only a short drive to the Cairngorms for skiing, hiking & biking.
The Bothy is recently redecorated and was only built about 10 years ago. It has its own decking outside and front door to enter. There is space to sit out on the decking and outdoor seating. Our house is on the same site and shares the large garden. Downstairs there is a large open plan living area with kitchen, dinning table and sitting area. The kitchen is an Ikea style "kitchen in a cupboard" with electric rings, sink, fridge, and a combi oven/grill/microwave. Upstairs there is a king-size bed in a large double bedroom with ensuite bathroom (shower but no bath).
The Bothy is not overlooked and is in a very quiet area with mostly trees and fields surounding. The woods close to the Bothy are owned by the RSPB and there are some very accessible paths. There is also the River Nethy which runs through the village which joins the River Spey nearby. In the village, there are public tennis courts 5 minutes walk away with an honesty box. There are two hotels in Nethy where you can get a meal and a weekly fish and chip van on a Monday. There is a small shop and Post Office. The nearest town is Grantown on Spey which has a range of small local shops or in the other direction Aviemore has a range of facilities. Also the nearby village of Boat of Garten has a restaurant and coffee shop. There is downhill skiing locally in the winter about 40 minutes drive at Cairngorm. You can also get to the Lecht for skiing in the other direction and it is also 40 minutes drive. About 30 minutes away, Loch Morlich is a base for watersports in the summer and also an access point for walks in the Cairngorms. There is some great mountain biking from the door including some local single track and various other locations and trails. There is also some road cycling on quiet roads locally and some accessible cycle tracks. There are many walks short and long including the Speyside way which runs through the village and plenty of Munros to go at in the Cairngorms. There are also various whisky distilleries to visit. For wildlife lovers, we regularly have red squirrels in the garden and various birds. Crested tits visit the garden in the winter and you might want to try to spot Capercaillie in the nearby woods. If you have any more queries about things to do in the local area please don't hesitate to ask.
The bothy is located in beautiful surroundings, very peaceful location for a break away from the city. Lots of local walks and activities - we went river tubing on the river Feshie, it was excellent. Hosts are very accommodating and offered us advice on local dinning and activities.
Ross
2016-10-16T00:00:00Z
I booked The Bothy for two of my dear friends to stay in during our wedding at the nearby Dell of Abernethy. They absolutely loved the bothy and said they were very comfortable there.
Kate
2016-09-19T00:00:00Z
Had a lovely stay at The Bothy early December. Great location and had everything we needed for great weekend in Aviemore area. Would highly recommend, we are already looking at arranging another stay in early 2017. Hosts were both around @ check in and and check out, very friendly.
Nicola
2016-12-03T00:00:00Z
A truly unique and inspiring stay in such amazing natural surroundings. The bothy was as beautiful inside as it looked out with the most friendly of hosts. Cannot recommend this any more highly for a cute stay in the heart of Cairngorms.
Calum
2016-09-20T00:00:00Z
We enjoyed the time in Abigail's and Andy's bothy very much. Andy gave us a lot of tipps where to hike and walk around. The surrounding is nice and the mountains are great. If we come back, we will choose the bothy to stay once more. Thank you very much Abigail and Andy
Theo
2016-08-09T00:00:00Z
The Bothy was a great, peaceful place with access to great activities and a short drive from Aviemore. Would definitely return!
Aaron
2017-02-26T00:00:00Z
We had a lovely time staying in The Bothy. The pictures accurately represented the bright, cosy and very clean cabin. Abigail and her partner Andy were also very helpful, friendly and welcoming! We would definitely recommend staying here and would stay here again.
Jacky
2015-10-11T00:00:00Z
We had a lovely couple of nights in the Bothy. It was clean and comfortable. Abigail and Andy left us to it but we knew they were happy for us knock on their door if we had any questions. Although the kitchen was just a cupboard it had everything we needed. The house is in a great location, only a small drive away from Aviemore, Nethy Bridge itself has plenty of walking trails and great roads to cycle on. We would stay again.
Gavin
2015-10-21T00:00:00Z
숙소 유형
집 전체
---
건물 유형
단독주택
---
수용 인원
2
---
침실 수
Nethy Bridge, Inverness-shire, 영국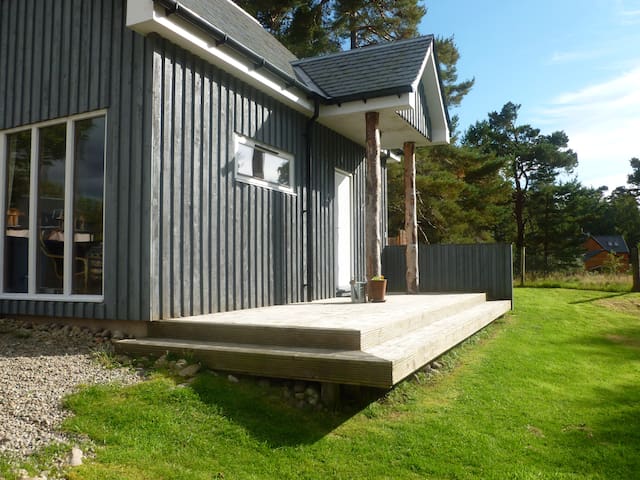 Das Serviced Apartment befindet sich auf der Seite meines Hauses. Völlig privat mit eigenem Eingang und Türklingel. Voll integtrated Küche, Tischplatten aus Marmor Duschraum Wohnbereich mit einem 50 "Flachbildschirm. Große Queen-Size-Bett, Einbauschrank. Inklusive Wifi, Handtücher, Bettwäsche usw.
Das Serviced Apartment befindet sich auf der Seite meines Hauses. Völlig privat mit eigenem Eingang und Türklingel. Voll integtrated Küche, Tischplatten aus Marmor Duschraum Wohnbereich mit einem 50 "Flachbildschirm. Große Queen-Size-Bett, Einbauschrank. Inklusive Wifi, Handtücher, Bettwäsche usw. Dieser große, offene Raum ist groß, mit hohen Decken, viel Stau. Alle brandneuen Voll ausgestattete private Küche mit Geschirrspüler, Induktionskochfeld, Backofen, Mikrowelle, Waschmaschine, Trockner Keine Interaktion mit Gast andere als Schlüssel zur Verfügung stellen. Der Raum ist komplett privat Der Nähe von Geschäften, Cafés alle Minuten zu Rosemount Platz Bushaltestelle weniger als 10 Meter entfernt
Der Nähe von Geschäften, Cafés alle Minuten zu Rosemount Platz
Andrew has a very interesting flat and quite original to say the least. i'm sure one will apreaciate the quite huge screen he put at our disposal. It's well equiped with a kitchen and all you need. I say this does make it a must stay for anyone planning a long stay in aberdeen. There is an awesome pub nearby by the way. We didn't get the chance to see andrew but a lady did everything we needed. we had a nice stay and we'll happilly come back. P&S
Pierre
2015-08-08T00:00:00Z
We got good accurate emails and shown round the apartment on arrival. The facilities were excellent full kitchen and laundry. Comfortable bed. Nice location. Shops nearby.Had apartment to ourselves
Jim
2016-08-20T00:00:00Z
The place was exactly as described. It was close to the city centre and conveniently located near a local shop and park. We enjoyed our stay there as the host accommodated to our needs and made us feel welcomed in Aberdeen. The place was totally private to our use and convenience as all the appliances were new or recent so easy to use. Andrew was a great host. He was quick to answer any questions and has accommodated to our needs with two children. Overall, we were very satisfied with our stay and would recommend it to anyone visiting Aberdeen for the first time.
Joe
2015-10-10T00:00:00Z
Excellent throughout and a well equipped apartment. Ideal for leisure or business stays.
Jim
2016-11-04T00:00:00Z
The flat is great, every detail has been considered. It has everything you need with some nice added extras. The kitchen is really well equipped, the sofa super comfy and the bed too. I stayed for one week and have booked for more as I am in Aberdeen for work. Andrew and Jo are great, I would highly recommend this flat.
Emma
2016-01-29T00:00:00Z
The apartment was exactly as described. Large, clean and comfortable.
kathy
2016-07-15T00:00:00Z
We spent 2 weeks in Scotland with Airbnb - Andrew's apartment we liked the most. The neighborhood is great with a lovely park, lots of cafes and restaurants and a 15 min walk to the city centre. In the apartment, there is more than everything you need: washing machine, dishwasher, fully equipped kitchen, flat screen tv... Communication and arrival/check-out have been very uncomplicated. A perfect Airbnb experience!
Annamaria
2016-07-22T00:00:00Z
Greeted at agreed time and showed around apartment and detailed description of how things work. Lovely apartment in a very central location. Pictures don't do it justice!
Adam
2015-09-21T00:00:00Z
숙소 유형
집 전체
---
건물 유형
아파트
---
수용 인원
2
---
침실 수
애버딘(Aberdeen), 영국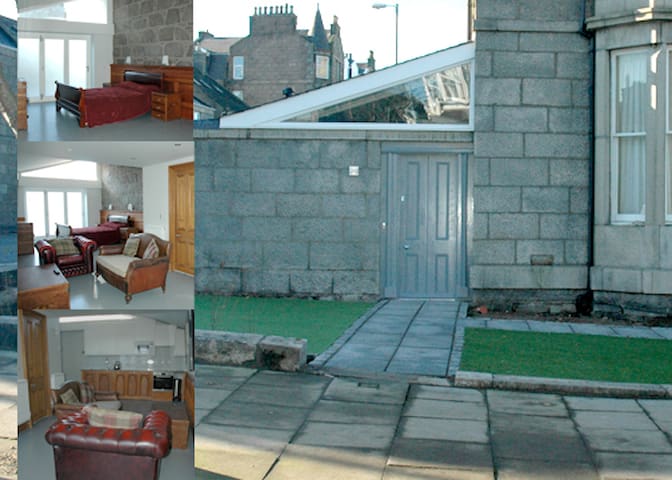 Our home is our castle. A spacious house nestled in an acre of quiet, secluded and stunning Scottish countryside. The perfect venue for a family Christmas celebration, a gathering of friends, corporate events or a small intimate wedding.
If you desire a peaceful retreat in the beautiful Scottish countryside, you've found it. Woodcorner was built in the Scottish baronial style and sits nestled into the corner of a wood, close to the River Don. The house is bright, spacious and modern - designed for ultimate comfort. Our house has its own private water supply from a natural spring. During your stay, as an added bonus, you will enjoy sweet and pure Scottish water.
Donside is a truly beautiful example of Scottish countryside. Must be seen to be appreciated. Within a 30 minute drive you can also explore Royal Deeside with all its history and beauty.
Great host, the house was perfect for our group! Everyone either had a bed to sleep on or had a very comfortable sofa in our group of 16! The house has everything we needed! Shame the weather wasn't better or we would have used the outside more too! Nahid was very good at keeping in touch and always replies asap! Great house and would come again!
Sean
2016-01-05T00:00:00Z
We had an excellent weekend here for my wife's 40th birthday. The house was great and exactly as described. The house was in immaculate condition. We especially loved the open fire and games room. The house was very well equipped and had a large enough dining room to accommodate the 12 of us. We'll definitely visit again. Thanks Nahid for being a great host.
George
2016-02-22T00:00:00Z
My friends and I had a thoroughly enjoyable visit to Woodside Corner! Nahid was great throughout. She went out of her way to accommodate us and provided us with everything we needed including charcoal for the BBQ and fresh herbs! The house itself was beautiful. Would definitely come back!
Sue Anne
2015-08-31T00:00:00Z
We had a wonderful stay at Nahid and Ross's place. The home is beautiful and so clean. Everything was there that was needed for wonderful nights stay and more. My kids had a wonderful time playing in the field and woods right by their home. I would stay here again if I went back to Scotland. They communicated so well the whole way through. Thanks for a wonderful stay!
Megan
2015-08-18T00:00:00Z
We had a fantastic family holiday in Keig. Everything was exactly as described and Nahid was an excellent host. Would wholeheartedly recommend and will likely stay again!
Donnison
2016-12-30T00:00:00Z
Nahid is a fantastic host. World class communication with super quick response to any query. If you are looking for some downtime and a beautiful view with space, look no further.
Mikey
2017-02-18T00:00:00Z
Lovely house inside and out. Great host Very helpful upon arrival and departure.
Reece
2017-01-22T00:00:00Z
This is a beautiful house in a stunning setting. 10 of us stayed here & it was very spacious. The house is very well equipped. Nahid was a very helpful host who answered our queries very quickly. Somewhere I'd have no hesitation in strongly recommending! Thank you Nahid!
Alex
2016-04-18T00:00:00Z
숙소 유형
집 전체
---
건물 유형
단독주택
---
수용 인원
12
---
침실 수
Keig, 스코틀랜드, 영국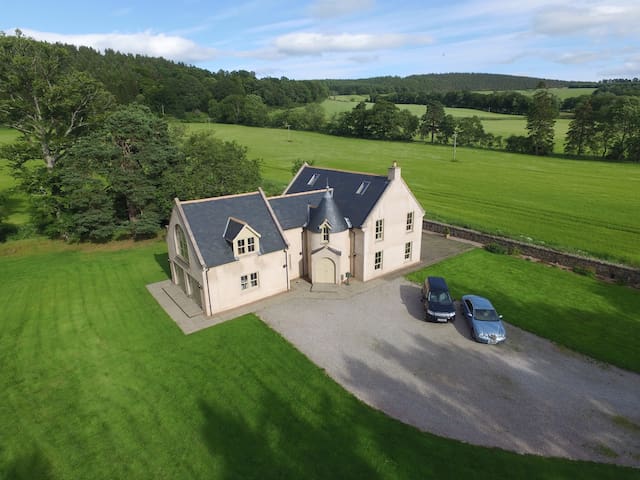 Chambre Double Spacieuse Appartement moderne. Un parking privé est disponible et à distance de marche du centre-ville.
Kvarteret er stille, det komplekse i sig selv består hovedsageligt af unge professionelle og er slukket enhver hovedveje.
Kelly was very proactive in her communication and ensured that our check in process was smooth. She constantly kept in touch to ensure we find the place and that everything was okay. Kelly is very friendly and a very kind host.
Sivashankaran
2014-11-20T00:00:00Z
Kelly's apartment came as advertised, it was a homely place with all of the luxuries, very clean, good free parking near the door. Kelly was a great host, replied to messages promptly, highly recommended.
Russell
2015-11-04T00:00:00Z
Kelly s'est montrée disponible et accueillante. L'appartement est très propre, agréable et proche du centre ville.
coralie
2015-07-31T00:00:00Z
We were warmly welcomed by Kelly, who told us everything to know about the appartment and the neighborhood. Her flat is spacious, modern and comfortable. No problem to park and find our way. We had a great time there! The nieghborhood has nothing special, except that it is very close to the seashore, so it's easy and nice to have a walk. Would definitely recommand Kelly's place to stay in Aberdeen.
Esther
2016-07-06T00:00:00Z
I stayed there two nights with a friend (students) and everything was perfect. Kelly is very friendly and welcoming. Her apartment is clean and modern. I would definitely recommend her place to my friends!
Madeline
2016-12-22T00:00:00Z
It was great staying with Kelly. She helped me where possible and made my stay a nice experience. I enjoyed meeting here.
Angela
2016-07-19T00:00:00Z
Kelly and her place was great! I did't get much chance to speak to Kelly as I was in a rush to get to a meeting on the first day, but she arranged meeting me at midday to hand over the key and show me all the relevant bits. The room and flat were all clean and comfy. I mentioned in passing that I had forgotten to bring a phone cable to charge my phone and when I got back that night Kelly had left on in my room for me; very much appreciated. Great place to stay
Ben
2017-04-04T00:00:00Z
Enjoyed my stay. Kelly went out of her way to ensure I was comfortable. Cute flat, helpful hostess.
Chindu
2016-02-05T00:00:00Z
숙소 유형
개인실
---
건물 유형
아파트
---
수용 인원
2
---
침실 수
애버딘(Aberdeen), 스코틀랜드, 영국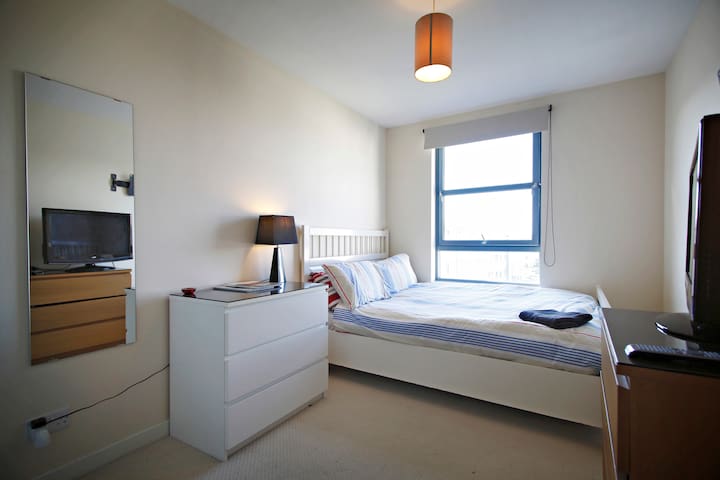 애버딘의 중심부에 플랫 탑 3 층에 매력적인 욕실 방. 평면에서 당신은 애버딘의 가장 인상적인 건물의 일부를 볼 수 있습니다 폐하의 극장, 예술과 갤리 박물관, 세인트 니콜라스 교회 타워와 마리 쉘 대학 (전 세계적으로 두 번째로 큰 화강암 건물).
이 평면은 애버딘의 역사적인 건물의 맨 3 층에 위치하고 있습니다. 이 건물은 시내 중심의 독특한 전망을 제공, 도시의 중심부에, 바로 연합 테라스 정원입니다. 객실과 라운지 영역에서 당신은 도시의 가장 큰 매력을 감상 할 수 있습니다. 건물에는 엘리베이터가 없지만, 나는 꼭대기 층에 도달하는 단계의 수는이 평면에서 가질 수있는 독특한 영감을보기위한 것이 가치가 있다고 말할 수있다! 당신이 샤워와 전용 화장실이있을 것이다 방에 연결합니다. 방 떨어져 주방 / 라운지 지역은 낮과 밤의 시간에 공유됩니다. 있는 매우 중심의 실내 공간은 단일 또는 애버딘에 방문하거나 일하기를 원하는 커플로 사용할 수 있습니다. 추가로 여분의 매트리스와 최대 2 사람들이 함께 예약 할 흥미있는 경우에 사용할 수있는 소파 베드가 있습니다. 이 작업은 예약하기 전에 추가 비용 및 계약을 실시 예약 할 수 있습니다. 소파 침대가 일반적인 라운지 공간에 위치하기 때문에 아침에 개인 정보 보호를 보장 할 수 없습니다 총 것을 주목해야한다.
당신은 멋진 커피 숍을 즐길 수있는 기회를하려는 경우 평면은 애버딘, 좋은 위치의 도시의 중심부에 위치하고 있으며, 시내 중심에서 사용할 수있는 로즈 마운트와 웨스트 엔드 또는 단순히 박물관과 극장 주변의 맛있는 음식 장소. 당신이 대학에 통근 또는 주위에 여행 할 경우 이상적인 장소입니다!
It was a lovely experience, the house is immaculate, Nuno is an incredible host, very polite and discrete. He will help you with indications and recommendations and... He is an amazing chef! I could taste two of his cakes and were amazing! The house is super central and with easy parking. Better than a hotel! Totally recommend it! Thanks Nuno!!
Elena
2015-09-16T00:00:00Z
Nuno is great host he offered us with good advices for visiting the city. He has got a beautiful house right in the city center. Strong recommend if you want to visit Aberdeen.
Ruben
2016-08-17T00:00:00Z
Nuno was not around, but his mate Igor welcomed us very friendly. We had a very spacy bedroom with our own bathroom. All was modern, nice and clean. We were allowed to use the kitchen and had a very good breakfast. The flat is very clean and calm and is located very near the Aberdeen city centre, so that we could walk for dinner. Many pubs are also around. Great city!
Julia
2016-09-01T00:00:00Z
Very friendly and forthcoming host. The ensuite room is nice, cozy and clean, and offers a fabulous view of Aberdeen. We loved staying at Nuno's place. It's centrally located, with most of the main attractions within walking distance; there are several bus stops in the direct vicinity. Plus, there's a car park just a 3 min. walk down the road, which is very convenient. We can highly recommend this room.
Sacha
2015-07-22T00:00:00Z
Our hosts, Nuno & Igor, made us feel welcome in so many ways; it is hard to count. There were home-baked cakes and tea or coffee for breakfast. There were stories and conversation about their town, their work and Scotland. Their home is furnished with modern and comfortable furniture, they have a very good wi-fi connection, books and brochures about the area. They helped us up and down the stairs with our luggage. One day my husband was 2 hours late returning to the city from an expedition and they stayed by me until he was "found". We really felt like they were friends by the time we left. The view from the guest room and the living room is fantastic in any weather and the apartment itself has both a modern and traditional feel. The bed and bath a in excellent order. Most highly recommended.
Carol
2015-06-13T00:00:00Z
Another lovely trip. Deliciously clean, lovely toiletries, homemade cake and chocolates on the bed! Plus good company. What's not to like.
Barbara
2015-07-15T00:00:00Z
Una experiencia totalmente recomendable para cualquier persona que visite Aberdeen. MEJOR que un hotel. Nuno & Igor son unos EXCELENTES anfitriones, brindan su ayuda y consejos para una estadía más agradable. La habitación es HERMOSA, ubicación perfecta, con unas vistas increíbles, el baño dentro de la habitación es cómodo y equipado a la perfección. Todo está decorado con muy buen gusto y destacó la limpieza del lugar. Me quedo contenta con la elección y repetiría sin duda.
Magali
2017-02-09T00:00:00Z
Bei der Ankunft hat uns der Mitbewohner Igor pünktlich und sehr freundlich empfangen, da Nuno noch verreist war. Alle Fragen wurden ausführlich beantwortet. Das Zimmer und das Bad waren sauber und liebevoll eingerichtet. Informationsmaterial über Aberdeen und Umgebung lagen bereit. Das Frühstück bestand aus Brot, Zerealien, Obst, Kuchen usw. und der Tisch war bereits morgens gedeckt. Die Abreise war einfach und unkompliziert.
Martina
2016-09-07T00:00:00Z
숙소 유형
개인실
---
건물 유형
아파트
---
수용 인원
2
---
침실 수
애버딘(Aberdeen), 스코틀랜드, 영국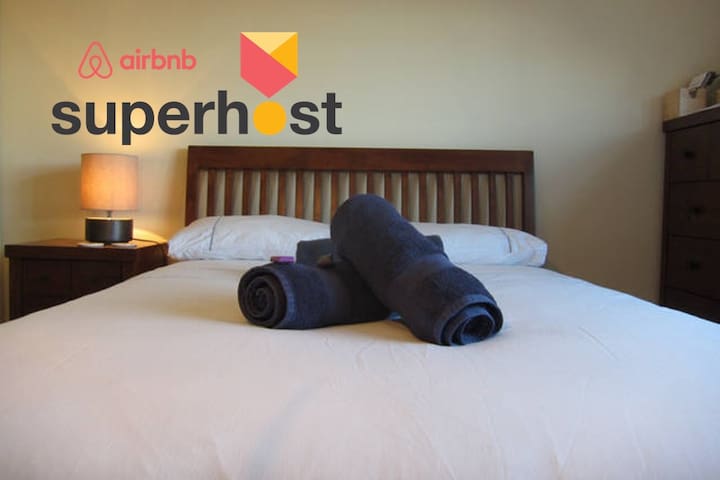 Eine helle und luftige Wohnung mit einem Schlafzimmer in einem von Aberdeens origanal Gebäuden aus Granit, ein Schlafzimmer mit Doppelbett, voll ausgestattete Küche, Bad und Wohnbereich mit einem Sofa und einem Einzelschlafsofa, Flachbild-On-Demand-TV, WLAN und Laptop-freundliche Schreibtisch untergebracht sind.
Eine schöne Wohnung im ersten Stock mit Sicherheit Eintritt und kostenlose Park bewachter Parkplatz. Dies ist eine moderne Wohnung zu einem hohen Standard ausgestattet mit Gaszentralheizung, Warmwasser auf Anfrage, gratis WiFi, DVB-T-TV (mit on-Demand-Funktion) Nespresso-Kaffeemaschine (Hülsen auch im Lieferumfang enthalten), Wireless-Lautsprecher, ein Schreibtisch und ein großer Aspekt für natürliches Licht. Die Wohnungen üppiges Doppelbett für 2 Personen und wir haben die Möglichkeit, ein Schlafsofa im Wohnzimmer für Familien von drei Kindern.
Innerhalb von 15 Minuten zu Fuß vom Stadtzentrum von Aberdeen, Aberdeen Sports Village und die Universität sowie Aberdeen Strand, ein idealer Ausgangspunkt, wenn Sie möchten, zu erkunden alles Aberdeen zu bieten hat.
Lovely flat. Thank you!
Frances
2016-08-11T00:00:00Z
Had a very enjoyable stay in the lovely and welcoming flat, will return there next time when up in Aberdeen!! Thank You Angela
Eve
2016-01-23T00:00:00Z
This was one of the nicest Airbnb places that I have ever stayed. Angela had a larger apartment available so upgraded us. Everything was spotlessly clean, everything you could need and super comfy beds. The inclusion of breakfast was great and the snack bar was very welcome. The decor was lovely and the proximity to the city and beach was excellent. Parking was included and easy.
Jane
2016-11-08T00:00:00Z
Angela's place can be defined as welcoming, warm & cosy place ever. Angela went beyond being a host as she showed so much care for us (all the time asking if we are ok or have found our way). I would 100% recommend Angela's place for somebody who wants to feel at home without being in home.
Mili
2016-12-26T00:00:00Z
Es war alles sehr gemütlich und sauber. Beste Ausstattung sogar Bügeleisen ist vorhanden!
Susanne
2016-05-10T00:00:00Z
The appartment is spacious, clean and smartly decorated. The walk to the city centre takes you 10/15 min. We really enjoyed staying here and Angela was a friendly host.
Roland
2016-08-10T00:00:00Z
Great place to stay Angela looked after us although it was so good we didn't need her 10 out of 10 easy
Paul
2017-04-02T00:00:00Z
We had a great stay at Angela's property. It's got everything you could need (and more!) and in a great location. Would highly recommend!
Rebecca
2016-05-17T00:00:00Z
숙소 유형
집 전체
---
건물 유형
아파트
---
수용 인원
3
---
침실 수
애버딘(Aberdeen), Aberdeen City, 영국
Log fires, hot tub, space for sharing with friends and family, the Cairngorms, skiing, the whisky trail, walking, hiking and mountain bike trails, the river, the forest, all on your doorstep!
An Cala is quiet riverside house, with the luxury of a hot tub, big deck, generous kitchen and dining area and 2 wood fires. Ideal for 1 - 3 families or a group of friends. 5 bedrooms; 3 king size beds (2 with ensuites) 6 single beds. Spacious living kitchen/dining open plan area. Hot tub on the outside deck. Lovely 6 burner gas stove, American style fridge and freezer, dishwasher, washer and dryer. A huge dining room table in the centre of the room, which is an ideal gathering place for social get togethers. Relaxing and peaceful, it is the perfect place to come home to.
Located in a small village with many walking trails in the forest and along the river. A fantastic local butcher and a village shop within a 10 min walk from the house. The Mountview Hotel in the same neighbourhood serves meals if you want to eat out, and Tesco delivers to the house, if you want the shopping to arrive when you do. Walking and biking trails, from the door. Best route is from Nethy Bridge to Glenmore Lodge, past the Ryvoan Bothy! Within a 30 min drive from the house there are: 6 whisky distilleries on the Speyside Malt Whisky Trail, the Glenlivet Mountain Biking Trails, The RSPB Osprey Centre at Loch Garten, 5 golf courses, swimming pools, Loch Insh Watersports, castle estates, Pictish ruins, Fishing, Speyside Walking Trail, Landmark kids adventure park, and thousands of walking trails. Findhorn Bay and the Morayshire Coast are an hours drive from Nethy Bridge. Loch Ness is 1 hour 10 min from the house.
The house is amazing and we really enjoy it, totally dream house
Xian
2016-09-27T00:00:00Z
Lovely house in a beautiful setting!! Very clean, cosy and well designed place.
Carly
2016-07-06T00:00:00Z
Beautiful house in beautiful location!
Janet
2016-10-23T00:00:00Z
Lara was an amazing host. The house exceeded our expectations, it was very clean and everything we needed was there. The village was very nice to walk around and close to all the main attractions and sights. We fell in love with the house and the area and can't wait to come back again!
Ruya
2014-06-26T00:00:00Z
Lara's guest house far surpassed our expectations. The house is wonderful and in a magical setting. It well appointed and designed. Lara is charming gracious and very helpful. The outdoor hot tub is a great extra especially during the snow shower. I highly recommend.
Richard
2016-04-30T00:00:00Z
This house is by far the best of all my Airbnb experiences.The location is unbeatable in its closeness to nature and getting away from day-to-day life. The two fire-places in the house ensure that everyone is able to cosy up to the fires. We went as a group of 9 friends and spent a good hour discussing how we could build a house like it for ourselves! It's safe to say we loved everything about our stay. Lara was helpful every step of the way and quick with responses and even went out of her way to ensure we could stay there for the weekend, and reached out to me when she hadn't heard from us (the telephone signal isn't good on Vodafone and using the wifi didn't click in my head till Saturday afternoon - that's how relaxing our stay was :)
Annina
2015-10-05T00:00:00Z
This house has been beautifully renovated, it is very comfortable and has lovely views as well as a woods just over the road, which is handy if you don't feel like having a big day out. It was a little on the cold side but we loved this as it meant we had an excuse to use the wood stove each evening! Plenty of wood and kindling is provided so there is no need to worry about stocks running low. Lara is a kind and gracious host and we loved the plum tart she made us from the plums in the garden. One little tip if you are using the buses - ask for the Causar, which is right outside the house - not the Post Office, which is not far but a bit too much of an uphill walk with heavy bags.
Sarah
2014-09-22T00:00:00Z
This is a lovely cosy cottage in the Scottish highlands. An excellent base for exploring the Cairngorms & further afar. The beds are comfortable & attractive, the bathrooms are lovely, the kitchen well set up (I'd never met a condenser dryer before, great idea, I don't think we have then in Australia!) There is no actual dining table, but being summer we either ate outside (be prepared for midges in the evening-we don't have then in Australia, either!) or in the cosy, but again nicely set up lounge room. There is little mobile phone coverage in Nethy Bridge & no live T.V. at the house, but we made good use of the access to movies/t.v series, that are available. The kids loved playing by the river (too fast flowing for young children to play by). We wished we could have stayed longer & would thoroughly recommend anyone wanting a comfortable cosy cottage in the Highland to stay here.
Jenny
2014-07-18T00:00:00Z
숙소 유형
집 전체
---
건물 유형
단독주택
---
수용 인원
10
---
침실 수
Nethy Bridge, 영국
Eine geräumige und helle Wohnung in einem Teil eines traditionellen Bauernhof Hof. Das Hotel liegt auf einem Bio-Bauernhof der Heuboden bietet großzügige und komfortable Unterkunft für zwei Personen in zwei Einzelbetten oder Doppelbett (Schlafsofa ebenfalls verfügbar).
Es gibt einen großen kombinierten Wohn- und, gut ausgestattet, Küche und Bad mit Dusche. Das Anwesen verfügt über lokale Parkettböden und Treppen mit einer Reihe von anderen einzelnen Funktionen. Die Wohnung hat eine schöne Aussicht über den Hof und die umliegende Landschaft. Das Anwesen ist zentral beheizt vom Farmen Biobrennstoff-Boiler. Es gibt genügend Parkplätze an der Tür des Hauses und leichten Wanderungen auf dem Bauernhof, die zu einer Reihe von traditionellen Rassen von Scottish Nutztieren zu Hause ist. Die Gäste auf dem Hof bleiben können Wark Landwirtschaftliche Produkte während ihres Aufenthalts zu kaufen, sollten sie dies wünschen, Eier und eine Auswahl an frischen und Wurstwaren sowie saisonale Gemüse aus dem Bauerngarten inklusive.
Laurel's cottage is very nice and cosy! We spent 2 wonderful days here visiting the area. Great place.
Benjamin
2016-01-07T00:00:00Z
My sister and I stayed at Laurels beautiful loft a few days ago. We loved the place - it was really well set up, with all the facilities needed (heating, internet, washing machine, and a very detailed booklet with all the information you would need, etc). The location of the loft/farm was a bit isolated, but that made for some stunning scenery of the countryside. We would highly recommend Laurel's home to anyone who wants a countryside escape. (Oh, and they had some very friendly and cute dogs that loved to play!).
Rachael
2015-09-07T00:00:00Z
Beautiful cottage with everything we needed for a great stay. Very warm and comfortable. Plenty of nearby walks and adventures to be had. Loch Muick was a stunning circular walk, about an hour away by car.
Kenny
2017-02-15T00:00:00Z
Das war der schönste Ort, an dem wir je Urlaub verbracht haben. Die Farm war so schön. Die Umgebung war sehr malerisch und die Tiere toll (vor allem die Pferde und die verspielten Hunde!). Das Apartment war auch fantastisch ausgestattet. Wir würden sofort wieder buchen.
Gesche
2017-03-19T00:00:00Z
The self contained flat was lovely, clean and comfortable. It's in a beautiful farm setting. We had very limited communication with the host. The wifi did not work at all, even after attempts to fix it. We were not provided with a key to the property and had to leave it open when we went out. Apart from this we did not have any other issues.
Suzanne
2017-04-10T00:00:00Z
Lovely working farm, amazing views and delightful animals. The hayloft was great, and the kitchen was well equipped. Laurel and Helen were really great and even answered all my inane questions.
Nick
2016-07-26T00:00:00Z
We have spent two days in Wark farm and the house we liked a lot, is a super cozy space and has everything needed to make life inside. The house is lost in the middle of a hill and took some finding, but we loved to feel lost there in the middle of that immensity and the silence of the hightlands as searched by us. Laurel met us at the apartment and had plenty of information and maps around. We recommend the option of offline maps to find the house and breakfast in Alford Bistro. Laurel also recommended. Shame not to have more days to visit all the farm with Laurel and hope to repeat in the not too distant future. We love Wark farm¡¡
Jordi
2016-08-18T00:00:00Z
Our stay at Laurel's place was nothing short of brilliant. We were welcomed by her partner who showed us around the cottage and property and made us feel right at home. The area is perfect for a peaceful getaway close to the Cairngorm National Park which we took full advantage of. There are plenty of walks up hills and along rivers to do, castles and estates to see, whisky distilleries to visit... or if you just prefer chilling out in the peace and quiet of an organic farm then this spot is perfect. Laurel was always nearby if ever we needed anything. She's put together a really handy folder with plenty of info in there about the farm as well as local sights and info. If you stay I'd highly recommend grabbing some of the farm-smoked bacon for breakfast and grabbing some of their lamb along with the veg grown on site for dinner. The cottage is well equipped with everything you could possibly need for a quality stay. Real comfy bed, wifi, clean bathroom with towels & shampoos etc, laundry, radio, & plenty of local tourist info for you to browse over. Will definitely stay again!
Craig
2015-08-07T00:00:00Z
숙소 유형
집 전체
---
건물 유형
단독주택
---
수용 인원
2
---
침실 수
Alford, Aberdeenshire, 영국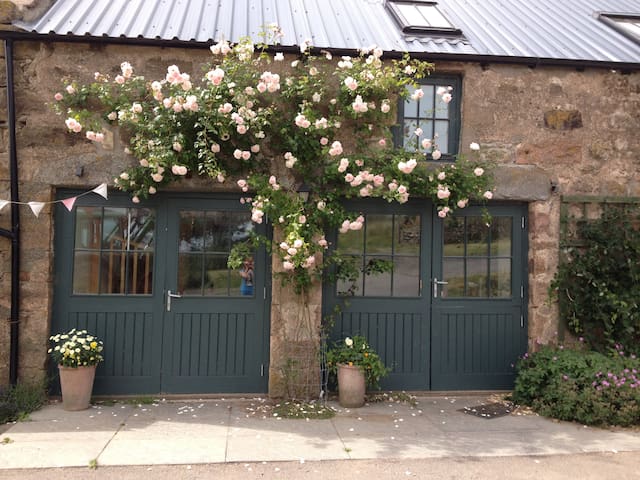 I provide a special accommodation in a secluded area of a private property with a small beach and so far a cold tub and sheltered seating areas. You are welcome to share my cottage including the use of the kitchen and bathroom.(URL HIDDEN)
If your dream is to spent some time in a Tipi, you have found a very quiet and peaceful place. . My place is a mile away from the main road and is located on a dead end. Almost no noise or light pollution. I only have one neighbour, a very friendly couple with a lovely dog. I`m living 5 miles from the Findhorn Foundation and 6 miles from the towns of Forres and Elgin. A bus leaves from the top of the road. If you want to be completely looked after i'm also a tour guide. (URL HIDDEN) If you like to be in total control of how you want to spend your day and change it to your needs and wants you can relax and enjoy my service (-: I`m also living in the best climate zone of Scotland and a very ancient place, packed with history. Morayshire is also home for the biggest whisky trail and many famous whiskies, not to mention some of the best golf courses. I`m close to mountains, rivers, the sea, caves, castles.......... So the area is perfect for many outdoor activities, wildlife ( the most northern Dolphins....) and beautiful countryside and the home of the first People in Scotland- the Pict's. The list is long and in the end you have to make up your own mind and check it out. I`m looking forward to looking after you and if you are cool I would love to introduce you to many great friends in the country including the only hobbit in the Highlands and the longest Loch Ness Monster Hunter. cheers Torsten
My property is in a very quiet location and I'm still creating a magic place of beauty and tranquility. I have one neighbour directly beside my place. A family with one boy and a very lovely dog. Otherwise nobody else can pass by because the road ends on my car park. It is very safe and surrounded by fields. Right now I'm building a hot tub and an outdoor kitchen. I also have a pergola with a cosy hideaway on top of the roof(URL HIDDEN)look at the picture ) The kitchen is small. Otherwise you are sharing my place and not everything is perfect. I'm a single guy (((-:
My friend Barbara and myself had a relaxing 2 day stay at the tipi it's in a beautiful peaceful location. Torsten is a great host, warm and friendly and very interesting to talk to with lots of great information about the area. We had a great sleep lovely and warm with cosy duvets, we would recommend a visit :-)
Helen
2015-06-05T00:00:00Z
We were thrilled to have stayed at Torsten's Tipi as our first AirBnB experience. Everything went as smoothly as can be expected and we found the location just fine. It's quite difficult to gauge the size of the Tipi itself from the photographs. Torsten has respectfully fenced off a corner of his back garden, gravelled the ground and placed the Tipi there. The Tipi's door faces away from the house for extra privacy too. As you enter the Tipi, you walk into the gap of a 'C' shaped raised area upon which the bedding is placed. It's about 15cm off the ground, which Torsten has paved with 'crazy-paving'. In the middle of the C is an open fire. A double mattress is on the far side, underneath what Torsten describes as the 'ozone' canopy within the Tipi itself. This is a half-crescent canvas that hangs over the bed and protects you from any of the elements that come through the top opening. The double mattress is a softened 'pad' as opposed to a sprung box. Torsten had placed a double duvet and pillows on top, but we had brought our double sleeping bag which we just placed on top of that. There are 6 or 7 sheepskins inside the Tipi which we put between the duvet and sleeping bag to soften up the 'mattress' further. On the left side on the raised area is a single airbed, and on the right a double sized airbed. These are covered with nice colourful woven rugs and really add to the feel of the Tipi. It's definitely cosy in there. A night's sleep passes in silence, owing mostly to the remoteness of Torsten's place. But, please bear in mind that the Tipi is NOT a modern tent. It's a white canvas upside-down cone, wrapped around long sticks placed together and bound at the top. There is an opening at the top of the tipi to allow smoke from the fire (if you light it!) to escape. It's nigh-on impossible to completely close this and if you get rain, the protruding sticks 'collect' it and it inevitably drips down into the interior. Torsten has cleverly fashioned some strings tied at the top of the Tipi to try and guide raindrops down into the fire pit instead of dripping down the sides of the Tipi interior, but please consider putting valuables / dry clothes in your car overnight or while you're out, or they might get a little damp. That said, everything under the double-bed 'ozone', including us both and our sleeping bag, remained bone dry during a heavy overnight rain shower. If you're really worried, Torsten was beyond happy to have us stay on a pre-prepared bed in his spare bedroom inside his house. We checked this out, it was more than suitable. Overall, our stay in the Tipi was a fantastic experience and incredible value. We were the envy of everyone who had travelled to the wedding we'd attended in nearby Elgin. We recommend the Tipi to Motorcycle Weekenders, Cyclists and the like. Bring an outdoors attitude. The Tipi was more than enough for a young couple looking for a quiet romantic getaway with a twist. Thanks Torsten for a fantastic little break.
Alexander
2012-07-30T00:00:00Z
very nice
Real
2015-07-25T00:00:00Z
The Tipi is a nice and different experience fairly close to the Speyside capital of Elgin. It's a typical North-American teepee. with a slate and concrete floor with raised benches to sleep on along the edge, and the possibility of making your own fire, if you can live with the smoke. It's easiest to get there by car, but a 1-mile walk away there are pretty good bus services to Elgin from where you can get a train to wherever you like. Going on a day trip to the Strathisla distillery in Keith with public transport was certainly doable, even on a Saturday. Torsten is a nice and accommodating host, and a local tour guide. We had the run of the house as well, being able to use kitchen, bathroom and living room. If you're not 100 % sure the teepee experience is something for you, there is the option of escaping to a very nice indoors room with real beds. If you're looking for a bit of a different experience, and a vantage point for exploring the whisky mecca of Speyside, this is a good place for you.
Sverre
2012-07-16T00:00:00Z
Had a fantastic time. Torsten was very helpful. Thanks again! =)
Jess
2015-09-22T00:00:00Z
Bella esperienza nonostante la pioggia notturna.Ottima accoglienza.
Chiara
2016-08-03T00:00:00Z
Unfortunately we weren't able to stay in the Tipi as it was being taken down for winter but Torsten offered us a double room in his cottage for the same price. Torsten is very welcoming and friendly, the cottage remote and unusual and the host has a wealth of information about the local area.
Bea
2014-10-20T00:00:00Z
The Tipi is great and in a very beautiful and interesting part of the world, in Scotland. Torsten is a very friendly, interesting and accomodating host. He helped us get around a lot and is interactive as a host. We had a lot of fun and also rest staying in the tipi, which is just what we needed! Thank you for the stay Mac and Taj
Mac
2013-07-01T00:00:00Z
숙소 유형
개인실
---
건물 유형
티피(Tipi)
---
수용 인원
9
---
침실 수
Alves, 영국
Built in 1893 this was originally a tack room for the stables . All original wood lined with fireplace and sleeping for two plus gas cooker-fully equipped for self catering on a budget.Firewood is provided for the open fire.Shop and pub close by.
Sit back and relax in front of the fire and get away from it all.
Upper Donside is a little gem of a place that takes a while to discover. A base for exploring the Cairngorm National Park and close to the Lecht for winter sport.
Jack was very comunicative person.but the room was so cold and not clean.outside was freezing and we don't sleep well on that beds it was totally uncomfortable. It doesn't worth its value.
Husam
2016-02-10T00:00:00Z
Jack's bothy was in the perfect location for walking, cycling, skiing (if there had been more snow) and we even went on a pony trek! The place itself has all the basics you need and it was nice to have access to a hot shower. Jack supplied us with plenty of wood to keep the bothy warm and cosy. As you are situated up a hill, you get a beautiful view as you walk out the door. Jack was around if we needed anything and has an excellent knowledge of the area. All cooking equipment is supplied and there are plenty of extra blankets for cold nights. We would highly recommend this place to others. Hayley and Will
Hayley
2017-02-24T00:00:00Z
It was great ! The place is unique, cosy, and charming, with a beautiful garden We loved to have some walks in the area, which is lovely. And Jack invited us to a nice typical Scottish music and dancing ! :-)
lola
2016-07-23T00:00:00Z
We loved staying in Jacks Bothy, was very cosy with the open fire which Jack lit ready for our arrival. Would stay again when back in the area. Thank you
Yvonne
2015-09-12T00:00:00Z
Jack's Bothy is a perfect wee spot away from everything. We went for the weekend and had a lovely time, sent on a fantastic walk round Lock Muick by Jack and it was everything we wanted. Jack and his wife were really nice, and very helpful with any questions about finding the place or doing anything locally. The bothy is a fantastic little place, everything you need and nothing you don't! It's not the five start hotel luxury, but that's not the point. It had a log fire and some wine glasses and that was everything we needed.
Callum
2017-03-26T00:00:00Z
I really enjoyed my stay in the Bothy. Jack told me it was built at the end of the 19th century and it certainly has a vibe. Fire was already roaring when i arrived and it really pumps out a lot of heat. It's basic, but that's also the charm. Jack was also very friendly and helpful, lovely guy.
Iain
2016-12-17T00:00:00Z
What a magical experience it was to stay here - we put down our phones etc and just relished the exquisite setting at our door - old world beauty for sure... I would highly recommend this tranquility to anyone wanting some time out. My only regret is that I was not able to book a longer period.
Rachel
2016-07-18T00:00:00Z
We tried to arrive by public transport which was complicated but Jack was really friendly and came to get us from the village (and also drove us to another town on the sunday so we could get the bus back to Aberdeen), he also had a fire ready for us on arrival. We only stayed one night but wished we could've stayed longer; this bothy is the perfect resting stop for a journey through the Highlands. The surroundings are beautiful and we were made to feel very welcome. Sleeping bags, lots of blankets, pillows and sheepskin rugs were provided which gave us a great night's sleep. The blankets and the crackling fire gives a really cosy atmosphere for a budget stay which doesn't feel budget.
Lydia
2015-09-22T00:00:00Z
숙소 유형
집 전체
---
건물 유형
단독주택
---
수용 인원
2
---
침실 수
GB, Aberdeenshire, 영국