Very charming farmhouse tastefully decorated situated in rural West Simsbury CT. Learn every day farm life from helping gather the 400 eggs daily to feeding treats to the petting zoo animals.
Come enjoy a family farm experience getaway ... - Beautiful second story balcony with a grill, Adirondack chairs, a new retractable cover for the porch perfect for relaxing evenings overlooking the farm - Full size bed in the one room & bunk bed with a twin size bed on top and full size bed on the bottom in other room with an additional single twin bed in corner - Solar heated water and electric, a/c, pellet stove for heat - Lots of GREAT books and toys provided for kids use - Family room has a 32" flat screen with 20 channels/DVD player. Pellet stove with glass door for viewing fire - Three Large closets - Fully equipped kitchen - Washer and dryer downstairs - Fridge stocked with our " Farm Fresh Eggs" muffins,pancake mix, juice,milk,cream and coffee/tea - Peaceful meadows and walking trails - Access included to the petting zoo during and after office hours -wifi Note: Additional fees for services including Farm Tour, Collecting Eggs, Hayride, and Pony Rides $270.00 for 2 nights ... or just a weekend away with your best friends!
Quaint quiet neighborhood in a rural farm setting. BEAUTIFUL open space and wooded trails for walking across the street. Simsbury Farms Public golf course with pools in the summer and skating/sledding in the winter 5 minutes away. Tulmeadow farm homemade ice cream stand walking distance thru the meadows. Ski Sundown 15 minutes away for fun family skiing. Lots of beautiful romantic restaurants in Simsbury.
I loved everything about this low key and lovely spot! We were looking for a farm to bring the kids to and chose Flamig Farm because I liked the fact that they have kids' programs during the summer which made it super kid friendly. Also, the accommodations were perfect for a family of 5. They also let us participate as much as we wanted with egg collecting and feeding the animals. We were fortunate enough to stay during a time when lots of spring babies were there- chicks, ducklings, and piglets!!! The entire staff was so sweet and really made us feel welcome. I highly recommend it and am looking forward to when we can go back. The kids didn't want to leave!!!
Sandy
2016-04-30T00:00:00Z
Three of us stayed at Flamig Farm for nearly 3 weeks whilst visiting family and friends in the local area. Everything was as described and the charm of not only the accommodation but of the farm as whole made our stay a real pleasure. Julie, Nevin, their family and all the staff made us welcome from the outset and their willingness to include us in the activities of the farm was an added bonus that was greatly appreciated. There was a great deal going on around the farm at the time of our visit (Halloween Hay rides, pumpkin carving, hog roast, parties and visits) and we were invited to partake in all and made to feel very welcome. Julie, Nevin and the family also hosted a dinner for us in their lovely house which was a great evening. Children love the animals and the farm, as the visitors book attests to, and although the area is not on many tourists 'to do list' there is plenty to entertain all tastes and the fall colours were truly stunning this year. A great base from which to explore but a car is an essential. Thanks to all concerned.
Ian
2016-11-08T00:00:00Z
The Flamig Farm was a wonderful place for my family and I to stay. We were in town for a funeral and they were very accommodating and sympathetic. They made sure that the stairs and porch were cleared of snow and salted every day. They even cleaned off our cars one day. The apartment itself it very cozy. Cupboards and fridge were well stocked and let's not forget the delicious eggs. The animals were friendly and cute too. Would recommend to anyone and hope to stay there again when visiting family in the future.
Corrine
2017-02-13T00:00:00Z
Our host, Julie, was wonderful. Everyone was so friendly and helpful. Our daughter loved all of the farm animals and there were a ton of baby toys for her to play with. The area is also great to explore, especially in the fall. The apartment was clean and comfortable. We had a great time and would love to return!
Julie
2015-10-21T00:00:00Z
Really great living space - obvious that it has been thought through and owners care deeply about your experience. Location blends country experience with access to suburban restaurants and activities. We would definitely stay again.
Lew
2015-01-11T00:00:00Z
Very enjoyable short stay at the farm. Our girls (4 and 7) loved feeding the chickens and pigs. Great central location for exploring New England, which was as beautiful in the Fall as everyone says. Owners were very friendly and helpful, even arranged a babysitter for us.
Andrew
2015-11-04T00:00:00Z
Great place for families with kids! All four of our little ones enjoyed staying at the farm :) We collected eggs, rode the pony and helped feed the animals. Farmer Julie & Farmer Nevin are friendly and warm hosts. The kids are still talking about our trip and asking when we're going back :)
Melody
2015-04-23T00:00:00Z
This was more than a rental. The apartment is very charming and exactly as described; clean, cozy, warm and inviting. Julie was a great host. We were greeted with fresh eggs, 3 varieties, and several staples in the fridge. Julie also provided suggestions for several neighborhood restaurants and activities. We chose this rental specifically for the opportunity to spend some time on a working farm. We got much more than we expected. Julie and her entire staff made use feel like part of the family. We had a great time interacting with the animals. We are looking forward to making this a regular trip. I highly recommend visiting the farm for the day or several days. It's the most extensive petting zoo I've ever encountered.
Shoda
2016-04-25T00:00:00Z
West Simsbury, 코네티컷 06092, 미국
The newly built Spacious 4 Bedroom Nantucket Shingle Style home is located at the end of a quiet cul de sac, in a park like setting. Expansive flat lawn. French Doors Galore! Light Bright & Open! Large Gourmet Kitchen, Nice Deck for relaxing! A Private yet convenient getaway!. It's located in a suburban neighborhood just minutes from Simsbury town center. Close to scenic bike trails, & picturesque Tobacco Barns, you can enjoy a nice walk/run anytime of the day.
Our newly built Spacious 4 Bedroom Nantucket Shingle Style home is located at the end of a quiet cul de sac, in a park like setting. Expansive flat lawn. French Doors Galore! Light Bright & Open! Large Gourmet Kitchen, Nice Deck for relaxing! A Private yet convenient getaway! Living Areas - Gourmet Country Kitchen with French Doors open to Deck for entertaining & adjoins Family Room. - Family room with Walls of French Doors, Large Flat Screen TV & Fireplace. - Living Room with Fireplace & Wetbar, & Flat Screen TV Bedrooms 1- 1st Floor Bedroom Suite, Flat Screen TV 2- Spacious Master suite with Fireplace, & Flat Screen TV 3- Bedroom with Cathedral Ceilings 4- Bedroom with twin beds Outdoors - Hammock - Fire pit - Gas Grill Wifi -Cable TV w/ Premium Channels
The house is privately located at the end of a quiet cul de sac in a suburban neighborhood just minutes from Simsbury town center. It is located near scenic bike trails, & picturesque Tobacco Barns, you can enjoy a nice walk/run anytime of the day. 15 Minutes From Bradley International Airport 20 Minutes to Ski Sundown Ski Area
The home on Dogwood Lane is beautiful and very well appointed (a kitchen full of pots and pans and spices, a pool table, a grill!). It was incredibly comfortable for my entire family (myself and my partner, my mother, my brother and his wife and two small children). Mick was a great communicator who was clearly very invested in the quality of our stay.
Evann
2016-07-27T00:00:00Z
A great, well appointed house. The location is close to downtown, Westminster School and McLean Game Refuge. Four large bedrooms make this a great house for a group. The large kitchen, dining and sitting room is a great place to relax and socialise. Mick was an extremely helpful host and answered all of our questions promptly. Highly recommended.
Christopher
2016-05-23T00:00:00Z
The home was beautiful, the right venue for my family. Everyone loved it. Mick was great and made himself accessible.
Rhonda
2016-05-24T00:00:00Z
Mick was so accommodating and made us feel so welcome.
Martin
2016-10-27T00:00:00Z
This location was perfect for a wedding weekend in Simsbury. Mick was a wonderful host and was easy to communicate with. The house is in a quiet neighborhood perfect for a family weekend. The open spaces in the house make it very comfortable. We had a few couples staying within the house very comfortably. The kitchen and living rooms were lovely and the outdoor space was great. We did not want to leave this cozy home nestled back in the woods. I would highly recommend if you're ever in the area and looking for a place. It has everything you could possibly need. We loved everything about our getaway weekend.
Catherine
2016-09-05T00:00:00Z
Mick was the ultimate host. Very easy to deal with and very flexible. I had one very small issue at 9pm the first night and he was at the house in 15 minutes to fix it. I would highly recommend Mick and his beautiful home.
marc
2016-10-25T00:00:00Z
Nice home
julie
2017-01-13T00:00:00Z
Mick's home was beautiful and he was a wonderful host, going above and beyond!
Kim
2016-11-17T00:00:00Z
Simsbury, 코네티컷 06070, 미국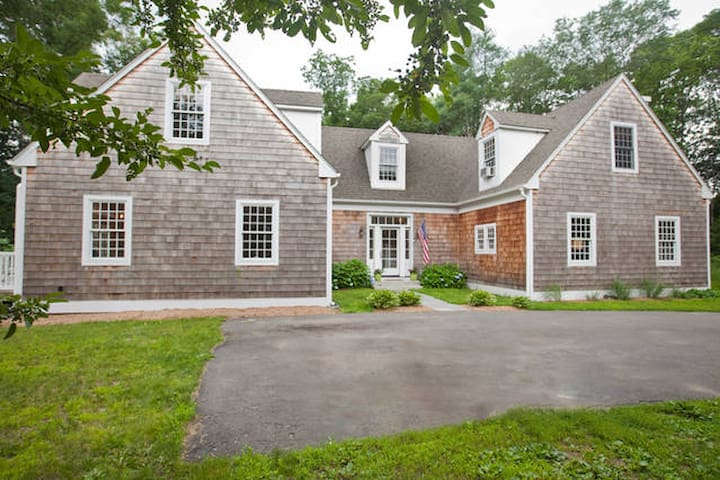 Originally built 1700s; interior lovingly restored. Clean, comfortable, casual, quiet. 3 upstairs bedrooms (Queen bedroom with optionally adjoining Full bedroom, plus another Full bedroom), as well as a ground floor parlor with couch that opens to a Full size bed (firm, but it does have a "seam" in middle, running head to toe), 1.5 bath, AC. Fine linens. Country kitchen. Wireless internet. Chemical-free home; natural toiletries provided; please avoid scented products during stay.
Way to many rules and concerns . To many items labeled guest or private.. host really needs to consider not offering house as a rental due to overly concerns about everything. To involved everyday as well. I go on rentals to do business and need to concentrate and homeowne was overly "checking in" and wanting to come by daily to make sure all is good ... ended up sleeping on air mattress at another house.
julie
2017-01-13T00:00:00Z
Dana was an excellent host with a beautiful home! The property is exactly as she describes it. The town is quaint, and was perfect for our pre-wedding getaway. I recommend her to any & every one!
Raziq
2016-08-17T00:00:00Z
Dana's home was a wonderful place to stay. Very comfortable, clean and relaxing. And Dana was a great host - willing and eager to help us with anything that we needed.
Richard
2016-05-16T00:00:00Z
Dana was a fantastic host and the Antique Farmhouse was just as described. Cozy, well appointed and immaculate! Everything was very comfortable and our family really appreciated having the opportunity to stay together for the weekend. Thank you, Dana for taking care of everything for our stay!
Felice
2016-06-22T00:00:00Z
Dana and Robert are wonderful hosts. They went out of their way to make us feel comfortable. The house is lovely, beautifully decorated and comfortable. It retains its historic charm. We all slept well and we're very happy staying there.
Lisa
2016-10-16T00:00:00Z
Dana did a fantastic job of making us feel welcome. She met us at the house and personally walked us through it. Her communication was great, checking in with us almost daily to see if we needed anything. The house is beautifully furnished and very clean and comfortable. It suited our needs perfectly!
Kathleen
2016-09-20T00:00:00Z
광둥, 코네티컷 06019, 미국