체크아웃 날짜를 년/월/일 형식으로 입력하세요
호스트의 승인을 기다리지 않고 예약할 수 있는 숙소
전체 요금을 보려면 날짜를 입력하세요. 추가 요금이 적용되고 세금이 추가될 수 있습니다.
올해 7월과 8월에는 소노마를 진정한 현지인처럼 체험할 수 있는 후기가 좋고 가격대가 다양한 100개 숙소 중 한 곳을 이용해 보세요. 24시간 체크인, 즉시 예약, 현지 와인과 간식이 제공되어 편안하게 여행을 즐길 수 있습니다.
The newly built Spacious 4 Bedroom Nantucket Shingle Style home is located at the end of a quiet cul de sac, in a park like setting. Expansive flat lawn. French Doors Galore! Light Bright & Open! Large Gourmet Kitchen, Nice Deck for relaxing! A Private yet convenient getaway!. It's located in a suburban neighborhood just minutes from Simsbury town center. Close to scenic bike trails, & picturesque Tobacco Barns, you can enjoy a nice walk/run anytime of the day.
Our newly built Spacious 4 Bedroom Nantucket Shingle Style home is located at the end of a quiet cul de sac, in a park like setting. Expansive flat lawn. French Doors Galore! Light Bright & Open! Large Gourmet Kitchen, Nice Deck for relaxing! A Private yet convenient getaway! Living Areas - Gourmet Country Kitchen with French Doors open to Deck for entertaining & adjoins Family Room. - Family room with Walls of French Doors, Large Flat Screen TV & Fireplace. - Living Room with Fireplace & Wetbar, & Flat Screen TV Bedrooms 1- 1st Floor Bedroom Suite, Flat Screen TV 2- Spacious Master suite with Fireplace, & Flat Screen TV 3- Bedroom with Cathedral Ceilings 4- Bedroom with twin beds Outdoors - Hammock - Fire pit - Gas Grill Wifi -Cable TV w/ Premium Channels Guest will have use of Entire House We are there to meet guests on arrival, & be accessible buy phone if needed during your stay.
The house is privately located at the end of a quiet cul de sac in a suburban neighborhood just minutes from Simsbury town center. It is located near scenic bike trails, & picturesque Tobacco Barns, you can enjoy a nice walk/run anytime of the day. 15 Minutes From Bradley International Airport 20 Minutes to Ski Sundown Ski Area The Town of Simsbury is the quintessential New England town, situated on the Farmington River. Enjoy a stroll through town, dinner at one of our towns casual or fine dining restaurants, shopping or ice cream parlors. Simsbury Meadows is home to the Talcott Mountain Music Festival and The Hartford Symphony, where many gather during the Summer months with a picnic basket & bottle of wine for a night of music & dancing. Looking for some Winter Fun? Ski Sundown is just 20 minutes away. The East Coast Greenway runs through Simsbury and provides bikers, runners and walkers an opportunity to enjoy the Beauty of the Farmington Valley. Bikes are available free of charge in several locations throughout town. There are also many parks, pools & golf courses in town. Our location is convenient to the surrounding towns of Avon, CT, Canton, CT, Granby, CT, East Granby, CT, New Hartford, CT, Farmington, CT, West Hartford, CT & Bloomfield, CT. Ethel Walker & Westminster, Avon Old Farms Prep Schools, McLean & International Skating Center.
Mick was so accommodating and made us feel so welcome.
Martin
October 2016
Mick was an awesome host! I stayed in Simsbury with my family for a wedding and this house was perfect. Mick was always responsive and even had the cleaner come early because my cousin wanted to show up early. The house is large, pretty and full of amenities necessary for a comfortable stay with a large group. The kitchen was a great place to gather and we very much enjoyed the A/C and the pool table.
Kamala
July 2016
An absolute perfect getaway from the city with all of the modern conveniences we needed. The house was perfect for cooking, rest, and quality relaxation.
Chris
January 2017
A great, well appointed house. The location is close to downtown, Westminster School and McLean Game Refuge. Four large bedrooms make this a great house for a group. The large kitchen, dining and sitting room is a great place to relax and socialise. Mick was an extremely helpful host and answered all of our questions promptly. Highly recommended.
Christopher
May 2016
The home was beautiful, the right venue for my family. Everyone loved it. Mick was great and made himself accessible.
Rhonda
May 2016
Mick's place was exactly as presented - lovely, clean, comfortable and we genuinely loved having a home away from home while working remotely. Myself and 5 colleagues stayed at DogWood Lane for four nights and had no issues. We had one question on the second night and Mick responded to my text immediately with answers. The grounds are beautiful and the mature trees surrounding the home provided the perfect amount of privacy. We even spotted a couple of deer across the lawn one morning. Honestly, I've stayed at a number of airbnbs worldwide and this was one of my favourites.
Jennifer
November 2016
The home on Dogwood Lane is beautiful and very well appointed (a kitchen full of pots and pans and spices, a pool table, a grill!). It was incredibly comfortable for my entire family (myself and my partner, my mother, my brother and his wife and two small children). Mick was a great communicator who was clearly very invested in the quality of our stay.
Evann
July 2016
This location was perfect for a wedding weekend in Simsbury. Mick was a wonderful host and was easy to communicate with. The house is in a quiet neighborhood perfect for a family weekend. The open spaces in the house make it very comfortable. We had a few couples staying within the house very comfortably. The kitchen and living rooms were lovely and the outdoor space was great. We did not want to leave this cozy home nestled back in the woods. I would highly recommend if you're ever in the area and looking for a place. It has everything you could possibly need. We loved everything about our getaway weekend.
Catherine
September 2016
숙소 유형
집 전체
---
숙소 종류
---
수용 인원
8
---
침실 수
4
Simsbury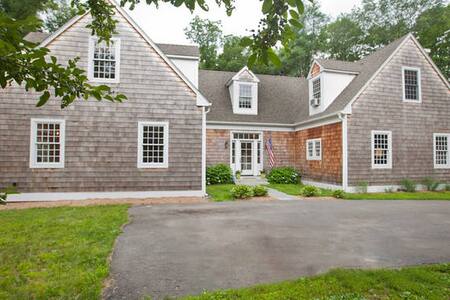 Very charming farmhouse tastefully decorated situated in rural West Simsbury CT. Learn every day farm life from helping gather the 400 eggs daily to feeding treats to the petting zoo animals.
Come enjoy a family farm experience getaway ... - Beautiful second story balcony with a grill, Adirondack chairs, a new retractable cover for the porch perfect for relaxing evenings overlooking the farm - Full size bed in the one room & bunk bed with a twin size bed on top and full size bed on the bottom in other room with an additional single twin bed in corner - Solar heated water and electric, a/c, pellet stove for heat - Lots of GREAT books and toys provided for kids use - Family room has a 32" flat screen with 20 channels/DVD player. Pellet stove with glass door for viewing fire - Three Large closets - Fully equipped kitchen - Washer and dryer downstairs - Fridge stocked with our " Farm Fresh Eggs" muffins,pancake mix, juice,milk,cream and coffee/tea - Peaceful meadows and walking trails - Access included to the petting zoo during and after office hours Note: Additional fees for services including Farm Tour, Collecting Eggs, Hayride, and Pony Rides $270.00 for 2 nights ... or just a weekend away with your best friends! Free access to the petting zoo whenever you would like to see the animals. As much as they would like.
Quaint quiet neighborhood in a rural farm setting. BEAUTIFUL open space and wooded trails for walking across the street. I would recommend renting a car. Simsbury has a free bike rental program also. The weekend days on the farm tend to be pretty busy (April thru November). We have children's Birthday parties going on and petting zoo visitors. The farm closes at 5 pm to the public and the nights are very quiet and private other than the barnyard sounds of the animals.
Great place to stay. Julie is an excellent host, the farm employees are very welcoming.
Paul
September 2016
Julie was absolutely great! Kind, very welcoming, and made us feel at home. With fresh eggs, milk in the fridge and the fire place already on. She took us all over the farm, with lots of patience and explanation. I think it was the best airbnb experience we had so far and my 3 years old daughter had a blast with all the animals and the house itself. Thank you for everything, Julie!
Joseph
April 2015
We had an absolutely lovely time at Flamig Farm! The Airbnb is very charming and sweet and the farm was wonderful! We had a lot of fun visiting and feeding the animals. We had a great time and would definitely recommend staying here!
Aleena
January 2017
Wonderful hosts and experience. Beautiful country farm and petting zoo and surrounding areas and nice town 5 minutes away. Definitely recommend. Very large 2nd floor all to yourself with full kitchen, living room, dining room, bedroom, fireplace. Would easily return for another country getaway. Thank Julie and Nevin !
Mark
May 2016
Awesome stay at Flamig Farms! Julie had fresh eggs, pancake mix, syrup, OJ, milk and other items there for our stay. The space was exactly as advertised, in fact even better! Why would anyone stay in a hotel when you could stay here? Even though my boys are older (17 & 14) they really enjoyed the farm and went out many times to see the animals. They really loved the pigs and the peacock & Emu. It was a perfect 2 day stay while visiting colleges in the Connecticut/Mass area!
Lee
July 2016
We had an amazing vacation at Flamig Farm. Having travelled from the U.K and after four nights in NYC we were truly ready for some rest and relaxation. In our party was myself, my husband, our 16yr old daughter and 18month old son and there really was something to satisfy everyone's desires. Our little one loved all the freedom of the farm and his special favourites were the pigs! (Rosie loves being given a good scratch!) Our daughter appreciated the peace to study and the WiFi to avoid studying ;) We loved the beauty and comfort of the staycation, the wood pellet stove was a breeze to use and kept us toasty, but Julie and Nevin (hosts extraordinaire) lit the woodburner downstairs for extra warmth and the wonderful smell of a log fire. We were treated to fresh eggs from the wonderful hens and all sorts of other breakfast goodies which we enjoyed very much. We even had a meal of little city pizza with this lovely couple and a bunch of their friends with wine and good conversation. Nothing was too much trouble. We visited lots of local towns amidst the snow that unexpectedly fell in early April and ate at a variety of local places. Personal favourites for us were the harvest bakery and Millwrights as well as delicious pizza a second time. We would have loved to have tried Abigails grill, but sadly ran out of time. We do so hope to return and will keep in touch with these fabulous hard working folk.
Charlotte
April 2016
We had a great 2 night stay at this lovely farm. The accommodations were charming and we very much appreciated the eggs and provisions. Julie's responses were quick and professional. Thank you so much.
Kelly
May 2016
We were greeted right away by Julie and Nevin and were shown how to work the cute pellet stove which we used every night to relax and heated the rental very well. My family enjoyed every minute we spent on the farm! The girls loved feeding the animals daily and my oldest loved collecting eggs and helping sort. My 4 year old is autistic and she was all smiles, giggles, and really loved the guinea hens. The fresh eggs provided tasted amazing and even got to bring some back to Texas. The farm was so relaxing and very comfortable. I loved the history to the barn/store/rental and made our Christmas vacation the best. Our hosts are so friendly and was quick to answer any questions we had. There is even a binder with some great local places to visit and dine. We hope to return again soon! Thank you again for a wonderful stay!
Cynthia
January 2016
숙소 유형
집 전체
---
숙소 종류
---
수용 인원
5
---
침실 수
2
West Simsbury
Originally built 1700s; interior lovingly restored. Clean, comfortable, casual, quiet. 3 upstairs bedrooms (Queen bedroom with optionally adjoining Full bedroom, plus another Full bedroom), as well as a ground floor parlor with couch that opens to a Full size bed (firm, but it does have a "seam" in middle, running head to toe), 1.5 bath, AC. Fine linens. Country kitchen. Wireless internet. Chemical-free home; natural toiletries provided; please avoid scented products during stay.
See note about window boxes below.
During "window box season" hosts will need to tend to/water flowers once a day, and will ask guests to let hosts know when they're likely to leave for an hour or two each day, to make that as unobtrusive as possible. Hosts will arrive during that time (if at all possible within their regular work schedule). If guests will not be leaving the house on a particular day that flowers will need care, guests should expect hosts to come about for garden care. Although most of gardening is done from the outside, the window boxes in the upper floor windows are only accessible from inside home. Hosts will message guests before arrival.
Dana and Robert are wonderful hosts. They went out of their way to make us feel comfortable. The house is lovely, beautifully decorated and comfortable. It retains its historic charm. We all slept well and we're very happy staying there.
Lisa
October 2016
Dana did a fantastic job of making us feel welcome. She met us at the house and personally walked us through it. Her communication was great, checking in with us almost daily to see if we needed anything. The house is beautifully furnished and very clean and comfortable. It suited our needs perfectly!
Kathleen
September 2016
Dana's home was a wonderful place to stay. Very comfortable, clean and relaxing. And Dana was a great host - willing and eager to help us with anything that we needed.
Richard
May 2016
Dana was an excellent host with a beautiful home! The property is exactly as she describes it. The town is quaint, and was perfect for our pre-wedding getaway. I recommend her to any & every one!
Raziq
August 2016
Dana was a fantastic host and the Antique Farmhouse was just as described. Cozy, well appointed and immaculate! Everything was very comfortable and our family really appreciated having the opportunity to stay together for the weekend. Thank you, Dana for taking care of everything for our stay!
Felice
June 2016
숙소 유형
집 전체
---
숙소 종류
---
수용 인원
7
---
침실 수
4
광둥