전체 요금을 보려면 날짜를 입력하세요. 추가 요금이 적용되고 세금이 추가될 수 있습니다.
I am approx 3 miles away from Sheffield city centre. I am also half hour drive away from the gorgeous Peak District. I have a garage if you need space for bikes etc. I live in the property but you have full use of the whole house!
All newly furnished, very clean and tidy. Close links with the m1 (15mins away). On a summers day there are good views. Never cold in the winter! M1 15mins away Meadowhall 15mins away Peaks 30mins away Tram 0.5miles away Bus stop at the end of the road I like to be social if you are but I am also very busy and out during the day and most nights.
Great, quiet road.great neighbours who are always willing to help out with anything.
Really nice Trip. Nicola was exceptionally accommodating even with my weird hours. Would recommend to anyone.
Chris
March 2017
숙소 유형
개인실
---
건물 유형
단독주택
---
수용 인원
2
---
침실 수
1
셰필드(Sheffield)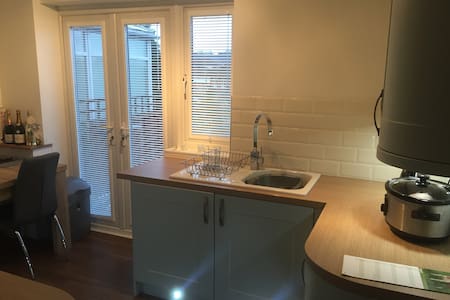 Suburbs of Sheffield in quiet location and good public transport links. Single bed in fairly large room, TV, tea and coffee making facilities in room and shared bathroom, living space and kitchen with female owner of house. Garden to sit in.
You will have your own room with a single bed and pure cotton bed sheets/quilt and cover with two pillows. Your room is medium size with a wardrobe and a small three drawer cabinet. There is a hairdryer and TV in the room and a desk for a laptop. Your room has a lock on the door on the inside. You will be provided with toilet roll and towels are available for a fee of £1 per bath sheet for the time of your stay. You will have access to the rest of the house, mainly the living room which has two settees and a 42" plasma TV and internet TV, freeview a DVD player a small selection of DVD's. You can use the kitchen to make food as long as you clean up or alternatively I will provide food and you can choose from a menu for a small fee. I am happy to cater for vegetarians and non vegetarians. I have a conservatory and a garden with seating. The conservatory tends to be very cold in the winter months. Really happy to engage in conversation, eat together is you should wish or happy to respect your privacy. I work during the day so you are free to come and go as you please. I am happy to give you a lift into the centre of Sheffield Monday-Thursday if you are happy to contribute towards petrol.
I live in a fairly quiet area with four different COOP's and a Sainsbury's local within a short walk distance. The neighbours are quiet and keep themselves to themselves. I have good relations with them. I'm very close to several bus routes and also the tram stop which runs to town, Hillsborough, Crystal Peaks and Meadowhall. I'm really close to the peak district and only a few miles drive away from Hathersage, Castleton and Bakewell. I live alone and often eat out in the evenings with friends or go the gym. I don't drink but I am happy for you to consume alcohol in my home as long as your behaviour is not a problem after drinking.
숙소 유형
개인실
---
건물 유형
단독주택
---
수용 인원
1
---
침실 수
1
셰필드(Sheffield)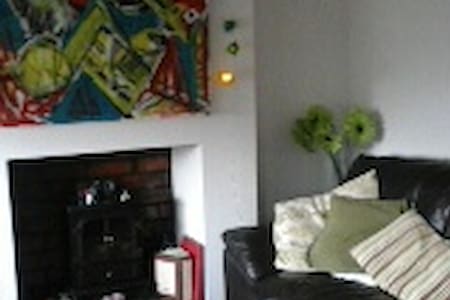 My place is close to it's really quiet area. 10 minute from town on the bus, the bus stop only a minute away from the house.. You'll love my place because of the comfy bed, the kitchen and it's really nice and quiet place.. My place is good for couples.
decent flat says you get what you pay for it is what it is.
Emanuel
November 2016
Nice flat, it had everything we needed and was clean. Mukadi was relaxed and quick to respond with our questions. Good views over the city from the park at the top of the hill.
Richard
June 2016
숙소 유형
집 전체
---
건물 유형
아파트
---
수용 인원
2
---
침실 수
1
셰필드(Sheffield)
I have doble bedroom to host. Fully furnished
I will help you with the bus links- 15 min from the city centre, close to Meadowhall commercial centre, Interchage buses and trains links, ..I would like your experience time in the house to be comfortable and relax :) You can use the parking, dining area, kitchen and bathroom. Si te falta una idea donde puedes ir o visitar él ciudad, puedo enceñarte lo :)
Podemos a tomar café con leche y compartir tostada con tomate por la mañana, ... Si visitas mi casa , tienes que pasarlo bien
숙소 유형
개인실
---
건물 유형
단독주택
---
수용 인원
2
---
침실 수
1
셰필드(Sheffield)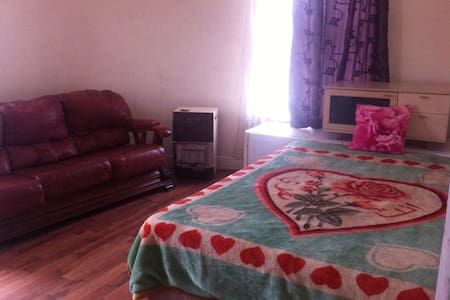 My place is close to restaurants and dining. You'll love my place because of the ambiance. My place is good for couples, solo adventurers, and business travellers.
숙소 유형
개인실
---
건물 유형
아파트
---
수용 인원
2
---
침실 수
1
셰필드(Sheffield)
Approximately 30 minute walk to the city centre. Excellent bus and tram connections which run regularly into the city centre. Located in close proximity to both Sheffield football clubs. The house is a 5-10 minute taxi journey away from Sheffield train & coach station. The house is great for travellers who would like to visit the countryside as well as being close to Sheffield city. My place is good for couples, solo adventurers, business travellers, and families (with kids).
The house can hold up to 7 guests. Their are 3 single beds and 2 double sofa beds in the living room. The kitchen has all utensils provided to make the stay as comfortable and easy as possible for our guests. The house will be exclusively available to you during your stay. The house has a living room with a TV which includes free view channels. In the living their are two sofa beds which fold out into double beds. The house has free access to WIFI. The kitchen has all the essentials you will need such as an oven, fridge, microwave, toaster, plates, cups, cutlery etc. Their are 2 bedrooms in the house, the master bedroom has two single beds and the second bedroom has one single bed. Both bedrooms has a wardrobe and hairdryer. Each guest will have their own bath sheet and hand towel for use whilst staying in our house. I will meet you at the house for check in, I will be a phone call away should you need anything during your stay.
Quiet neighbourhood, easily commute to all parts of Sheffield plus links to Derbyshire. The town centre is under 2 miles away and can be reached in a taxi taking approximately 5-10 minutes. There are great transport links into town centre and all around Sheffield. There are plenty of bus stops and tram stops in the local vicinity. Public transport links are available from Sheffield out to Castleton, Chatsworth & other areas of Derbyshire.
Lovely little place. Clean and well presented.
Olly
January 2017
Was a cosy nice place in a central location. Absolutely no issues at all and would stay there again
Damini
February 2017
Would definitely recommend staying here, the place is lovely, everything you could need and want for a weekend away. Great location and close to the centre. My highest review point would be the communication between host and guest; always very kind and polite and was much appreciated. Will absolutely stay again.
Amelia
November 2016
Our stay here in Sheffield was great, a 5 minute taxi ride to the nightlife and in a nice quiet street.. the house was perfect, clean and just how it looks now the photos. Greg and his dad were extremely friendly and I would definitely come back to stay in this property again.
Charley
November 2016
Gregory was very helpful in providing directions and advice prior to the visit. Even though he could not be there to meet us, the instructions made collecting the keys and sorting out the bedding for a large group very easy. The house itself is lovely. The kitchen was well stocked and we were able to cook easily.. The location is well placed to easily get into Sheffield by tax/car. I would happily recommend the house to anyone looking for a base to spend a few days in Sheffield.
Adam
February 2017
숙소 유형
집 전체
---
건물 유형
아파트
---
수용 인원
7
---
침실 수
2
셰필드(Sheffield)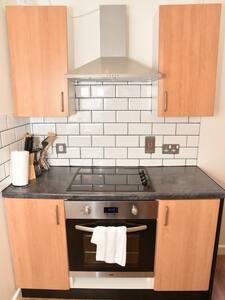 Close to the motorway & two mins from Meadowhall shopping Centre. Motorpoint Arena is 5mins by car.
Quiet & comfy!
Close to motorway, Meadowhall Shopping & Centertainment. Also very close to Motorpoint Arena.
Nadia was a warm and friendly host and we were made to feel welcome. The room was comfortable and clean and we enjoyed our overnight stay. Lovely en-suite bathroom. The location was excellent for the Meadowhall shopping center.
Trevor & Wendy
April 2016
Nadia was an exceptional host, and the room was lovely, spotless, absolutely hotel quality. I cannot recommend this enough! Nadia was extremely accommodating both in our communications before my stay and during - which made me very glad, as it was my first time in Sheffield. She advised me on travel connections (very easy, just one stop from Sheffield central with frequent trains) and both picked me up from and took me to the train station. She helped me with any practicalities I needed and also showed me around Sheffield on her day off, and I enjoyed myself very much! She is a lovely person who does her utmost to make your stay perfect, and I am very glad to have met! The house is in a lovely residential area on the hillside, and there's an easy walk to Meadowhall shopping centre (as well as the train station), and a bit further but still an easy walking distance to the Sheffield Arena. The room is pretty and practical, warm and well lit, the double bed has a great mattress, plentiful pillows and a good duvet, and everything is very comfy and cosy. The ensuite bathroom is spotless, water pressure's good, there's plenty of towels and bath products, and it's set up beautifully. The living room on the same level - very stylish and comfy as well - is free to use, and Nadia offered me breakfast of my choice and plenty of lovely company and conversation. I could not have wished for a better host or better accommodations for my stay. This is what airbnb can be at its very, very best. Suomeksi: Jos menet Sheffieldiin, etenkin konserttiin Sheffieldin Areenalle, valitse tämä. Kuva ei tee oikeutta sievälle huoneelle ja vieraanvaraisuudelle. Poikkeuksellisen laadukas ja ihastuttava paikka, en todellakaan liioitellut englannin kielen kohteliaisuuksilla!
Kristiina
November 2015
I sincerely recommand this room to all travellers who are planning to visit the city of sheffield for several days. I've lived in this room for 7 nights. what I have to say is that it makes me feel warm and relaxed like living at home. There are two main reasons why I am pleased to recomamd this room. Firstly,the room is very clean and delicate in terms of decoration. Some daily necessary have been prepared in the bathroom such as towels,toothpaste,shampoo ,body wash and so on. The house located on hollywell heights is very close to Meadowhall. I walked to the shopping mall every day and it only took within 10 mins. Secondly,the host Nadia and her daughter Tara,they are really kind and friendly. I remember that Tara drove me to go shopping when I came to this room at first time and Nadia drove me back house when I felt tired to walk from city center to house. They respect and take care of me. For example,they gave me quiet environment after I told them I dislike noise. I didn't have any friends in sheffield which made me feel longly. In my heart,Tara and Nadia are my friends now. Thanks!hope we can keep contact and welcome to my new accommodation.
nianci
September 2016
Nadia a été très accueillante et nous a beaucoup aidée. Nous sommes allée à Sheffield pour un concert et nous avons eu beaucoup de problèmes pour arriver à Sheffield. Elle nous à emmené au concert et est venu nous cherché alors que ce n'étais pas prévu. Elle nous a également emmené le matin au bus - alors qu'on devait s'y rendre à 6:30 du matin. Ce fut très adorable de sa part. La chambre en suite était spacieuse, propre, moderne et confortable. Très bien décorée. Nous avons très bien dormi dans le lit qui est très confortable. L'odeur dans la chambre est tres agréable. Il y a une télé, la wifi marche très bien. Il y a tout ce qu'il faut pour y rester aussi bien une nuit, ou un mois entier! La salle de bain est superbe, propre et tres moderne. La chambre est très bien équipée, il y a tout ce qu'il faut et si il manque quelque chose, Nadia est là pour nous aider. Nadia est très agréable, et elle nous a beaucoup aidé. Je n'attendais pas autant de sa part. Notre court séjour s'est très bien passé. Nous regrettons même de ne pas être resté plus longtemps! Je recommande fortement Nadia et sa charmante maison.
Mélissa
March 2016
The house and room are exactly as described and are clean, beautiful and comfortable. Nadia and her daughter are fantastic hosts. I had a comfortable stay and they did all they could to make it an enjoyable stay. I'm looking forward to staying there again
sabera
June 2016
Nadia is a welcoming, caring and communicative host. Very polite, friendly and open minded. The whole house is nicely and tastefully decorated, modern and cosy in the same time. Nadia's house is exceptionally tidy and clean! The room is really pretty and once you enter the ensuite bathroom you forget for a moment that you are in a private home and you feel like in a 5-star hotel. Even the colour of the towels fits perfectly the interior and the shampoo and shower gel are carefully chosen. In the morning we were offered diverse breakfast options to choose from. We have planned to leave at 9 but finally stayed until 11.30am enjoying Nadia's and her daughter's company. Once outside, we loved the great view on the city of Sheffield and we appreciated the proximity to the highway. We would definitely stay here again and we highly recommend this place.
Danela
November 2015
Nadia was a lovely host who made us feel very welcome and gave us top tips of things to do in Sheffield. Her house was lovely and she kindly gave us lifts which we didn't expect. Perfect trip and we'd definitely stay again! Thank you!
Alice
November 2015
Nadia is a very good host. The room was as it is described and very clean and the bathroom was eqquiped with all the necessities. Our communication with Nadia was excellent as she helped as a lot with lifts to the city and general info about Sheffield and life in England. We felt very comfortable living in Nadia's place, and for sure we would live there again. Thank you Nadia for the great hospitality!
CHARALAMPOS
September 2016
숙소 유형
개인실
---
건물 유형
타운하우스
---
수용 인원
2
---
침실 수
1
셰필드(Sheffield)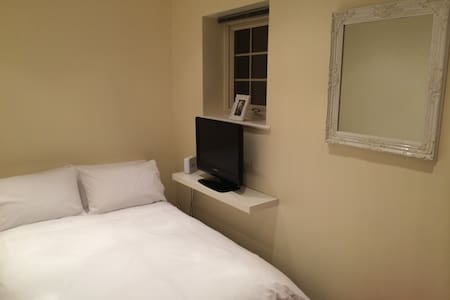 Our home is close to restaurants and dining. Motorway links, Shopping, Meadowhall, Sheffield. Rotherham. You'll love our home because of the ambiance, the outdoors space, and the neighbourhood. Our home is good for couples, solo adventurers, and business travellers. We live in a wonderful quiet area. We are a laid back couple and share our house with Jack our old dog, he's very friendly.
We are both very easy going and can show you best places to eat or for entertainment.
We live on a very quiet new estate. We are 5 mins from the M1 but this does not impact on the noise. Everyone is very friendly here. We are just off Junction 33 of the M1 and also on a regular bus route into both Sheffield and Rotherham.
숙소 유형
개인실
---
건물 유형
단독주택
---
수용 인원
2
---
침실 수
1
South Yorkshire
M1 motorway Jctn 30 only 4 miles away. 30 minutes from the glorious Peak District Close to Sheffield, Chesterfield, Rotherham & Worksop Restaurant next door with plenty of pubs & take-aways in walking distance Light self-serve breakfast available if required Perfectly located for attending functions at Mosborough Hall Hotel
My home is a Grade II listed, beautiful chocolate box cottage believed to date back to the 17th Century. It is part of a converted farm that once served the Manor House next door (now a hotel & restaurant). Dual aspect windows and a high a-frame ceiling make the room light and airy. The room has a television with Freeview and built in DVD player, with a small selection of DVDs available. WiFi is available throughout the house. The double bed is really comfortable (I tried it to check ) and there is a chest of drawers available for your clothes. The shared bathroom has a large quadrant shower, corner sink and toilet. Towels and bed linen are provided. The cottage is just 5 minutes walk from the beautiful Moss Valley, providing plenty of mid-length walking. There are several pubs within walking distance and a hotel and restaurant right next door. A further single room, more suited to a child can be available on request at an additional cost. Private room with TV/DVD facilities, access to shared bathroom.. Wifi throughout house. Washing machine can be available if required. Guests should note there is a dog at the house. I am available for local info if required. I live in the house so available as required.
On the southern edge of the city, half a mile from the Derbyshire border. Just 2 minutes walk from the beautiful Moss Valley, next door to Mosborough Hall Hotel. Bus stops 5 minutes walk away, Supertram terminus 10 minutes walk away. There is a dog at the cottage.
Louise is a wonderful hostess, and very accommodating. The house is really beautiful, and my room was so restful. I stayed 4 nights, and it feels like being at home! She thinks of everything, and provides you with tea/coffee-making facilities in your room, with breakfast, etc. She also kindly invites you to use and relax in the sitting room - a lovely quiet space - and the secluded garden! I would really love to stay again, and throroughly recommend 'chocolate-box cottage' to other travellers!
Bernadette
August 2016
Louise ist eine sehr nette und aufmerksame Gastgeberin. Es fehlte an nichts, als wir ankamen und wir fühlten uns wie von Freunden erwartet.
Ursula
September 2016
My stay couldn't have been better. Comfortable bed sumptuous duvet. To a man these are the most important things. Things a man usually does not worry about, the host, the location, well these couldn't have been better. Thanks for putting up with my talking Louise, you are so easy to talk to and such a great host. Thank you.
Glenn
October 2016
I had a great time staying with Louise and her family - 2 and 4 legged! Her home is charming, beautifully clean and cosy and her welcome warm. Everything was as described and the directions helpful. Would happily recommend staying here to anyone.
Pauline
September 2016
I found Louise very helpful and pleasant to deal with. The whole experience was excellent and I would recommend chocolate box cottage to anyone
Ben
August 2016
The Chocolate-Box Cottage is a wonderful place to stay. Louise's welcome is warm and her house is beautiful. It is a period residence, with period features, but as soon as I remembered to duck through the centuries old doorways, I found myself in a most wonderfully appointed room. The bed is large and comfortable, as is the wicker chair which is idea for watching the television. There are tea and coffee to make yourself a drink and cereals for the morning (the granola was especially excellent). Fruit and youghurt is also available in the kitchen. The bathroom is again period, with a door-lock to keep you amused. The bathroom has an extremely large shower. I even mentioned that I had forgotten my phone charger and Louise provided me with a lead to charge my phone. To the side of the house there is a small but exquisite walled garden, though I wasn't at the house late enough to make us of it. Nearby there are many excellent public houses.
Niall
August 2016
Very comfortable room in a lovely cottage. Louise is a great host. Highly recommended.
Steve
December 2016
Received a lovely warm welcome from Louise, Adrian and their entertaining dog. Their gorgeous period cottage is full of character, and my room was clean and homely; with a very comfortable bed, and everything else you could need. Louise and Adrian are the perfect hosts, and I can't recommend their home highly enough.
Dean
January 2017
숙소 유형
개인실
---
건물 유형
단독주택
---
수용 인원
2
---
침실 수
1
Mosborough