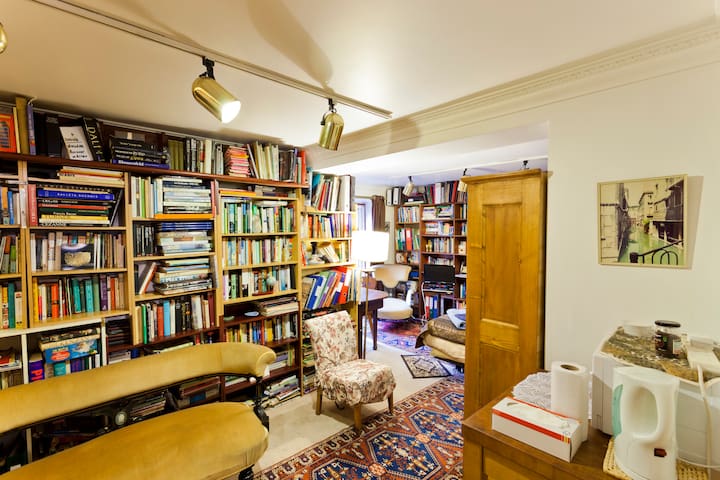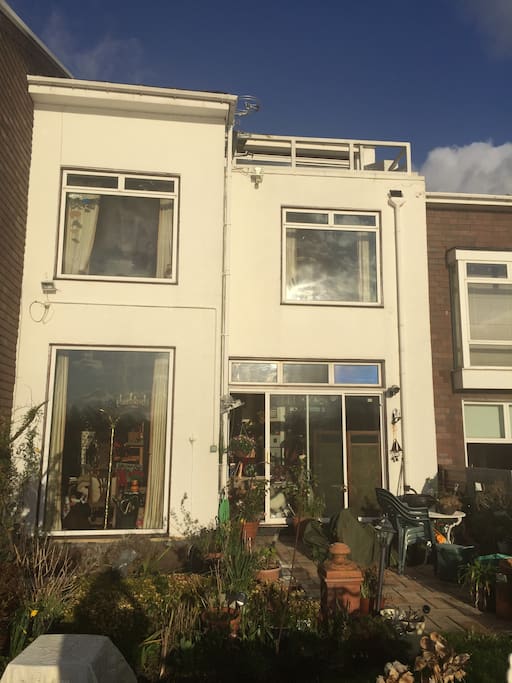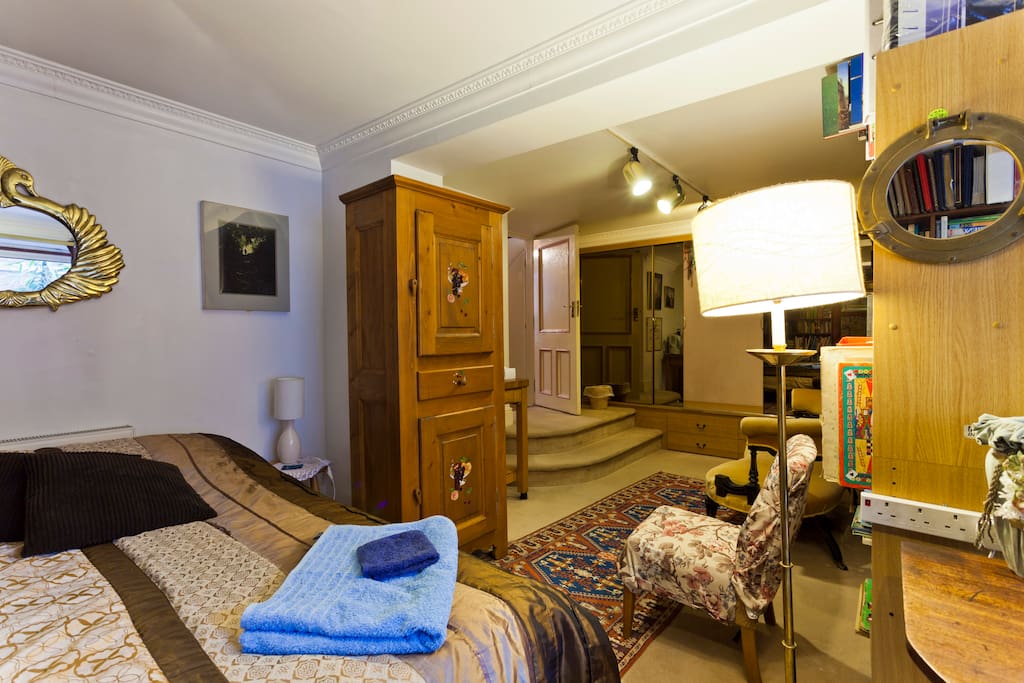 Come stay in our lovely book lined Library. It is a large room with a patio. There is desk, microwave, electric kettlel, fridge and tv. Wi Fi too of course. You have your own shower room. Continental breakfast is served. House full of antiques. No children under 5 years old.
---
---
---
---
Guests are free to come and go as they please as they have their own keys of course.
---
유연
체크인 24시간 전까지 취소하면 전액이 환불됩니다. 체크인까지 24시간이 남지 않은 시점에 취소하면 첫 1박 요금은 환불되지 않습니다.
---
---
---
My friend & I stayed at Vicki & Chris's place after attending the theatre, so we didn't arrive until quite late. This wasn't a problem as they had left keys in the key box and a set of instructions :-) we were greeted on arrival by their very adorable Siamese cat too! The room was comfortable and well-equipped for what we needed, and the addition of breakfast with both Vicki & Chris was very enjoyable :-) I wouldn't hesitate to recommend their place to others and also to stay again if we are in the area!
---
I booked this for my parents and for the specific location, being very close to where we were holding an event. It's also very close to where I lived as a student so I know the area well. However, I live in Australia now so it was a bit of a leap of faith. That faith was well rewarded and my parents were made to feel at home and were well looked after. They also thoroughly enjoyed good conversation with their hosts and their three night stay was so much more interesting than it would have been in a hotel.
---
Staying with Vicki and Chris in the library was a delight. They have wonderful stories and generously share them with guests over breakfasts. Chris was nice enough to drive me to the National Archives in the rain my first day. A very homey and pleasant experience, and good location for those working at the Archives (esp in good weather, when you can walk the 30 mins or so along the wooded river path). Love the cat!
---
이 호스트의 다른 숙소에 대한 309개의 후기가 있습니다.
다른 후기 보기
Come for Valentine' Day. We will give you a special breakfast and you can enjoy our lovely romantic house. Come for Easter Holidays. You will so like our lovely home! Easter breakfast with bunnies! Vicki and her husband Chris are a happily married couple living on the banks of the Thames at Chiswick Bridge. They have a Siamese kitten.caled Sugar. We are writers and amateur actors. I give continental breakfast included in the price. We look forward to welcoming you into our home. NB - we are open all year. Artists and writers will love our home. It is crammed full of "things". Every wall is covered with photos, paintings, sculptures. Come and see! We are near Kew Gardens,, Richmond Park, Chiswick House and grounds and the National Records Office. We wouldl suit a doctor doing post graduate studies. We are on the 272 bus route that goes directly to Hammersmkth Hospital and the 190 that goes to Charing Cross Hospital. Iti is a quiet house fort study. I have started to make my own bread for breakfast - very tasty!
언어:
English, Español, Français