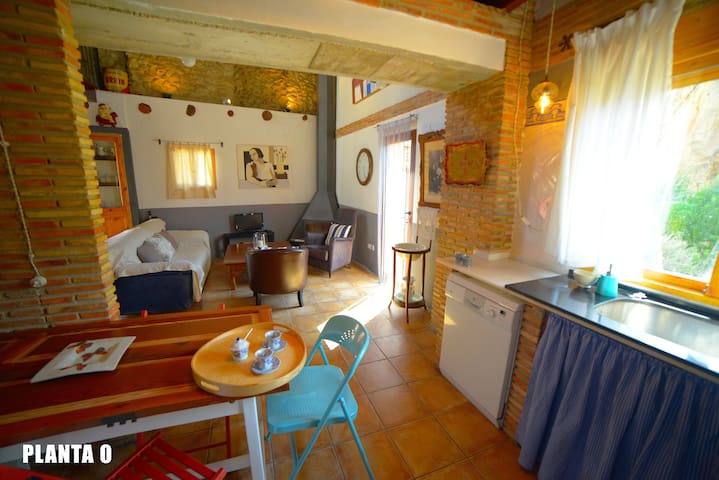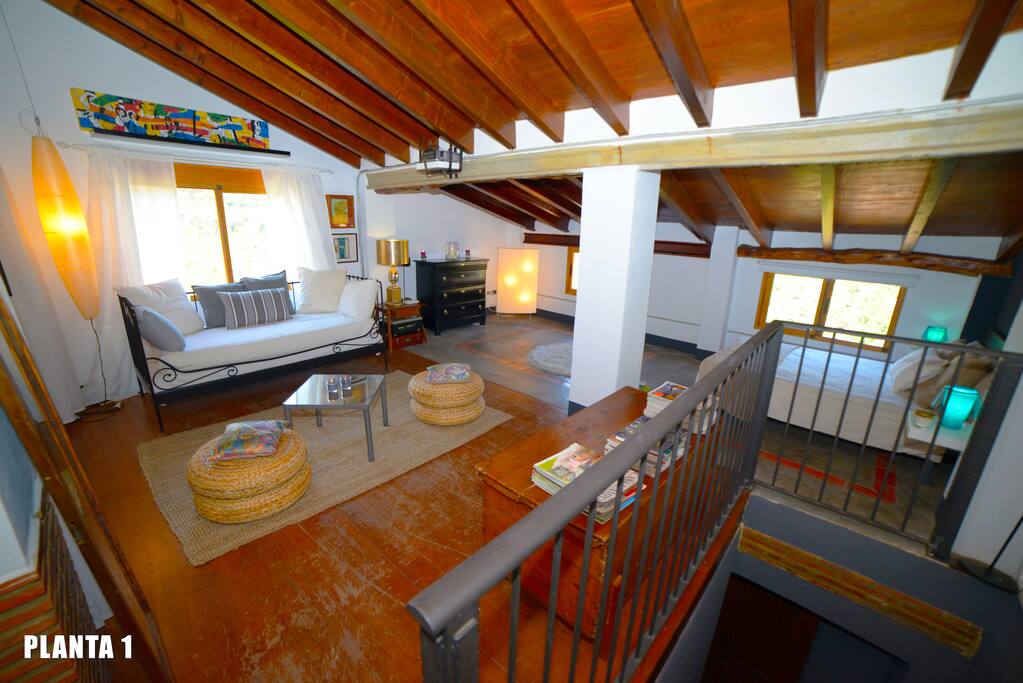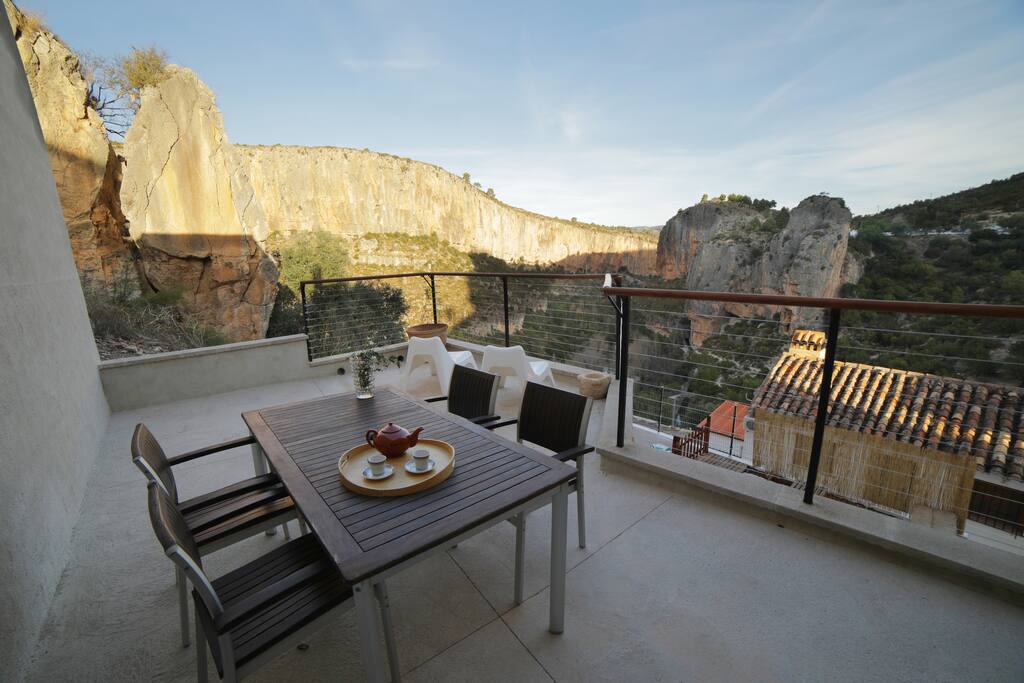 숙소
Description and services:
'La Rocha' rural house has:
Capacity 1-8 people
Two double bedrooms (both 25m2 and one of them with an ensuite bathroom)
One single bedroom (12m2)
3 extra beds (1 per bedroom)
Living room-kitchen
Two bathrooms
Library
Wi-Fi throughout the whole house
Discounts for long stays
Price: 25 Euros person/day. Public holidays: 30 Euros person/day.
Free travel cot
Children under 11 years old: 20 Euros person/day. Public holidays: 25 Euros person/day.
Cleaning included in short stays. Additional cleaning with an additional cost for long stays (ask the owner).
Pets: ask the owner.
The beams, ceiling and floor of the attic (25 m2) are made of wood. The rafters which support the roof have been preserved. There is a curtain wall of glass through which the living room area and the interior balcony of the library can be seen. There is a large relaxation area with a sofa, projector for TV, DTT, DVD, music and views of the castle and Hoces del Turia (gorges of river Turia). It is the cosiest part of the whole house. You can add an extra bed. (See photo gallery)
The double room on floor -1 (25 m2) is a suite type and it has an ensuite bathroom. The old stone walls of the original house have been preserved along with the beams and the irregular arches. The ceiling contrasts with the current floor of polished cement. There is a relaxation area to read or watch TV with views of 'peña Mosén' and Hoces del Turia. There is a 1.5m bed and you can add an extra bed. (See photo gallery)
There is a single bedroom on the ground floor[fin_negrita], next to the bathroom and the living room-kitchen. It has a built-in wardrobe and magnificent views of the Hoces del Turia and 'peña Mosén'. You can add an extra bed. (See photo gallery)
Living room-kitchen
Access to the building is through a double gate with a split door, which was part of the original house and opens onto a wide living room. The wooden floor on the upper storey and the fireplace create a warm atmosphere in winter both on the ground floor and the first floor thanks to the double height of the living room. Views of Hoces del Turia and river. The original stone walls of the house have been preserved. There is a library area on the interior balcony. (See photo gallery)
The kitchen also offers stupendous views. It is decorated with wooden ceiling and beams, and equipped with glass ceramics, an oven, fridge, washing machine, dishwasher, microwave, small appliances, blender and liquidiser. (See photo gallery)
The house can take five people but it is possible to add one extra bed in each room, which increases the capacity to eight people.
Chulilla is a charming place to enjoy the tranquillity of a village of 800 inhabitants and to enjoy the mountain with activities such as hiking, climbing, cycling, horse-riding or hunting and fishing.
Casa de la Rocha recommends:
[*] The 'pantaneros' route which crosses two suspension bridges in the Hoces del Turia as the people who lived in this area, the 'pantaneros', used to do.
[*] Chulilla also offers a wide range of paths, including PR 77 and 76, which go from Chulilla towards the neighbouring villages of Gestalgar and Sot de Chera.
[*] Climbing: Chulilla has one of the best climbing schools in Spain. 350 routes for all levels.
[*] Cycling: mountain bikes and a variety of routes on mountain paths.
[*] Chulilla has an excellent range of restaurants.
[*] You can visit the following sights near Casa de la Rocha:
Chulilla's medieval old town. Rock paintings in the Falfiguera ravine. A natural platform called La Muela. Cave of Gollisno. Hoces del Turia (gorges of river Turia) and 'Pantaneros' route. The swimming holes called Charco Azul and Charco Vallarejo. The natural pool built in the Muslim period called 'Azud'. The cascade of Las Toscas. Chulilla's Muslim Castle, which was awarded the title of Historical Artistic Site in 1981. Parish of Nuestra Señora De Los Ángeles (15th and 16th centuries). Chapel of Santa Bárbara and San José. Swamp of Loriguilla. Fishing and hunting grounds. Chulilla has a no-kill fishing area (visitors can obtain a 1-day licence).
Reservoirs of Buseo and Benagéber, Roman aqueducts in Calles and Gestalgar. Aqueduct of the Arcos in Alpuente. Natural park of the gorges of river Gabriel (39 km). Wineries and routes of the wine in Requena and Utiel (39 km). The motorsport race track Circuito Ricardo Tormo located in Cheste (Valencia, 69 km).
숙소 출입문까지 계단이나 문턱 없이 이동 가능한 공간
언제나 에어비앤비를 통해 대화를 나누세요.
안전한 결제를 위해 에어비앤비 웹사이트나 앱 외부에서 송금하거나 대화를 나누지 마세요.
Chulilla, Comunidad Valenciana, 스페인