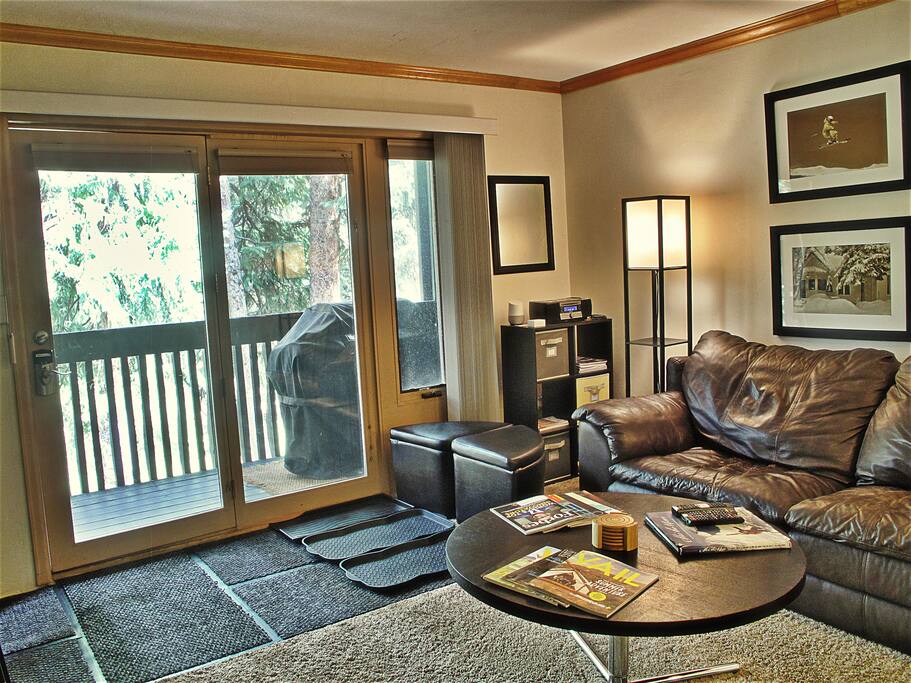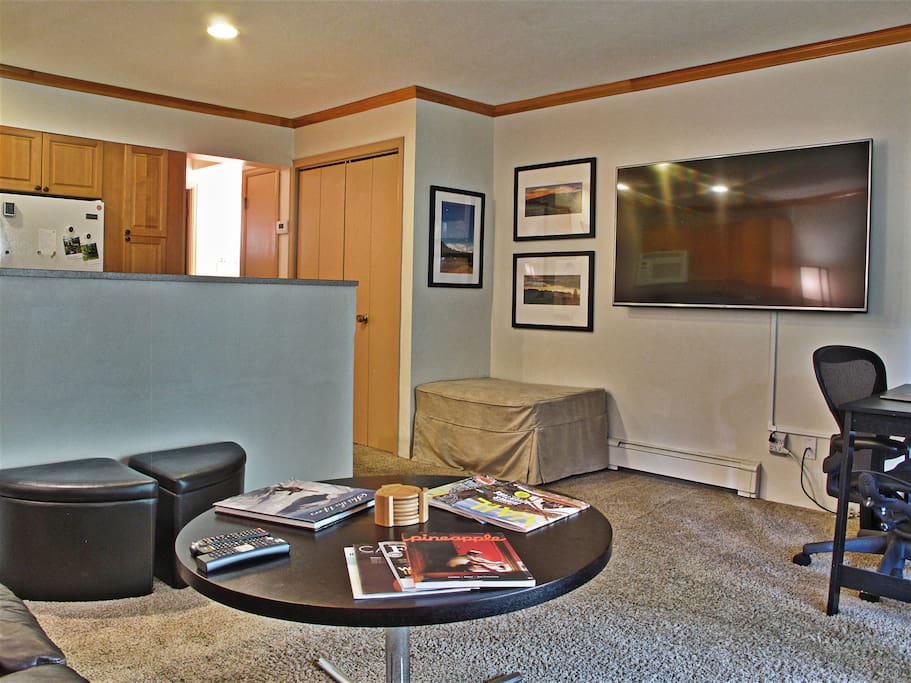 [New 65" 4K TV for 2017/2018 Ski Season] Amazingly reviewed 1 bed, 1 bath ski condo on free bus route with great amenities like HD LED TV, free WiFi, keypad lock (no key exchange), ski racks, and natural gas grill overlooking the Gore Creek from a private patio. Can sleep 3 comfortably.
숙소
This amazingly reviewed condo, located at the Vail Racquet Club Mountain Resort and hosted by an Airbnb designated Superhost, is being privately rented, read below for more information about this.
Lucky guests have access to 24-7 self check-in, full kitchen, bathroom shower and tub, Aeron chair and desk overlooking creek, WiFi, BluRay, HDTV and more!
Leave your car in a free parking spot and take the free bus to the mountain.
Bedroom features a handmade pine queen bed with memory foam mattress and two zone heated mattress cover. Closet storage, luggage racks, bluetooth speaker and professional artwork round out the bedroom.
Take the free bus into Vail Village or Lionshead and enjoy shopping, dining or the largest ski resort in North America. Two bus stops are a short walk away! You can leave your car in a free parking spot steps from the unit.
An olympic sized heated swimming pool, hot tubs and workout facility is right next door *for a daily fee*. Laundry facilities are right around the corner.
Entrance way storage includes cubbies for helmets and boots and racks for skis and snowboards.
Professional photography complements the design of this unit.
Hiking right out the front door and several parks nearby.
Kitchen is stocked with helpful cooking items like gourmet olive oil, vinegar, tons of spices, pots, pans, and Williams & Sonoma small appliances (Breville toaster and blender; Hot chocolate machines). The patio grill overlooking Gore Creek runs on natural gas and operates at any outdoor temperature.
Summer notes: Pickleball, disc golf, frisbee, football, basketball and tennis (two rackets) supplies are in the bedroom. (Tennis court access requires additional cost).

Hummingbirds! Yes, the hummingbird feeders do get visitors, but you have to be watching carefully. Bighorn Park is a short walk away. Parking is free in the summer at the Vail Village and Lionshead parking structures.
Great location for hiking or biking, at the base of Vail Pass, the US Pro Cycling Challenge has raced right by the front door several years in a row. Booth Falls and Deluge Lake Trail hikes are close by.
Winter notes: Grill works in the cold, ski storage locker available, outdoor ski rack on patio, snowshoes and poles available to borrow (his and hers), cozy up on leather couch with a board game or watch from DVD library. Heat will be on for your arrival, no waiting in the cold.
Vail Events:
WINTER
Burton US Open (2/29-3/5 2016)
Korbel American Ski Classic
Vail Film Festival
Taste of Vail
Pink Vail
Spring Back To Vail
SUMMER
GoPro Mountain Games (6/4-6/7 2015)
Vail Lacrosse Tournament (6/15-6/18 2015)
Vail International Dance Festival (7/27-8/10 2015)
Bravo! Vail: Dallas Symphony Orchestra, Philadelphia Symphony Orchestra and New York Philharmonic (7/1-8/6 2015)
Vail frequently holds FREE concerts, contact me for more information, recent artists include:
Michael Franti, O.A.R., American Authors, Bare Naked Ladies, Edward Sharpe and the Magnetic Zeros, The Wallflowers (Jacob Dylan), Rusted Root, Capital Cities
Private rental information regarding Vail Racquet Club Mountain Resort:
The Vail Racquet Club Mountain Resort is a fabulous property spanning over twenty acres of Vail, Colorado. It provides a true Colorado experience, with hikes and outdoor activities just steps off property, and is a short free bus ride to the hustle and bustle of Vail Village.
When you rent my unit you have full access to my individual one bedroom one bathroom unit, but do not get full access to all resort amenities. For example, if you have a question about Vail, I am your concierge, email or call me, or check online with the free WiFi. Please do not go to the front desk. If you use the guide I provide upon booking, and communicate with me you will get the benefit of long time local knowledge.
Access to the unit is through a single door with an electronic lock, you get a door code and come and go as you please, no key exchanges. You will get your door code right before your visit, it activates automatically at your communicated arrival time and deactivates at your departure time.
If you want to use the Resort's gym you will have to pay a daily fee, like any other resident of Vail who is not a member. You get access to two outdoor hot tubs an olympic size heated pool, modern gym and classes like Yoga, Spinning and Pilates for no extra charge. The daily fee is $25 per person per day, but discounts might be available, contact me.
Of course you can enjoy the grounds at the resort including large fields perfect for games of catch, walk along the Gore Creek, etc. (Harder in the winter snow than the summer)
Note about getting scheduled surgery in Vail: I have had many happy visitors who visited Steadman Hawkins or other amazing health resources in the valley. There is a single flight of stairs to my unit on the exterior you can see in the pictures. Once inside there are no stairs and there is a bathtub. The hospital parking lot is approximately a 10 minute drive away.
More amenities:
★ Artisan Olive Oil and other cooking sundries in Kitchen
★ DVD library includes Dumb and Dumber, Life of Pi and others on BluRay as well as: Raiders of the lost Ark and Matrix trilogies, SuperBad, Knocked Up, The Princess Bride, Guardians of the Galaxy, Memento and Usual Suspects and a dozen others. Also surfing, snowboard and ski movies.
★ Pull out bed is best money can buy with a real 5" mattress for incredible comfort for a pull out (available memory foam pad addition makes it even better!)
★ Living area stereo is comparable to a Bose Wave system with great sound and bluetooth connectivity
★ Home automation system allows unit to be warm on arrival and self check in (electronic lock)
★ Dyson vacuum cleaner for those who like to clean
★ Phone and tablet charger that can charge three devices at once with adapters for all types of devices (micro and mini USB, and various iOS)
★ Many coffee options - Keurig machine, refillable K cup, coffee bean grinder, regular drip machine
★ iGrill2 digital meat thermometer with bluetooth for iPhone and Android
★ Vail local to call or email for advice and questions
A note on pets:
Pets are not allowed, this is an HOA rule and I can not be flexible on it, the best I can do is refer you to a local Kennel, sorry. This includes accessibility animals and means this unit is not appropriate for guests that require an accessibility animal due to a disability.
Dining and groceries note:
There is a restaurant called Blu's on site, there is an incredible selection of restaurant's in Vail Village which has free parking after 3PM in the winter and parking is always free in the summer. There is a small but well equipped market called Sim's with a small liquor store a couple of minute drive away from the unit. There are larger grocery stores about a 10 minute drive away.
Condo Guide:
When you have a confirmed reservation you will get a fifteen+ page condo guide which has been correctly described as "very comprehensive" by guests. It includes everything from specific restaurant ideas to the number of forks to expect in the kitchen to instructions for connecting to the bluetooth audio system and much more. It will come by email, usually within 24 hours of booking. It will help you plan for the best possible vacation to Vail, Colorado one of the best places on earth!
Security: There is a security camera covering the outdoor patio area near the entrance to the unit. This is for my security and yours. The patio light detects motion so you can have a well lit arrival anytime of day.
Driving Distances:
The following drive times assume normal road conditions and are approximate:
1 minute - Trailhead for Vail Pass and Deluge Lake Trail
3 minutes - Sim's Market and Liquor Store
8 minutes - Vail Village Parking Structure (Gondola One access)
10 minutes - Lionshead Parking Structure (Eagle Bahn Gondola)
12 minutes - West Vail Grocery Stores (City Market and Safeway)
15 minutes - Downtown Minturn (also Meadow Mountain trailhead)
16 minutes - Native Roots, medical and retail Marijuana dispensary
17 minutes - Super Walmart and Home Depot in Avon
20 minutes - Beaver Creek free parking (Bear lot, has 10 minute bus ride to Beaver Creek Village and slopes)
90 minutes - Denver or Aspen
Think Snow!
사용가능 공간/시설
사진에서 볼 수있는 모든 장치에 액세스 할 수 있습니다. 접근이 불가능한 (잠긴) 작은 침실 주인의 옷장이 있습니다. 모든 향신료, 장인 올리브 오일과 식초 등의 모든 요리 용품, 냄비와 쿠키 시트, 침지제 블렌더, (SENSITIVE CONTENTS HIDDEN)어를 얻습니다 ... 모퉁이에 세탁 시설을위한 세탁 세제 ... DVD 라이브러리, 게임, 블루투스 스테레오 거실 / 부엌, 침실 및 심지어 샤워 용품까지 손에 꼽을 수 있습니다. 호텔 내 온수 욕조, 수영장, 테니스 코트, 체육관 및 스파는 인접 헬스 클럽에 대한 추가 지불 만 가능합니다.
You have access to everything in the unit that you can see pictured. There is a small bedroom owner's closet that is not accessible (locked). All cooking supplies, including lots of spices, artisan olive oil and vinegar etc, pots pans and cookie sheets, immersion blender, you get the idea ... laundry detergent for the laundry facilities around corner ... DVD library, games, bluetooth stereos for the living room / kitchen, bedroom and even shower supplies are up for grabs. The on property hot tubs, pool, tennis courts, gym and spa are only available with an additional payment to the adjacent Health Club.
기타 사항
전자 자물쇠가 있습니다. 따라서 24- 7 번 액세스를 제공하는 4 자리 핀을 얻게 될 것입니다. 이는 원하는 때에 언제든지 체크인 할 수 있음을 의미합니다 (사람들은 늦은 체크인에 대해 항상 묻습니다). 나는 또한 체크인이나 체크 아웃시 매우 유연합니다. 이것은 일요일에 덴버로 운전하는 경우 일반적으로 오후 10시 체크 아웃을하는 호텔과 같지 않으며 오후 8 시까 지 유지하고 트래픽을 피하십시오! 무제한 음악 구독이 가능한 무료 (SENTTIVE CONTENTS HIDDEN) Home을 갖춘 장치입니다. 좋아하는 음악을 재생하고 날씨, 교통 정보 등을 무료로 받으십시오! 세금 : 예약시 Airbnb에서 4 %의 베일 (Vail) 숙박 세를 징수하지 않습니다. 예약 한 직후 에어 비앤비 (Airbnb) 결재 요청으로이 금액을 징수합니다 (계(URL HIDDEN)1). 다음은이 콘도에서 제공하는 편의 시설 중 일부입니다. 고속 Inernet, 유선 및 WiFi HD 케이블로 HD LED TV BluRay 및 Netflix 벌새 모이통 전용 갑판의 천연 가스 그릴 갑판에서 고어 크릭을 내려다 봅니다. Keurig K 컵 커피 머신 핫 초콜릿 믹서 브레빌 토스터 브레빌 블렌더 윌리엄스 소노마 팝콘 메이커 전기 담요 메모리 폼 매트리스 블루투스 스테레오 전기 잠금 장치, 열쇠 교환 불필요 24/7 셀프 체크인 카스트로 컨버터블
There is an electronic lock, so you will get a 4 digit pin that will provide access 24-7, this also means you can check in whenever you want (people ask all the time about late check ins). I'm also very flexible on check in and check out time when there are not guests coming or going. This isn't like a hotel with 10AM checkout usually, stay until 8PM and avoid the traffic if driving to Denver on a Sunday!
Unit equipped with complimentary (SENSITIVE CONTENTS HIDDEN) Home, with unlimited music subscription. Play music you love, get weather, traffic and more, all for free!
Taxes: Vail lodging tax of 4% is not collected by Airbnb at booking. I will collect this by Airbnb resolution request shortly after you make your reservation (Account: seven one seven four).
Here are just a few of the amenities in this condo:
High Speed Inernet, Wired and WiFi
HD LED TV with HD Cable
BluRay and Netflix
Hummingbird Feeders
Natural Gas Grill on private deck
Deck overlooks Gore Creek
Keurig K Cup Coffee Machine
Hot Chocolate mixer
Breville Toaster
Breville Blender
Williams Sonoma Popcorn Maker
Electric Blanket
Memory Foam Mattress
Bluetooth stereo
Electric lock, no key exchange necessary 24/7 self check in
Castro Convertible Pull out
---
이 숙소는 출장용 숙소로서의 편의 시설을 갖추고 있습니다.
---
---
어린이(만 2-12세)에게 안전하거나 적합하지 않음
Have an amazing time in Vail!
No shoes on carpet.
No pets at all, sorry.
No smoking in unit (take a beautiful walk though!). I'd prefer you did not smoke on patio but use common sense if you must. Don't ash on my downstairs neighbor patio area, don't smoke with the door or window open, etc.
You are a private renter of my unit, this does not entitle you to the full services of Vail Racquet Club Mountain Resort. Please do not ask the front desk for concierge style assistance (ask me), and do not expect free access to the spa/gym/pool.
If you have guests that are not on initial reservation you must communicate with me. For example, if you make a booking for 1 guest, but end up having two people at my condo you must tell me.
Generally be a good steward of my home please. I have hosted more than 200 people and had very few issues, I could not be happier with the Airbnb community to date. Let's keep it that way!
Have a great time in Vail and let me know if you need anything!
---
Mark's condo is the most organized, clean, and well furnished air bnb that I have stayed at! The kitchen is fully furnished for any type of food prep needs. Communication with Mark was excellent and always prompt. This is a nice quiet location next to a creek and just barely a 10min drive to downtown Vail. Highly recommend!
---
Mark's place had all the finishing touches you could hope for in a kitchen. When you travel far, the last thing you want to think of is buying sauces and spices on arrival, which you inevitably need when doing self-catering. He has ample notes and tips around the apartment so you can feel at home quickly and enjoy the area as much as possible. Five star recommendation from us!
---
Mark's place was the perfect place for our stay in Vail. We loved the location right off of Gore Creek. Not only did it give us easy access to Gore Creek Trail, it was a beautiful view just outside the front door. Mark's place was organized and well-thought out. We appreciated all the notes and helpful hints he left regarding things around the condo. The only thing missing that would have made our stay even more cozy is a fireplace. We'd absolutely recommend his place and stay again if we return to Vail.
---
게스트 상호 작용은 전적으로 손님에게 달려 있습니다. 머무는 동안 선물이 없지만 셀과 이메일로는 항상 이용 가능합니다. 저는 에어 비앤비로 전 세계를 여행했으며 빠른 질문이있을 때 그 점이 무엇인지 알고 있습니다. 그래서 나는 항상 당신에게 빠른 대답을 할 것입니다! 전자식 키패드를 사용하여 연중 무휴로 장치에 들어갑니다. 일부 손님들은 15 페이지의 콘도 가이드를 처음 교환 한 후 약간의 상호 작용을하고 일부는 레스토랑, 스키 대여, 등산로에 대한 많은 조언을 얻습니다. 어떤 사람들은 사전에 편의 시설에 대해 질문하고 싶어하며 다른 사람들은 교통 옵션에 대해 알고 싶어합니다. 나는 항상 질문에 개방되어 있으며 지역의 전문 지식으로 반응 할 것입니다.
Guest interaction is totally up to the guest. I am not present during your stay but am almost always available by cell and email. I have traveled around the world with Airbnb and know what its like when you have a quick question, so I'll always have a quick answer for you! You use an electronic keypad to enter the unit 24/7. Some guests interact very little after the initial exchange of a 15 page condo guide, some get lots of advice about restaurants, ski rentals, hiking trails, etc. Some people like to ask about amenities in advance, others want to know about transportation options. I'm always open to questions and will respond with local expert knowledge.
From Denver Colorado .... interests: Triathlons, Back Country Snow Sports, Computer Programming, Concerts