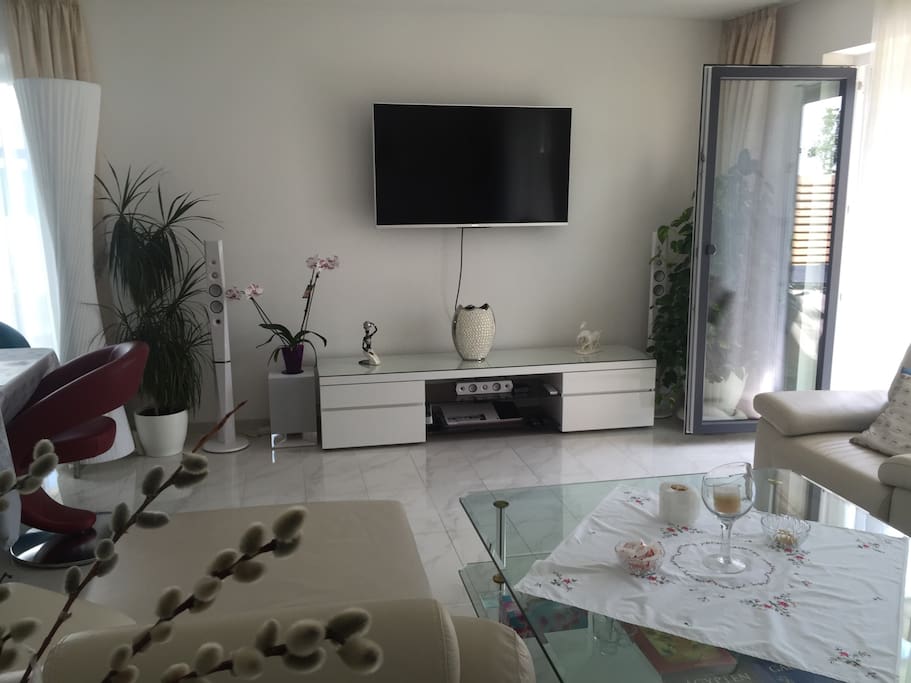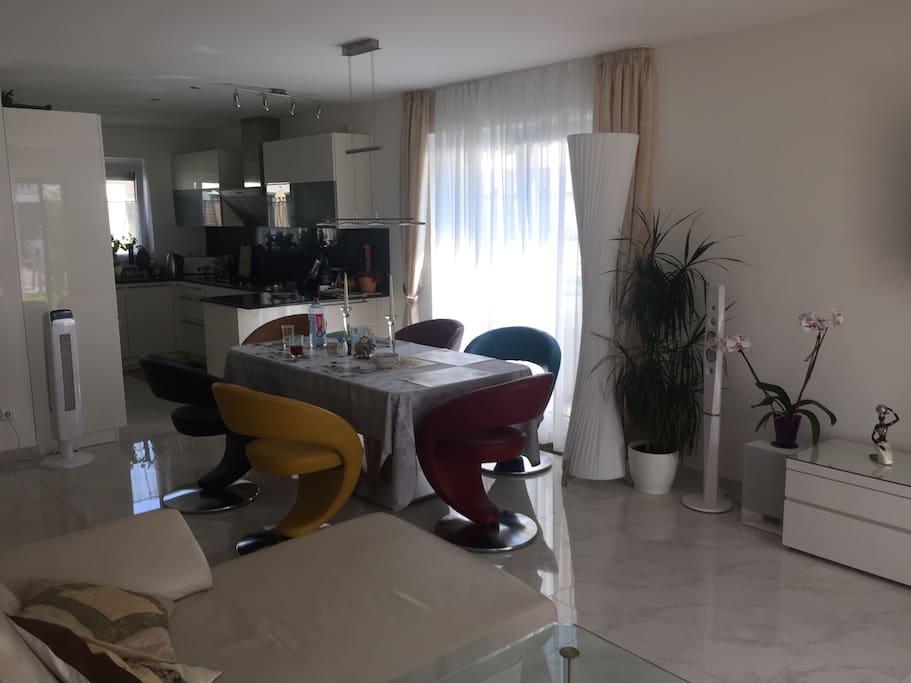 우리 집의 2 층에있는 멋진 n 개의 멋진 50m² 아파트. 4 명까지 투숙 할 수있어 편안하며 별도의 욕실을 갖추고 있습니다. 2 개의 더블 침대 (Real dobble Bed + 소파 겸 침대), 스마트 LED TV 및 프린터 (WLAN 무료). 하우스는 뮌헨 메트로 (U-Bahn) 역에서 버스 정류장 (234 번 & 285 번)에서 10 월 10 일까지, 박람회 / ICM 메세 / 전시회 및 뮌헨 공항, 시티 센터, 마리엔 플레이스, 하우프트 반 호프까지 100m 거리에 있습니다. (주요 철도역).
A big n nice 50m² apartment on the 2nd floor of our House. It is comfortable for up to 4 (6) Persons to stay and is furnished with a seperate Bathroom. It has 2 double Beds (Real dobble Bed + a Sofa-cum-Bed), a smart LED TV and Printer connected with WLAN (free). The House is 100 meters away from Bus stop (No. 234 & 285) to Munich Metro (U-Bahn) station, to Octoberfest, to Trade Fair/ICM Messe/Exhibition and to Munich Airport, City Centre, Marien Place, Haupt Bahnhof (Main Railway Station).
숙소
넓은 50 평방 미터의 아파트. 거대한 정원 & 2 테라스가있는 새로 지은 집. 집 자체는 우아하고 조용하며 높은 고지대에 있습니다. 차량 주차 공간이 무료로 제공됩니다. 우리는 모두 최대 6 명을 수용 할 수있는 임대 2 실이 있습니다.
Spacious 50 sq.meter apartment. A newly built house with huge Garden & 2 Terraces. The house itself is in an elegant, calm and high gentry area.
A parking place for your car(s) is provided free of Charge. We have altogether 2 rooms for rent which can both accomodate upto 6 persons.
사용가능 공간/시설
100MB WLAN / WiFi (무료) 및 노트북 (요청시)을 통해 인터넷에 연결된 LCD 스마트 TV
LCD Smart TV connected to Internet via 100 MB WLAN/WiFi (free of charge) and a Laptop (upon request)
게스트와의 교류
손님들이 원했던대로. 물론 필요할 때마다 나와 함께 원할 때 공간을 확보합니다.
As wished by the guests. Of course they get space when ever they want with me being available when needed.
기타 사항
집 근처에서 무료 주차 가능. 총 숙박 시설은 요청시 최대 6 - 8 명까지 가능합니다. 우리는 3 개의 더블 침대가있는 2 개의 방이 있기 때문에 가능합니다.
Free Parking available near the house. Total accommodation available for up to 6 - 8 persons upon request, since we have 2 rooms with 3 double beds.
유아(만 2세 미만)에게 안전하거나 적합하지 않음
체크인 가능 시간은 14:00 - 22:00입니다
Keep calm, clean & cool.
No Smoking at all
We live in Munich for over 35 years & therefore can offer guests some good Tipps about Oktoberfest, POIs for sight seeing, Museums, Art Galleries and Gourmet Restaurants in/around Munich. We now live in a new house, built in a nice n elegant area in north-east of Munich, and has big garden with 2 terraces. From "Marien place" (the centre of Munich) we are about 15 km away.

We offer our big Apt. 50m² (complete 2nd floor) with en-suit bathroom, high speed Internet WLAN (100 Mbits/sec) and a Ultra HD LED smart TV connected with internet. This Apt. has 2 double beds to accommodate upto 4 adult persons. All together we can accommodate upto 8 persons. The Location of our house is in a very pleasant, peaceful, elegant & calm area in the North east outskirts of Munich. Many nice families with kids live nearby.

Our place is ideal for guests visiting "Trade Fair" (Munich Exhibition "München Messe") and the known beer Festival "Oktoberfest". It is very near to the Highway A99, therefore ideal also for guests comming with car, as they can park their cars free of charge here and go to City centre, to Oktoberfest, to Airport, to Trade Fair/Munich Messe by local buses and trains. One can also park the car at "Park & Ride" Train stations like at Ismaning or at Feldkirchen stations and go in all directions without having to wait for the buses. These Train stations are just 4-5 km away. Our place is ideally located for People travelling to/from Austria, Italy, Switzerland and other neighbouring countries.
DISTANCES from our House:
Munich Trade Fair/Exhibition/Messe: 6 km
Munich City Center (Marienplatz/Oktoberfest): 15 km,
Munich Airport/Flughafen: 25 km
Public Transport is available to all these destinations
Bus 285 is 100m from house & goes to Ismaning S-Bahn (S8 to Airport in 13 minutes) and to Feldkirchen S-Bahn (S2 to Munich City centre)
Bus 234 to ICM Trade Fair or Munich Messe and to Metro (U-Bahn U2)
Busstop for Bus 263 is 500 meters away which also goes (to ICM, Munich Messe, to "Riemer Arcade" Shopping mall and to U-Bahn U2)
언어:
Deutsch, English, Hindi, Punjabi