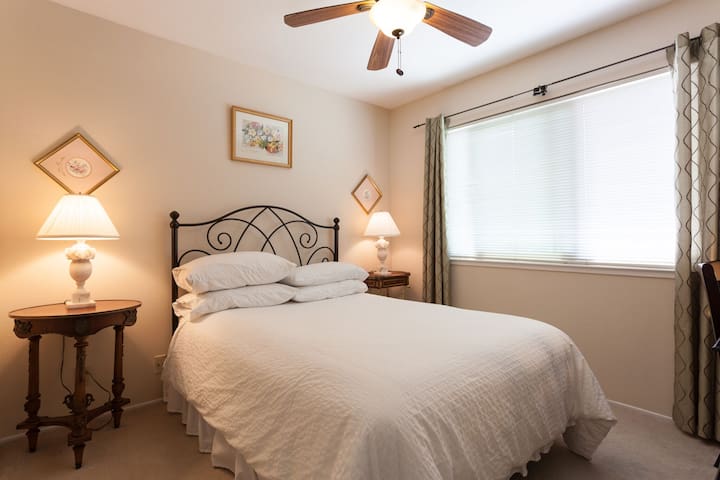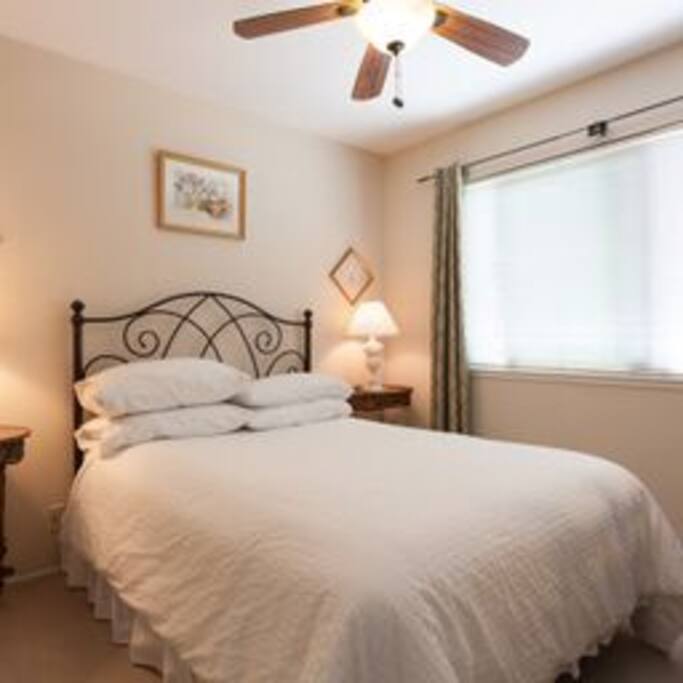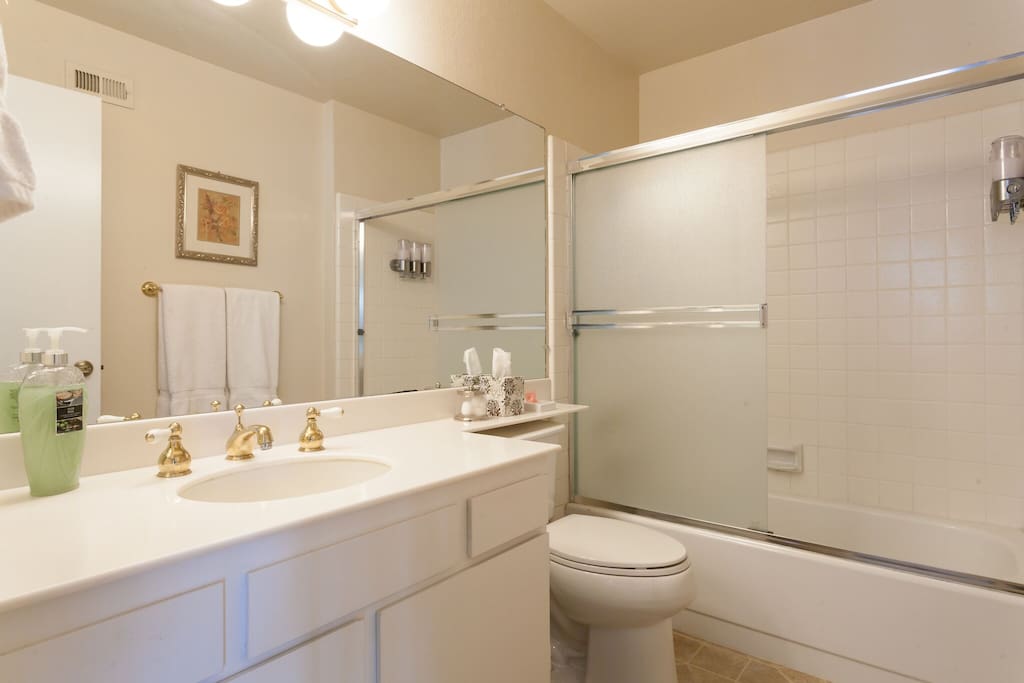 Clean quiet room in beautiful home with full/double bed and desk. Limited cooking privileges in gourmet kitchen. Gorgeous patio with comfie seating. Street parking. 15-20 minutes to SJC Airport, downtown SJ, Apple HQ. Sweet cat on premises.
숙소
Quiet home with cozy backyard that is convenient to downtown Los Gatos, Campbell and San Jose. Private room and bath with large closet. Bathroom is off hall next to the bedroom. Room has a full size bed/linens which is slightly smaller than a queen size bed and sleeps two people. Room includes small table and chair, dresser & side table. Room is cooled with ceiling fan and/or open window for natural cool breeze. Air Conditioner shuts off at 9:00 p.m. during summer months. Full use of kitchen and refrigerator with limited cooking privileges. Keurig coffee/tea maker available with variety of pods. Close to Los Gatos trail for walking/biking.
사용가능 공간/시설
Not allowed in the Home Office upstairs, Master Bedroom, Guest Bath Downstairs and Garage. Free to access your bedroom, hall bath upstairs, kitchen, dining room, kitchen nook, laundry, living room and patio.
게스트와의 교류
매우 사교적 인 사랑으로 나는 당신의 앞길을 따를 것입니다.
Very social love to talk I'll follow your lead.
기타 사항
프론트 하우스에는 페인트가 필요하고 태양은 약간 두들겨 야합니다. 에어 비앤비가 집 그림으로 향하고 있습니다. 집안은 절대적으로 사랑스럽고 편안합니다. 나는 친절한 고양이가있다, Henry. 그는 조용하고 잘 행동한다. 그가 집을 떠나고 싶다면 괜찮습니다. 체크인은 오후 4시 이후 및 선호시 오후 10시 이전에 가능합니다. 오후 10시 이후에 도착 예정 이신 경우 예약 전에 나와 상담하십시오. 나는 예측할 수없는 바쁜 일정을 가지고 있으며 개인적으로 여기에있을 수는 없지만 열쇠에 접근하기 위해 문에 콤보 락크 박스가 있습니다. 나는 돌아 오는 길에 너에게 인사 할 것이다. Airbnb 호스트에 대한 한 가지 일반적인 오해는 이것이 우리 집이기 때문에 항상 여기에 있으며 손님은 언제나 나타날 수 있다는 것입니다. 사실은 그렇지 않습니다. 도착일에 도착할 때 당신과 함께 확인해 드릴 것입니다. 만약 내가 도착할 예정이라면 이메일로, 그렇지 않으면 열쇠를 얻는 방법을 알려드립니다.
Front of house needs paint and little beat up from sun. Airbnb is going towards the painting of house. The inside of home is absolutely lovely and comfortable.
I have a friendly cat, Henry. He is quiet and well-behaved. It is okay if he wants to leave the house.
Check-in is available after 4pm and preferably before 10pm. If you will be arriving after 10pm, please consult with me before booking. I have a busy unpredictable schedule and may not be here personally to let you in but have a combo lockbox on the door to gain access to the key. I will greet you upon my return home. One common misconception about Airbnb hosts is that since this is our home, we are here all the time and guests can just show up whenever. That actually isn't the case, I will confirm with you on arrival day when you will arrive and make arrangements via email on if I will be here and if not, and how to gain access to the key.
어린이(만 0-12세)에게 안전하거나 적합하지 않음
체크인 가능 시간은 16:00 - 22:00입니다
GENERAL
* Absolutely No Smokers. If you are a smoker, please find different accommodations immediately. No smoking on the property.
* We cannot accommodate smokers or anyone who spends time with someone who smokes. No exceptions.
* Quiet between 11 pm - 6:30 a.m. This includes TV, music, phone call volume, etc. You don't have to turn it off, just keep the volume low.
* Turn out lights you turn on.
* I am willing to consider pets on a case-by-case basis (pets must be specifically approved prior to booking).
* Use coasters under drinks on all furniture.
* Shoes are fine in the house but not on the furniture or bed linens.
* Checkout is 11:00 AM unless prior arrangements have been made.
* No pets.
* Quiet outside after 9pm.
Visitors:
* Visitors allowed only with permission. We are renting space in our home with you, our registered guest, whom we have checked out via your verifications and reviews. If you made a reservation for more than yourself, you have told me who that is, and we have agreed. If you want to have visitors, please discuss it with me first.
KITCHEN USE & FOOD:
* Moderate kitchen privileges
* Kitchen use is limited to preparing breakfast (coffee/tea, toast, fruit, instant oatmeal), simple food prep (sandwiches, etc.) and use of the microwave and toaster oven.
* Use of refrigerator, freezer, plates, utensils, glasses and coffee cups are included.
* Use of the stove, oven, pots, pans, etc is not included.
* Please do not eat in the carpeted areas of the house (upstairs). Please eat at the dining room & kitchen nook table, counter, or on the patio.
* NO FOOD/eating in the bedrooms.
ACCESS:
* Common areas you may access include your bedroom, the bathroom (upstairs hall), living room, dining room, kitchen, laundry room and back yard.
* Off limits are the Hostess' bedroom, office, guest bath downstairs and garage.
WATER AND PLUMBING:
* Please conserve water. We're having a severe drought.
* Turn off water when brushing teeth, shaving, or washing dishes.
* Short showers (under 10 minutes if possible).
* Do not flush tampons down toilet.
* Please hang your wet towels or leave on bathroom floor. Do not leave damp towels on the furniture, bed or carpet.
Damages:
* If stains (wine, lubricants, shoe polish, blood, suntan lotion, makeup, acne medicine, sharpie, etc) are present on linens, bedding, pillows, furniture, rugs, etc. Guests will be charged for excessive cleaning, dry cleaning, stain removal or replacement of item(s).
PETS:
* Okay to let Henry the cat out.
* Do not feed the cat "people food".
CHECK OUT:
* 11:00 a.m. unless other arrangements have been made.
* Leave sheets on bed.
* Place all used towels on floor of bathroom.
* No excess garbage/boxes will be left for me to dispose unless requested.
INTEGRITY:
Airbnb provides a great service, as well as protections to both the host and guest. They deserve to be compensated accordingly. As such, all reservations, payments and pre-booking communication must be done through this website. If you want to transact outside of Airbnb, this is not the listing you are looking for.
기타 알아두어야 할 사항:
계단을 이용해야 합니다 - second floor
숙소에 반려동물이 있습니다 - Henry the cat
I am a self employed realtor with a busy lifestyle. I love to garden, dine out, travel, listen to live music, reading and wine. Mi casa es su casa, make yourself at home when you visit. I have a sweet cat who is very affectionate and mellow.