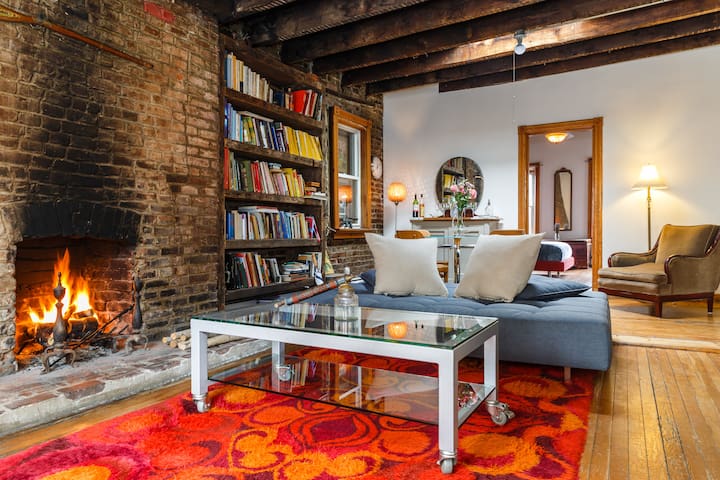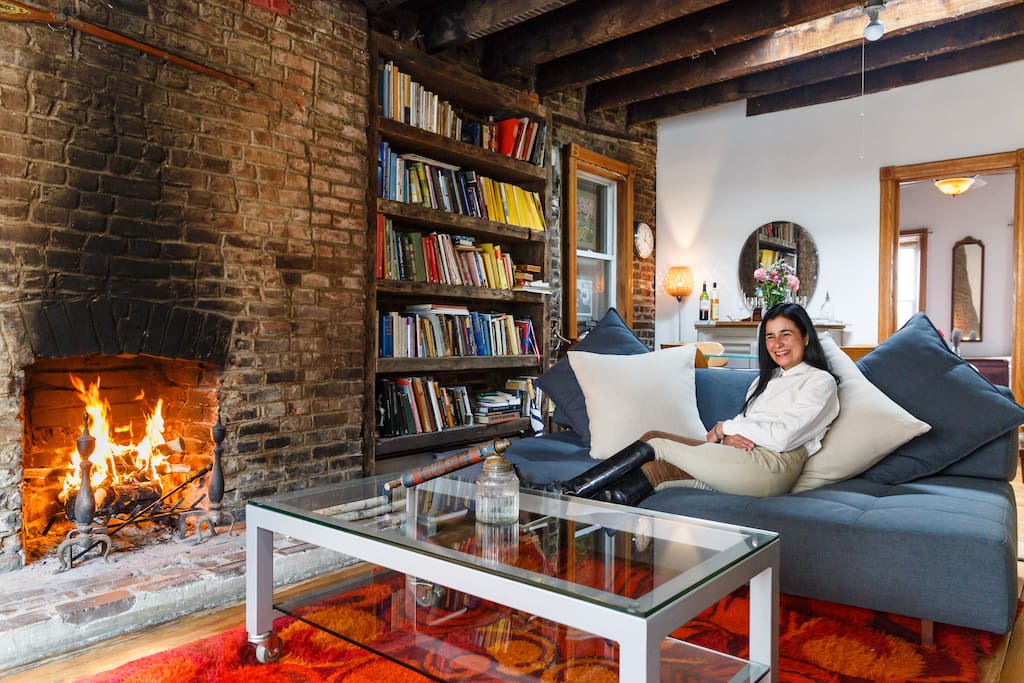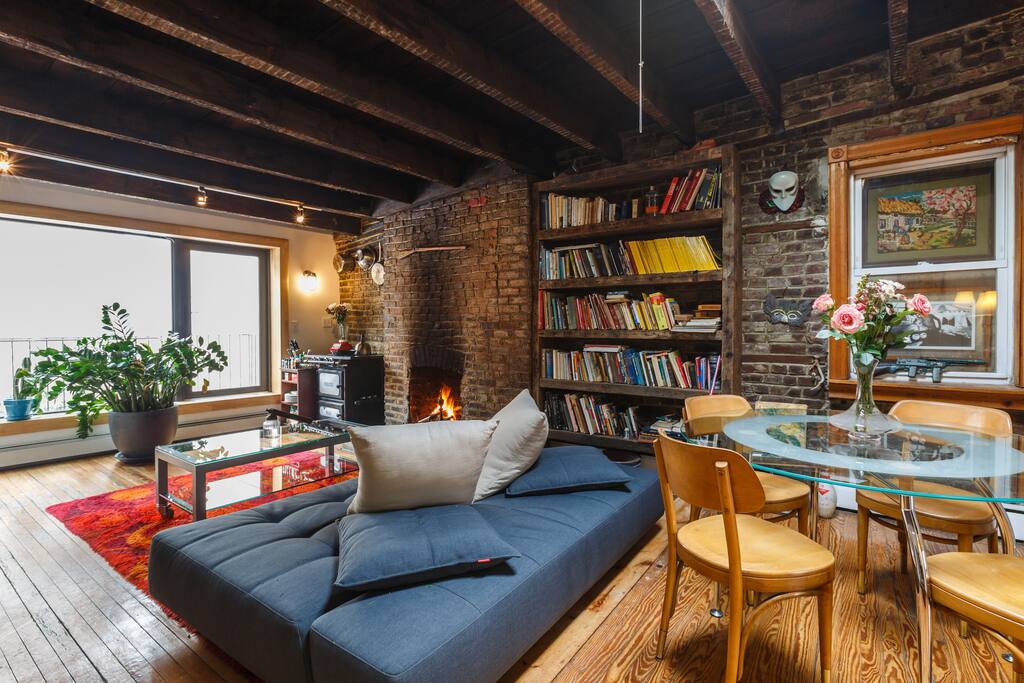 위치, 위치, 위치! 1890 년대 소설 윌리엄스 버그 (Brooklyn)의 이스트 리버 (East River)에서 한 블록 떨어진 곳에 위치한 우리 집의 개인 출입구가있는 넓고 고급스럽고 시대를 초월한 편안한 최상층. 지하철, 페리, 택시 또는 도보로 Manhattan에 쉽게 도착할 수 있으며 "Burg"Wifi / cableTV / air / heat의 모든 최고의 장소. (우리는 당신의 프라이버시를 결코 손상시키지 않는 우리의 분리 된 층에 머물러 있습니다!)
Location, location, location! Large, classy, timeless, comfortable, entire top floor with private entrance in our private house out of a 1890's novel in Williamsburg, Brooklyn one block from the East River. So easy to get to Manhattan by subway, ferry, cab or even foot, and all the best places in the "Burg" Wifi/cableTV/air/heat.
(We stay in our separate floor below you never compromising your privacy!)
숙소
Northside Williamsburg, Brooklyn Waterfront 현장의 완벽한 위치, 내 장소는 단단한 목재 바닥과 복원 된 원래의 벽돌 벽이있는 나무로 채워진 클래식입니다. 그것은 아주 좋은 준 주거용 거리 블록에 1894 복원 된 집의 꼭대기 층입니다. 멋지게 갖추어 진 장소, "하늘의 나라"는 내가 언급 한 것처럼 요리를위한 전적으로 기능이 뛰어난 "피어리스"앤티크 전장 스토브, 풍성한 냄비, 나무 타는 불의 장소 및 부엌의 풀 사이즈 냉장고를 갖추고 있습니다 . 감정은 아늑하고 따뜻하며, 오두막은 아직 우아합니다. 부엌과 거실은 같은 개방 구역에 있습니다. 4 명이 앉을 수있는 식당 테이블이 있습니다. 아름다운 새 소파는 잠을 잘 수있는 매우 편안한 퀸 사이즈 침대가 될 것입니다. 거실 공간 너머에는 커다란 주 침실과 퀸 사이즈 침대 2 개 골동품 옷장 및 2 개의 강가 창. 마스터 침실에는 앤티크 채광창과 샤워 시설을 갖춘 대형 욕조가있는 대형 기와 고전 욕실이 있으며, 트윈 사이즈 침대가있는 작은 침실과 별도의 휴게실로 좋은 강변 창, 어린이가 잠을 잘 수있는 곳, 또는 수하물을 넣을 시야가없는 방. 내 위치는 위대하고 안전합니다. 윌리엄스 버그 브릿지 (Williamsburg Bridge)를 통하는 택시 또는 자동차 서비스에서 최대 10 분, 맨하탄 (Manhattan)에 있습니다. 북쪽 6 번가 이스트 리버 페리 (Midtown Manhattan 또는 Manhattan으로 향하는 경치 좋은 빠른 강로, 일정 확인)까지 걸어서 (3 분) 걸어 갈 수 있습니다. 지하철 : L 기차 (회색 선) : 브루클린에서 1 정거장, 맨해튼까지 단 한 정거장, 상점, 레스토랑, 노점상이있는 곳에서 도보로 10 분 거리에있는 매우 빈번한 북쪽 L 기차로 지하철이 Bedford Ave 및 North에서 정차합니다. 7 St, (당신이 내 집으로 데려가 길 데리러 오는 모든 것은 지하철로가는 보행 경로 인 Bedford Ave 또는 Kent Avenue에 있습니다. (작은 상점, 레스토랑 및 바 중에서 "Whole Foods" 슈퍼마켓, 베드포드에있는 아이폰 매장)! 강과 맨해튼 (차이나 타운 등)을 내려다 볼 수있는 뉴욕의 스카이 (SENSITIVE CONTENTS HIDDEN)이 보이는 윌리엄스 버그 다리를 건너는 JM 지하철은 남쪽으로 조금 더 가다 (도보 13 분). 이웃 강가에 위치한이 조용하고 편안하며 시대를 초월한 장소는 복원 된 윌리엄스 버그 하우스의 꼭대기 층에 있습니다. 모든 이스트 리버 공원은 강과 스카이 (SENSITIVE CONTENTS HIDDEN)의 멋진 전망을 제공하며 도보 거리에 있습니다. 따뜻한 개월 주말 벼룩 / fo 주말에는 켄트 애비뉴 / 노스 8 다운 시장이 강물과 맨하탄의 스카이 (SENSITIVE CONTENTS HIDDEN)으로 즐겁게 돌아 왔습니다. 그랜드 스트리트 리버 파크 (Grand Street River Park)는 불과 한 블록 반 거리에 있습니다. 나는 한 잔의 차를 마시 며 뉴욕에가 보는 것을 좋아합니다. 고풍스런 레스토랑과 음악 클럽은 놀랍고 풍부합니다. "Williamsburg Foodtown"시장에는 필요한 모든 식료품 점이 있습니다. "Burg"을 떠나야 할 유일한 이유는 St. Patrick 's, Grand Central 's Oyster Rockerfeller Center에서 바 또는 아이스 스케이팅하기. 켄트 애비뉴 (Kent Ave)에서 북쪽으로 7 번가에있는 실내 벼룩 시장, 베리에서 북쪽으로 3 번째 거리에있는 "Mast Brothers Chocolate", 북쪽 3 일 금요일 밤에는 라이브 음악이있는 "Beer Garden"레스토랑 점심, 저녁 식사, 브런치, "Sea"레스토랑 (Thai ) 6 번가, Sweet Water (Bistro) 레스토랑은 북쪽 6 번, "Dumont Burger"는 Bedford의 멋진 햄버거를위한 남쪽 2-3 번, 커다란 브랜치, 점심, 저녁 식사를 제공하는 "Aurora"(북부 이탈리아)는 "Coxley 's"스포츠 바 (Grand St. "Teddy 's"휴식 및 바 (American Bistro))의 수돗물과 닭 날개 40 개를 갖춘 스포츠 바입니다. 브런치, 점심 및 저녁 식사를 제공하는 랜드 마크인 North 8는 밤에는 음악을 가지고 있으며 "뜨개질 공장"음악 공연 공간과 바는 메트로 폴리탄에서 6 블록 떨어져 있습니다. 최고의 스테이크 하우스 인 "Peter Luger 's"예약 만이 근처에 있습니다. 바닥은 4 개의 구역으로 나누어 져 있습니다 : 들어갈 때 부엌과 거실에 있습니다. 벽과 문이있는 식당은 정면의 커다란 침실과 큰 타일로 된 욕실, 작은 전면 침실을 구분합니다. 거실은 쉽게 2를위한 수면 공간으로 전환 할 수 있습니다. 그 장소는 사랑스럽고 4 명 편안하게 잔다. 이 지역 대부분의 장소보다 훨씬 조용합니다. 열, 에어컨, 와이파이, 고급 리넨 / 수건 및 주방 용품이 내 손님을 위해 제공됩니다. 풀 세탁물 서비스 및 드라이 클리닝 서비스는 "베리 클리너 (Berry Cleaners)"또는 302 베드 포드 애비뉴 (Bedford Ave.)에서 길을 따라 몇 블록 올라갈 수 있습니다. 내 개인 비서 / 버틀러와 나는 당신의 도착 시간에 당신과 확인하고, 열쇠를 넘겨주고, 머무르는 동안 당신이 필요로하는 것을 가까이서 지켜 볼 것입니다. 저와 제 남편이 우리 집의 저층에 있습니다.
Perfect location on the Northside Williamsburg, Brooklyn Waterfront scene, my place is a wood beamed classic, with hard wood floors and restored original brick wall. It is the top floor of a 1894 restored house on a very nice semi residential street block. The nicely outfitted place, "the country in the sky" as I refer to it, has a beautiful totally functional "Peerless" antique prewar stove for cooking, generous amounts of pots, a wood burning fire place and a full size refrigerator in the kitchen. The feelings are cozy, warm, cabin like yet elegant. The kitchen and living room are in the same open area. There is a dining room table that seats 4, a beautiful brand new couch that folds down to become a very comfortable queen size bed that sleeps 2. Beyond the living area is the large master bedroom with a queen size bed that sleeps 2 with a large antique dresser and 2 riverside windows. Off the master bedroom is a large tiled classic bathroom with an antique skylight and large tub with shower, and a small bedroom with a twin size bed and riverside window that is nice as a separate rest area, a great place for a child to sleep, or an out of sight room to put your luggage and things.
My location is beyond great and safe. 10 minutes maximum in a cab or car service over the Williamsburg Bridge and you are in Manhattan. It is a short walk (3 min) to the North 6th Street East River Ferry ( the scenic quick river route to Midtown Manhattan or lower Manhattan, please check schedules). Subways: L train ( gray line): First stop in Brooklyn, only one stop to Manhattan and a neat 10 minute walk from my place going by shops, restaurants and street vendors to the very frequent Northside L train subway stop at Bedford Ave and North 7 St, (Everything you want to pick up to take back to my place is on Bedford Ave or Kent Avenue which are the walking routes to the subway. (Among the small shops, restaurants and bars, there is now a "Whole Foods" supermarket and a Iphone store on Bedford!) The JM subway that goes over the Williamsburg Bridge with wonderful views of the river and NYC skyline to lower Manhattan (Chinatown etc), is a little further (13 min walk ) through the South Side. After a night out in the neighborhood, you will find this quiet, comfortable, timeless place to come home to that is the top floor of a restored Williamsburg house. All East River parks are a short walk away with their spectacular river and skyline views. During the warm months the weekend flea/food markets down Kent Avenue/North 8 on weekends are fun and back dropped by the river and Manhattan skyline. Grand Street River Park is only a block and a half away. I love going there in the mornings with a cup of tea and taking in the NYC view. The quaint restaurants and music clubs are amazing and abundant, the "Williamsburg Foodtown" Market has all the groceries you need and frankly the only reason I would leave the "Burg" would be to go to a museum, St. Patrick's, Grand Central's Oyster Bar or ice skating at Rockerfeller Center. Indoor Flea Market on North 7th right off Kent Ave, "Mast Brothers Chocolate" on North 3rd off Berry, "Beer Garden" restaurant lunch, dinner, brunch with live music on Friday nights on North 3rd and Berry, "Sea" restaurant (Thai) on North 6, "Sweet Water" (Bistro) restaurant on North 6, "Dumont Burger" for awesome burgers on Bedford between South 2-3,
"Aurora" (Northern Italian) with great brunches, lunches and dinners is right around the corner as is "Coxley's" sport bar with 40 beers on tap and great chicken wings on Grand St. "Teddy's" rest and bar (American Bistro) on North 8, a landmark that serves brunch, lunch and dinner and also has music sometimes at night, and the "Knitting Factory" music performance space and bar is 6 blocks away on Metropolitan. The best NY steak house, "Peter Luger's" reservations only, is in the vicinity.
The floor is divided in 4 areas: upon entering you are in the kitchen and living, dining room with a wall and door that separates this space from the large bedroom in the front, the large tiled bathroom and the smaller front bedroom. The living area can easily convert to a sleeping area for 2. The place is adorable and sleeps four comfortably. Much quieter than most places in the area. Heat, air conditioning, wifi, fine linens/towels and kitchen utensils are provided for my guest.
Full laundry drop off service and dry cleaners is available a couple of blocks up the street at "Berry Cleaners" or 302 Bedford Ave. My personal assistant/butler and I will check with you on your arrival time, hand over keys and be close at hand for anything you need during your stay. I and my husband are on our private lower floor of the house.
사용가능 공간/시설
"국가"는 남편과 내가 소유 한 집에서 개인 입구가 있고 잘 갖춰진 전체 층입니다. 복도와 계단의 소음을 고려하십시오. 연기가 나거나 탈출하지 마십시오. Wifi는 물론 내 향신료, 차, 커피, 냉장고에있는 모든 것들에 포함되어 있으며, 저의 아름다운 책을 둘러보실 수 있습니다.
The "Country" is an entire floor with private entrance and extremely well equipped, in a house owned by my husband and I. Please be considerate of noise in hallway and stairwell. Do not smoke or go out on fire escape. Wifi is included and of course help yourselves to my spices, tea, coffee, anything in the refrigerator, and feel free to browse through my lovely books.
게스트와의 교류
남편과 집사는 필요할 때 언제나 가까이 있습니다. 언제든지 우리 문을 두들겨 라! 우리는 당신이 우리의 자리에 머물러 있기를 바랍니다. 어떤 조언, 제안, 지시 등을 위해서 우리에게 전화하거나, 의사 소통하는 것을 망설이지 마십시오 ...
I, my husband and my butler are always close at hand when needed. Knock on our door at anytime! We want your stay in our place to be the best. Never hesitate to call, communicate, either of us for any tips, suggestions, directions etc...
기타 사항
모든 린넨과 타월이 제공됩니다. 나는 나무 바닥 때문에 장소에서 슬리퍼 사용에 감사드립니다. 이 층은 매우 사적인 곳이므로 휴식과 즐거운 시간을 보내십시오!
All linens and towels are provided. I appreciate use of slippers while in the place due to the wooden floors. This floor is very private, so relax and enjoy your stay!
The most important thing I want is for you and your family to feel at home and have the best of times during your stay at my place. Let me know anything I can assist you with before arriving and throughout your stay. Its a cool place in a cool neighborhood. I am always nearby, but your privacy is supreme. Here are the rules; I 'd appreciate you following:
1. Respect other occupants that are in the building especially in the hallways, and limit yourselves to my third floor apartment. I know you are on vacation, but try to be noise considerate early in the mornings and after 10 pm at night.
2. Please lift your luggage if checking in or out early/late instead of rolling due to the hardwood floors in the hallways and space.

3. Be neat, do your own dishes and beds and respect the nice furnishings we have provided you.
Please put all food in the refrigerator especially if it is in an opened container or bag. I have no roaches or pest and want to keep it that way!
4. Separate the recycling from garbage in the appropriate bags we provide. Tuesday night is the night to set out the bottles and rinsed plastic food containers in the clear bags provided. Friday night is garbage night. Either I or my assistant will pass by to pick it up on those nights, if you can't put it out yourself.
5. Do not leave any appliance on if you are not in the apartment. This includes the portable air conditioners which should be turned off or at least to low when you are out of the apartment.
6. Do not leave the tub running if you are not in the apartment.
7. Do not leave the stove or fireplace going if you are not in the apartment.
8. Please contact me or my assistant via airbnb, calling, personal email or simply knock on my door for any doubts, wishes or concerns.
9. Do not dispose of anything like tampons, diapers, or paper towels in the toilet.
Only toilet paper please! Use the garbage can in the bathroom for tampons, Q tips, paper towels, diapers etc.
10. Do not loose the keys to the house or the apartment. $250 lost key charge.
11. Please do not leave food out on the counters, top of the refrigerator or table. Put all food items in the refrigerator. With food containers that are put in trash or recycling, make sure they are rinsed. There is a steel garbage can with a lid under the ladder going to the roof in the hallway. Please put your daily garbage tied with a twisty there. Recycling gets put out every Tuesday evening in the clear bags provided. Trash gets put out in black garbage bags on Friday night.
12. Enjoy my space, you are my friend(s), and let me or my wonderful assistant and friend Azul, know anything we can assist you with.
12. If you need to have something delivered to you while staying at my place, I will facilitate my postal service address a few blocks up the street so you can be around on the town instead of sitting in the apartment waiting for a package.
13. No smoking of any kind in the hallway or apartment please!
14. Do not be drinking, smoking or hanging out on the fire escape. No children ever on roof or fire escape. These are to be used only as a fire escape!
15. As you leave the building's street door on the first level, make sure the door shuts behind you. I nor anyone else in the building have ever had a theft issue, the neighborhood is super safe, but it is NYC.
I love life and appreciate all that has come my way. Every day is a blessing though I never have enough hours in the day to do all I have to do or want to do. While I am not in NYC, where I left an excellent freelance graphic design career working with Conde Nast Publications la…
언어:
English, Español