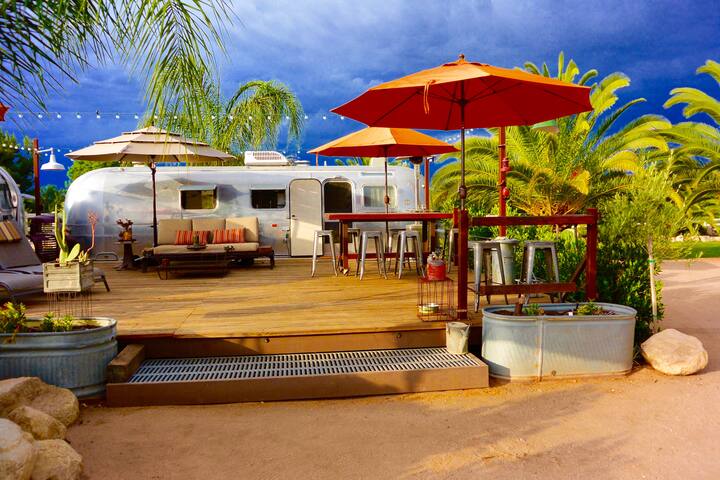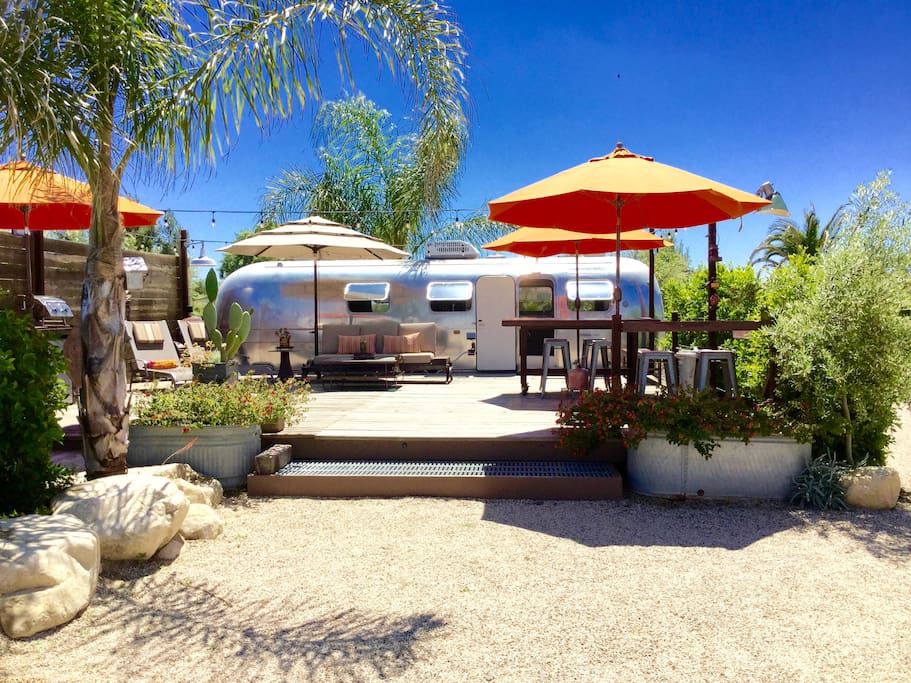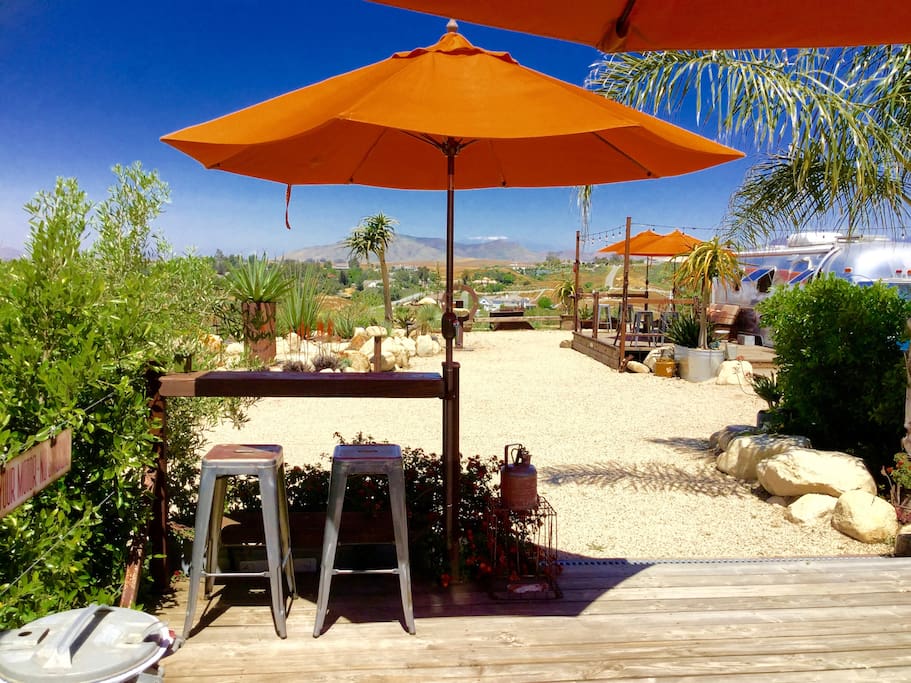 우리의 에어 스트림에 오신 것을 환영합니다. 우리의 재산은 아름 다운 Temecula 밸리 와인 컨트리의 심장을 내려다 보이는 2.5 에이커에 자리 잡고 있습니다. 그것은 믿어지지 않는보기를 가지고있다, 그것은 개인의 개인의 800 평방 미터의 피트 갑판이다, 웅덩이 위의 공유, 공기 조절 장치를 갖추고 & 7 와이너리에 도보 거리에있다! 우리의 손님에 의해 대중적인 요구에 우리는 속성에 우리의 두 번째 airstream를 시작했습니다! 이제 우리는 2! 우리의 다른 항공기 검색을 예약하려면 "TEMECULA WINE COUNTRY AIRSTREAM 73"
Welcome to our Airstream. Our property sits on 2.5 landscaped acres overlooking the Heart of the beautiful Temecula Valley Wine Country.
It has incredible views, it's own private 800sqr ft deck, shared above ground pool, air conditioned & is walking distance to 7 wineries! Do to popular demand by our guests we have launched our second airstream on the property! Now we have 2! TO BOOK OUR OTHER AIRSTREAM SEARCH "TEMECULA WINE COUNTRY AIRSTREAM 73"
숙소
이것은 완전히 개조 된 1974 31 'Airstream입니다. 새로운 실내 장식품, 방석, 커튼, 마루, 부엌 카운터 및 정착물, 점화, 목욕탕 표면 및 정착물. 무성한 이불, 네스프레소 기계, 냉장고, 스토브, 재고 키친 및 wifi. 고급스러운 복고풍 스타일의 모든 현대식 편의 시설. 당신은 당신 자신의 프라이빗 제트기에서 당신처럼 느낄 것입니다! 우산, 맞춤형 1932 년 봄용 스프링 포드 소파, 식탁, 아침 및 칵테일 바, 가스 바베큐, 추가 아웃 도어 냉장고, 쉐 아즈 라운지 및 공용 수영장을 갖춘 자체 데크입니다. 고맙습니다 & 환영 선물로, 생수, 네스프레소 커피, 얼 그레이 & 그린 티 & 1 와인 시음 티켓 2 개를 찾으실 수 있습니다! 6 에이커가 넘는 완전 개인 언덕 꼭대기, 오른쪽 또는 왼쪽에 이웃이 없으며, 언덕의 바닥과 길 건너편에만 있습니다. 가장 아름다운 해돋이, 일몰, 달 상승과 같은 산맥, 포도원 및 과수원의 360o 전망! 2 개의 침대 구성 중 선택 가능 : 2 쌍둥이 또는 1 킹 (사랑스럽게 플레이 펜이라고 함). 임금 구성은 침대를 가로 질러 화장실에 도착해야합니다. 원하는 구성을 예약 할 때 알려주십시오. 이것은 성인 (미안합니다 아기 포함) 및 애완 동물 목록이 없습니다.
This is a completely renovated 1974 31' Airstream. Brand new upholstery, cushions, curtains, flooring, kitchen counter & fixtures, lighting, bathroom surfaces & fixtures. Lush bedding, Nespresso Machine, refrigerator, stove, stocked kitchen & wifi.
All the modern amenities in a luxurious retro style setting.
You will feel like your in your own private jet!
Located on it's own private deck, with umbrella's, custom made 1932 leaf spring Ford couch, rolling dining table, breakfast & cocktail bars, gas barbecue, additional out door refrigerator, chaise lounges & shared pool.
As a thank you & welcome gift, you will find bottled water, Nespresso coffee, Earl Grey & greenTeas & a 2 for 1 wine tasting ticket!
Over 6 acre completely private hill top, no neighbors to the right or left, only at the bottom of the hill & across the street.
360o views of the mountain ranges , vineyards & orchards as wells as the most spectacular sunrises, sunsets, & moon rises!
You have the choice of 2 bed configurations: 2 twins or 1 King (lovingly called the play pen). The king configuration requires crawling across the bed to get to the bathroom. Just let us know when booking which configuration you prefer.
This is an adult only (sorry that includes babies) & no pet listing.
사용가능 공간/시설
When you arrive at the entrance message us. If the gate is closed we will come open it & show you how to open & close it during your stay.
Turn to the right & park at the parking signs.
You are welcome to enjoy all the areas on the same level of the Airstreams!
We do live on the property, so please respect the privacy of the areas on the level of the main house.
---
---
어린이(만 0-12세)에게 안전하거나 적합하지 않음
체크인 가능 시간은 14:00 - 21:00입니다
This is an adult only & no pet listing.
No additional friends or family will be allowed on the property as visitors. No Exceptions.
Wash any dishes, pots & pans you may have used & please put them away.
This is not a party pad, it's a relaxing & cool place to stay while you enjoy Temecula Wine Country, so please no parties.
Please respect the other Airstream guests.
Quiet time is from 11pm to 7am.
No early check-in or late check-out. No Exceptions
Please make sure to turn off your deck market lights when you go to bed, they use a lot of power & they shine into your fellow guests Airstream preventing them from sleeping.
Please enjoy our space to it's fullest & please leave it exactly as you found it.
Please turn off the air conditioner as you come & go.
The Airstream sleeps 2.
You don't have to make the bed or pull the sheets, just leave your used towels in the bathroom.
Please dispose of your trash in the out side trash can on the deck.
Our airstream is an original 1973. Please be very gentle with it. Original parts are very expensive & difficult to find & replace.
Please be especially careful with the rolling doors on all the cabinets & if it says "do not open" please do not open!
Absolutely nothing but toilet paper down the toilet! No feminine products or non-degradable items. Anything but toilet paper clogs the toilet!
No smoking in the airstreams or on the deck. You may smoke anywhere else as long as you dispose of your cigarette butts immediately.
Thank you so much!
Most of all have a wonderful time in Temecula & let us know if you need anything!
기타 알아두어야 할 사항:
숙소에 반려동물이 있습니다 - Dog Lab/German Shepherd mix
일부 공용 공간이 있습니다 - Grounds, Pool, Fire Pit
---
We had such an amazing time at Nicole & Herve's place! They have done such a great job with the airstream and all of the amenities available. Everything looks just like the pictures! The location is also perfect and close to everything you need to have a great time! We will definitely be coming back!!
---
I almost don't want to say how great Nicole & Herve's Airstreams are because then I won't be able to get a reservation to come back. The attention to detail with EVERYTHING is AMAZING and they truly are amazing hosts with an outstanding property. I could have stayed longer and enjoyed morning coffee watching the sunrise and then evenings around the fire table. A truly special experience!!
---
We had a marvelous time. The airstream was perfect, the property was amazing so quiet with gorgeous views! Our host well beyond wonderful! They are friendly and willing to give you tips on Temecula that we took and they were right on everything. There place is gorgeous the landscaping, the deck and the pool are beyond wonderful a great way to start the day and to finish. We recommend there place to everyone that is going to Temecula. We will be back for a longer stay! Mis gracias Nicole and Herve
---
우리는 당신이 가질 수있는 질문에 당신을 확인하고 대답 할 수있을 것입니다.
We will be available to check you in & answer any questions that you may have.
Both of us were in the restaurant industry for 20 years. We love to travel, cook, eat, laugh & enjoy life every day!

Our passions are creating beautiful food, spaces, gardens & objects. We collect antiques from around the world & large industrial rusty metal pieces (for transformation later!).

Because of our previous professions, we are very service oriented & pay attention to every detail. We have learned to travel light, immerse ourselves in the location & culture of our destinations & be courteous & respectful.
언어:
English, Français