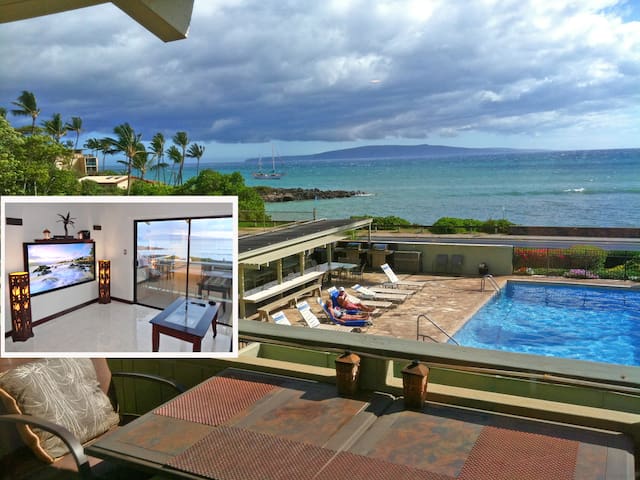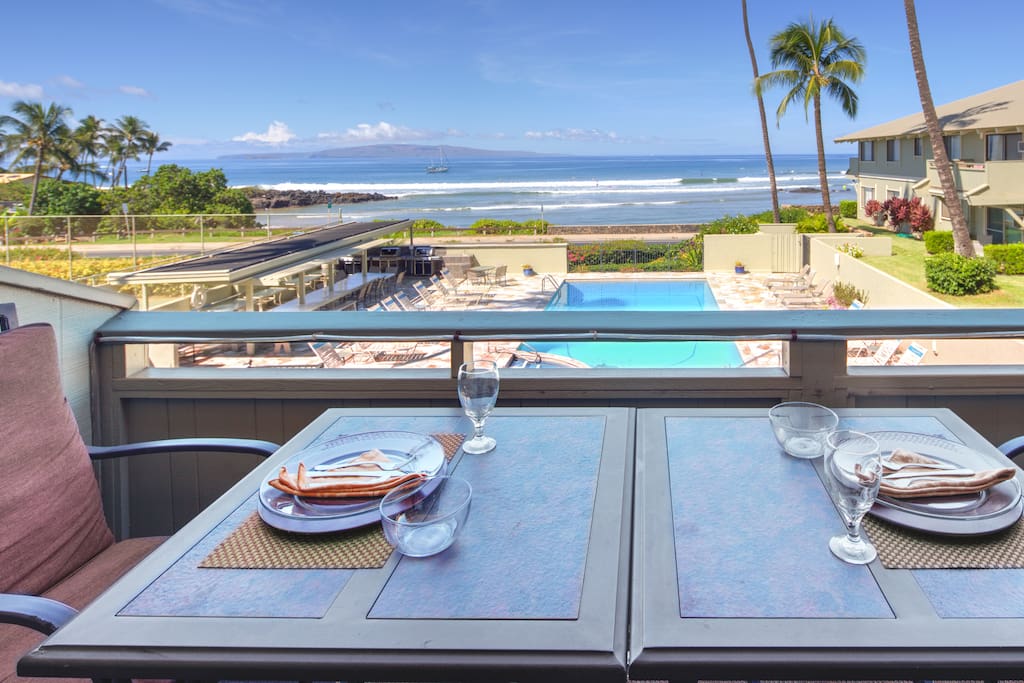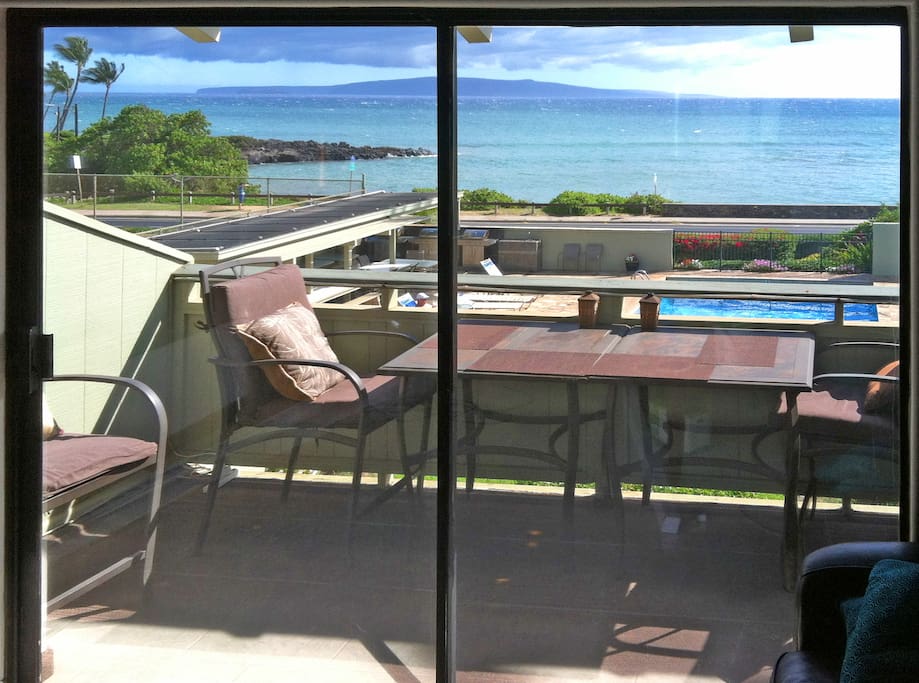 숙소 정보
A SuperHost will provide you this modern-style upgraded condo directly across from Cove Park Beach. Located within The Shores of Maui resort in Kihei on sunny South Maui, this condo is situated right above a sparkling pool with a lanai that boasts gorgeous views of the ocean and sunset skies!!
Your ocean view faces West overlooking out onto the premiere spot in Kihei for surfers and paddleboarders, which serves as a scenic backdrop for a relaxing vacation.
---
이 숙소는 출장용 숙소로서의 편의 시설을 갖추고 있습니다.
---
---
---
언제나 에어비앤비를 통해 대화를 나누세요.
안전한 결제를 위해 에어비앤비 웹사이트나 앱 외부에서 송금하거나 대화를 나누지 마세요.
더 보기
---
숙소
For additional information the host can be reached by TELEPH0NE at 8O8 then 268 then 6633.
This one-bedroom condominium unit at The Shores of Maui resort features high-end amenities and a sleek hotel-style design that feels open, timeless, and peaceful. Featured inside the condo are furnishings such as: Generous granite countertops on the kitchen and bathroom cabinets and bedroom furnishings; Rich mahogany wood cabinetry in bathroom and kitchen featuring bamboo glass inlays lit from inside; Walk-in Shower with spa-like tiling from floor to ceiling; California King-size poster bed with dressers and side tables in the bedroom; Leather couch and rolling coffee table in the living room; Etched hologram-style metal artwork on the walls featuring palm trees and wave themes; Koa wood carved palm tree lamps; Large 70-inch flat screen TV mounted on the living room wall. Stainless steel and black kitchen appliances including refrigerator, microwave, dishwasher, and range with oven and cooktop. Wall-to-wall marble-style tiling throughout the living room and bathroom floors; and rich wood-toned lacquered flooring in the bedroom and loft. All tied together with touches of elegant bright copper on all fixtures. There is an air conditioner in the living room in addition to one in the bedroom, plus ceiling fans throughout every room in the condo including the living room, kitchen, bathroom, and bedroom.
"A Stunning home base for singles or couples relaxing and entertaining during a fun-filled stay on Maui."
사용가능 공간/시설
The common areas at The Shores of Maui include a beautiful tiled pool with sea turtle mosaics on the bottom, a hot tub, large picnic table and barbeque area with 3 gas grills, and a tennis court, all with ocean views. The property faces West so guests can enjoy each Happy Hour from either their private lanai or down in the pool area and watch the magnificent Maui sunset skies. There is free on-site parking in the parking lot which is located on the rear of the property. The parking lot is located directly next to the building for super easy access to the condo unit. No designated parking spot makes it convenient to park wherever the guest chooses each day.
게스트와의 교류
Both check-in and check-out are easy breezy for this condominium.
Prior to guests arriving at the property, a code is provided which allows guests to open the keyless entry front door. There are no keys to pick up or dropoff, so guests are free to simply let themselves in at any time after the agreed-upon check-in time., which is usually 4pm or later unless an earlier time is possible and otherwise arranged in advance.
Check-out is equally effortless: guests are free to simply depart at any time prior to check-out time on their final day. Departing guests are requested to notify the host that they have checked out so the host knows when it is okay the enter the condo and prepare it for future guests.
As a recap, check-in time is normally after 4pm unless an earlier time has been arranged in advance. Check-out time is before 11am unless a later check-out time has been arranged in advance.
지역정보
The Shores of Maui in South Kihei is a gem of a condominium complex offering outstanding views of the ocean including world-famous Molokini Crater and the uninhabited island of Kahoolawe off in the distance. The grounds of the property feature lush tropical plantings and majestic tall swaying palm trees surrounding a two-level, 50-unit condominium complex.
The condominium property is located directly across the main road from Cove Park Beach, which is a calm inlet in the ocean that hosts the premier destination in Kihei for both beginner and skilled surfers and paddleboarders alike. Within a few blocks walking distance is Charley Young Beach - the closest and most scenic section of the string of the three world-famous Kamaole Beaches.
Also located next to Cove Park Beach across the street one block away is Kalama Park, which has jogging trails, barbeque areas, covered pavilions, volleyball courts, tennis courts, basketball courts, baseball fields, outdoor skating rink, and skateboard park. Kalama Park also hosts two annual fairs including Whale Day each February and Earth Day each April. Each of these popular neighborhood fairs features Parades, Educational Booths, Food Vendors, and Craft sales.
Also within short walking distance is local grocery store Foodland plus a wide variety of restaurants and bars and shops to choose from. Additional beaches in Wailea or Makena, and shopping at The Shops of Wailea are just minutes driving distance away. Public transportation also is convenient for riding to Wailea, Makena, or further away to Maalaea, Kahului, or Lahaina
La Perouse Bay, which features an impressive landscape dominated by Maui's 500-year-old lava flow, is also a great drive to take when driving past the resort areas of Wailea and Makena.
지역 주변 정보
To get around the immediate area including the beaches, shops, and restaurants that are close by, walking or renting a bicycle nearby is an easy option. To travel to the main town of Kahului or to the resort areas of Wailea, public transportation is offered at convenient bus stops near the condominium complex. Taxi cabs to and from the airport are very convenient to arrange from the property.
To explore a wider range of destinations on the large island of Maui, a rental car is highly recommended for comfort and convenience.
기타 사항
There is a free wi-fi connection for this condo unit, (subject to rare but possible outages, like any other internet services that can go down...) The name of the wireless network and password are provided on a card inside the unit.
Parking at the condominium complex is also free, and there is no designated parking stall, nor is there a need for a parking permit or placard. You may park in whichever spot you choose each day of your stay. Parking is on a first-come first-serve basis, but parking is plentiful all year round with possibly the exception of the Christmas and New Year's weeks, when there is usually just enough parking for everyone. Even if the rare instance the parking lot is full, there is plenty of parking along nearby streets.
A wide variety of silverware, dishes, plates, cups, glasses, mugs, kitchen utensils, pots, pans, bakeware, cookware, bbq tools, is all provided. Small appliances include coffee maker, blender, toaster, and crockpot. Washer and dryers feature ventless technology so moist air is not emitted into the condo. A full set of towels, hand towels, washcloths, and beach towels are provided as well as a starter supply of shampoo, conditioner, lotion, liquid soaps, toilet paper, paper towels.
This condominium is a non-smoking unit. Please, no smoking inside the condo, on the lanai, or in public areas of the condominium complex. Smoking only permitted in designated areas on the edge of the property.
Another important thing to note is that applying or wearing sunblock or suntan lotions or bronzers or other colorants or bleaches inside the condo or on the lanai is not allowed, as these chemicals tend to stain furniture, sheets, or towels, and creates a film on glass. Guests may be charged for the cost of replacing sheets or towels or furnishings that become stained or bleached due to the wearing or spraying of any such chemicals inside the condo or on the lanai.
---
어린이(만 0-12세)에게 안전하거나 적합하지 않음
체크인 가능 시간은 16:00 - 02:00(다음 날)입니다
This condominium is a no-smoking unit. Please, no smoking inside the condo, on the lanai, or in public areas of the condominium complex.
A full set of House Rules is provided to guests, and there's nothing unusual, just all about enjoying the condo and the property responsibly while also being respectful to the host's amenities as well as other guests of the complex who are (hopefully!) doing the same.
Finally, electric rates are quite expensive in Hawaii, and the condo owner does receive a separate bill for the actual electric, so do please be kind and help keep future rates low by conserving usage of the Air Conditioner whenever the lovely cross breezes make it comfortable for you to do so. :) Aloha!
---
이 호스트는 엄격 환불 정책을 시행합니다
체크인 30일 전까지 예약을 취소하면 전액 환불받을 수 있습니다. 30일이 남지 않은 시점에서 취소하면 1박 요금의 50%와 수수료 전액을 환불받을 수 있습니다.
---
---
Absolutely perfect! private, romantic, right across the street from the beach! the handsome black granite/cherry wood cabinets are not our taste-or at least we never thought so before-but all the rose gold hardware added a soft romantic tommy bahama glow to the perfect location-across the street from the ocean! the extra high four poster king bed was fitted with the softest sheets. old fashion bahamian shutters covered the window. sleeping in that room was a joy-so quiet. as well as showering in the double sized tile shower. the spot was so comfortable-we decided to stay in, hang on the couch in our swimsuits, open the glass door to get the ocean breeze and watch the final game of the NBA finals. we will never forget the memory of watching our warriors take home the trophy in that historical game from thomas's special place. ***truthfully-we will remember with more delight and profound respect for the two sea turtles who swam around us for about fifteen minutes hours before!
---
Thomas' condo was everything we hoped it would be! It was clean, convenient, and incredibly welcoming! Everything is labeled and has instructions, snorkeling gear, beach chairs, and umbrellas were provided, and it is within walking distance to our favorite beach to see turtles, Charlie Young Beach! Kihei was our favorite spot in Maui, and Thomas' condo was the perfect place to call home during our visit!
---
We stayed at Thomas's place for our wedding/honeymoon stay in Maui. The condo was amazing and comfortable and the view was magnificent!! Thomas was an spectacular host and made sure our stay was perfect!! I can't thank him enough for his part in our special day. We will be booking with Thomas on our next trip!
---
We had an amazing week at Thomas's loft condo. He has it set up like a little hotel. Everything you would want or need is there, easy to find, and labeled. We we're excited to stay there just from the pictures, but they really don't do this place justice. They also don't capture all of the little things like how open the communication with Thomas would be, how truly convenient the location is, etc. I can't say enough good things about the owner, the condo itself, and our stay in Maui in general.
---
Thomas was an extraordinary host! He was available from our time of booking all the way until we checked out. The condo itself was exactly as it looked in the pictures - it was actually even better when you're there in person. The view from the patio was stunning and the location was perfect. Highly recommend and we would absolutely stay here again!
---
Thomas is a longtime resident of Maui and enjoys providing guests with comfortable vacation rentals in Kihei on the sunny South Shore of Maui. He is an experienced AirBnB SuperHost who operates several vacation rentals all near the Charley Young Beach area of Kihei, Maui, each of which have earned a lengthy set of positive reviews from pleased guests.
정확한 위치 정보는 예약이 확정된 후 알려드립니다.