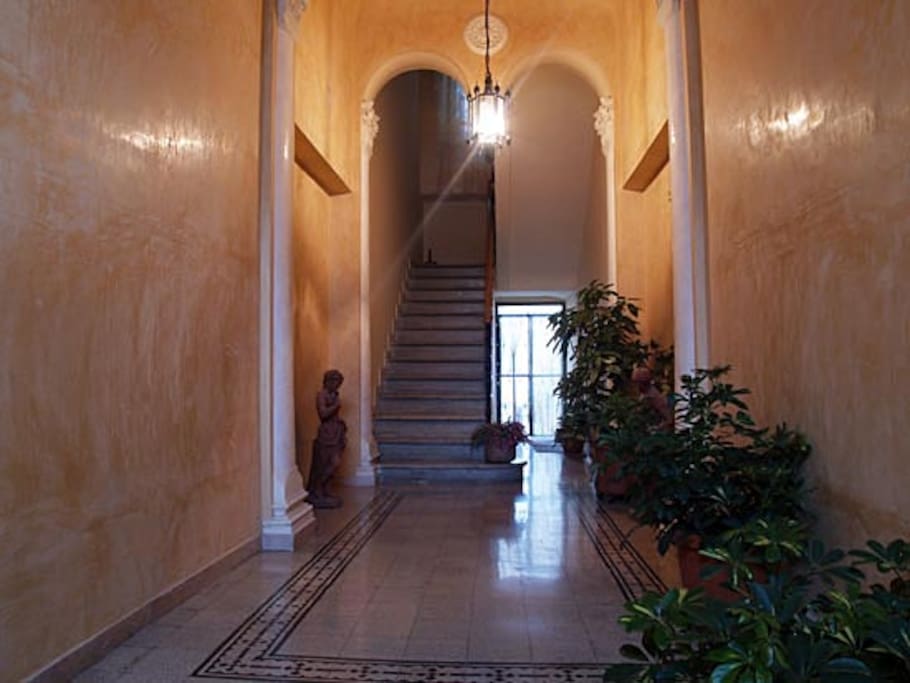 Let me present myself, I am Novelia, I leave in a beautiful medioeval city called Sulmona. The apartment is 110 square meters big,can host 6 persons, it has WI FI, satellite TV. air conditioning, it has all the conforts to make anybody feel at home.
---
Novelia is a supereb host. The apartment has everything you will need, just like your own home. The location is perfect and the apartment is large and modern. You don't need to look any further for a better apartment to rent.
Merav thank you so much for what you wrote about me and my house. You have felt at home and I am sure the wormth of my welcome that comes directly from my HEART, that is very important for me. Really hope to see you again in Sulmona to guide you in discovering more of the city and the area. God Bless you and you family, Novelia.
---
Novelia's home is just as she describes and so much more! It is very clean, and well appointed. She is listed as a Airbnb super host, but she goes beyond that and makes you a feel as though you are a part of her family. We are a family of 5. (My wife and I and 3 kids ages 9, 7,…
---
This apartment was fantastic. Not only was it in the perfect location but it had every amenity we could have needed (air conditioning, towels, washer, drinks, snacks, etc.). Novelia and her husband, Peppe, were incredible hosts. They live right downstairs so they're always aro…
---
We stayed four days in Sulmona and injoyed every minute of this beautiful part of Italy.Novelias place is very central and comfortable and within in easy reach to major attractions. Novelia is a fantastic host and a great ambassador Sulmona.
---
Novelia is a great host. Offering lots of delicious home cooked or baked stuff and is full of ideas, suggestions and invitations. I felt very at home.
---
The "Home of the Heart" truly lives up to its name. Novelia and her husband Pepe are the most gracious and generous hosts I have ever met. They went above and beyond to make my short stay in Sulmona an unforgettable experience. Sulmona is a beautiful gem in the heart of Abruzz…
Dear Melanie, thank you so much for the nice things you have said about me, Peppe and Sulmona. So happy that we could meet and Airbnb has played a big part. You know how important my guests are and I love to make them part of my family. As I wrote it was a shame to see you go so soon. But now that you know that there is me and Peppe waiting for you with open arms I am sure you will come back. All the best for your future, A big embrace like all Abruzzo, Novelia, Peppe
---
Excellent apartment close to centre of town. Novelia is a very organized welcoming host who succeeds in creating a relaxed, comfortable, spacious and attractive apartment. She lives nearby in case of any queries or concerns.
Hi Cheryl I am happy you had a positive staying in my house, it coudn't have been any other way, as I told you the RESPECT for my guests is sacred, like the food , the wine, drinks, home made cake, prepared to give the best welcome in many cases the welcome starts at the train station , all of this and much more makes THE HOUSE OF THE HEART a unique experience, like your husband said HOME AWAY FROM HOME. Hope to see you again all the best, Novelia.
---
I interact a lot, I am Always present if they anything, I make them feel sicure, if they need anything they just have to call and I fly to them.
I am a very outgoing person, I like to meet people and show them the area where I live. I speak english well, since Canada as been part of my life for a few years when I was very young. All I can say is that if you come over to me you will never want to go away. I forgot to wri…
언어:
English, Italiano