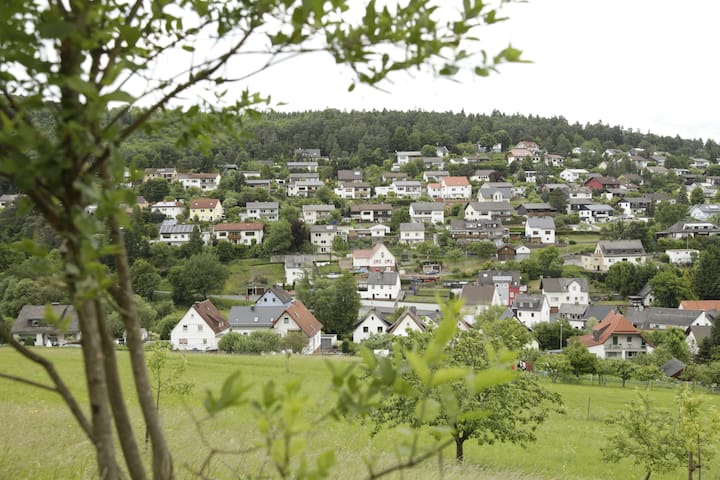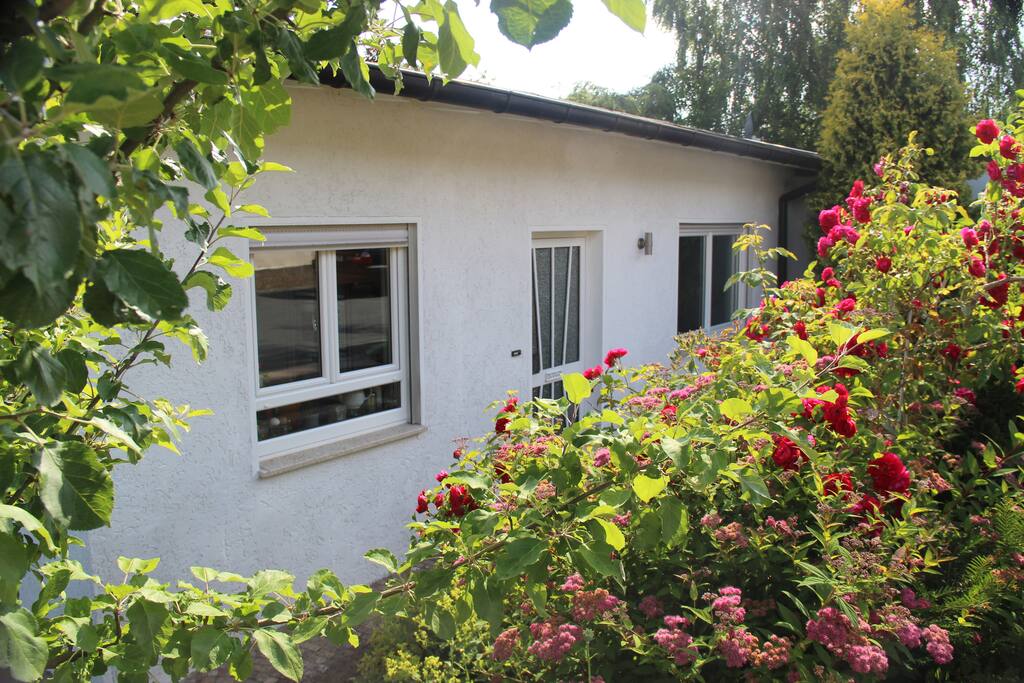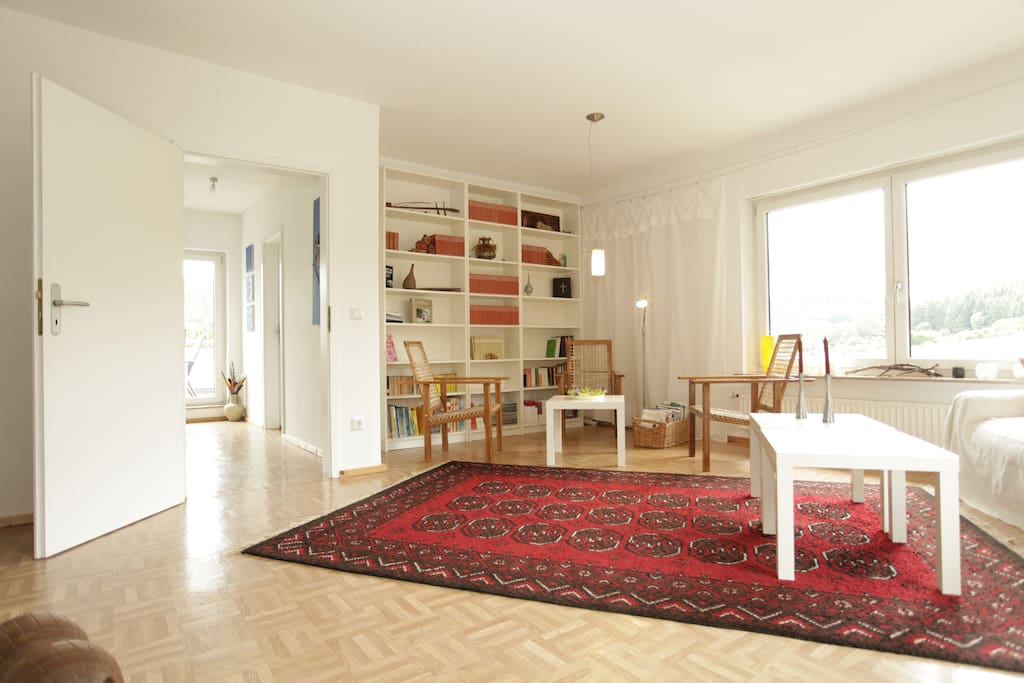 Holiday home - perfect for families
대가족 또는 친구 그룹을위한 완벽한 시설의 휴가를위한 집 - 침실 5 개, 최대 12 명, 각각 12 명 이상. 쉽게 접근 할 수 있습니다. 조용한, 자연, 숲, 등산로. 이완은 보장됩니다. 마을에서 : 새 공원과 일일 수요를위한 상점. 등급 : 5 *****
Perfectly equipped holiday home for large families or groups of friends - 5 bedrooms up to 12 respectively 15 or more people. Easy to reach. Quiet, nature, forest, hiking trails. Relaxation guaranteed. In the village: A bird park and shops for daily needs. Rating: 5 *****
숙소
임대료는 Herborn Uckersdorf의 정원이있는 햇볕이 잘 드는 곳에 완전히 갖춰져있는 단독 주택입니다. 대형 테라스, 욕실 2 개, 무선 인터넷 (WiFi 64.000 DSL) 및 Herborner 조류 공원 근접, 동굴 "Herbstlabyrinth"(공용으로 개방) 및 구시 가지와 숲 근처 및 Herborn의 탁월한 접근성은이 주요 기능입니다 휴가 속성. 또한 휴식을위한 이상적인 비즈니스 기회를 제공합니다. 성 및 궁전, 레크리에이션 지역 및 산책로 "Rothaarsteig"및 "Westerwaldsteig"가있는 중세 도시는 집의 목가적 인 위치를 기록합니다. Uckersdorf에가는 가장 좋은 방법은 자동차입니다. 인근에서 A45가 실행됩니다. 지겐 (Siegen)과 기센 (Giessen) 사이에는 고속도로 출구가 두 곳 있습니다. Herborn-West 출구에서 5 분 안에 호텔에 도착합니다. 이 유리한 지위에도 불구하고 고속도로를 듣거나 보지 못합니다. 대중 교통 수단을 이용하면 예를 들어, Herborn의 버스로 기차역에서 Uckersdorf를 이용할 수도 있습니다. 일정은 주말에 흘러갑니다. 여름에는 소위 "블루 (SENSITIVE CONTENTS HIDDEN)"이 자전거로 자전거 타는 사람들을 현지 관광 명소로 안내합니다. (그런데 겨울철 여행객들에게는 주목해야 할 거리가 있습니다 : 때로는 약간의 리프트가 작동하는 경우도 있습니다.) 휴일 가정은 특히 (SENSITIVE CONTENTS HIDDEN) - 메인 지역과 쾰른 지역에서 휴식을 찾는 사람들에게 적합합니다. 1 시간 이내에 예를 들어 프랑크푸르트 대도시에서 "태양의 집"에 도착합니다. 주말의 짧은 여행은 작업 일만큼이나 가치가 있습니다. 예를 들어 개념을 연구하거나 프리젠 테이션을 준비하는 등 평온함과 고립에서 일하기를 원한다면 사무실에서 멀리 떨어져 보낼 수 있습니다. 무선 액세스 (WiFi; DSL 64.000)는 가상 세계와의 연결을 보장합니다. 집에 전화가있어 국내 유선 전화에 무료로 사용할 수 있습니다. 마을 자체에는 훌륭한 인프라가 있습니다. 중형 슈퍼마켓, 제과점, 미용실, ATM이있는 은행, 교회, 운동장 및 조류 공원. 근처에는 야생 공원, 사슴 공원, 현대적인 수영장 및 기타 여러 곳이 있습니다. 헤 보른 (Herborn)의 다양한 레스토랑은 매우 다양합니다. 집은 두 번째 주택 소유주로서 점령되었으므로 범위를 갖추고 있습니다. 이름을 짓기 위해 주로 어린이를위한 책이 많이 있습니다. 무엇보다 비가 오더라도 가족은 희생을 당한다. 침대 상황은 다음과 같습니다 : 마스터 침실 (더블 침대 2x1, 80m), 킹 사이즈 침대 (2x1, 40m)가있는 테라스 룸 및 싱글 침대가있는 2 개의 객실이 있습니다. 그 아래에 일반 매트리스를 뺄 수 있습니다. 또한 2 개의 킹 사이즈 매트리스가있는 방이 있습니다 - 그래서 2 x 1.40 mx 2.00 m. (이론적으로, 당신은 거실에 싱글 매트리스를 넣고 거실을 침실로 바꿀 수 있습니다.) 그것은 적어도 각각 2 개의 침대가있는 5 개의 방, 침대 소파가있는 2 개의 방 그리고 여기에자는 총 16 명을 만듭니다. 심지어 제공된 매트리스가 사용되는 경우 19도 가능합니다. 8 명이 식사 테이블을 2 개의 연장 잎으로 늘리면 부엌 테이블에 충분한 공간이 있습니다. 거실과 화재 장소가있는 방에는 또 다른 두 명이 잠을 잘 수있는 소파 베드가 있습니다. 추가 매트리스가 집안에 있으며 손님도 가져올 수 있습니다. 우리는이 지역의 다음 레스토랑을 추천합니다 : Gutshof Herborn (전통 레스토랑, 자체 양조장, 대형 놀이터, 알맞은 가격) - Austr. 81a, Herborn; Tassili Herborn (멕시코 레스토랑, 저렴한 식사 제공) - Konrad-Adenauer-Str. 1a, Herborn; Gyros Grill (그리스 식당, 확장 된 식당이있는 패스트 푸드, 가격은 괜찮음) - Hintersand 1, Herborn; Hohe Schule (독일 식당, 아름다운 야외 공간, Herborn 최고의 식당, 높은 가격) - Schulhofstraße 3-5, Herborn
To rent is a detached family house which is fully equipped and in a sunny location with a garden in Herborn Uckersdorf. Large terraces, two bathrooms, wireless internet access (WiFi; 64.000 DSL) and proximity to the Herborner bird park, the cave "Herbstlabyrinth" (open to public) and the old town and near the forest and Herborn's excellent accessibility are key features of this vacation property. It also offers ideal business opportunities for relaxation. Medieval towns with castles and palaces, recreational areas and access to trails "Rothaarsteig" and "Westerwaldsteig" document the idyllic location of the house.
The best way to get to Uckersdorf is by car. Nearby runs the A45. Between Siegen and Giessen, there are two motorway exits. From the exit Herborn-West you reach the property within five minutes. Despite this favorable position you don't hear or see the highway. With public transport Uckersdorf is also available, for example, from the railway station by bus in Herborn. The schedule is thinned out at weekends. In summer, the so-called "Blue Line" takes cyclists with their bikes to local attractions. (And by the way it should be noted for winter travellers: In the distance there are some lifts that are sometimes operated.)
The holiday home seems particularly suitable for those seeking relaxation from the Rhine-Main area and the Cologne area. Within one hour you will reach your "House of the Sun", for example, from the Frankfurt metropolitan area. The short trip over the weekend is just as valuable as some work days, you can spend away from the office, if one wants to work in peace and seclusion, for example, to work on concepts or prepare presentations. A wireless access (WiFi; DSL 64.000) ensures the connection with the virtual world. A telephone is in the house and can be used free of charge for domestic landline calls.
The village itself has a good infrastructure: medium-sized supermarket, bakery, hairdresser, bank with ATM, church, playground and bird park.
Nearby are a wildlife park, a deer park, a modern swimming pool and many others. The range of restaurants in Herborn itself is quite diverse.
Since the house is as a second home owner-occupied, it is equipped extent. To name is primarily a large stock of books especially for children. Above all, families come at their expense even if it rains.
The bed situation is as follows: There is a master bedroom (double bed 2x1, 80m), a terrace room with king size bed (2x1, 40m) and two rooms with single beds, under which one can draw forth a normal mattress. Furthermore, there is a room with two king size mattresses - so 2 x 1.40 m x 2.00 m. (Theoretically, you can put the single mattresses in the living room and so transform the living room into a bedroom.) That makes five rooms with at least two beds each, two more rooms with bed sofas and a total of 16 people sleeping here, possibly even 19 when provided mattresses are used. For eight people - if it may be tight even ten - is enough space at the kitchen table, if one extends the dining table by two extension leaves. The living room and the room with the fire place also have a sofa bed where another two people can sleep each. Additional mattresses are in the house and could be brought by the guests as well.
We recommend the following restaurants in the area: Gutshof Herborn (traditional restaurant, own brewery, large playground, reasonable prices) - Austr. 81a, Herborn; Tassili Herborn (Mexican restaurant, affordable dining offer) - Konrad-Adenauer-Str. 1a, Herborn; Gyros Grill (Greek restaurant, fast food with an extended dining room, priced okay) - Hintersand 1, Herborn; Hohe Schule (German restaurant, lovely outdoor area, the best restaurant in Herborn, higher prices) - Schulhofstraße 3-5, Herborn
사용가능 공간/시설
집 전체가 손님 처분입니다! Wi-Fi, 세탁기, 정원, 테라스, 발코니, 책상 ... 우리 집은 손님 전용 집입니다!
The entire house is at the guests' disposal! Wi-Fi, washing machine, garden, terraces, balconies, desk ... Our house is the house for the guests only!
게스트와의 교류
그 집은 우리 집이었고, 손님이 없을 때 우리에 의해 계속 사용될 것입니다. 손님은 집 전체를 빌려서 일반적으로 만나지 않습니다. 우리 친구 인 실비아는 열쇠가 집에 보관되지 않은 경우 손님을 집안에 들여 보낼 수 있습니다. 손님들은 자유가 많지만 필요할 때 언제든지 연락 할 수있는 사람 (실비아)이 있습니다. 소유자 (Gerrit)는 전화 또는 airbnb를 통해 쉽게 접근 할 수 있습니다.
The house was our family home and will continue to be used by us when there are no guests. Guests rent the entire house, so we normally do not meet. Our friend Silvia lets guests into the house - if the key is not stored at the house. The guests have a lot of freedom - but always a contact person (Silvia) on the spot when it is needed. The owner (Gerrit) is easily accessible by telephone or via airbnb.
기타 사항
의사가 인근 마을 Burg에있다 : Drs Carina와 Werner Koch, Burger Straße 50 - Herborn-Burg
A doctor is in the neighboring village Burg: Drs Carina and Werner Koch, Burger Straße 50 - Herborn-Burg
---
---
---
---
2번 침실
싱글 베드 1개, 매트리스(요와 이불) 1개
4번 침실
싱글 베드 1개, 매트리스(요와 이불) 1개, 유아용 침대 1개
5번 침실
더블 베드 1개, 매트리스(요와 이불) 2개
공용 공간
소파 베드 4개, 매트리스(요와 이불) 3개
---
You have to use the house as intended as a holiday home. This includes cleanliness and respect for the property of others as well as it excludes commercial use, sublease, transfer of property to another, or the like, or the accommodation of third parties or celebrating parties. As we charge only 50 Euros for cleaning, we ask you that you leave the house tidy with all used dishes cleaned. But: Additional cleaning costs are only charged if higher cleaning needs are given - as arises when a home is not used as intended or is not left as tidy as usual, as it was on your arrival. The house is a non-smoking house! Smoking is only allowed outside in the garden or on the terrace - but not inside the house!
We will provide you with bedsheets. All mattresses are covered with bedsheets on the day of your arrival. We would like to ask you to bring your own duvets covers, pillow cases and towels. (Sheets can also be hired for 9,00 Euros per person. Our friend will provide this for you. Simply let us know in advance if and for how many persons you need duvets cover, pillow cases and towels. You pay Silvia in cash on the day of arrival.) The blankets and pillows, of course, are here.
On the subject of WiFi (W-LAN): We provide a WiFi access for lawful use only. Illegal downloads of all kinds as well as the downloading of pornographic material or the use of the internet access for other illegal or harmful activities lead to unlimited liability for any damages or upcoming costs. Investigating authorities will be given all contact details, usage data and connection data of the tenant who bears the responsibility for all guests as well.
Due to the terms of AIRBNB the following notice has to be given:
I hereby inform you about the fact that you as guest are responsible for any damage or losses. Through your booking, a contract is created. There it is included that you, for any damage or loss to my property caused by you or other guests or invitees, will compensate me.
---
---
---
---
Das Haus in Uckersdorf haben wir ursprünglich als vierköpfige Familie bewohnt. Derzeit lebe ich in Frankfurt oder bin auf Reisen - wenn der Beruf es zulässt. Wenn Sie gerne unser Haus mieten wollen, nehmen Sie unkompliziert mit mir Kontakt auf - am liebsten per Mail. Ich bin naturverbunden und umweltbewusst. So mieten Sie beispielsweise ein Haus mit Solarkollektoren auf dem Dach, die das Warmwasser aufbereiten und einem Kamin, der im Winter die konventionelle Heizung unterstützt. Und: Eine große Zisterne speichert Regenwasser, das unser Hauswasserwerk in die Toiletten pumpt.

The house in Uckersdorf was originally used by our family of four. Right now I live in Frankfurt or I am travelling around if my job allows me to do so. If you would like to rent the house, make easy contact with me - preferably by e-mail. I am close to nature and environment friendly. You hire a house with solar panels on the roof, which prepare the hot water and a fireplace, which supports the conventional heating in winter. And: A large cistern collects rain water for the toilets.
언어:
Deutsch, English