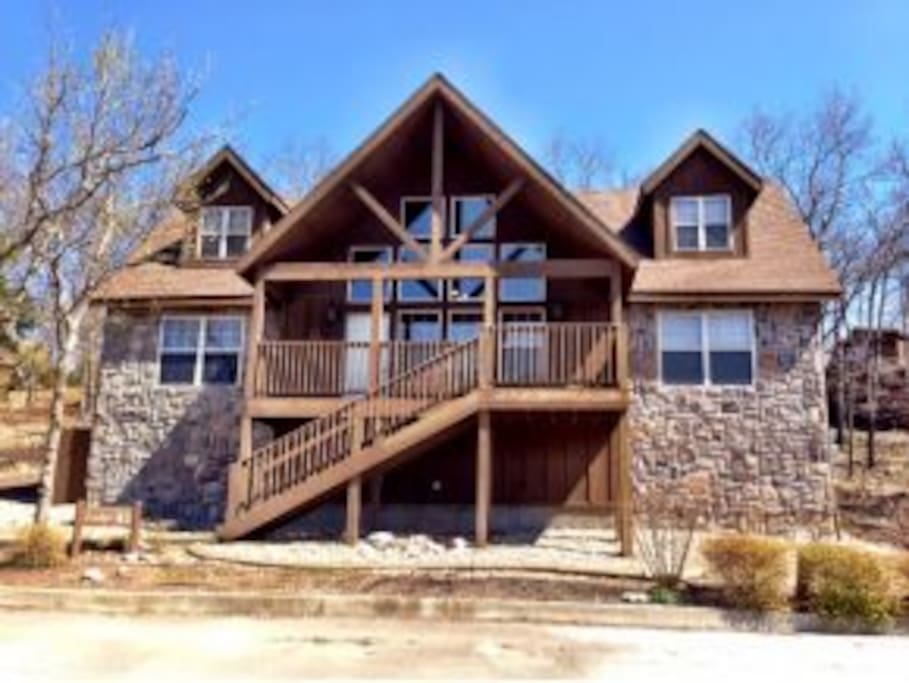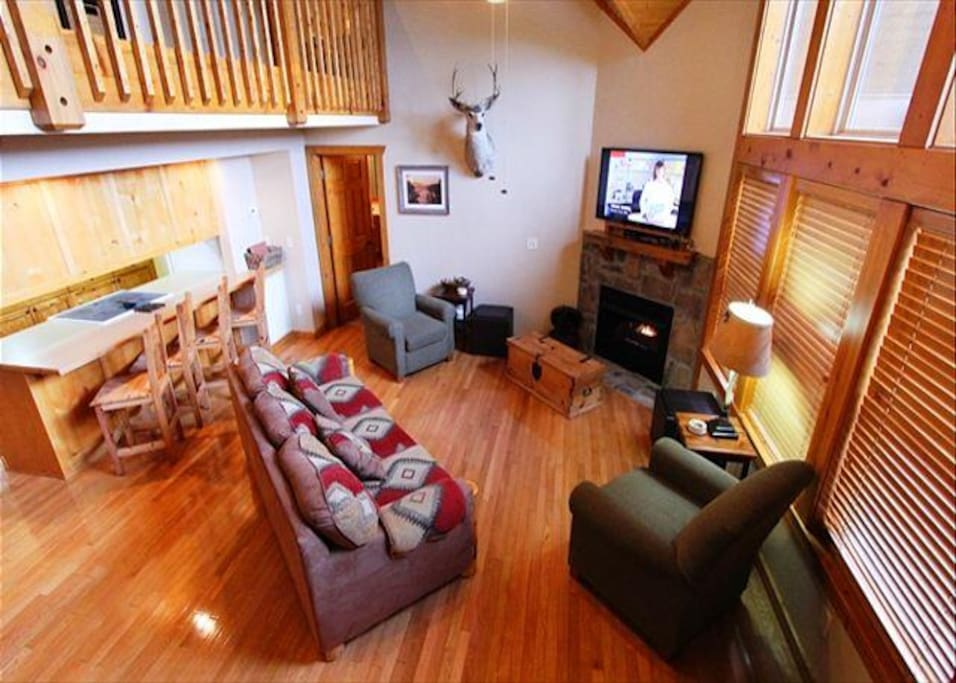 The perfect location and lodging for a nice getaway. Directly across from Silver Dollar City, this gorgeous chalet will be yours with amusement park fun at your fingertips! At the end of the day, escape home to the peace & tranquility of the chalet.
숙소
4 master bedroom suites, each with their own king size bed and bathroom with jacuzzi tub.
1 queen-size sofa/bed.
Sleeps 10 comfortably.
The house is a 5 minute drive to Silver Dollar City. On the other hand, the house is located deep in a picturesque gated community and secluded enough that you can enjoy nature and quiet.
사용가능 공간/시설
Despite having the feel of being in the heart of nature, the house has all the modern amenities such as:
- big screen TV in the family room
- TVs in each bedroom
- Wifi
- a full equipped kitchen
- washer/dryer
- a screened in porch
- charcoal grill right outside the porch
You will have access to:
- the swimming pool which is like a minute walk from the house
- half basket-ball court
- sand volleyball
- tennis
- golf, clubhouse and restaurant
- lots of kids playground spread across the community
And, of course, nature and lots of walking trails in the picturesque community
---
이 숙소는 출장용 숙소로서의 편의 시설을 갖추고 있습니다.
---
---
No Pets Allowed
Even though we love our furry friends, we have a "No pets allowed" policy at this house.
No Smoking Allowed
Also, No Smoking Allowed in and around the house.
Heck, we even have Smokey Bear around the house to remind you that "Only you can prevent wildfires".
Noise
Our house is located in a family-friendly community. Please be mindful of the neighbors when it comes to noise. No rambunctious parties, please :)
Parking
There is ample parking space right by the steps to the house. You could also park on the side of the street. But please be mindful of the neighbors.
---
It was a great stay! We loved being so close to SDC. Big bedrooms and bathrooms for each guest and everything was clean. We had some first time Airbnb guests with us and they all commented on how nice the place was and how great it was vs a regular hotel for visiting at night when the kids went to bed. Thank you!!!
---
We just finished a wonderful Labor Day weekend at Lodge 83. 4 adults and 4 kids. We all had plenty of space and everything we needed. Easy to find, close to shopping and restaurants. Beautiful, clean, quiet neighborhood. It was the perfect family getaway. We hope to back soon. Highly highly recommend.
---
can fit 10 people in the beds, and then still have additional places to sleep; if kids are young, they can sleep in the large closets! Lots of hot water for each of 4 bedroom/bathrooms and 4 Jacuzzi's; impressive; be prepared to climb steps including packing and unpacking. maybe 10 minute walk to the pool; used it often. plenty of parking; controlled access. close to Silver Dollar City if you plan to go there often. free Wi-Fi
---
This is a wonderful place to stay for large gatherings! We had 8 adults and 4 children and had no problems accommodating everyone!. 4 master suites is amazing! No fighting for bathrooms and we never had a hot water problem with all these people!. Very close to the pool and playground so we were able to walk. The kitchen has almost everything you could possibly need. We were very pleased and will definitely stay again.
---