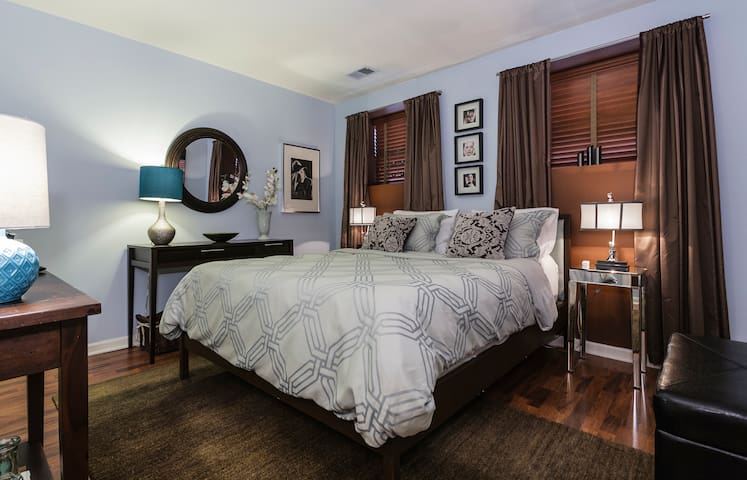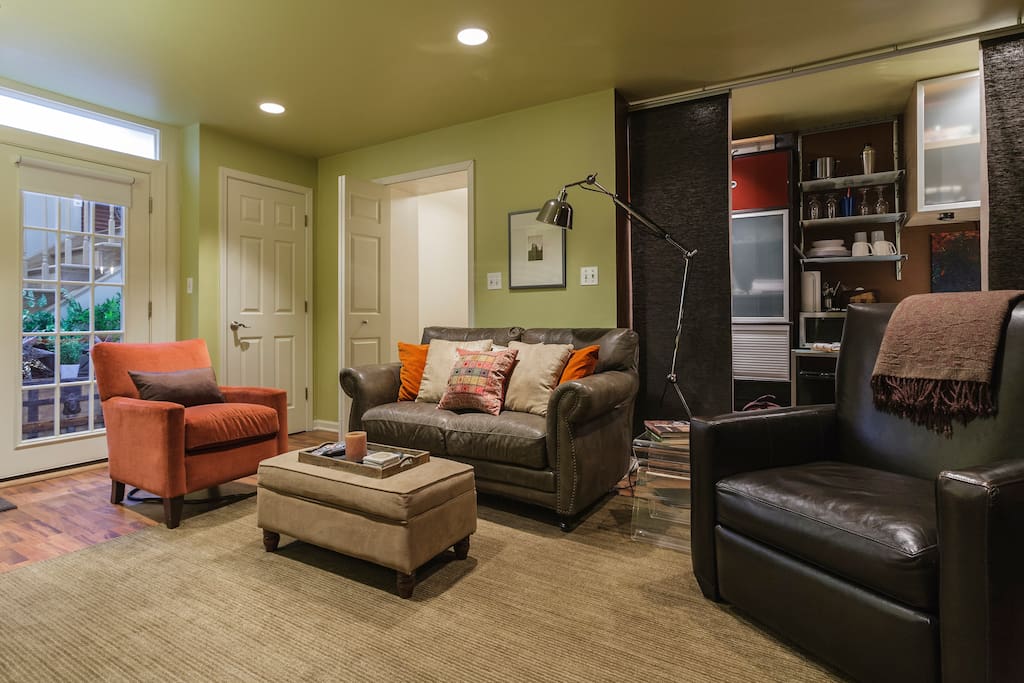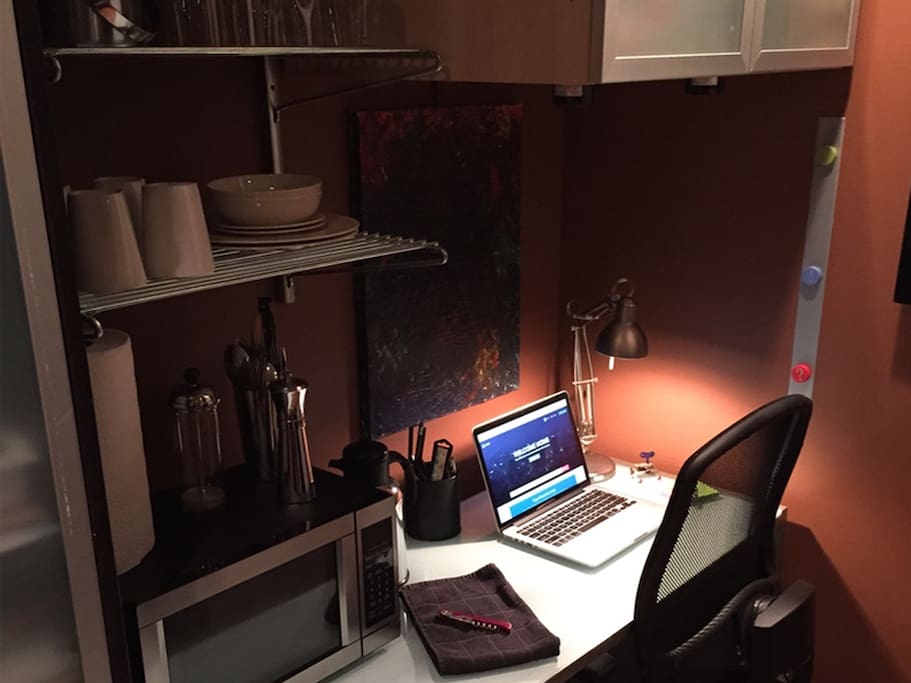 시카고의 매력적인 엣지 워터 (Edgewater) 지역에 위치한 자체 취사가있는 스위트 룸입니다. 대중 교통 근처에 매우 편리하게 위치해 있습니다. Loyola Univ., 상점 및 레스토랑까지의 단계. 미시간 호수까지 4 블럭 거리에 따라 20-40 분 거리. 리글리까지 20 분. 최고의 환대! 편안하(URL HIDDEN)명을 편안하게 수용 할 수 있습니다. '+ 자세히'를 클릭하여 아래 섹션에서 자세한 정보를 읽으십시오. 참고 : 1/1/18 이후의 날짜는 문의하십시오.
A self-sufficient Suite with it's own private entrance in Chicago's charming Edgewater neighborhood. Very conveniently located near public trans. Steps to Loyola Univ., shops & restaurants. 4 blks to Lake Mich. 20-40 mins to Downtown depending on time of day and mode of transport. 20 mins to Wrigley. Top-notch hospitality! We can accommodate 2 comfortably/4 cozily. Be sure to read our detailed information in the sections below by clicking "+more". NOTE: For dates after 1/1/18 please inquire.
숙소
가드 레벨 스위트는 에지 워터 (Edgewater) 지역의 조용한 길가에있는 2 층 콘도의 하위 층 (지하층)입니다. 그 자체가 건물은 100 살 이상이다. 가보 침실의 프리미엄 메모리 폼 퀸 침대에서 멋진 밤을 보내십시오. 평범한 크기의 욕조가 포함 된 전체 욕실에서 수압을 높이며 길고 뜨거운 샤워를 즐기십시오. 담가두면 좋습니다. 덴 지역은 우리 위대한 도시의 많은 하이라이트를 탐험 하루 종일 후 풀리고 작은 TV를 잡기에 완벽합니다.
The garden level Suite is the lower level (sub-basement) of a 2 story condo on a quiet side street in the Edgewater neighborhood. The building itself is over 100 years old and has been gut rehabbed. Get a great night's sleep on a premium memory foam queen bed in the Garbo bedroom. Enjoy a long, hot shower with great water pressure in the full bathroom that also includes a regular sized tub—should you fancy a soak. The den area is perfect for unwinding and catching a little tv after a full day of exploring the many highlights of our great city.
사용가능 공간/시설
손님은 거리 수준의 건물 로비에 입장하고 스위트의 자체 입구까지 짧은 계단 (6 단계)을 걸어 내려갑니다. 손님은 전체 하위 수준에 액세스 할 수 있습니다. 명백한 "off limit"영역이 있으며, 프랑스 문을 넘은 윗층에는 접근 할 수 없습니다.
Guests enter the building's foyer at street level and walk down a short flight of stairs (six steps) to the Suite's own private entrance. Guests will have access to the entire lower level. There are obvious "off limit" areas, as well as no access to the upper floor beyond the french doors.
기타 사항
손님 편의 시설 미니 냉장고, 전자 렌지, 샘물과 커피 메이커 (완비 된 부엌이 없습니다)가 포함되어 있습니다. 운동 할 필요가 있니? 타원형 기계, 스위스 공, 무게 및 거품 롤이 귀하를 위해 있습니다. 목욕 및 바디 제품, 차와 커피 등의 혜택을 누리십시오. 가능할 때마다 현지 제품을 강조 표시합니다 (특별한 대접을 찾으십시오). 푹신한 수건과 고급 린넨도 있습니다. 별도의 침대를 원하는 다른 한 사람의 경우 2 인 이상 - 25 달러의 추가 침대가 필요한 경우 트윈 또는 퀸 에어로 우드 객실이 제공됩니다. 스위트 룸은 전적으로 어린이 보호 시설을 갖추고 있지는 않지만, 소규모 가족을 수용 할 것이며 12 세 미만의 어린이에게는 작은 보증금을 부과 할 수 있습니다. 스위트의 과다한 레스토랑만으로는 충분하지 않은 경우 개인 또는 가족 스타일의 식사 옵션을 제공하기도합니다. I (Tom)은 시카고 최고의 켄달 대학 (Kendall College)에서 훈련받은 개인 주방장입니다. 나는 우리 자신의 상급 식당에서 주최되는 최대 8 명까지 가족 스타일의 잔치를 제공 할 수 있으며, 스위트 룸을 내려다 보는 2 인용 친밀한 미식가 식사를 제공 할 수 있습니다. 도시의 북서쪽으로 75 마일 떨어진 곳에 위치한 우리 농장의 요리 재료의 주요 특징. 샘플 메뉴 및 보충 가격에 대해 문의하십시오.
Guests amenities include a mini fridge, microwave, spring water and coffee maker (there is no full kitchen). Need to exercise? An elliptical machine, swiss ball, weights and foam roll are there for your use. Enjoy such perks as bath and body products, teas and coffee. We'll highlight local products whenever possible (look out for a special treat). There are also nice fluffy towels and fine linens.
A twin or queen Aerobed will be provided should the reservation be for more than 2 persons- a $25 supplement if just one other person wanting a separate bed. While the Suite is not entirely childproof, we will host small families and may impose a small security deposit for children under 12.
If the plethora of restaurants just feet from the Suite aren't enough, we even offer private or family-style dining options. I (Tom) am a trained personal chef from the top-ranked Kendall College in Chicago. I can host a family-style feast for up to 8 hosted in our own upper level dining room, or an intimate gourmet meal for two down the the Suite. Highlights of my cooking feature ingredients from our farm located 75 miles northwest of the city. Please inquire for sample menus and supplemental pricing.
---
---
추가 인원 요금 ₩28219 / 박 (2명 초과 시)
안전한 결제를 위해 에어비앤비 웹사이트나 앱 외부에서 송금하거나 대화를 나누지 마세요.
---
체크인 가능 시간은 13:00 - 20:00입니다
No smoking anywhere. Check-in times: we are flexible, but we make special arrangements to greet you in person upon arrival. We all agree that effective communication and commitment is a golden rule. As any good fellow Airbnb-er would do, please do your best to leave the Suite the way you found it. If your trash or recycling is full, please dispose in the dumpsters located in the alley directly west of the building. The toilet is low flow, so be careful what you flush. We are hosting you as our guest. No other parties or persons are allowed access to our home or building without prior notice from you to us and written authorization from us, in return, as hosts. Please do not loiter in the entry foyer, on the front steps or in the parkway. This is a quiet, residential building, so please respect our neighbors and their privacy, security and serenity. All parties agree that there is no tenant/landlord relationship, lease, or occupancy agreement at anytime before, during, or after we host you. We are hosting you "at will" in our own home in sole furtherance and affirmation of our "calling" for practicing hospitality and you are solely, and, most importantly, our cherished guest. Thank you in advance for your consideration!
기타 알아두어야 할 사항:
숙소에 반려동물이 있습니다 - 2 large older labs that remain upstairs
편의시설 제한 - no full kitchen
---
---
---
My fiancee and I were in Chicago for 4 days and had an amazing time staying in Edgewater! Tom and Drew's place was wonderful. The place was very clean and stylish and had tons of touches that made our stay relaxing. The bedroom was beautiful and the bed was super comfy. Check-in was a breeze and we had great communication before, during, and after our stay. The location is great only a few blocks away to the Red Line subway stop, we rode around all weekend and it was a breeze. The area has great restaurants and shops nearby and we found a great chinese place a few blocks away on our first night. The apartment was stocked with snacks, drinks, coffee, and cold filtered water which was much appreciated. Tom and Drew are Air Bnb all stars and were wonderful hosts, we will definitely be booking here next time we come to Chicago.
---
This was our first Airbnb experience and it was absolutely perfect! This is a very clean, stylish place to stay with everything one needs. Tom was so thoughtful and added extra touches to make us feel welcome and comfortable. The furniture was cozy and functional and the bedroom was extremely comfortable and warm. The shower head was nice and big and we had endless hot water to shower and take baths. The location was perfect for us! It's located between two "L" train stations and was in walking distance (0.3mi). Surrounded by some of our favorite places to eat and (with the train) you could get anywhere in the city. The commute was about 40 mins to downtown but it didn't feel like it once you got moving. The neighborhood felt safe and were able to walk to several places to eat. We will definitely be staying here again in the future!
---
우리는 사회적이지만 동시에 사적인 사람들입니다. 우리는 손님이 원하는 상호 작용 양을 측정하고 유연하게 조정할 것입니다. 우리 중 하나 또는 둘 모두가 모든 시간 또는 일부 시간 동안있을 수 있습니다. 우리는 당신을 맞이하고 식사, 시력 보호, 활동 등을 제안하기 위해 체크인 할 때 거기에있게 될 것입니다. 체크 아웃은 간편한 출발입니다.
We are social but at the same time private people. We will gauge and be flexible regarding the amount of interaction our guests desire. One or both of us may be there all of the time or some of the time. We will be there upon check-in to greet you and give you any recommendations on dining, sight seeing, activities, etc. Check-out is easy for a hassle-free departure.
My partner Drew have been hosting on Airbnb for over 2 1/2 years. Our Chicago condo is located in the Edgewater neighborhood on the far north side near Lake Michigan and Loyola University. Tom just started hosting at a 2nd property near Rockford in Cherry Valley, IL. We spend most of our time at our 5 acre mini-farm complete with an organic garden and orchard nestled in the countryside about 20 minutes from the Cherry Valley property. We hope to list accommodations at our country home soon. We are both professionals. I (Tom) am a freelance art director and an aspiring culinary trained chef and Drew is an attorney. We enjoy travel and good food. We are adventurous and love to explore the arts, cultural and historical attractions wherever we go. Every once in a while we just like a "chill" beach vacation. We are dog lovers and have an old lovable lab named Macie.
언어:
Español