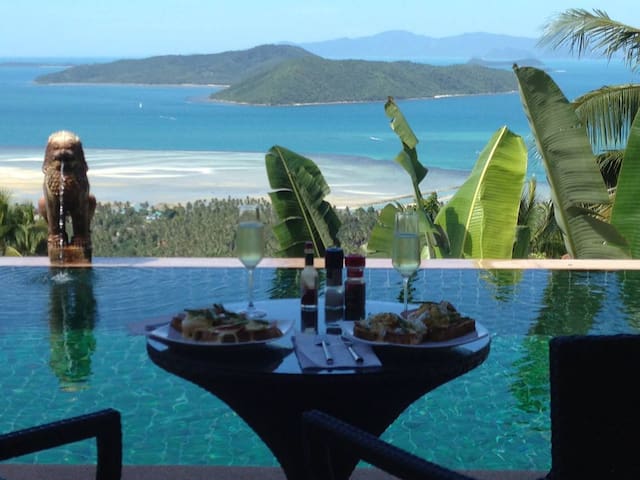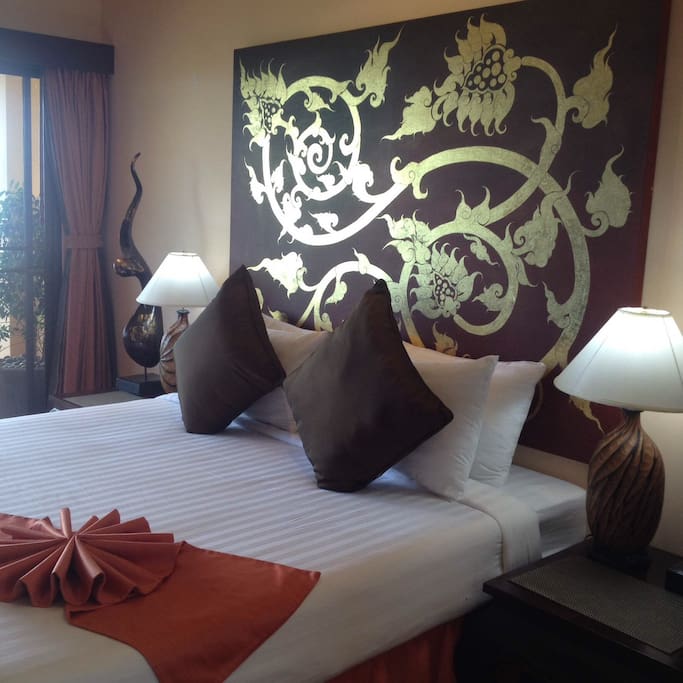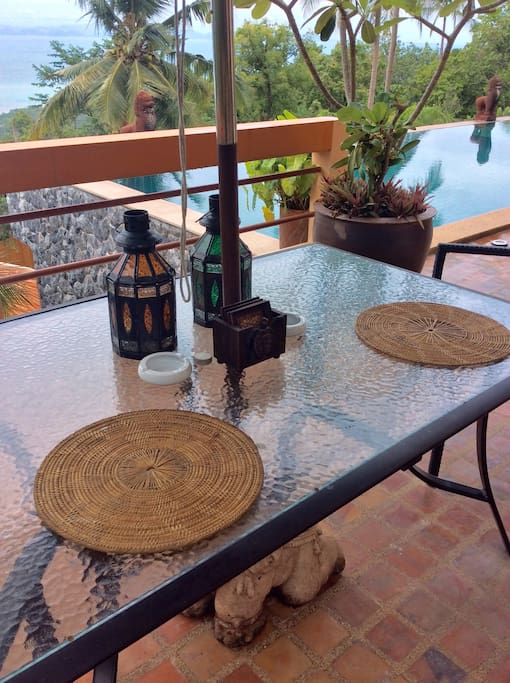 Villa Taling Ngam, Amazing Sea View
Villa Taling Ngam, 멋진 바다 전망, 프라이빗 인피니티 수영장을 내려다 보며, 해변의 드리 워진 섬 너머로 그리고 타이 본토의 Khanom 너머까지. 조용하고 평화로운 아직 레스토랑, 편의점 및 현지 시장에서 불과 5 분 거리에 있습니다. 당신이 그것에서 모두 벗어나고 싶다면 그것은 당신을위한 것입니다.
Villa Taling Ngam, Amazing sea view, gaze out over your private infinity pool, across to beach fringed islands & beyond to Khanom on the Thai mainland.
Quiet & Peaceful yet only 5 minutes drive from restaurants, convenience stores & local markets.
Should you wish to get away from it all, it's for you.
숙소
빌라 탈링 응암 (Villa Taling Ngam)은 400 평방 미터의 총 거주 면적이 430 평방 미터 인 4 베드룸 주거로, 900 평방 미터의 플롯 크기로 상승 된 위치 (200M / 570 피트)에 지어졌습니다. 이 아름다운 빌라는 2006 년 7 월에 새롭게 완성되었습니다. 넓고 세련되게 꾸며져 있으며 코단 (Koh Tan)과 태국 본토 (Mainland Thailand)의 전망을 제공합니다. 빌라는 수영장 층의 주 침실과 드레싱 공간으로 구성되어 있습니다. 그것은 현대적인 태국 스타일로 꾸며진 킹 사이즈 침대를 갖추고 있습니다. 실내 욕실에는 자쿠지 욕조가 있으며 모든 추가 침실에는 에어컨이 장착되어 있으며 모든 3 개의 더블 침실에는 32 인치 평면 TV가 있습니다. 넓은 오픈 플랜 거실, 식사, 주방, 측면 일광욕 용 테라스 (60㎡)로 슬라이딩 도어 액세스 가능, 뒤쪽 테라스 및 아름다운 개인 인피니티 풀에 별도의 슬라이딩 도어 액세스 가능, 얕은 섹션으로 단계가 있습니다 (어린이에게 이상적). 수영장은 저녁 시간에 바깥쪽에있는 파란색 LED 조명과 수영장 아래에서 밝아집니다. 계속 진행하면 좋을 필요가 없습니다. 다른 사람들에게 전체 이야기를 전하기 때문에 우리 방명록에 귀하의 의견을 보내 주시면 감사하겠습니다. 나는 빌라 탈링 응암 (Villa Taling Ngam)의 방갈로에 살고 있기 때문에 머무는 동안 어떤 도움이나 도움도 필요하지 않습니다.
Villa Taling Ngam is a 4 Bedroom dwelling which has a total living area of 400 sqm 4303 sq ft. built on an elevated position (200 M / 570 ft ) with a plot size of 900 sq Meters.
This Beautiful villa was newly completed in July 2006, Spacious and tastfully furnished, it provides commanding views of Koh Tan and Mainland Thailand beyond.
The villa consists of a master bedroom and dressing area on the pool level; it is equipped with king size bed and decorated in contemporary Thai style. The en suite bathroom includes Jacuzzi Bath and all further bedrooms are equipped with air-conditioning and all 3 Double bedrooms feature a 32" Flat screen TV.
Spacious open plan Living ,Dining ,kitchen, with sliding door access to side sun terrace (60 Sq M), and separate sliding door access to rear terrace & the beautiful private Infinity pool, with steps into a shallow section (Ideal for kids). The pool is illuminated in the evening by blue LED lighting outside and lighting under the pool.
Could go on, no need really, would appreciate your comments in our guest book, as they will tell the whole story to others.
I live in a bungalow to the side of Villa Taling Ngam, so I am on hand should guests require any help or assistance in any way during their stay.
사용가능 공간/시설
투숙객은 전체 빌라를 이용할 수 있으며, 수영장은 손님에게 완전히 개인적입니다.
Guests have access to the whole villa, the pool is totally private to the guest
게스트와의 교류
나는 빌라 탈링 응암 (Villa Taling Ngam)의 방갈로에 살고 있기 때문에 머무는 동안 어떤 도움이나 도움도 필요하지 않습니다.
I live in a bungalow to the side of Villa Taling Ngam, so I am on hand should guests require any help or assistance in any way during their stay.
기타 사항
빌라로가는 길은 한 부분으로 가파르므로 빌라 탈링 응암 클라이언트 차 (Toyota Fortuner AWD) 또는 자신의 차를 고용해야한다면 충분히 강력해야합니다. 비 오는 계절에 별장에 머물러 있다면 차량이 4 륜구동이어야합니다. 우리는 일일 1,700 타이 바트 (1 - 6 일 고용), 1,600 타이 바트 (7 - 10 일 고용), 1,500 타이 바트 (11 - 21 일) 고용에 사용할 수있는 Toyota Fortuner AWD (4 도어, 7 석) 일 고용), 40,000 태국 바트 (1 개월 당)
Please be aware that the road to the Villa is steep in one part, so it is important that should you hire either our Villa Taling Ngam client car (Toyota Fortuner AWD) or your own car, it needs to be powerful enough.
If you stay at the villa in the raining season your vehicle need to be 4 wheel drive.
We have a Toyota Fortuner AWD (4 door, 7 seats) client car available for hire at 1,700 Thai baht per day (1 - 6 days hire), 1,600 Thai baht (7 - 10 days hire), 1,500 Thai baht (11 - 21 days hire), 40,000 Thai baht (per calendar month)
---
이 숙소는 출장용 숙소로서의 편의 시설을 갖추고 있습니다.
---
---
추가 인원 요금 ₩33827 / 박 (4명 초과 시)
언제나 에어비앤비를 통해 대화를 나누세요.
안전한 결제를 위해 에어비앤비 웹사이트나 앱 외부에서 송금하거나 대화를 나누지 마세요.
더 보기
---
체크인 가능 시간은 14:00 - 23:00입니다
CONTACTS: Mr Sim Dodd
Thailand:- Mr S.P Dodd, P.O. Box 7, Nathon Post Office, Nathon, Koh Samui 84140, Suratthani, Thailand
1.    We will not be liable for any act, neglect or default on the part of any person nor any accident, damage, loss, injury, expense or inconvenience whether to person or property which the tenant or any other person may suffer or incur arising out of or in any way connected with the letting or resulting from any other cause whatsoever. We advise you to arrange your own insurance to cover yourselves and your personal belongings whilst staying at the property.
2. The number of people occupying the property may not exceed the number on the booking form, maximum of 7 persons.
3. The tenant agrees to keep the property and all fittings, furniture equipment and other contents in or on the property in a like state of repair and condition as at the commencement of the letting and will make good (or will arrange with us to make good) any damage, breakage, or loss that may occur during the period of letting.
4. Unless otherwise stated, the rental of the property includes, rates, insurance of the property and electricity. The property is equipped with crockery, cutlery, sheets, blankets and adequate cleaning equipment, linen and towels (not to be used as beach towels!).
5. The property is available from 14:00hrs on the date of arrival to 11.00hrs on the date of departure. The time lapse is to enable the property to be inspected in between lets to ensure everything is in good order. Long lets can be arranged in advance.
6. The tenants agree not to smoke, nor to allow smoking, inside the Villa at any time. If this is not strictly adhered to it will lead to a deduction from the deposit.

7.   Tenants are asked to leave the property clean and tidy and to ensure that they take all belongings with them. On changeover days there is only time for a superficial check and a general clean. We rely upon the goodwill of our guests whose co-operation we greatly appreciate. Should the property be left in a poor condition, requiring more intensive cleaning, then this will be charged at £10 per hour and deducted from the security deposit.
8. The acceptance of the property from the owner will be deemed an acceptance of these terms
기타 알아두어야 할 사항:
숙소에 반려동물이 있습니다 - 1 friendly dog
---
---
---
The Sea View Villa is stunning, beautifully decorated and affords you the tranquility you expect in a relaxing vacation. Very close to award winning dining (Hemingway's is a must) and other attractions, you won't be disappointed. And, not to mention the infinity pool which will keep you occupied for hours as you take in the amazing view. Walt & Linda
---
BEAUTIFUL location & super nice and approachable host. The villa is located on a steep hill, but rest assured that once you get up, it is really worth it. The scenic is unbelievable, and the infinity pool is just amazing. The description and photos of the villa is accurate. Sim is super nice and approachable. He went out of his way to assist us. One thing I would recommend is to ask him for transportation (with additional Cost) from airport to his villa. We had issues with some taxi driver that over charged us and did not fully take us to the villa. Everyone had a really great time and really enjoyed their stay at this villa!
---
This is a stunning location and property. The view is even better than the photographs and swimming in the private pool looking out over the bay is an absolute treat. The quality of the house and furnishings is very high, great wifi, wireless speakers, plenty of towels - you couldn't ask for more. Sim was friendly and helpful, recommending local restaurants and attractions and even offering a taxi service so we could have a beer with our last night dinner. You do need a 4WD though, the road up is seriously steep, it's an adventure of its own. We loved being up on the hill with the great views, and as we had hired a 4WD we could be at the beach in less than 10 mins. There were local taxi 4WD available too if you don't want to rent a car so don't let it put you off. Easily the best Airbnb property I have ever rented. Thanks guys!
---
Hello, I'm Sim from Sheffield in England UK, but have been living in Koh Samui for the last 9 years now.

My interests are my family, riding around South East Asia on my motorbike & generally having a good time!


I love hosting travelers and enjoy traveling myself and I look forward to meeting other people with traveling interests.

I live in a Bungalow at the side of Villa Taling Ngam & I am on hand should you require any help or information during your stay with us.

I look forward to welcoming you to Villa Taling Ngam , Koh Samui soon.

Best Regards
Sim


언어:
English