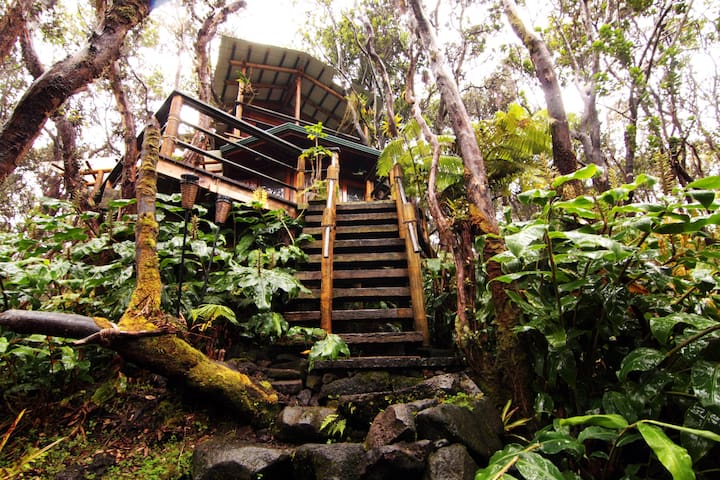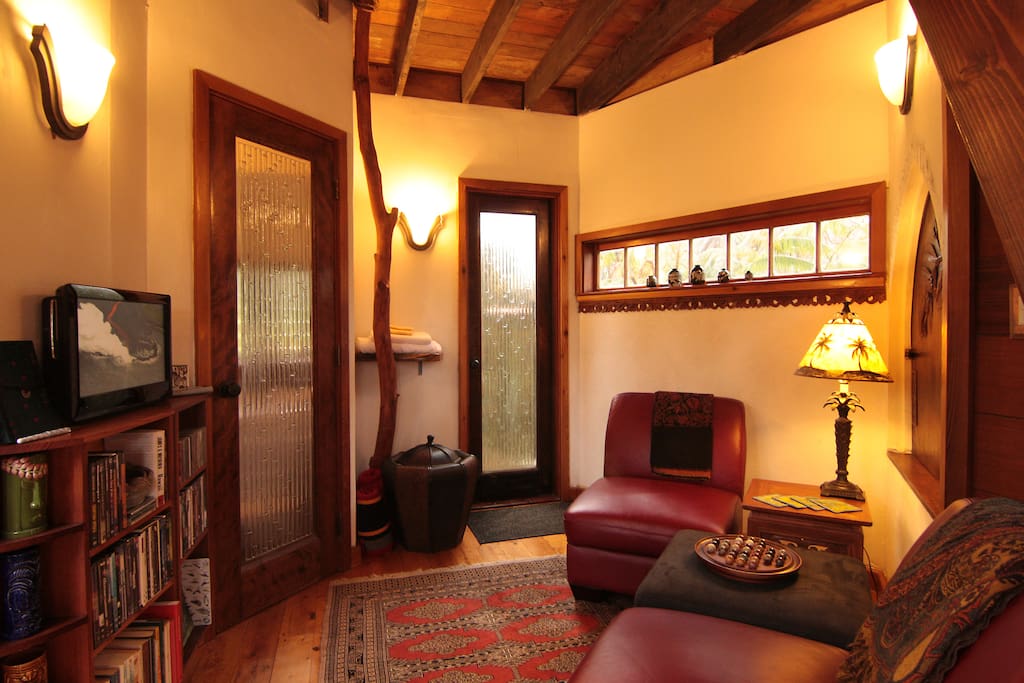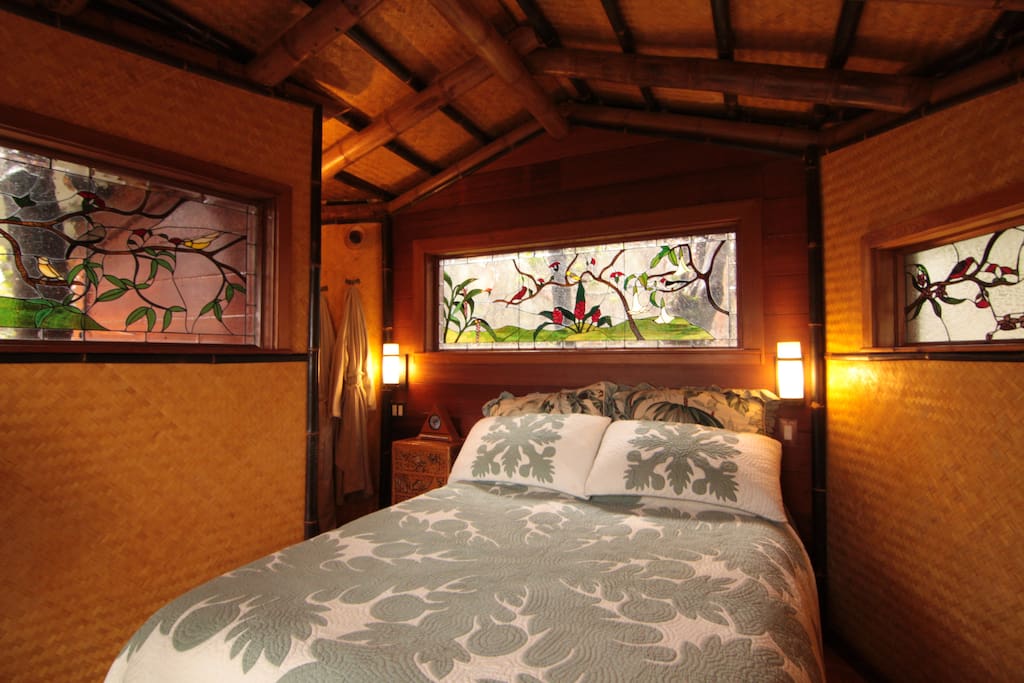 treehouse는 열대 우림에 자리 잡고 있으며 하와이 화산 국립 공원 입구에서 5 분 이내에 있습니다. 그것은 두 가지 레벨, 두 lanais, 심지어 나무에 뜨거운 욕조가 있습니다. 침대는 단지 젊어 짐을 겪었고, 초 쾌적함으로 돌아 간다. 당신은 lehua 꽃을 통해 flifting honeycreepers 가운데 상단 캐노피에서 몇 시간을 보낼 수 있으며, 나뭇잎이나 화산 안개에서 윙크 별 아래에 담그십시오. #weaccept
The treehouse is tucked away in the rainforest, less than five minutes from the entrance to Hawaii Volcanoes National Park. It has two levels, two lanais, even a hot tub up in the trees. The bed has just undergone a rejuvenation and is back to being super comfortable. You can spend hours in the upper canopy, amidst the honeycreepers flitting through lehua flowers, and soak under the stars winking through the leaves or in the volcano mist. #weaccept
숙소
이것은 TV의 Treehouse Masters에서 볼 수있는 것과 동일한 승무원이 만든 맞춤형 디자인의 나무 위입니다. 열대 우림의 쥐라기 태도는지면에 보존됩니다. 우리는 또한 당신이 사진에서 볼 수있는 인근의 결혼식 장을 가지고 있습니다. 우리의 화산은 지금 막 화려한 단계에 있습니다. 정상 회담의 전망은 차로 5 분 거리에 있습니다. 용암의 강을보기 위해, 당신은 공원으로 그리고 산 아래로 운전합니다. Mahinui Na Lani는 하와이 화산 국립 공원으로 확장되는 열대 우림의 용암 튜브 위로 자라는 오하이오 나무에 매달려 있습니다. treehouse는 우리의 열대 우림 관, 친밀한 결혼식 개최지로 예정된 몇 블록 떨어져있는 발리 작풍 구조에 동행자로 생각되었다. 둘 다 예약되어있을 수 있으며이 시리즈에 포함 된 파빌리온 사진이 두 장 있습니다. treehouse는 숲에서 약 100 구불 구불 한 길, 용암 관 옆으로 세팅 된 용암 덩어리, 그리고 사다리가있는 경로를 통해 접근됩니다. 용암 바위에 도착하면 등반은 다소 가파른 편입니다. 귀하의 안전과 편안함을 위해 우리는 수하물에서부터 거주지로 머물기 위해 필요한 의복을 옮길 수있는 데이 팩을 제공합니다. 옷에 갈고리가 달린 두꺼운 서랍이있어 물건을 넣을 수있는 서랍이 있습니다. 하와이, 기후는 온화하며 모든 곳의 분위기는 매우 평범합니다. 우리는 또한 목욕 가운을 제공합니다. 나무 위의 집 자체는 배의 사다리를 통해 연결된 두 단계로 지어졌습니다. 주요 층에는 2 개의 의자와 오토만, 영화 감상 및 CD 재생을위한 평면 스크린, 실내 창 탁자 및 의자, 작은 주방, 실외 샤워 및 퇴비 화장실 및 화장대가있는 거실이 있습니다. 실내 벽난로는 외부로 배출되는 Jotul 프로판 스토브입니다. 라나이 (lanai)의 옥외에는 시더 (cedar) 온수 욕조가 있으며, 나무에 티크 테이블과 의자가있어 야외에서 식사를 즐기실 수 있습니다. 위층은 또한 상단 캐노피 (upper canopy)로, 조류가 실제로 때때로 당신 주위를 날기도합니다. 메모리 폼 매트리스가 달린 퀸 사이즈 침대, 작은 "옷장 구석"및 다른 베란다가 있습니다. 베란다에 프랑스 문 이외의 창문은 현지 예술가가 만든 스테인드 글라스입니다. 집은 주로 재활용 재료로 지어졌습니다. 전나무 바닥과 레드 우드와 시더 사이딩은 한 때 교회였습니다. 이 특정 지역은 Kilauea가 수십 년 동안 활동해온 Hawaii Volcanoes National Park에 인접 해 있습니다. 열대 우림, 사막, 화산의 황폐화, 심지어 백 년 전부터 분출로 인해 보존 된 발자국이있는 길조차도 공원 안팎에서 하이킹 코스가 있습니다. 암각화가 있습니다. 나무 위의 집에서 1 마일도 채 안되는 거리에 화산 마을이 있으며, 레스토랑과 미술관, 가스를 살 수있는 몇 곳이 있습니다. 입구 공원 자체는 약 2 마일 떨어져 있습니다. 인근 지역은 열대 우림으로, 많은 것들이 많이 묻혀 있습니다. 숲을 통해 나무 위의 집이 보이지 않는 이유는 열대 우림이 매우 조밀하기 때문입니다. 바닥에는 생강, 양치류, 나무가 매우 정직합니다. 중반 캐노피는 나무 양치류로 높이가 약 20 피트, 백 년이 넘었습니다. 상단 캐노피는 붉은 lehua 꽃, 하와이 홀리, 그리고 다른 사람과 ohia 나무의 혼합물이다. 우리는 두 사람 이상이 트리 하우스에 머물 수 있는지 수시로 질문받습니다. 우리는 특히 가족들이 자녀들과 함께이 경험을 나누고 싶어한다는 것을 이해할 수 있습니다. treehouse는 2 인 공간입니다. 모든 것은 신혼 여행 경험이되도록 고안되었습니다. 3 명이 넘는 사람들이 함께 앉아서 채팅하는 것은 가능하지만 2 명만 수면을 취할 수 있습니다. 간이 침대가 없으며, 이미있는 가구를 넘어서 하나 또는 다른 가구를위한 공간도 없습니다. 명예의 전당: treehouse는 에피소드 13에 Extreme Cribs에 등장했습니다. 엘렌 쇼 : 김 더글라스의 열대 휴가 201(URL HIDDEN)Ke Ola Magazine Volcano Tree House 이야기 여행 고문 : 10 가지 로맨틱 한 숙박 장소 중 하나 (전 세계 선택) PureWow 기능 Treehouse 석사 세계 시리즈, Travel Channel 유럽 세그먼트, Treehouse Masters 시리즈 Buzzfeed 세계적으로 발행 된 블로그 및 뉴스 기사 너는 너의 차를 주차하는 곳에 나무 집의 밑에 작은 구조를 포함하여 전체 재산에, 접근 할 것이다. 이 방에 짐을 안전하게 잠그고 머무는 동안 내부의 데이 팩을 사용할 수 있습니다. CPAP 기계를 사용하는 경우 예약하기 전에 문의하십시오. 재산에 트리 하우스가 하나만 있습니다. 우리는 나무 상자를 유지하기 위해 근처에 살고 정기적으로옵니다. 도착하면 우리가 당신을 만날 것 같습니다. 그렇지 않으면, 우리는 휴대 전화, 텍스트, 이메일을 사용할 수 있습니다. 언제 우리는 떨어져 있고, 지역에 사는 다른 사람이 당신을 맞이하고 당신의 필요를 돌볼 수있을 것입니다. treehouse는 그리드가 아니기 때문에 매일주의를 기울여야합니다. 이것은 일반적으로 오전 11시에서 오후 4시 사이에 이루어지며, 대부분의 손님들은 그날의 시간 동안 떨어져 있습니다. 우리는 나무 위의 집에서 하루 종일 머물고 있다면, 우리 중 한 사람이 와서 그 장소를 돌볼 수있을 때 우리에게 알려주고 우리에게 알려주도록 요청합니다. 이웃은 대부분 여기 저기에 몇 채의 집들이있는 오래된 성장 열대 우림입니다. 차로 운전하면 거리와 이웃에 이웃이 있다는 것을 알 수 있습니다. 당신이 moongate를 빠져 나가 트리 하우스의 세계에 들어가면 잊을 것입니다. 늦은 오후와 저녁 때로는 현지 훌라 할라우가 연습하는 소리를들을 수도 있습니다. 우리는 웃음의 소리를 발견하고 하와이 언어와 음악이 분위기에 더해지기를 바랍니다. 렌트카가 필요합니다. 대중 교통이 있지만, 산을 오랫동안 천천히 여행합니다. 공원은 길을 따라 2 마일 정도 떨어져 있고, 너무 커서 운전을하고 걷지 않으려합니다. 화산 마을은 도로 위로 약 1 마일 거리에 있습니다. 당신은 위아래로 산책을 좋아할 것입니다. 저녁 식사를 위해 마을로 걸어 가면 돌아올 수있는 손전등이 절대적으로 필요합니다. 우리가 제공합니다 - 함께 가져 가십시오! 우리 섬으로의 첫 여행을 계획하고 있다면 나무 집에서 2-3 박을하는 것이 좋습니다. 원하신다면 예약하기 전에 저희에게 문의하십시오. 섬은 정말로 크고, 대부분의 사람들은 오히려저기서 놀이의 하루 후에 화산으로 돌아 가기보다는 섬의 서편에서 밤을 보낼 것입니다. 장기 투숙 요금을 제시 하긴하지만 5 일 이상 체류하기 전에 계획을상의하고 싶습니다. 너가 treehouse에 체재하고 싶다는 것을 결정할 때, 너는 다른 사람과 다른 장소에오고있다. 다른 트리 하우스가 있지만 각각 고유합니다. 이 나무 집은 그리드에서 떨어져 있습니다. 즉, 매일 손을 쓸 필요가 있음을 의미합니다. 대부분의 사람들에게 이것은 모험을 즐기는 동안 일어나는 매끄러운 일입니다. 가끔씩 사람들은 와서 떠나고 싶지 않습니다. 우리는 이해합니다. 그러나 우리는 퇴비 화장실에 봉사하기 위해 매일 나무집에 들어가야 함을 알려드립니다. 온수 욕조도주의가 필요합니다. treehouse는 숲에있다. 그것은 나무의 내부에 있으며, 이것은 쉬운 생물 접근을 의미합니다. 그들을 밖으로 나가기 위해서, 우리는 쓰레기를 버리고 음식이 적절하게 저장되었는지 확인합니다. 같은 이유로 씻지 않은 요리, 남비 및 냄비를 두지 않는 것이 좋습니다. 거미는 숲에 거주하는 사람들입니다. 그들은 새들을위한 음식입니다. 당신이 새를 좋아한다면, 그들의 식량 공급을 용납하십시오. 우리는 매일 거미 집을 비 웁니다. 그러나 우리는 독약을 사용하지 않습니다. 거미는 의지대로 돌아온다. 그들은 작고 모퉁이에 머물러 있습니다. 그들은 웹의 형태로 그들의 방문의 증거를 남깁니다. 우리는 그들에게 열렬한 마음을 갖기 위해 최선을 다하지만, 그들은 계속됩니다. 혹한의 비와 바람과 같은 날씨가 나무에있는 농어촌에서 발생하면 소리가 나고 전에 느끼지 못한 방식으로 느끼게됩니다. 집은 단단합니다 - 문과 창문이 닫히면 날씨가 들어 가지 않습니다. 그러나 소리는 무시 무시할 수 있습니다. 당신은 자연에 가까운 느낌을 느낄 것입니다. treehouse의 크기와 그리드에서 벗어난 사실로 인해 일반 주방을 제공 할 수 없습니다. 오븐은 없지만 전자 레인지가 있습니다. 핫 플레이트가 있습니다. 식기 세척기가 없습니다. 작은 부엌에서 미식가 식사를 충분히 만들려면 특별한 조리기구로는 해결할 수없는 과제가 있습니다. 수납 공간은 며칠 동안의 식량 공급에 충분하지 않습니다. 우리는이 요리 경험을 좀 더 나무 위와 비슷한 느낌으로 개편하는 중이며 오프 그리드 경험에 더 잘 어울립니다. 그래서 당신이 도착할 때가 오늘과 다를 것입니다. 그리고 마침내, 뜨거운 욕조에 관해서. treehouse 임대료를위한 가격 점은 부분적으로 온수 욕조 필요 조건 때문에이다.
This is a custom designed treehouse, built by the same crew you see in Treehouse Masters on TV. The Jurassic attitude of the rainforest is preserved on the grounds. We also have a wedding venue nearby you may view in the photos. Our volcanoes are in a spectacular phase just now. Views of the summit eruption are a five minute drive away. To see the rivers of lava, you drive into the park and down the mountain.
Mahinui Na Lani hangs in ohia trees growing over a lava tube in the rainforest that extends into Hawaii Volcanoes National Park. The treehouse was conceived as a companion to our rainforest pavilion, a Bali style structure a couple of blocks away, intended as an intimate wedding venue. Both may be reserved, and there are a couple of photos of the pavilion included in this series.
The treehouse is accessed via a path that is about 100 meandering feet in the forest, lava boulders set into the side of the lava tube, and ladders. The ascent is somewhat steep once you reach the lava rocks. For your safety and comfort, we provide day packs to transfer whatever clothing is needed for your stay from your luggage into the abode. There is a special recessed corner dedicated to your stuff, with hooks for clothes, and a couple of night stands with drawers that can hold less bulky items. It's Hawaii, and the climate is mild, the atmosphere everywhere very casual. We also provide bathrobes.
The treehouse itself is built on two levels, connected via a ship's ladder. The main level includes the living room, with two chairs and an ottoman, flat screen for viewing films & playing CDs, built in indoor window table & stools, small kitchen, outdoor shower, and composting toilet & vanity. The indoor fireplace is a Jotul propane stove vented to the outside. Outdoors on the lanai there is a cedar hot tub, and a teak table and chairs for al fresco dining in the trees. The upper level is also upper canopy, with birds actually flying around beneath you sometimes. There is a queen sized bed with a memory foam mattress, the tiny "closet corner" and another lanai. The windows other than the french doors onto the lanai are stained glass, made by a local artist.
The house was built primarily of recycled materials. The fir floors and redwood and cedar siding were once a church.
This particular area is adjacent to Hawaii Volcanoes National Park, where Kilauea has been active for decades. There are hiking trails in and around the park through rainforest, desert, volcanic devastation, even a path with footprints preserved from an eruption over a hundred years ago. There are petroglyphs. Less than a mile from the treehouse there is Volcano Village, with restaurants and art galleries, a couple of places to buy gas. The entrance park itself is about two miles away. The neighborhood is rainforest, with many unbuilt upon lots. The reason there is no view of the treehouse through the forest is because the rainforest is very dense. There is the floor, very jungly with ginger, native ferns, and trees. Mid canopy are the tree ferns, some twenty feet tall, and over a hundred years old. The upper canopy is a mixture of ohia trees with red lehua flowers, Hawaiian holly, and others.
We are asked from time to time if more than two people can stay in the treehouse. We can especially understand that families would like to bring their children to share this experience. The treehouse is a two person space. Everything is designed to be a honeymoon experience. While it is possible for more than two people to sit together and chat, only two can sleep over. There is no rollaway bed, nor is there room for one or for any other furniture beyond what is there already.
Hall of Fame:
The treehouse has been featured in Extreme Cribs, on episode 13.
The Ellen Show: Kim Douglas's Tropical Vacation
Ke Ola Magazine Volcano Tree House story in July - August 2011 edition

Trip Advisor: One of the Ten Most Romantic Places to Stay (global selections)
PureWow feature
Treehouses of the World, Travel Channel European segment, by Treehouse Masters series
Buzzfeed
blogs and news articles published globally
You will have access to the entire property, including the small structure below the treehouse near where you park your car. You may safely lock your luggage inside that room and use the day packs inside during your stay.
If you use a CPAP machine, please contact us prior to making a reservation.
There is only one treehouse on the property.
We live nearby and come by regularly to maintain the treehouse. It is likely we will meet you on arrival. Otherwise, we are available by cell phone, text, email. When we are away, someone else who lives locally will be available to greet you and take care of your needs. The treehouse requires daily attention because it is off grid. This is generally done between 11 am and 4 pm, and most guests are away for that portion of the day. We do ask that if you are staying all day at the treehouse, that you communicate with us to let us know when one of us can come up and take care of the place.
The neighborhood is mostly old growth rainforest with a few houses here and there. When you drive up, you will notice there are neighbors across the street and next door. You will forget about them once you walk through the moongate and enter the world of the treehouse. Sometimes of a late afternoon and evening you may hear a local hula halau practicing. We hope you find the sounds of laughter and Hawaiian language and music adds to the ambience.
A rental car is a necessity. While there is public transportation, it is long slow trip up the mountain. The park is a couple of miles down the road, and so large you will want to drive and not attempt to walk. Volcano Village is about a mile up the road. You might like to stroll up and back. If walking into the village for dinner, a flashlight for your return is an absolute must. We provide - please take it with you!
If you are planning a first trip to our island, we suggest that you stay 2 or 3 nights at the treehouse. Please contact us for for discussion before you reserve if you wish. The island is truly big, and most people would rather spend the night on the west side of the island rather than return to Volcano after a day of play over there. Although we show rates for long term stays, we would like to discuss plans with you before completion of a stay of 5 days or longer.
When you decide you want to stay at the treehouse, you are coming to a place unlike any other. There are other treehouses, but each is unique. This treehouse is off grid. This means it requires hands on service, every day. For most people, this is a seamless thing that happens while they are off adventuring. Every once in awhile, people come and do not want to leave, at all. We understand, but we do want to let you know that we must enter the treehouse on a daily basis to service the composting toilet. The hot tub also requires attention.
The treehouse is in the forest. It is inside the trees, and this means easy critter access. To keep them outside, we carry your rubbish away and make sure your food is stored adequately. It is not a good idea to leave unwashed dishes, pots and pans, for these same reasons.
Spiders are residents of the forest. They are food for the birds. If you love the birds, please tolerate their food supply. We empty the house of spiders daily but we do not poison. The spiders come back at will. They are small, and stay in the corners. They leave evidence of their visit in the form of webs. We do our best to be inhospitable to them, but they persist.
When there is weather, like hard rains and winds, from your perch in the trees you will experience the sound and feel in ways you may have not before. The house is tight - the weather does not enter if the doors and windows are closed. But the sounds can be formidable. You will feel close to nature.
Because of the size of the treehouse and the fact that it is off grid, it is not possible to offer a regular kitchen. There is no oven, but there is a microwave. There is a hotplate. There is no dishwasher. To create full on gourmet meals in the little kitchen is a challenge that no amount of special cookware can address. The storage space is inadequate for more than a couple of days worth of food supplies. We are in the process of revamping this cooking experience to something a little more treehouse-like, a better fit with the off grid experience. So by the time you arrive, it will be different than it is today.
And finally, regarding the hot tub. The price point for the treehouse rental is as it is in part because of the hot tub requirements.
사용가능 공간/시설
당신이 수하물을 잠글 수있는 재산의 바닥에 안전한 창고가 있습니다. 나무 위의 집은 당신 혼자의 것입니다. 우리는 당신이 1 박 이상 머무르는 경우에 그것을 서비스하기 위하여 온다, 그러나 당신은 적어도 2 일 동안 완전한 기밀을 요구할 수 있고 당신의 소원 인 경우에 떠나지 않을 수있다.
There is a secure shed at the bottom of the property where you can lock up your luggage. The treehouse is yours alone. We do come to service it if you stay more than one night, but you can request complete privacy for at least couple of days and never leave if that is your wish.
게스트와의 교류
우리 중 한 명은 언제나 필요에 따라 도움을 제공합니다.
One of us is always nearby to assist as needed.
기타 사항
세금 ID : TA-020-255-1296-01 & GE-020-255-1296-01 현재 에어 비앤비에는 세금에 대한 광고 항목 비용이 없으므로 지불해야합니다. 우리의 세율은 13.42 %입니다. 때때로 우리는 여분 침구를 제공하도록 요청받습니다. 이것은 이불, 베개, 시트 및 담요가 될 것입니다. 이에 대해 25 달러의 수수료가 부과됩니다. 우리가 당신을 위해 그것을 가질 수 있도록 사전에 물어보십시오. 때로는 나무 위의 집의 위치와 직접적으로 관련된 조건이 있습니다. 야생 생활 방문, 화산 자체의 행동 및 날씨와 같은 조건이 우리가 통제 할 수없는 범위에 있음을 알고 계십시오. 우리가 통제 할 수없는 상황에 대해서는 환불을 기대하거나 요청하지 마십시오.
Tax IDs: TA-020-255-1296-01 & GE-020-255-1296-01
Airbnb at this time does not have any line item charge for taxes and we are obligated to pay them. Our tax rate is 13.42%
Every once in awhile we are asked to provide extra bedding. This would be a futon, pillow, sheets and blankets. There is a $25 fee for this. Please ask in advance so we can have it there for you.
From time to time there are conditions present that are directly related to the location of the treehouse. When you choose to stay here, please know that conditions such as wild life visitations, the actions of the volcano itself, and weather are beyond our control. Please do not expect or request refunds for conditions beyond our control.
---
---
어린이(만 0-12세)에게 안전하거나 적합하지 않음
체크인 가능 시간은 16:00 - 18:00입니다
We ask that you let us know when you will arrive so we can meet you and show you how everything works. The 4 pm to 6 pm check in window is set up both to make that meeting possible and to get you into the treehouse before dark. It is more adventurous than most people like to find your way up there for the very first time in the dark, even with the headlamps and path lights.
Note regarding events and parties: Any events or parties are to be discussed and arranged in advance. We have a dedicated event venue separate from the treehouse. Generally speaking, no guests or persons other than those named in the reservation are expected to come to the treehouse during your stay. Please ask if you have any questions about this, and please honor it. Mahalos.
Children accompanying parents must be discussed in advance of the reservation being accepted.
A word about fees:
In addition to the room charges, there is Hawaii tax of 13.42% effective 2010. Tax payment will be due prior to treehouse access. We will bill you for this as a separate payment as if we roll it into the price, it affects our tax liability. This tax goes up to 14.42% in January 2018.
If you require extra bedding, there is a charge of $25 to bring in a futon, sheets, pillow, and blankets.
There is no smoking inside or outside the treehouse. Thank you for respecting this.
WiFi is available for your use. As we are charged by the GB, we offer you one GB at no charge. After first GB, we charge as we are charged, $10 per GB or portion thereof.
Should you need to change your reservation, we will work with you to find a time that will work. If you are making your change within 3 months of your reservation, there will be a change fee of $100 per night if we cannot re-book your dates. If a second change is requested, there will be a $200 rebooking fee in addition to the $100 per night fee if applicable. A third change will require a new booking and new charges.
Occasionally there is a misunderstanding as to the dates of the reservation, and guests are gone on a hike or a cross island drive during normal check out time. If this should happen to you, here is the protocol:
We will contact you through Airbnb, and via your cell phone if possible. Airbnb will be alerted, and they too will try to contact you. If there is a guest due after you on the same check out date, and you have not returned to remove your things by 1 pm Hawaii time, they will be removed and stored in a safe place, and you will be charged a removal fee equal of half the cost of a night at the treehouse. We will also attempt to find you another place to stay locally, so you need not worry about having nowhere to go. If there is no guest due after you, Airbnb will be asked to charge you a second night if you have not cleared out by 4 pm, and your things will be left in place. For guests who simply linger on without having arranged a late check out, expect a late fee through Airbnb. We try to accommodate all requests, but cannot always say "yes" to late departures and early arrivals.
기타 알아두어야 할 사항:
계단을 이용해야 합니다 - Stairs are ladders, require hands free for ascent and descent from treehouse
---
Okay, unique place to stay. There were quirks that weren't mentioned like we couldn't use the shower until the next morning because the pilot light went out in the rain. Also, the toilet is a compost toilet. I wish the bed was bigger and at least queen size, but it was wonderful using the hot tub and opening the doors in the morning. Overall, a nice place to stay! Aloha.
---
Such an amazing place! We loved and it was the highlight of our trip! Our only warning- I'm 6'1" and 330 pounds and could just barely shimmy into the upstairs- so if you're taller or heavier you may want To be aware. Totally worth the trip to the big island - we loved our time in the treehouse!
---
Place was really nice and very clean. Although it is off the grid, it runs on a gas powered generator all day long to charge up the batteries which is a little noisy and stinky from engine fumes (not at the tree house). In this case, it probably should be on the grid as power lines are about 20 feet away. We didn't use much power but woke up the next day to find we had run out and couldn't cook our breakfast so we left early. Although vaguely mentioned in the description, there was an additional $42/ night tax, that was added after you booked. Beautiful and unique place but a little overpriced in our opinion.
Taxes sadly cannot be avoided. The treehouse is an off grid experience purposefully and by necessity. We are a different experience and along with it comes the unexpected. We are here to restore power when it fails, and we regret that was not made more obvious during your stay.
---
This tree house is simply magical! From the walk through the moon gate up the path to arrive at the tree house steps, we received such a sense of excitement. It nearly doubled when we opened the door to find a luxury apartment in the trees! The hot tub and outdoor shower were amazing! Pictures cannot describe the beauty of this property. We love all the added details to the structure and the extra amenities provided to insure a very comfortable stay. The instructions were easy to follow and completely necessary, this isn't your ordinary rental! Being so close to nature and the elements made us truly humble for this experience. Gail and Tia were very responsive to our questions and requests. We truly appreciated this adventure!
---
Wow! We had an even better experience than we expected... and are not even sure how that is possible because we were so looking forward to it. The treehouse is just as, if not more, beautiful than the pictures. We thoroughly enjoyed every moment of our stay!
---
Aloha. My husband Robert and I offer a Big Island wedding destination near Hawaii Volcanoes National Park. We offer a full service wedding, with everything from the conch shell blowing to the honeymoon at the treehouse, and photography too. We have two property locations. …