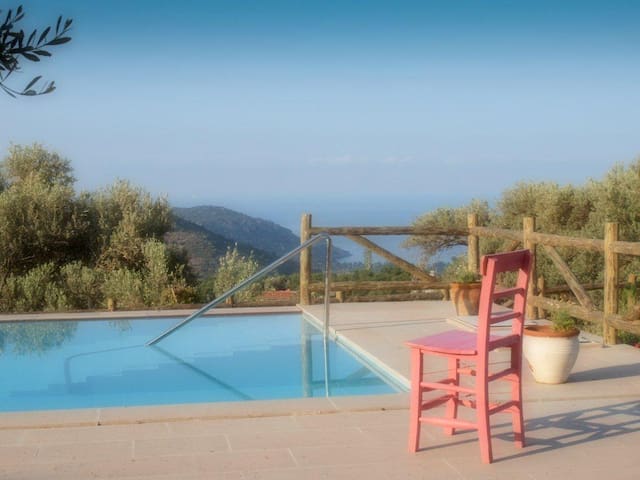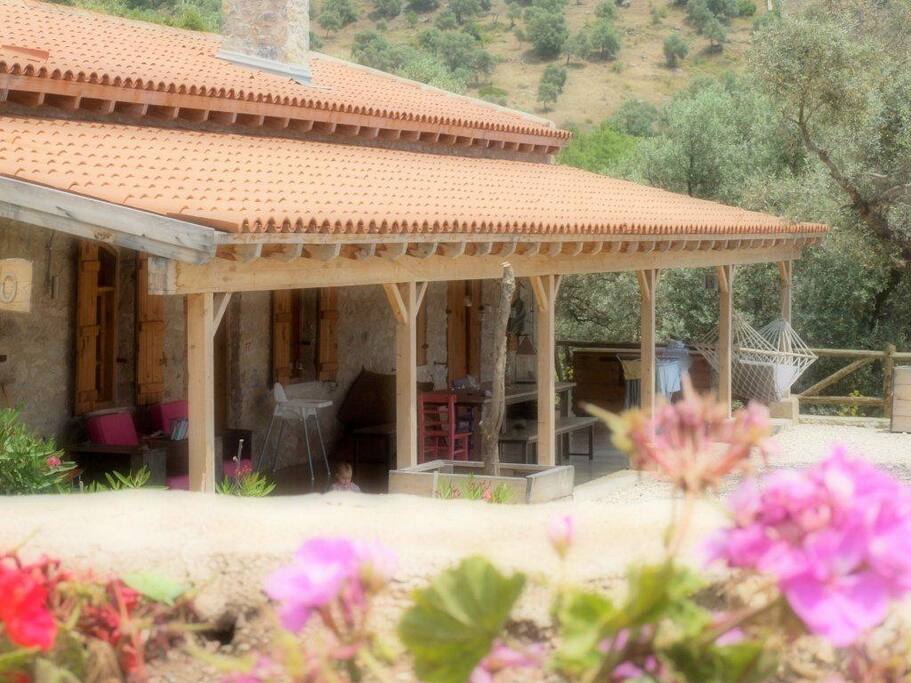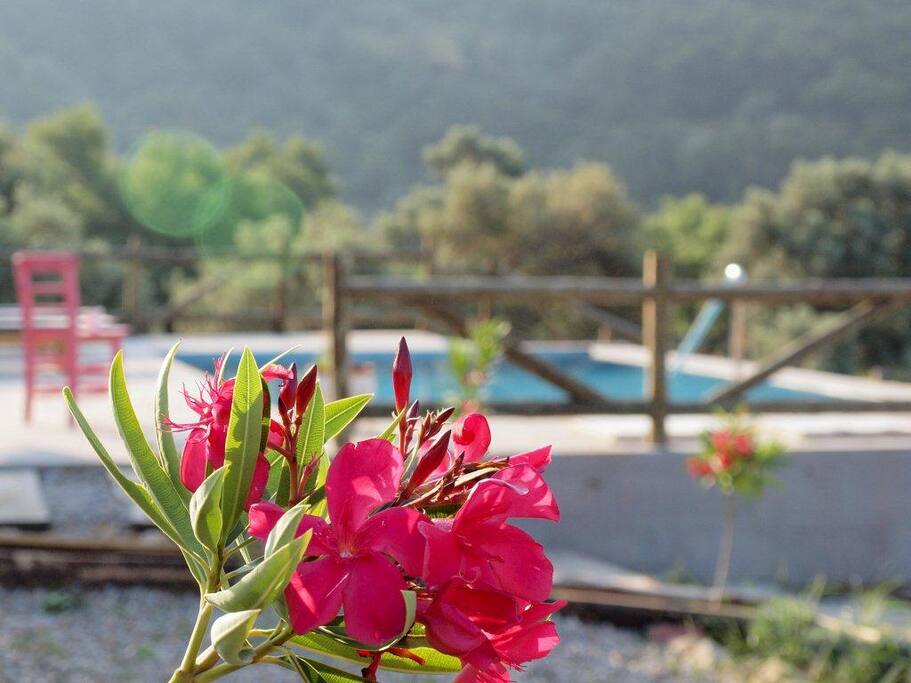 Olive mill restored to holiday villa. With private pool from 8m x 4m.
Located in Datca in the village Mesudiye.
Magnificient view on the Greece Island Tilos.
Luxe private villa and pool located 3km from sandy beach in. No mass Tourism
숙소
Authentic villa, located nearby a beautiful sand beach, with amazing view. Experience real Turkey without mass tourism.
Take a look at the website of villaolivio for a short movie of the villa!
The renovation of this old olive mill is finished in may 2010!
Villa could be rented all year long. Datca has 300 days sun in a year. Most beautiful months are: march/april/may and september/oktober.
After three years of hard work you can enjoy this beautiful villa located on a magnificent place.
In Datca, a beautiful peninsula, you can now experience a great holiday in Turkey. Villaolivio, formerly an olive oil factory, is now a complete renovated luxury accommodation located in breathtaking Datca.
The villa is located only 2km from a beautiful beach, in the Turkish village Mesudiye. From the garden you have a beautiful free view on the Aegean Sea and the Greece Islands. In the villa you can still find all original olive presses and other old details. The villa has 6 sleeping places, two bedrooms and one master bedroom. Two bathrooms, two toilets, a kitchen, wireless internet, sonos system, washing machine, a swimming pool (8 x 4 meter).
Airconditioning is available in the bedrooms.
Email we got from Julia, who stayed in June in the villa, one of our first guests:
"We have just returned from a fantastic holiday with our two kids at the authentic VillaOlivio in Mesudiye Datca. It was a perfect base for discovering this so far unspoilt part of Turkey, as well as being really attractive, clean and comfortable - and providing everything we needed, including an amazing swimming pool and marvelous views! Our kids enjoyed the pool all day, and also the nice beach nearby was a great place to stay. We were worried about the villa didn't have an airco, but this was not needed (as Jeroen told us before). The thick stone walls keep its pleasantly cool in the house. The first days we eat around 19.00 on the big veranda and we found out the wasps are active at that time. We solved this by eating an hour later, this solved this little "problem". The Datca Peninsula lived up to all our expectations it was fun driving through spectacular scenery to find quiet little bays and get really off the beaten track. Datca town was lovely and didn't feel too touristy - the large market on Saturday was a particularly friendly and colourful experience. The little authentic villages are really worthwhile to visit (eski-datca, hizersah etc), and the village people are very friendly and helpful! Thanks again Jeroen and Ebru for answering all our questions upfront, and Zafer, the local responsible guy for villaolivio, for helping us with every question we had! We come back for sure"(URL HIDDEN)Julia, Leeds June

We were looking for a holiday place next to the Mediterranean sea, for our family of five. We don't like very much crowded places, and hotels with 400 rooms, but rather places where we can live amongst local people, and try to get a feel of their life.
We found Villa Olivio via the Home Exchange website. I immediatelly felt that the villa could meet our expectations, even if it was not yet finished to renovate. Thanks to the detailed explanations and the great website of Jeroen, we were able to get a real feeling of the place and we felt confident we would spend a great holiday in Villa Olivio.
And it has been at the level of our expectations. The house has been renovated with a lot of taste, keeping the atmosphere of the ancient olive oil mill, while offering all modern commodities. The outside patio is the place where we stayed most of the day when we were at the house, playing games with the kids or reading books. The pool is just perfect, always available for a swin, day or night. We enjoyed also very much laying on the sun beds at night, watching the stars in the sky...
The nature in Mesudye is unspoilt, the water in the various beaches is crystal clear, and I hope it will stay like this for many years to come.
Last but not least, the people we met in Mesudye were all friendly and always welcoming. We will always remember this moment, when we were walking in the village, and we were invited by a group of old men to have a "tchai" whith them at the local "cafe". We spent a good half hour talking to each other, with the five words of turkish we knew ! I will also never forget Zafer, the "house keeper", who has solution for every problem or wish we could think of.
We spent a great time in Villa Olivio, and I have already shared my experience with many friends. I would not be surprized that some of them decide for a vacation in Villa Olivio in the near future.
Alain, Geneva Switzerland
사용가능 공간/시설
Free Wifi, Sonos system, outside BBQ, Pool 8 x 4, airconditioning, dishwasher.
Pool will open in May 2017.
게스트와의 교류
Our representative Aytekin will welcome you and be there for any questions.
기타 사항
Villa is not very big. 4 adults and 2 kids are maximum of allowed people. Because of nice weather we will open the pool in may 2016!
안전한 결제를 위해 에어비앤비 웹사이트나 앱 외부에서 송금하거나 대화를 나누지 마세요.
기타 알아두어야 할 사항:
반려동물이 숙소에 있습니다
Villa Olivio is a beautiful and tastefully restored olive mill overlooking the untouched Turkish landscape and sea. It is perfect for families with a lovely covered area where we played bat and ball when the day was at its hottest. The infinity pool is gorgeous and kept clean by friendly pool cleaners that came every few days. The outside BBQ and fire pit was great for evenings under the stars. Our favourite beach area was a 3 min drive away in hayibuko (spelling??) with great swimming and lovely restaurants, some letting you dine right at the waters edge. Everyone we met was kind and friendly and so lovely with our children aged 10 and 7. Jeroen was great to deal with responding to all emails and messages within an hour or so. Would highly recommend this villa and hope very much to return at some point. Thank you!
---
Mesudiye is a unique, beautiful spot and jeroen's house has an amazing location with a wonderful view. Very short drive to beautiful beaches. The house and the garden is huge. I believe the photos do not entirely do justice to how spacious the place is. jeroen was very easy to communicate and aytekin was very responsive to our needs during our stay. We had a great time, thanks a lot!
---
Awesome! Would come back in a flash, and it was very hard to leave. The villa is in a lovely valley , with views over olive trees to the sea. The villa is extremely comfortable and there is all you need. On top of that is a glorious pool. The conversion has been stylishly done - quite remarkable what they have achieved. The water or power didn't go off once. The wasps have been alluded to in previous reviews but they are only a problem if you stand on one! A minor inconvenience.. We had one of our best holidays ever!!
---
I am from the Netherlands. I will be happy to have you as my guests so feel free to contact me.