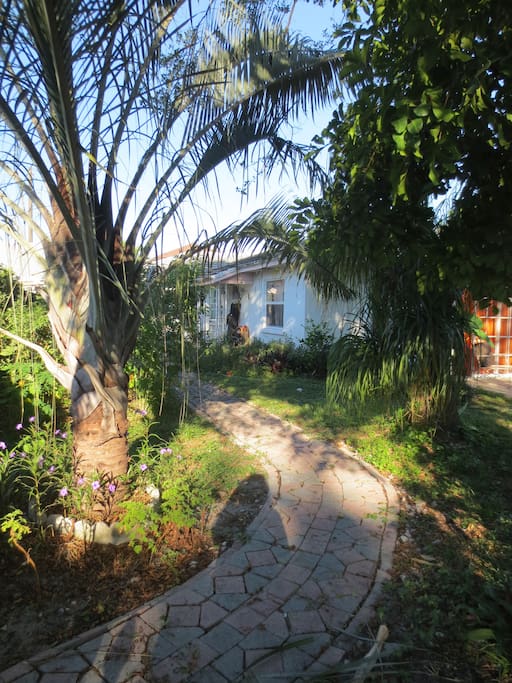 머무시는 동안 개인 스튜디오 아파트. 아름다운 해변에서 불과 2 마일 떨어진 매력적인 다운 타운 레이크 워스의 다운타운에 위치하고 있습니다!
Private studio apartment for your stay.
Located Downtown of charming downtown Lake Worth only 2 miles from beautiful beach!
숙소
Private Studio apartment ( the unit is attach to another apartment but completely independent and private). We are located in Downtown Lake Worth this is not a gated community , some noise do to everyday life , if you look for a super quiet place this is not for you.
Basic equipped kitchen and Bathroom.
Queen bed, extra Sofa Bed.
Wifi provided but sometimes can be a little slow so if you look for an high speed this is not the place for you.
The Tv has only 2 channels but DVDs are provided if you look for a full cable with movie and sport channel this is not the place for you .
Cozy private outside seating patio
we all park on the street with no problem...if you look for a private parking area this is not the place for you.
The front yard is in working process so please excuse the appearance .
사용가능 공간/시설
Private Studio Apartment , 1 bathroom with shampoo, soap and towel provided, a small kitchen fully equipped with coffee, tea, and basic cooking supplies provided .
Private Patio
( the front yard is for private use only )
게스트와의 교류
우리는 옆집에서 살았습니다. 귀하의 프라이버시가 중요 할 때마다 우리는 귀하의 도착시에 선물로 남을 것입니다 .... 어떤 상호 작용을 원한다면 알려주십시오. 우리는 정말 개방적이며 귀하의 우선 순위를 이해합니다. 사랑과 평화
We lived next door we will be present at your arrival wherever Your privacy is important to us....Let us know if you would like some interaction or not. We are really open minded and we understand your priority.
Love and Peace
기타 사항
스튜디오는 전 세계의 예술 작품과 책들로 가득합니다. 독특한 호텔 공간이 아닙니다! 공간은 작지만 편안합니다 ... 휴가는 좋지만 장기 체류는 아닙니다. (한 달 이상 떠나야하는 아파트를 찾으시는 분은 적합하지 않습니다.) 아이들과 함께하는 2 인 가족은 편안하지만 어른 3 명은 작은 편입니다. 예약 전에 질문을하고 Art Studio Apartment에 오신 것을 환영합니다. 우리는 거의 24/7부터 사용할 수 있으므로, 부정적 피드백을 떠나기 전에 무엇이든 물어보십시오. 협조 해 주셔서 감사합니다.
The studio is full of art work and books from around the world. Is not an hotel is a unique old space! The space is small but comfortable... nice for a vacation but not for a long stay ( if you look for an apartment to leave for more than a month is not suitable for you). A family of 2 with a kids will be comfy but for 3 adult it my by to small...
Please before booking ask questions and if you think is ideal for you welcome to the Art Studio Apartment. We are available almost 24/7 so please if you need anything ask before leave negative feedback. We appreciate your collaboration.
추가 인원 요금 ₩22503 / 박 (2명 초과 시)
안전한 결제를 위해 에어비앤비 웹사이트나 앱 외부에서 송금하거나 대화를 나누지 마세요.
Please no shoes inside the house
All the dirty laundry need to be inside the basket located in the bathroom. Please put the garbage outside every day , we provide you with an extra garbage can located on the patio area.
Smoking is permitted outside the patio area only!!!!!!
-No entertaining, no outside guests allowed, no inaspected guest over night: If you have family/friends in town, please ask them to wait outside for you ( some exception may apply please before invite over the studio anybody you need to ask ). No laud music or any party time after 10 pm the studio is located is a residential area ... respects our neighbors !
기타 알아두어야 할 사항:
소음이 발생할 수 있습니다 - Residential area... Kids play, car pass by, train, etc
숙소에 반려동물이 있습니다