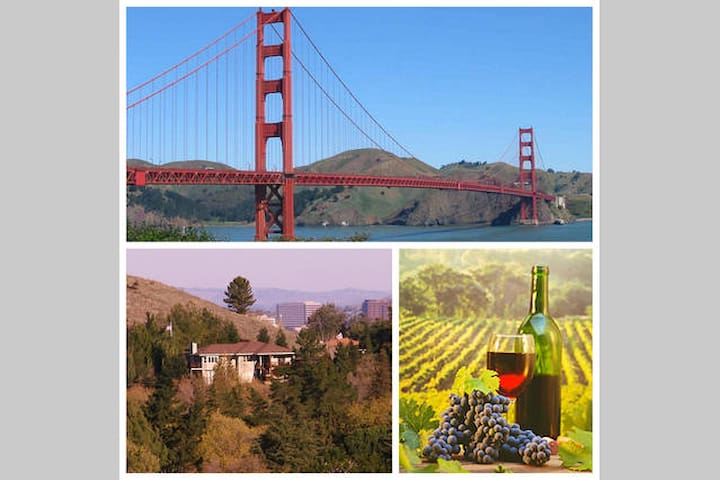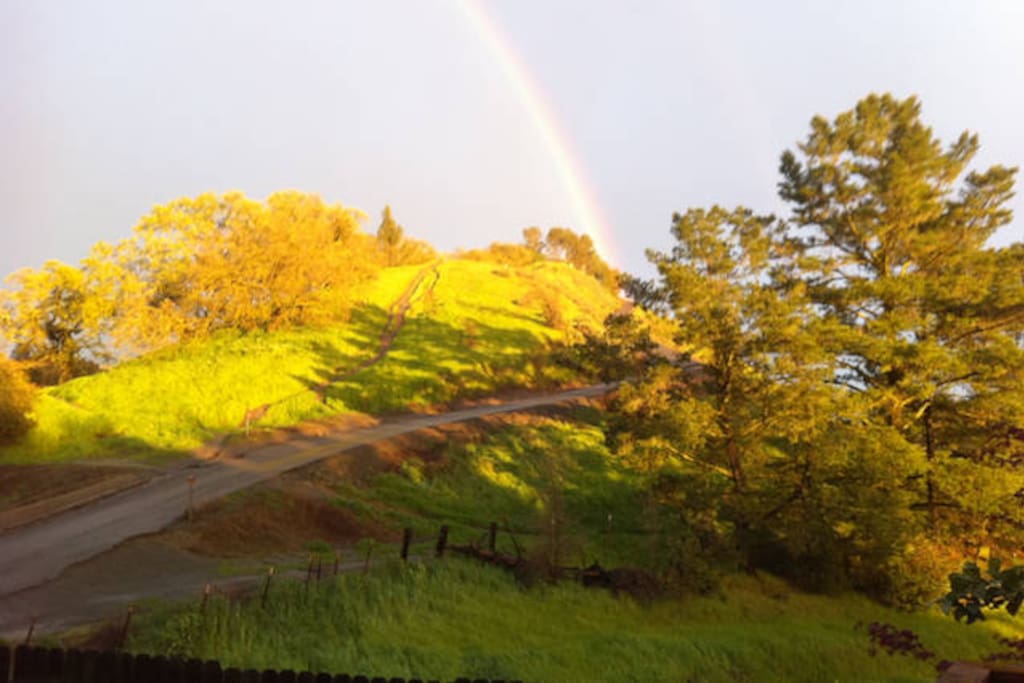 Private gated home provides complete privacy with 360 degree views, Backed up to W.C. Open space, and Mt. Dialbo State Park out my back gate. Private entrance to Large Master room, tub/shower en suite, walk in closet, flat screen TV, quiet & serene, private deck and sitting areas. Hiking/ biking in the backyard. This suite has its own private entrance, access to the hot tub, and total privacy should you desire that.
숙소
In suite coffee and tea bar. Small fridge and microwave. Watch the sunsets, sip wine, or just relax, this is the perfect place for a magical experience no matter what your favorite activity is. We have decks all the way around the house with beautiful views, 6 different sitting areas for reading or special moments, a hot tub to soak in, and a waterfall as your private symphony. We are sure you will feel like just staying here instead of sightseeing, it is serene and relaxing. Sporty; we provide hiking maps galore, or use our guest mt. bikes, we would be happy to make a 5 star picnic for you, for an extra fee. Also treadmill and Life Cycle, plus free weights balls and bands. City folks jump on our train system for a quick juant to San Francisco where you will enjoy crab and sourdough bread, Fisherman's Wharf and the cable cars. We have our list of special places, and for you foodies, our favorite restaurants, have to say Food is Fabulous in Walnut Creek and many 4 or 5 star local restaurants as well. Wine tasters; Napa is 40 minutes away as well as Livermoor Wine Valley just 30 minutes south. We love our little city just one mile away, happy to drop you or arrange a cab. 5 star food, and shopping, Neiman Marcus, Nordstroms, and local boutiques.
We have 1 old chocolate lab who is friendly and sleeps most of the time, but she may want to say hello.
B.A.R.T., is our transit system and Walnut Creek stop is approx 1 hour from SFO, and only a mile from our home. We have plenty of parking and it is gated and private, so very safe and secure.
사용가능 공간/시설
You will have access to the Suite, your private deck, and the laundry room for those of you that have extended stays. We have mountain bikes that you may borrow with back yard access to open space for as many miles as you wish. Hot tub to soak you bones and prep you for a good night sleep if you desire, and should you be one of those that want to jump on a treadmill of stationary bike before you start your day or after, your welcome to use those. Non kitchen use with this listing.
게스트와의 교류
We like to greet our guests when you first arrive and make you feel comfortable and welcome. Any information we can share that makes your stay more exciting and comfortable were both happy to share.
기타 사항
I have multiple mountain bikes that are available to use to explore the miles of open space trails accessed right out my back gate or just take a hike, what ever suits you.
---
---
---
유아(만 2세 미만)에게 안전하거나 적합하지 않음 - stairs, breakable amenities
As you might assume from our profile pic, we are playful people, with reasonable boundaries, please respect the space and enjoy your time here. I do have a smoking area, but do not allow smoking in the house or around any where other guests might be affected by it.
기타 알아두어야 할 사항:
계단을 이용해야 합니다
일부 공용 공간이 있습니다 - I have multipal listings in my home, but most often you'll be by your self in that the house is very split up with seperate entrances.
개가 숙소에 있습니다
---
---
---
It is interesting that when I became an Airbnb host 3 years ago (2014) there were 35 Host's in Walnut Creek. Now there are 300. I offer more than my college kids extra room to make an extra few dollars. I've created a theme here to have my guest's experience something special, so much more than a hotel room. This is my desire in life now and I take pride in doing it. Here is a little information about who I am. Native Bay Area Resident, who loves life, travel and adventure. I have traveled quite a bit and as a host I have said, you light up a room, you bring energy to my property, I am sorry you are leaving you make the property feel special. I enjoy bringing laughter and fun, a sense of joy and peace into my home. I find serving others fills me up with purpose and satisfaction, and exercise and outdoors help me keep relaxed and calm. I was raised on the property and upon my father subdividing the property and being fortunate to purchasing it, I built my present home as an owner builder in 1997 and feel I created a piece of heaven here up on the hill. I've put my love of creativity and pride of ownership into this property, and receive so much joy out of sharing it with my guests.