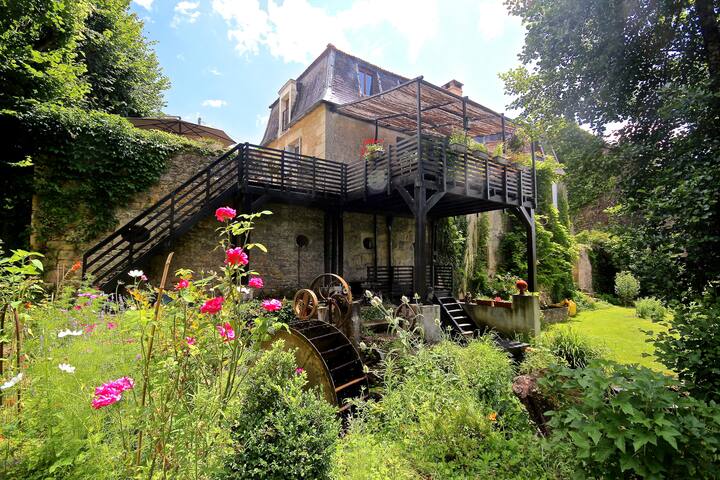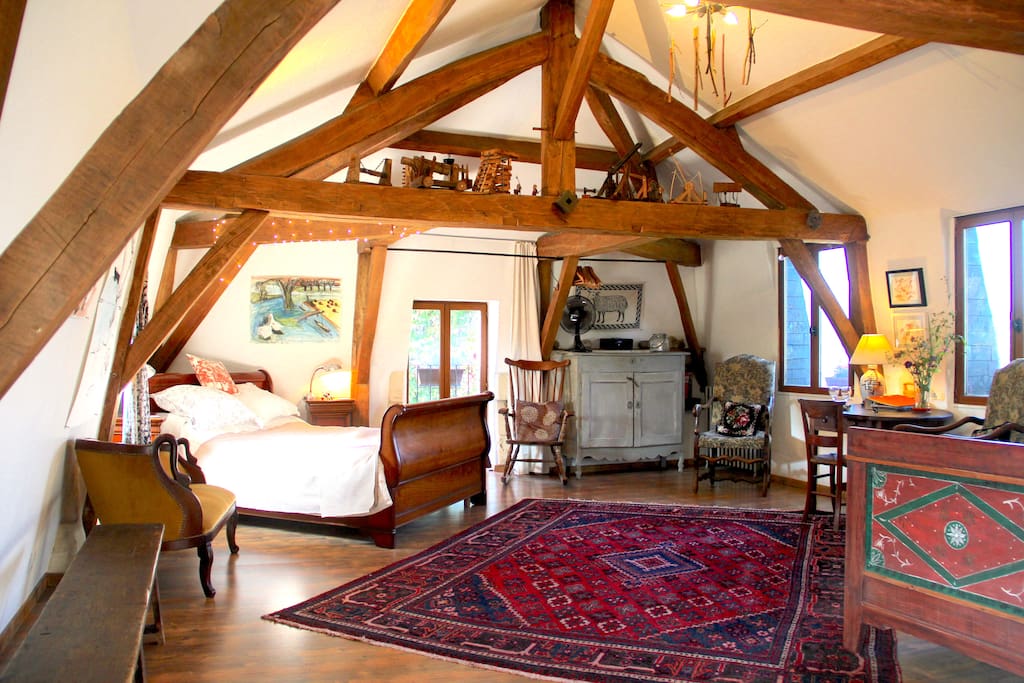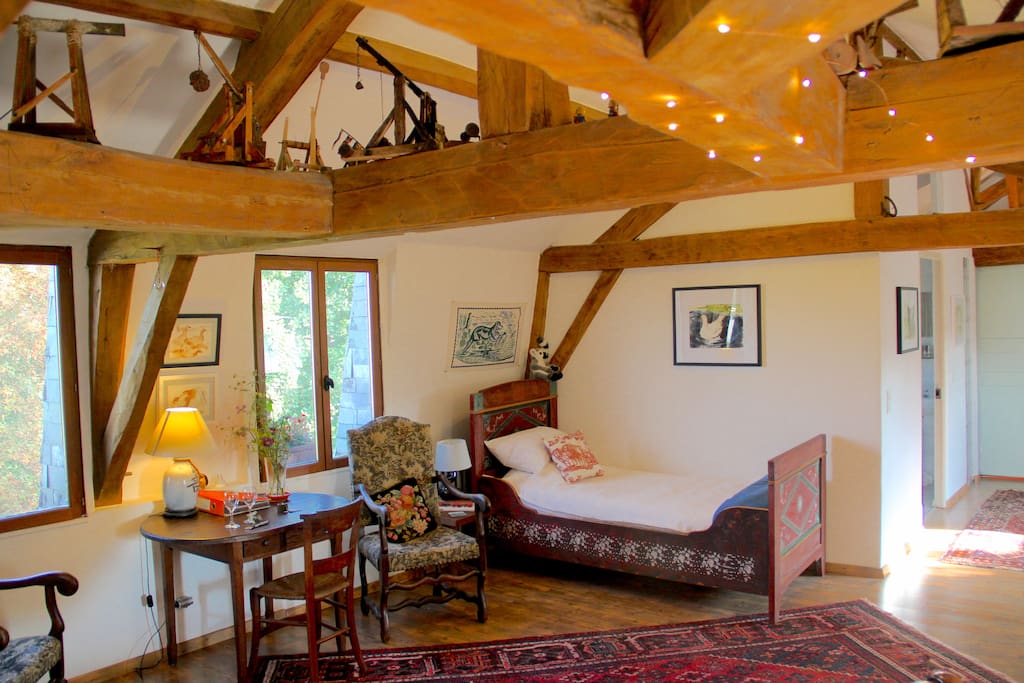 Includes delicious breakfast. Grand top floor bright and airy suite in a limestone watermill over the river. The house has a wonderful mix of ancient industrial heritage, eclectic art collection and modern fibre optic internet. The moulin has a large garden and island in the golden triangle of the Perigord Noir in the Dordogne. Located in the small town of Siorac en Perigord, close to Sarlat and Les Eyzies. Great location for Castles, Caves and Canoes.
숙소
손으로 조각 한 대들보, 일출과 일몰을 모두 잡을 수있는 5 개의 창문, 대형 더블 클래식 프랑스 바토우 침대 및 단 나무 민속기가 싱글 침대로 그려져있는 17thC 워터 밀 (Moulin Nauze)의 꼭대기 층. 식사, 글쓰기, 그림 테이블, 편안한 Henry IV 스타일 태피스트리 의자, 호화로운 골동품 깔개 및 춤 공간이 있습니다. 네스프레소 (Nespresso) 커피 머신과 차, 그리고 작은 와인 냉장고가 있습니다. 객실은 500 평방 피트 (149 평방 미터)입니다. Dorothy의 그림과 함께 판매되는 모델 Trebuchet으로 가득합니다. 독서, 묵상 또는 산책을위한 정원의 대형 테라스 및 데크 및 의자를 즐기며 정원은 반 에이커가 넘습니다. 거실을 공유하고 지하 영화에서 영화를 보는 것을 즐깁니다. 자신의 식사를 요리하기 위해 부엌을 공유하고 싶으면 물어보십시오. 우리는 당신에게 특별한 날을위한 샴페인과 초콜릿 바구니를 만들어 드리며 현지 음식을 환영합니다. 자세한 내용과 가격을 문의하십시오.
Top floor of our 17thC watermill (Moulin Nauze) with hand carved beams, five windows which catch both sunrise and sunset, a large double classic French bateau bed and sweet wooden folk painted single bed. There is a dining, writing, painting table and comfortable Henry IV style tapestry chairs, sumptuous antique rugs and room to dance. There is also a Nespresso coffee machine & tea, plus a small wine fridge completely setup for you. The room is 500 sq feet or 149 sq meters. Full of model Trebuchet's that are for sale, along with Dorothy's paintings. Enjoy the large terrace and deck, and chairs in the garden for reading, contemplation, or strolling, the garden is over half an acre. Share the living room and enjoy watching a film in the underground cinema. Ask if you want share our kitchen to cook your own meals. We are happy to make you a Champagne and Chocolate basket for a special occasion, or a welcome hamper of local food. Ask us for details and price.
사용가능 공간/시설
앉아서, 동물을보고, 강에서 휴식을 취하고, 연못에서 보트 여행을 즐기고, 식사를 즐기기위한 데크와 테라스를 갖춘 넓은 정원을 즐겨보십시오. 추운 겨울 밤이나 낭만적 인 여름 저녁에 이상적인 목재 온수 욕조가 있습니다. 집은 식료품 점, 약국, 헤어 살롱, 스파 및 하드웨어 쇼핑 옆의 나즈 강 (Nauze River)에 위치해 있습니다. 도보로 5 분 거리에는 기차역, 파티쉐 / 불랑제리, 그림 같은 다리와 카약 및 카누 대여가있는 더 많은 레스토랑과 수영장이 있으며, 하류에 느긋하게 뜰 수 있습니다. 도보 5 분 이내의 운동 공원, 축구 경기장 및 테니스 코트, 골프 코스가 5 분 운전 거리, 초경량 비행기 타기가 Belvés 공항에 있으며 20-30 분 거리에 또 다른 옵션이 있습니다. Les Eyzies 마을에있는 Sarlat의 유서 깊은 시장 마을 또는 Pre 역사 박물관 및 동굴까지 차로 20 분.
Enjoy a large garden with places to sit, watch the animals, relax by the river, enjoy a boat trip on the mill pond, a deck and terrace to enjoy your meals. We have a wood fired hot tub, ideal for a cold winter night or a romantic summer evening. The house is located on the Nauze River next door to grocery, pharmacy, hair salons, a spa, and hardware shopping. Within a five minute walk is the train station, patisserie/boulangerie, more restaurants and a swimming beach with a picturesque bridge and kayak and canoe rentals to lazily float downstream. There is also an exercise park, football field and tennis courts within that five minute walk, golf course is a 5 minute drive, ultra light plane rides are at Belvés airport and horseback riding another option within a 20 to 30 minute drive. Short 20 min drive to historic market town of Sarlat or the Pre history museum and caves, in the town of Les Eyzies.
게스트와의 교류
우리는 일 년 내내 이곳에서 살 수있어서 행복합니다. 우리는 방문 할 곳에 대한 질문을하기 위해 여기에 있습니다. 모든 시트와 수건이 제공됩니다. 요청시 수영 해변으로 가져갈 수있는 피크닉 담요. 객실 내 차와 커피. 맛있는 아침 식사가 제공되며, 닭고기로 만든 가정식 제빵과 신선한 계란이 달려 있습니다. 사이먼은 훌륭한 오믈렛 메이커입니다! 아래층에는 우리 도서관의 고전 프랑스 영화를 즐길 수있는 배럴당 아치형 홈 시네마가 있습니다. 일몰 후 1 시간을 보내고 정원에서 박쥐를 보아라. 박쥐 탐지기가있어 초음파 호출을들을 수 있습니다.
We are fortunate to live here year round and we are here to help with questions about places to visit. All sheets and towels provided. Picnic blankets to take to the swimming beach on request. Tea and coffee in your room. Delicious breakfast provided, often with home baking and fresh eggs from our chickens. Simon is a great omelet maker! Downstairs is a barrel vaulted home cinema for you to enjoy classic French films from our library. Spend an hour after sunset and watch the bats in the garden. We have a bat detector, so you can hear their ultrasonic calls.
기타 사항
*** 뉴스 *** 물랭 나제 (Moulin Nauze)는 야생 동물 피난처로서의 LPO 지위를 보유하고 있습니다. 우리는 Mounin Nauze를 'Eco Friendly'방식으로 관리하기 위해 열심히 노력합니다. 우리의 수차는 2KW의 가정용 전기를 생산했으며 정원은 1,000 평방 미터 또는 반 에이커 이상을 덮고 있습니다. 야채, 현지 꽃을 심고 고대 버드 나무, 삼나무, 포플러 및 말 밤나무가 있습니다. Moulin은 1750 년 프랑스 최초의 통일지도에 발자국이 올라 있으며 Siorac en Perigord의 모든 고대지도에 있습니다.
*** NEWS*** Moulin Nauze has LPO status as a wildlife refuge. We try hard to manage Mounin Nauze in an 'Eco Friendly' way. Our water wheel produced 2KW of the house electricity and our garden covers over 1,000 sq meters or over half an acre. Planted with vegetables, local flowers and has an ancient willow tree, cedar, poplar and horse chestnut trees. The Moulin is listed with its footprint on the first unified map of France in 1750 and is on all ancient maps of Siorac en Perigord.
---
---
---
체크인 가능 시간은 15:00 - 21:00입니다
We love children and pets. Children will enjoy participating in the feeding of the chickens and geese, and playing with the small chihuahua dog from Hawaii, Hapa. Collecting the eggs and studying the plants, frogs, bats, butterflies, damsel flies, bees, and moths such as the hawkmoth in the garden is great fun. The cats love hanging out with our guests in the garden. The Moulin Nauze has a beautiful working water wheel, bridges to the island, many works of art, antiques, a wide staircase that leads to the top floor from the front door and easy access to the rivers and mill pond. Supervision of children and care by adults is important, as the water wheel and and river are not fenced off. 2 bicycles are available for you to use. The Dordogne river valley has many flat and quiet back roads. All guests stay at the property and use the bicycles or boats at their own risk.
기타 알아두어야 할 사항:
계단을 이용해야 합니다 - The watermill and house has water, moving machinery, steep stairs and other potential hazards. Children must be supervised. Adults must take care.
숙소에 반려동물이 있습니다 - we have cats, a small dog, and farm animals. non will enter your room if your keep the door closed.
일부 공용 공간이 있습니다 - The cinema room and hot tub are shared.
편의시설 제한 - No kitchen in your room but guests can ask to use the host kitchen.
---
---
금요일과 토요일에는 최소 2박 이상 숙박해야 합니다.
---
Simon is an award winning Film Editor working for BBC TV and Discovery Ch.
Dorothy is American from Hawaii but grew up in Central and South America. She is a painter, with an international exhibition record and work in several major museums.
Simon is English but grew up in Scotland, a private pilot and has our moulin's water wheel not just running but producing electricity. It had not moved for more than fifty years.
Together they are creating a self sustaining garden adding fruit trees, paths, meadows, bridges, stepping stones in the river, bentwood gates, trellises, arbors, hot tub, a tree house, and special reading and relaxing spaces under the majestic established trees. We have a friendly goat, 2 sheep, geese and chickens in the the house a dog, 2 cats and birds.....come and meet the a ZOO !!!

언어:
English, Español, Français