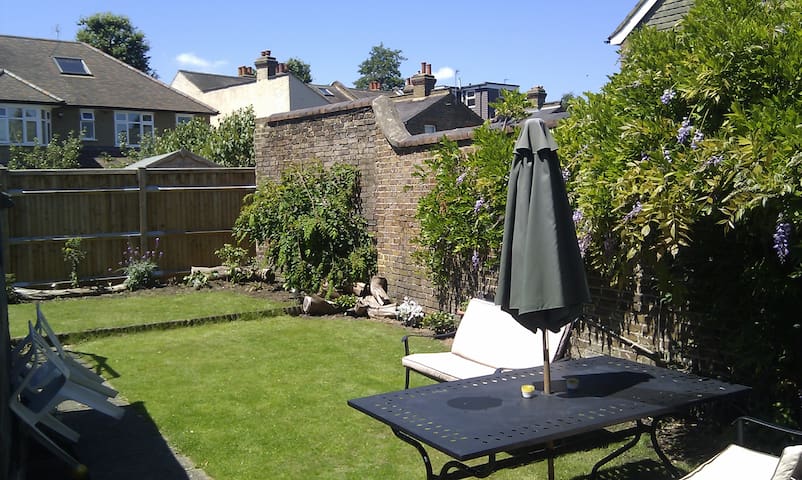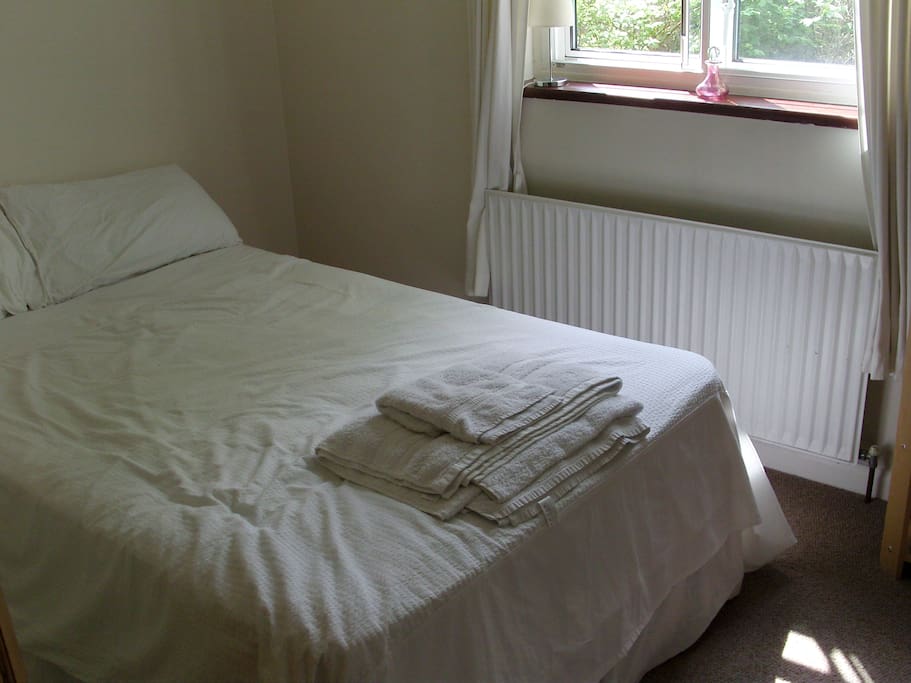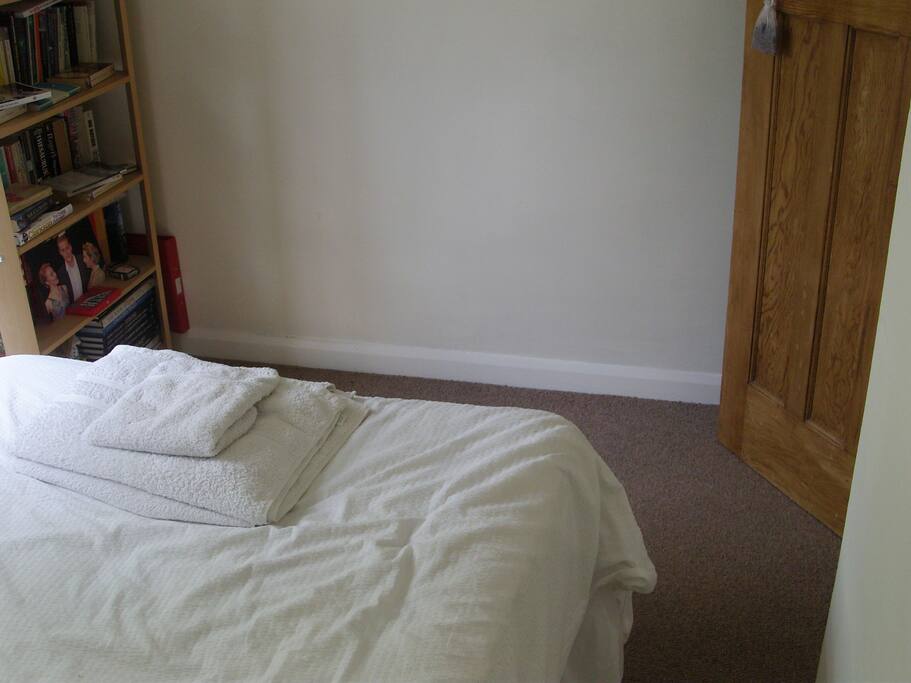 이 방은 작지만 밝은 더 블룸으로 평면의 다른 시설을 이용할 수 있습니다. 그것은 저장을위한 3 개의 큰 밑받침 서랍 (옷장이없고 문 뒤에 매달려있는)과 매우 편안한 더블 침대가있는 나의 여분의 방이다. 런던으로가는 훌륭한 링크
The room is a small but bright double room with access to other facilities in the flat. It is my spare room with 3 large underbed drawers for storage (no wardrobe but hanging behind door), and a very comfortable double bed. Excellent links to London
숙소
방은 작지만 밝고 깨끗하며 매우 편안한 침대가 있습니다! 방에서 TV 및 DVD뿐만 아니라 무료 초고속 인터넷을 읽을 수 있다면 거대한 범위의 책에 액세스 할 수 있습니다. 주방, 욕실, 거실 및 정원과 같은 모든 평면의 주요 지역에 액세스 할 수 있습니다 (우리는 쉽게 접근 할 수 있도록 1 층에 있습니다). 나는 어디에서나 깨끗한 보관을 요구합니다 :-)
The room is small, but bright, clean and has a very comfortable bed! You have access to a huge range of books if you like to read as well as TV and DVD in the room and of course free superfast internet. You will have access to all of the flat's main areas, like kitchen, bathroom and living room and garden (we are on the ground floor for easy access). I only ask everywhere used is kept clean :-)
사용가능 공간/시설
따뜻한 계절에는 스카이 TV 및 정원과 같은 다른 용도로 사용하기 위해 욕실, 주방 및 거실의 모든 주요 공간을 이용할 수 있습니다. 다리미, 세탁기 / 건조기, 욕실 등 일반 편의 시설을 이용할 수 있습니다. .
You will have access to all the main areas of the flat (bathroom, kitchen, and living room for use of other things like Sky TV and the garden in the warmer months. Usual amenities are available like Iron, washing machine/dryer, bathroom etc.
게스트와의 교류
나는 길을 돕기 위해 항상 가까이에있을 것입니다. 제 리뷰에서 알 수 있듯이 런던과 그 지역으로 사람들을 환영하는 것을 좋아합니다. 나는 때로는 오랜 시간 일하므로 분명히 평평한 파티가 아니며 일주일 동안 평안함을 좋아합니다. 그러나 나는 까다 롭거나 방해가되는 주인이 아니며 사람들이 집에서 집으로 돌아가고 힘든 날이나 관광을 마친 후 휴식을 취하는 것과 같습니다.
I will always be on hand to help with directions - as you can tell from my reviews, I like welcoming people to London and the area. I do work long hours sometimes, so this is definitely not a party flat and like some peace during the week. However, I am not a fussy or intrusive host, and like people to make it a home from home and relax after a hard days work, or sightseeing.
어린이(만 0-12세)에게 안전하거나 적합하지 않음
체크인 가능 시간은 08:00 - 00:00입니다
No Smoking indoors - please use the back garden. Happy for the kitchen to be used, but it must be kept clean :-) No children or couples. I don't mind a visitor, but I must have notice.
기타 알아두어야 할 사항:
고양이가 숙소에 있습니다
Wonderful stay everything you need on your doorstep. Paul was very welcoming and is very easy going. Teddington is a gem of a place to stay as either a place to explore the surrounding areas or as a base to venture into the city. Teddington train station less than a 3 minute walk away and from there you can catch direct trains to London waterloo. A fantastic stay and will be definitely recommending to friends and family.
---
Fantastic, all around fantastic. The property was just as described, in a lovely neighbourhood and so very close to the train station which made the jaunt to central London a breeze. Paul is a great host and so very helpful and accommodating! I highly recommend his listing to anyone seeking a comfortable and wonderfully priced place to stay during a visit to the UK.
---
I stayed over at Paul's for the U2 gig at Twickenham which was just a short distance away on public transport. If you're looking for somewhere to stay for the rugby or other events at the stadium, Paul's place is perfect. The room itself is nicely laid out, very comfortable and is situated in a quiet part of Teddington. Paul himself is an extremely friendly guy, and very hospitable.
---
Habe zwei Wochen bei Paul gewohnt. Das Zimmer ist zwar eher klein, aber völlig ausreichend und bequem. Paul war wenig zuhause, aber immer freundlich und entgegenkommend, und ich konnte im Haushalt nutzen, was nötig war (wie Herd, Waschmaschine, Bügeleisen usw.). Die Gegend ist sehr hübsch und ruhig mit Vorstadtcharakter. Bahnhof und Bushaltestellen sowie Läden, Cafés und Restaurants sind nur wenige Gehminuten entfernt. Und wenn man quer durch Bushy Park läuft, ist man in einer halben Stunde in Hampton Court, was für mich die Lage perfekt machte.
---
Hi,

I'm an easy going professional by day and an actor by night! I have a spare room that is handy for people wanting a short stay somewhere overnight on Business/Pleasure in London. My friends often use it as their London base when in town, and so I think you will like it too.

My place is in Teddington, South West London, near Twickenham, Richmond and Kingston. It is within a few minutes walk of the mainline train with trains every 15mins, direct to the main London Waterloo station. Furthermore it is about 6 miles from Heathrow Airport with a direct bus at the end of the road, and only a 10 min walk to The River Thames.

It is a quiet, mature part of town, so a good night's sleep before the next day should not be a problem. There are numerous eateries (breakfast lunch, dinner and supper) just a few minutes away on Teddington High Street, and a Garden to relax in of a summers evening if you wish.

I'm welcoming but not an intrusive or fussy host, and always have a clean home! I also have a cat, but she lives outdoors most of the time (for anyone that might have a severe allergy - no-one has suffered)

The room is small but bright and has a very comfortable double bed, with 4 large underbed drawers, (no wardrobe, but hooks behind door) TV/DVD, Fibre WiFi and many books if you're a reader. There is floor space for suitcases (also a cupboard is available for longer storage of cases). Other facilities are available if needed (ironing board etc).

I look forward to meeting you!

Warm regards,

Paul