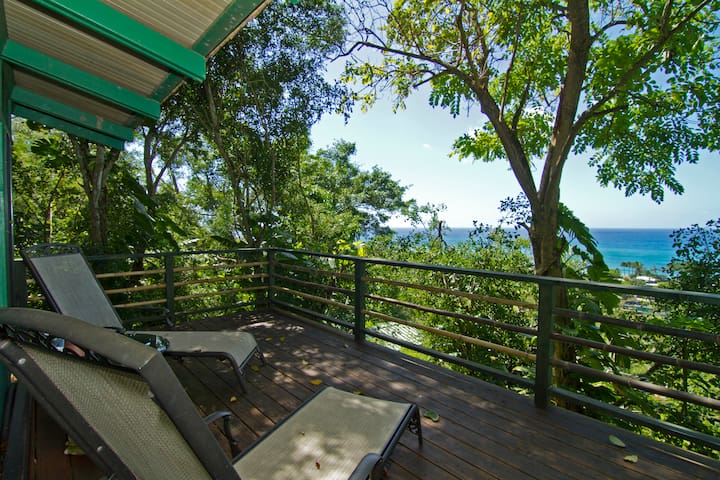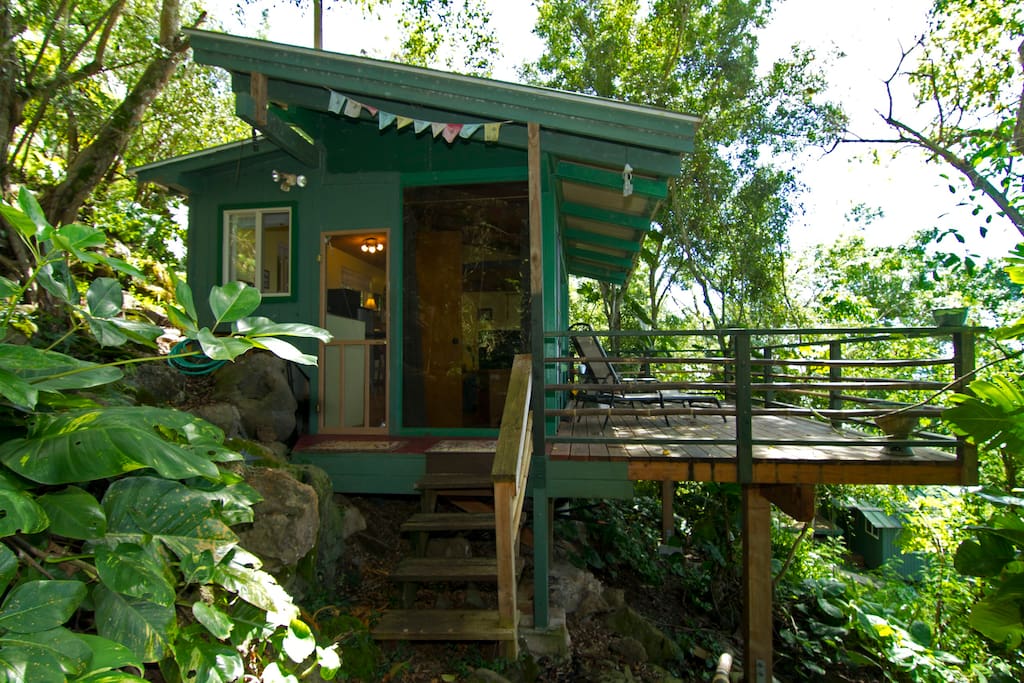 상세 설명
Dwell in bliss like a local in north shore nirvana. The ultimate retreat for surfers, yogis and nature lovers, this jungle bungalow overlooks one of the most famous surf spots on the north shore. Climb up 80 steps winding through lush foliage........
---
---
---
---
숙소
Dwell in bliss like a local in north shore nirvana. the ultimate retreat for surfers, yogis and nature lovers, this jungle bungalow overlooks one of the most famous surf spots on the north shore. Climb 100 steps up a stone path winding through lush foliage to your tree house nestled among black lava rock, shaded by deep green canopy of Banyan, mango, avocado trees. fall asleep to the lullaby of the waves and awaken to the sweet songs of birds in the trees.
The unit itself is 250 sq. feet, loft above with full size cotton futon, full size Euro lounger below with pillow top below as well and features a kitchenette with granite counter tops, hardwood flooring, lots of windows with that spectacular ocean view. The shower has a great ocean view too.! The property has 2 other units and the main house has a huge communal yoga deck overlooking the ocean. We are a healthy, eco-friendly community with a love for yoga, nature, adventure, water sports of all kinds, specializing in surfing! Friendly resident surfers can put you on the right spot at the right time to maximize your fun, regardless of your skill level. We have boards for you to use, kitesurfing, windsurfing, standup-paddle, even a kayak... and we love sharing our (30+ years) local knowledge.
We also work(but only when the waves are bad) to keep the hill tidy, so if you are skilled (or just energetic) we are barter friendly!
description of area:
the north shore features world famous beaches for surfing and spectating sept-april. Our summer tends to be calmer and swimming, sunning, stand-up paddle boarding and windsports are the call. December books up early for world championship surf contests, when the north shore is a mecca of surf excitement.
The island of oahu is a treasure trove of adventure with helicopter tours, horseback riding, kayaking, whale watching, and sightseeing. take in a lagoon swim at beautiful Waimea falls and park, or attend a traditional luau and island show at the polynesian cultural center, just 9 miles from your jungle nest. There are Bicycles for your use and a 4 mile path along the beach for that.
Downtown Haleiwa is just 7 miles away and features more surf shops and local flavor than you can shake a well waxed stick at. surf gear, surf garb, hot and cool
beach stuff. downtown eats include sushi, thai, italian, mexican and local cuisine. Work it out into the night with live music and dancing at nearby Breakers Bar.
strap on your running shoes and enjoy miles of scenic running and hiking trails. get your golf on at the local course in Kahuku, ocean front with $20 green fees.
or visit world famous "Turtle Bay Resort" just 3 miles away, and indulge in two 18 hole Arnold Palmer golf courses. treat yourself to spa services, gym and yoga classes, and dancing and dining at one of the many restaurants. nearby Waialua has a yoga coop that offers yoga classes on a donation basis.
You are going to need your energy and its never been easier or more enticing. Weekend farmers markets featuring local organic produce and the award winning cafe and health food at Celestial Foods in Haleiwa offer fruits and veggies of the gods, and they really do taste better here! there's something in the soil; they call it manna. restore your soul, cleanse your body. NO SMOKING TOBACCO ANYWHERE PLEASE
---
No cigarettes, recycling is mandatory. some of our guests come specifically to meditate so we like to keep it peacful and healthy up here,
there is nightlife close by in Surfer the Bar at Turtle Bay 2 miles up the way and Waikiki with all it's vices is only an hr. We are into Yoga, Surfing, and a Vegetarian lifestyle, so it's pretty sleepy up here after 10pm, but we love to have an occasional get together with new friends that stay if they are up for that.

We recycle and are gardeners, love to have a hand in the garden and share the organicaly grown fruit and veggies.
---
엄격
체크인 7일 전까지 예약을 취소하면 예약금의 50%와 서비스 수수료가 환불됩니다.
---
Our stay at the treehouse was by far the highlight of our time in Hawaii, enjoyed by the whole family. John and Julie were so welcoming and friendly. We made the most of the surfboards and bikes and loved the organic veggie patch. The treehouse was well equipped, clean and an amazing view of sunset beach. We will definitely be back :-)
---
The treehouse bungalow was so charming and so cool. Perched up high, overlooking the north shore. The porch was a great place to hang. The whole vibe of the place was just super cozy. I expected more bugs inside, and more dread involved with the hike up the rocky stairs, but it was very clean and the walk up was actually really enjoyable each time, walking through tropical foliage, green lizards and exotic birds. The last night it rained and sleeping in the bungalow in the rain was so relaxing. The bed was super comfortable. We got to see some crazy Hawaiian rainbows in the morning from the deck. I also really appreciated that they had a french press for coffee. Such a cool thing they've got going here. Wish we had time to check out the yoga. Sunset Beach (appropriately named) is walking distance. We learned to surf close by. Saw some sea turtles surface from the sea. The area around this house is great. Lots of food trucks and hip places serving cold brew and whatnot. Ted's Bakery had some delicious coconut pie. Thank you John! This place was truly amazing.
---
Awesome place in a secluded area of North Shore. Sunset Beach was directly across the street from us, we could even hear the waves crashing at nighttime. John and the other guest living on the property were all very friendly and helpful. We loved our stay and wouldn't hesitate to come back again.
---
My wife and I really enjoyed our getaway at the Treehouse Bungalow. We arrived a little early and was greeted by the property manager who let us leave our bags on the property while we waited to check in. Once checked in we found the bungalow to be in great shape and very clean and cozy. We were glad to see that they provided the essentials, such as glasses, silverware, bowls, plates, coffee press, hot plate, refrigerator, microwave and steaming hot water. It was conveniently located walking distance from Sunset Beach which provided a calming serenade of waves crashing throughout the night. I would highly recommend this as a vacation rental or a staycation for someone local who is looking to getaway for a few days. My only complaint was the parking. I live on island and my truck is significantly larger than most rentals which proved to be a bit much for the provided parking. During our stay there were roughly nine vehicles including ours that were parked on site. While we all could have parked on the property I felt more comfortable parking my truck on the street rather than force the others to maneuver around it. This definitely did not change our opinion of the Bungalow but had we known prior to going we would have driven my wifes coupe instead. Thanks you for allowing us to enjoy your property! We will keep yall in mind next time we are looking for a weekend getaway.
---
The Tree house is an amazing get away. The view from the deck is breathtaking. Sleeping with all the windows open, hearing the waves and birds was truly magical. The tree house has everything you might need, including fresh fruit when available. We were lucky to have bananas during our stay. The location on the north shore is great, walking distance to the famous Sunset beach, close to grocery store and numerous tasty food trucks.
---
이 호스트의 다른 숙소에 대한 283개의 후기가 있습니다.
다른 후기 보기
---
30+ year North Shore vet and crew love to share local knowledge with guests. We overlook the most beautiful ocean and love to get in it everyday! From white water first timers to big wave tow ins, kite surf, stand up paddle and traditional surfing, we do it all. The focus is fun and we will put you in the right place to maximize yours. We eat mostly vegetarian and organic, and a lot of our food we grow on the property. Yoga is a focal point for us, and if you care to join in we are all inclusive... novice first timers and seasoned yogis alike! The communal yoga deck overlooks the surf at Sunset Beach and has been the venue for some wonderful practice for our guests that have visited and ourselves as well. We enjoy inspiring and being inspired by the friends we make up here. There are a couple of other bungalows on the property that are inhabited by like minded people, we always welcome you to join us, but are very respectful of your privacy.
정확한 위치 정보는 예약이 확정된 후 알려드립니다.