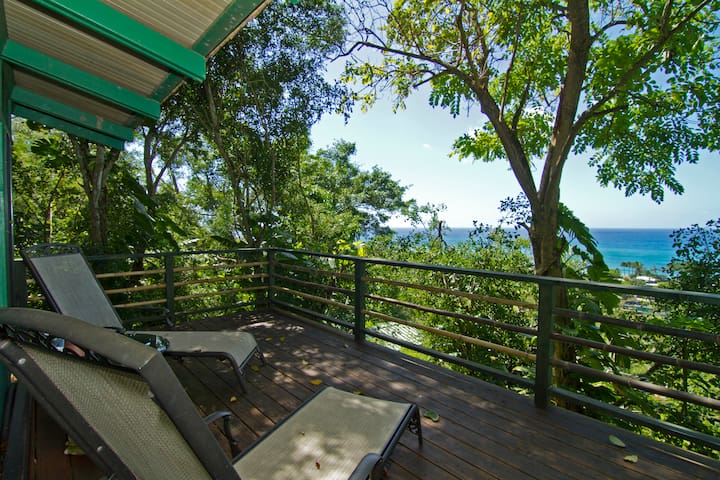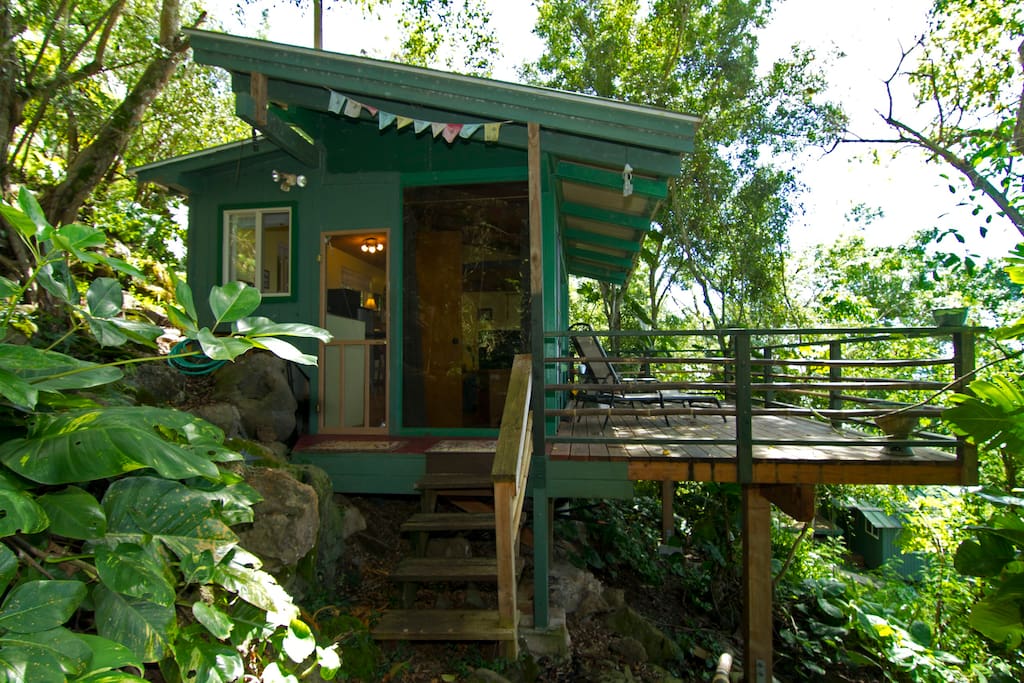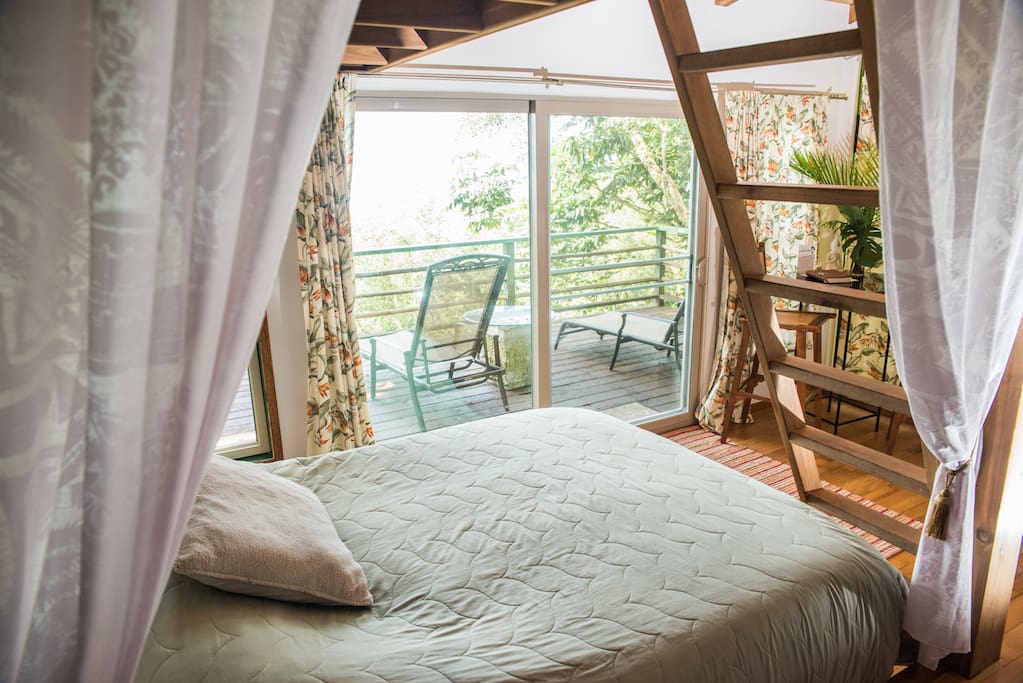 노스 쇼어 너바나에서 현지인처럼 행복에 빠져 라. 파도 타기, 요가 및 자연 애호가를위한 최고의 휴양지 인이 정글 방갈로는 북쪽 해안에서 가장 유명한 서핑 명소 중 하나를 내려다 봅니다. 무성한 잎사귀를 타고 80 걸음 올라 ........
Dwell in bliss like a local in north shore nirvana. The ultimate retreat for surfers, yogis and nature lovers, this jungle bungalow overlooks one of the most famous surf spots on the north shore. Climb up 80 steps winding through lush foliage........
숙소
노스 쇼어 너바나에서 현지인처럼 행복에 빠져 라. 서퍼, 요가 및 자연 애호가를위한 최고의 휴양지 인이 정글 방갈로는 북쪽 해안에서 가장 유명한 서핑 명소 중 하나를 내려다 봅니다. 백 야크, 망고, 아보카도 나무의 깊숙한 녹색 캐노피가 그늘진 검은 용암 바위 사이에 자리 잡은 나무 집에 무성한 경엽을 통과하는 돌 길을 100 걸음 올라보세요. 파도의 자장가에서 자고 나무의 새들의 달콤한 노래를 깨운다. 객실 자체는 250 평방 피트 크기이며, 풀 사이즈면 이불, 아래에 전체 크기의 유로 안락 의자가 있으며 아래에는 베개 탑이 있습니다. 화강암 카운터 탑, 경재 마루가있는 간이 주방, 멋진 바다 전망을 갖춘 창문이 있습니다. 샤워 실도 대단한 바다 전망을 가지고 있습니다. 본 호텔에는 2 개의 다른 부대가 있으며 본관에는 바다가 내려다 보이는 커다란 공용 요가 데크가 있습니다. 우리는 요가, 자연, 모험, 모든 종류의 수상 스포츠를 좋아하는 서핑을 전문으로하는 건강하고 친환경적인 커뮤니티입니다! 친절한 거주자 서퍼는 기술 수준에 관계없이 적절한 시간에 적절한 장소에 놓아 재미를 극대화 할 수 있습니다. 카이트 서핑, 윈드 서핑, 스탠드 업 패들, 심지어 카약까지 사용할 수있는 보드가 있습니다. 우리는 (30 년 이상) 지역 지식을 공유하는 것을 좋아합니다. 우리는 또한 언덕을 깔끔하게 유지하기 위해 (그러나 파도가 나쁠 때만) 일합니다. 그래서 당신이 숙련 된 (또는 정력적인) 사람이라면 우리는 친절한 물물 교환을합니다! 지역 설명 : 노스 쇼어는 세계에서 가장 유명한 해변으로 서핑을하(URL HIDDEN)관측합니다. 우리 여름은 차분하고 수영하는 경향이 있습니다. 햇볕에 쬐고, 스탠드 - 업 패들 탑승과 윈드 스포츠가 필요합니다. 북쪽 해안이 파도 타기 흥분의 메카 일 때, 세계 선수권 서핑 경연 대회를 위해 일찍 12 월 도서. 오아후 섬은 헬리콥터 투어, 승마, 카약, 고래 관찰, 관광 등을 즐기는 보물입니다. 아름 다운 Waimea 폭포와 공원에서 석호를 타거나 정글 둥지에서 불과 9 마일 떨어진 폴리 네 시안 문화 센터에서 전통 루아 우와 섬 쇼에 참석하십시오. 자전거를 타기 위해 해변을 따라 4 마일 경로가 있습니다. 할리와 (Haleiwa) 다운타운은 불과 7 마일 떨어져 있으며, 서핑 가게와 현지 풍미가 더 잘 어울립니다. 서핑 기어, 서핑 복장, 뜨겁고 차가운 해변 물건. 시내 음식에는 초밥, 타이, 이탈리아, 멕시코 및 현지 요리가 있습니다. 근처의 Breakers Bar에서 라이브 음악과 댄스로 밤을 보내십시오. 스트랩을 착용하고 아름다운 달리기 코스와 하이킹 코스를 즐깁니다. 카 후쿠 (Kahuku)의 지역 코스에서 20 달러의 초록색 요금으로 골프를 즐기십시오. 아니면 세계적으로 유명한 터틀 베이 리조트 (Turtle Bay Resort)에서 불과 3 마일 떨어진 곳을 방문하고 18 홀짜리 Arnold Palmer 골프 코스 2 곳을 탐험 해보세요. 스파 서비스, 체육관 및 요가 수업, 다양한 레스토랑에서 춤과 식사를 즐기십시오. 인근 Waialua에는 기부금으로 요가 수업을 제공하는 요가 협동 조합이 있습니다. 당신은 당신의 에너지를 필요로 할 것이고 결코 더 쉽지 않을 것입니다. 하리와 (Haleiwa)의 천상 식품 (Celestial Foods)에서 현지 유기농 농산물과 수상 경력에 빛나는 카페와 건강 식품을 제공하는 주말 농부 시장은 과일과 채소를 제공하며 이곳의 맛은 정말 좋습니다! 토양에 뭔가가 있습니다. 그들은 그것을 만나라고 부릅니다. 당신의 영혼을 회복시키고, 당신의 몸을 정화하십시오. 담배를 피우지 마세요.
Dwell in bliss like a local in north shore nirvana. the ultimate retreat for surfers, yogis and nature lovers, this jungle bungalow overlooks one of the most famous surf spots on the north shore. Climb 100 steps up a stone path winding through lush foliage to your tree house nestled among black lava rock, shaded by deep green canopy of Banyan, mango, avocado trees. fall asleep to the lullaby of the waves and awaken to the sweet songs of birds in the trees.
The unit itself is 250 sq. feet, loft above with full size cotton futon, full size Euro lounger below with pillow top below as well and features a kitchenette with granite counter tops, hardwood flooring, lots of windows with that spectacular ocean view. The shower has a great ocean view too.! The property has 2 other units and the main house has a huge communal yoga deck overlooking the ocean. We are a healthy, eco-friendly community with a love for yoga, nature, adventure, water sports of all kinds, specializing in surfing! Friendly resident surfers can put you on the right spot at the right time to maximize your fun, regardless of your skill level. We have boards for you to use, kitesurfing, windsurfing, standup-paddle, even a kayak... and we love sharing our (30+ years) local knowledge.
We also work(but only when the waves are bad) to keep the hill tidy, so if you are skilled (or just energetic) we are barter friendly!
description of area:
the north shore features world famous beaches for surfing and spectating sept-april. Our summer tends to be calmer and swimming, sunning, stand-up paddle boarding and windsports are the call. December books up early for world championship surf contests, when the north shore is a mecca of surf excitement.
The island of oahu is a treasure trove of adventure with helicopter tours, horseback riding, kayaking, whale watching, and sightseeing. take in a lagoon swim at beautiful Waimea falls and park, or attend a traditional luau and island show at the polynesian cultural center, just 9 miles from your jungle nest. There are Bicycles for your use and a 4 mile path along the beach for that.
Downtown Haleiwa is just 7 miles away and features more surf shops and local flavor than you can shake a well waxed stick at. surf gear, surf garb, hot and cool
beach stuff. downtown eats include sushi, thai, italian, mexican and local cuisine. Work it out into the night with live music and dancing at nearby Breakers Bar.
strap on your running shoes and enjoy miles of scenic running and hiking trails. get your golf on at the local course in Kahuku, ocean front with $20 green fees.
or visit world famous "Turtle Bay Resort" just 3 miles away, and indulge in two 18 hole Arnold Palmer golf courses. treat yourself to spa services, gym and yoga classes, and dancing and dining at one of the many restaurants. nearby Waialua has a yoga coop that offers yoga classes on a donation basis.
You are going to need your energy and its never been easier or more enticing. Weekend farmers markets featuring local organic produce and the award winning cafe and health food at Celestial Foods in Haleiwa offer fruits and veggies of the gods, and they really do taste better here! there's something in the soil; they call it manna. restore your soul, cleanse your body. NO SMOKING TOBACCO ANYWHERE PLEASE
No cigarettes, recycling is mandatory. some of our guests come specifically to meditate so we like to keep it peacful and healthy up here,
there is nightlife close by in Surfer the Bar at Turtle Bay 2 miles up the way and Waikiki with all it's vices is only an hr. We are into Yoga, Surfing, and a Vegetarian lifestyle, so it's pretty sleepy up here after 10pm, but we love to have an occasional get together with new friends that stay if they are up for that.

We recycle and are gardeners, love to have a hand in the garden and share the organicaly grown fruit and veggies.
Beautiful serene setting in the jungle! Wake to birds singing everyday. Not for those out of (URL HIDDEN) truly is a hike up to the treehouse. Tip: bring several small bags rather than large suitcases to make the climb up. Sunset beach, shark cove, turtle bay and the segway tour were our favorites.
---
Six days in the TreeHouse Bungalow was magical! My wife and I totally relaxed in the tropical surroundings, listening to the ocean, and watching the starry sky. We are grateful to John for offering this relaxing retreat. Recommend taking advantage of the snorkel gear and variety of boards (SUP, boogie, surf) that are included in your stay. Mahalo!
---
What a location! The beautiful views to the ocean, the calming presence of the forest is just gorgeous. The stairs are a hike and a half so be careful, but totally worth it!! Everyone is so friendly, yoga on the deck was incredible. Remember it's a rainforest retreat and not a luxury hotel and you'll love it!
---
Could not have lucked upon a better place to celebrate our honeymoon or to explore the beautiful North Shore for the first time. The view was heavenly, better than a picture could do justice. The bungalow was intimate and comfy, tucked away in the hillside overlooking Sunset Beach. We slept great every night to the light sprinkling of rain and woke up with the sunrise every morning. Location was ideal, centrally located with great North Shore getaways in each direction. We sampled many nearby beaches, took a helicopter ride around the North Shore from Turtle Bay, snorkeled in Shark's Cove, "learned" to surf with a local instructor, hiked to a nearby mountaintop, drove oceanside down the coast, swam in Waimea Falls, and ate an impressive variety of local restaurants and food trucks alike, many in nearby surf town Haleiwa. All only a few minutes drive and a small trek uphill away from our island home. Many thanks to John and his crew for sharing such a perfect, serene, unique way to see Oahu. My wife and I had an unforgettable trip.
---
30+ year North Shore vet and crew love to share local knowledge with guests. We overlook the most beautiful ocean and love to get in it everyday! From white water first timers to big wave tow ins, kite surf, stand up paddle and traditional surfing, we do it all. The focus is fun and we will put you in the right place to maximize yours. We eat mostly vegetarian and organic, and a lot of our food we grow on the property. Yoga is a focal point for us, and if you care to join in we are all inclusive... novice first timers and seasoned yogis alike! The communal yoga deck overlooks the surf at Sunset Beach and has been the venue for some wonderful practice for our guests that have visited and ourselves as well. We enjoy inspiring and being inspired by the friends we make up here. There are a couple of other bungalows on the property that are inhabited by like minded people, we always welcome you to join us, but are very respectful of your privacy.
언어:
English, Español