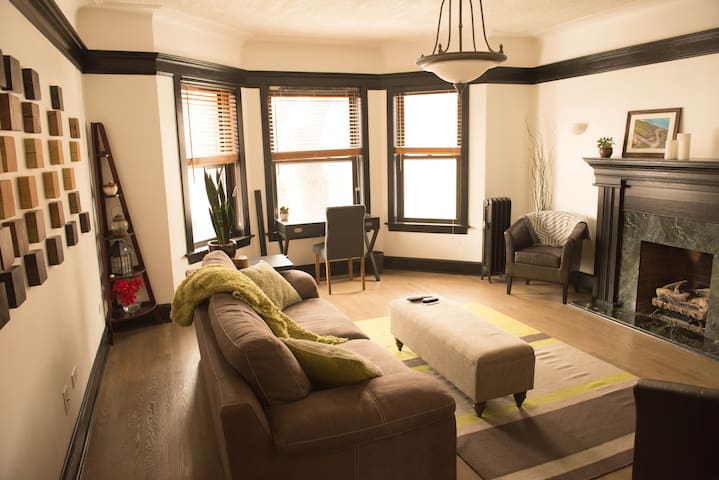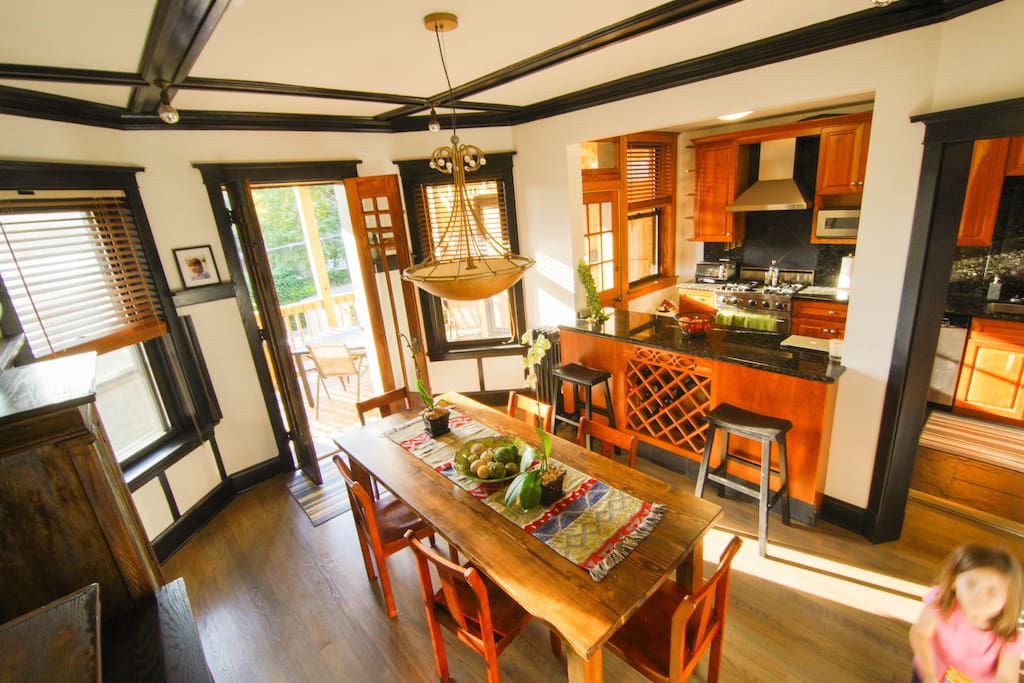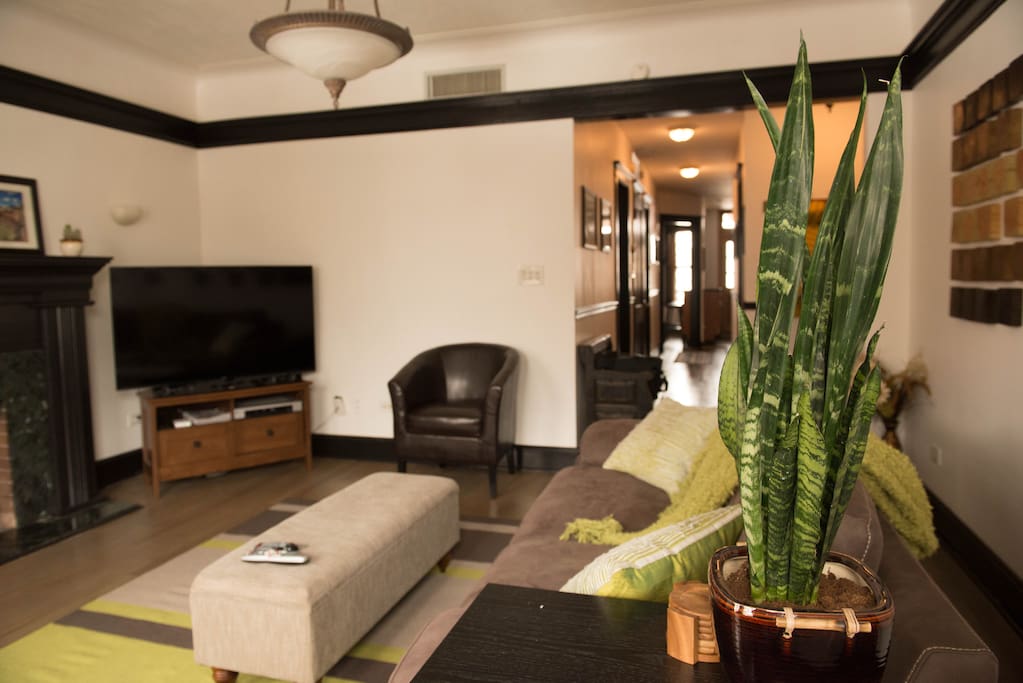 1906 건물에 아름답게 리모델링 된 2BR 유닛이 있습니다. 독창적 인 여행자에게는 위대하지만 더 넓고 편안합니다. 맞춤 제작 된 가구, 5 대 정식 침대, 목가적 인 이웃의 아름다운 뒷뜰을 내려다 보는 환상적인 데크로 시카고에서 가장 즐거운 시간을 보내실 수 있습니다. 주차는 Racine Ave의 건물 앞에서 쉽게 볼 수 있습니다. 무료이며 허가가 필요 없습니다.
Perfectly located, beautifully remodeled 2BR unit in a 1906 building. Great for a solo traveler, but spacious and comfy for several more. Custom built furniture, posturepedic beds for 5, and a fantastic deck overlooking a lovely backyard in an idyllic neighborhood make this a most pleasant Chicago stay.
Parking is easily found in front of my building on Racine Ave. It's free and does not require a permit.
숙소
내가이 장소를 구입했을 때 내가 한 첫 번째 일은 폭풍 창과 스크린을 벗겨 내고 아름다운 새 창을 설치하는 것입니다. 빛은 내게 모든 것입니다. 아침에는 거실이 밝고 생생합니다. 세 창문은 모두 거리의 소리와 함께 넓게 열립니다. 주방, 식당 및 야외 파티오는 거의 한 방과 같습니다. 나는 뒷문, 프렌치 문 및 양쪽 스크린 문을 거의 하루 종일 열어두고 바람과 빛과 뒤뜰 소리를 들려줍니다. 그것은 멋진 실내 / 실외 감각을 만듭니다. 건물의 복사열로 인해 일 년 중 많은 시간 동안 벗어날 수 있습니다. 뒤뜰 자체도 아름답습니다. 깃대 석 파이어와 산책, 그리고 앉아서 그늘을 즐기기위한 몇 개의 벤치가 있습니다.
The first thing I did when I bought this place was rip out the storm windows and screens, and install beautiful new windows. Light is everything to me. In the morning, the living room is bright and vibrant. All three windows open wide to the sounds of the street.
The kitchen, dining room, and outdoor patio are almost like one room. I leave the back door, French doors, and both screen doors open almost all day long, letting in the breeze, the light, and the sounds of the back yard. It makes for a wonderful indoor/outdoor sensation, which you can get away with for much of the year because of the radiant heating in the building.
The backyard itself is also lovely, with a flagstone firepit and walks, as well as a few benches to sit and enjoy the shade in.
사용가능 공간/시설
커피! 나는 이것을 무료로 제공한다. 나는 Keurig 기계와 이탈리아 스타일의 에스프레소 메이커를 가지고있다. 맥주! 부담없이 1 ~ 2 개를 가져 가십시오. 특권을 남용한다고 생각하면 괜찮습니다. 쿠키 항아리에 몇 달러 만 남겨주세요. 또한, 21하십시오. 20MB / s 무선 이것은 좋은 물건이다. Netflix 및 HBOGO를 포함한 Apple TV. 기본 케이블 TV .... 아무 것도 좋은 물건. 이를 위해 Apple TV를 사용하십시오. 홈 오디오 시스템. 거실의 경우 Wi-Fi를 통해 휴대 전화 나 ipad를 연결할 수 있습니다. 나는 부엌 지역에있는 블루투스 boombox (작은 녀석 걷어차 기)가있다. 자전거 (들)! 시카고에는 Divvy라는 도시 공용 자전거 서비스가 있습니다. 나와 함께 지내는 모든 손님에게 무료 패스를 제공합니다. 더 많은 사람들이 자전거를 필요로한다면, 문제 없습니다 .... 단지 자전거 블록 옆에있는 반 블록 떨어진 곳의 키오스크를 사용하십시오.
Coffee! I provide this free of charge. I've got a Keurig machine, and an Italian style espresso maker.
Beers! Please feel free to grab one or two. If you feel like abusing the privilege, that's fine too. Just leave a few bucks in the cookie jar. Also, please be 21.
20 MB/s wifi. This is the good stuff
Apple TV, including Netflix and HBOGO.
Basic Cable TV....none of the good stuff. Use Apple TV for that.
Home Audio Systems. For the living room, you can connect your phone or ipad via wifi. I have a bluetooth boombox (little guy kicks) in the kitchen area.
Bicycle(s)! Chicago has one of those city shared bike services, called Divvy. I provide one free pass for all guests who stay with me. If more folks need a bike, no problem....just use the kiosk which is a half block away by the bike station.
게스트와의 교류
나는 전화 나 텍스트를 통해 그 자리에서 조니가 될 것이지만, 나는 내 공간에 살고 있지 않을 때와 같은 개인적으로 거기에 없을 것입니다. 저는 보통 SF 나 다른 장소에 있습니다.
I'll be Johnny on the spot via phone or text, but I likely won't be there in person as when I'm not living in my space, I'm usually in SF or other places.
추가 인원 요금 ₩20352 / 박 (2명 초과 시)
안전한 결제를 위해 에어비앤비 웹사이트나 앱 외부에서 송금하거나 대화를 나누지 마세요.
I would certainly appreciate that any smoking is done out on the back deck, and prefer that no pets come. I can make an exception to that if the situation is right.
Hello! A few years back, I founded a company called Peak Design that makes accessories for the photographic and outdoor industries. We're based in San Francisco, but I split my time between there and Chicago so that I can spend half my month with my daughter Josephine. Her mom and I live a few blocks apart in Chicago, and I live a few blocks from my work in San Francisco.

Airbnb has given me the opportunity to make this an affordable situation, and I'm grateful for it and the other marvels of the modern world that allow me to live in SF half the time and still have a full time relationship with my daughter.

In Chicago, I built the majority of the furniture. In fact, the kitchen table, nightstands, writing desk, both beds, and the art project on the wall were all created in my basement workshop...all from wood that I found on the premises when I moved in! This is part midwestern frugality (I grew up in Minneapolis), and part disdain for trips to the lumberyard.

In San Francisco, I live with friends and colleagues. All of us travel frequently, which is why too often our place is vacant, and that's a crying shame, because it is a truly beautiful home. We love the idea of sharing our home with the world through airbnb.

I try to take great care of my places, and I hope to find guests who appreciate their cleanliness and simplicity.

Thanks much for having a look around!
언어:
Español, Italiano