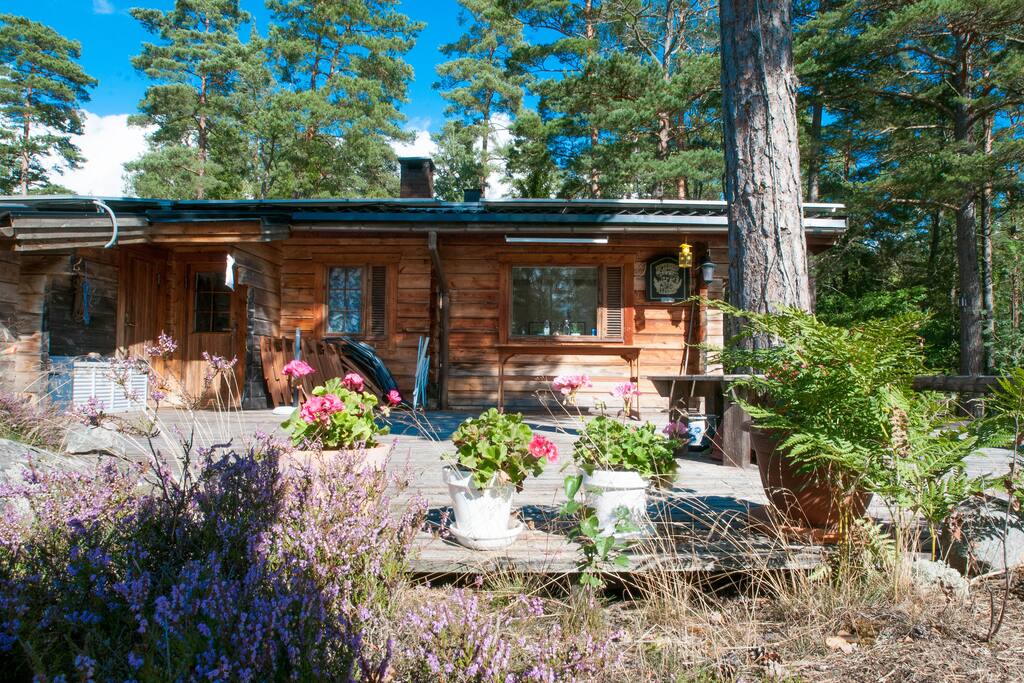 This is our most private property with a private jetty and a small beach.
This cabin will accommodate up to 8 people and has 6 + 2 beds distributed in 4 bedrooms. One double beds and 6 single beds. 2 beds are located in a smal house next to the cabin. Please go in to homepage for more information. (URL HIDDEN)
숙소
Cabin Information
Sleeping arrangements:
Each cabin will accommodate up to 8 people and has 6 + 2 beds distributed in 4 bedrooms. One double beds and 6 single beds.
Equipment:
Each cabin has a fully equipped kitchen with a stove, oven, microwave, dishwasher, fridge and freezer. There are also plenty of utensils for cooking and setting the tables. Washing machines are available in all cabins.
Kitchen, dining and living area are all open plan. There is wifi, a TV with a big selection of channels, sofa and dining table for 8 people.

On the terraces you will find tables, chairs and barbecue equipment for a perfect day/evening outside.
For your convenience we also provide the following:

For those in need of a baby bed or chair, please inform us
Some games, playing cards, dice and basic stationary
Dishwashing liquid and tablets, cloth, sponge, etc.
Tee lights, matches
Sugar, salt, pepper, herbs, olive oil
Shower soap, hand soap, washing detergent,
Toilet paper, kitchen towel

Bed linen and towels:
The beds will be dressed with bed linen and we provide towels for in-cabin use as well as for the beach and sauna.

We have a max capacity of 24 people if you book all 3 cabins, depending on the event and whether you are choosing full catering or guided tours.

Please vacate cabins by 10 a.m. on departure day!
Pets are welcome with some restrictions!
These are non smoking Cabins!
OUTDOOR ACTIVITIES
Bikes:
The use of bikes is included as this is a great way explore the island or when going to the shop 1.5km away. However, there are only a small number of bikes and they are placed outside the big red machinery house. The bikes are all locked with a code - "1964". The ferryboats allow bikes but please do not take the bikes from the island unless you bring your own ones. Bikes in Stockholm can be easily rented.
After use please lock the bikes back in their place to allow other guests to use them.
Sports and family activities:
The big lawn between Cabin 1 and 3 and the surrounding forests are for the use of all our guests where you can enjoy a wide range of activities.
•Family games such as " Kubb", Crocket and Boules
•Table tennis with balls and rackets
•Small soft ball tennis court (grass) with rackets and balls
•There is one trampoline. Fore safety, we normally only allow one child at a time on the trampoline. All jumping should be supervised by adults
•Small number of toys in the big red house
•After you have finished playing please put the toy etc. back where they were. This is to avoid the weather ruining them or having them disappear with someone passing by
Beach and Sauna:
The beach, jetty and sauna is for the use of all guests so please be considerate of others.
Most families like to use the sauna privately and we suggest that you communicate timings with the other guests in order to allow everyone private use of the sauna. Also, please hose down the inside of the Sauna after use.
Lighting and warming up the sauna takes approximately 1 hour. Feel free to use the fresh water in the sauna for washing or the sea as this is perfectly clean.
Before lighting, fill the water tank next to the fire with fresh water if you want boiling hot water that you can mix with cold water in buckets.

Boats, Fishing and Canoes:
For safety reasons, we recommend the use of life jackets when going out on the water. These you can borrow.
There is a 2-people canoe for those who like to experience something a little extra. A trip between the islands early in the calm morning beats most nature experiences. The canoe is to be used with at least one adult.
There are also 2 small rowing boats if you would like to go fishing or just want to go out with a boat for a while. The trip should be supervised by an adult.
Basic fishing equipment is provided in the big red house. As always, it is important that you put the gear back after your hopefully successful trip.
사용가능 공간/시설
Everything including a lot of toys, fishing boat, fishing gear, trampoline, kayak, canoe, bicycle, sauna with ocean view, and a lot more.
게스트와의 교류
We will help you to get installed in the cabin. Then its up to you. We are close if you need assistance.
기타 사항
Direktions to Gällnö
It's really easy to get to the Island, and there is many choices.
Remember that we will be there to assist you, all the way.
Just call us.
Welcome.
First!
Kalvsvik Brygga. 139 90 Värmdö. (lat, lon (PHONE NUMBER HIDDEN))
Boda Brygga. 139 90 Värmdö. (lat, lon (PHONE NUMBER HIDDEN))


Getting there.
The easiest way!
We can arrange for a private pickup.
Our manager will stand and wait for you at arrival. He will drive you directly to Kalvsvik where we will pick you up with our boat and get you direct to your cabin.
From Arlanda Airport, this costs Sek 2,500 / car. From the city Sek 2,000
From Skavsta Airport, this costs Sek 4,500 / car.
You can be up to 4 people in the cars.
This is the fastest way to get to the camp.
From Arlanda you have several options. Some more expensive than others. The easiest way is to get a Taxi to Kalvsvik Brygga or Boda Brygga.
From Boda Brygga you can take the public boat to Gällnö Brygga. Cost around sek 150/person. (20 min walk to cabin)
From Kalvsvik we can pick you up with our boat and take you direct to the cabin. Cost Sek 750/trip.
Then you all get there with all luggage and everything together.

A taxi from Arlanda Airport will cost you around Sek 2,000. You can be up to 4 people.
We can help you to order a Taxi in advance if you wish. You can also call yourself.
Use ONLY the company "Taxi Stockholm +(PHONE NUMBER HIDDEN)"

From Skavsta Airport you need to take the Express bus in to Grand Central. It takes around 2h.

The most economic choice.
If you want there is an Express train from Arlanda to Grand Central. From there you have several choices.
You can use the underground to Slussen and from there you can take a public bus to Boda Brygga or Kalvsvik Brygga.
Or. You can get a taxi to Strömkajen. From there you can go on a fantastic boat ride with Waxholmsbolaget to Gällnö Brygga. The boat ride takes around 2 hours.
There we will pick up your luggage and you have a 20 min walk to the Cabin.

Arriving by car.
We strongly recommend a navigator. It's just so much easier. The final destination is Kalvsvik, at Värmdö where we will pick you up with our own boat own boat. Sek 750/trip.

Also remember that we are always reachable to assist you.
Don't hesitate to call if you feel lost.

Regards
Mikael Hedlund
---
---
---
You shall leave the house the way it was when you arrived.
---
---
---
International family that moved back home to Stockholm. Family of 6 with 4 children that now is grown up and no longer live at home.