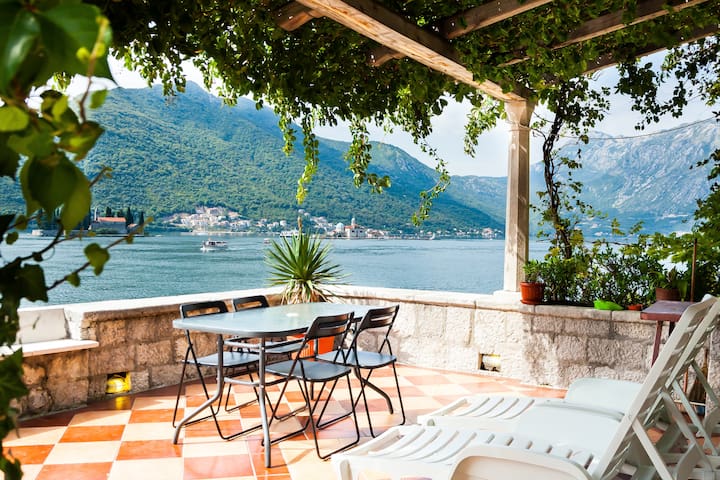 ***** HUFFINGTON POST 및 PureWow 기사에 게재 : "50 달러 미만의 밤에 세계를 놀라게 할 수있는 장소"***** Perast 박물관 바로 옆에 위치한 저희 스튜디오 아파트에는 코 토르 만 (Bay of Kotor)의 가장 아름다운 2 개의 명소 인 Sv의 섬들에 대한 웅장한 전망이있는 넓은 테라스가 있습니다. Đorđe와 바위의 레이디.
***** Featured on HUFFINGTON POST and PureWow article: "Amazing Places You Can Stay Around The World For Less Than $50 A Night" *****
Right next to the Perast museum, our studio apartment has a spacious terrace with a magnificent view on the two most beautiful attractions of the Bay of Kotor: islands of Sv. Đorđe and Lady of the rocks.
숙소
Perast 박물관 바로 옆에 위치한 저희 스튜디오 아파트에는 코 토르 만 (Bay of Kotor)의 아름다운 2 개의 명소 인 Sv Đorđe 섬과 Lady of the rocks의 멋진 전망을 볼 수있는 넓은 테라스가 있습니다. 이 매력적이고 소박한 스튜디오 아파트는 탁 트인 전망을 갖춘 넓은 전용 테라스를 갖추고 있으며 외부 다이닝 테이블을 갖추고있어 야외에서 식사를 즐길 수 있습니다. 그것은 바로 해안가에 위치해 있습니다. 더블 침대 1 개와 더블 침대 1 개로 쉽게 확장 할 수있는 소파 1 개가 마련되어있어 커플이나 가족 여행객에게 적합합니다. 욕실은 아래층에 나선형 계단이 있습니다. 주방에는 모든 주방 용품과 식기 세척기가 완비되어 있습니다. 세탁기, 다리미 및 다리미판, 에어컨 등 필요한 편의 시설이 제공됩니다. 요청시 유아용 침대와 하이 체어를 이용하실 수 있습니다.
Right next to the Perast museum, our studio apartment has a spacious terrace with a magnificent view on the two most beautiful attractions of the Bay of Kotor: islands of Sv Đorđe and Lady of the rocks.
This charming, rustic studio apartment has a large private terrace with extraordinary view of the islands, equipped with outside dining table so you can enjoy your meals al fresco with a view. It is located right on the waterfront. There is one double bed and one sofa which is easily expandable to a double bed, so the apartment is perfect for couples or families with children. The bathroom is located downstairs, down a spiral staircase.
The kitchen is fully equipped with all the kitchenware and dishwasher. Necessary amenities like washing machine, iron and ironing board, air conditioner etc. are provided. Baby crib and high chair are available upon request.
사용가능 공간/시설
아파트에있는 모든 시설을 이용하실 수 있습니다.
Guests have access to all utilities in the apartment.
Guest has the right to freely use the apartment and all equipment and rooms inventory and installation carefully and responsibly.
Guest should not:
• Leave appliances, air-conditioning and other electrical equipment on while leaving the suite. Also all doors and windows should be closed before leaving.
• Bring in flammable or explosive materials or materials with strong and unpleasant odours.
• Smoke in the suite, except outside area (smoking is allowed on the terrace)
• Take away any objects, inventory or appliances out of the suite
• Move the arrangement of furniture in the suite.
• Disturb peace between 11pm and 7am, or make loud noise by use of radio sets, television or other appliances or musical instruments.
Guest agrees to:
• Leave the suite on the last day by 10am if guest don't have other arrangements with the host.
• Let know the host on arrival at what time is checking out from apartment for returning keys.
And most importantly - enjoy your stay!
기타 알아두어야 할 사항:
계단을 이용해야 합니다 - Bathroom down a spiral staircase
이 숙소의 최소 숙박일은 상황에 따라 다릅니다.
You could not get a more perfect location - the view from Nela's place was incredible! Felt truly like a dream. The apartment itself was a little on the small side as everything is basically in the one room, but it is furnished with love and care. Nela was an amazing host, providing plenty of information to get the most out of our stay! Perast is a very small town, we visited off-peak so it was very quiet, with many older local guys wondering the streets at night. Being a group of three young girls we felt a little vulnerable at times, but realistically was not an issue! Montenegro is a hidden gem and this place was an absolute dream!!!
---
The location of this apartment is amazing!!!! Loved it!! Very unique interior which was awesome. Might want to mention the narrow spiral staircase downstairs to the bathroom. Someone elderly or compromised otherwise, may find this difficult. We loved the little place for ourselves though. 5*
---
Like everyone says, the very private terrace - and the view from it - are just amazing. We spent hours gazing at the beautiful views - it's the perfect place to relax and unwind. We even saw dolphins swim across in front of the 2 islands during sunset one evening! Nela's associates who greeted and liaised with us while there were really outstanding. A problem with the boiler and hey presto - a plumber replaced it with a brand new one within hours! We asked if it'd be OK to hang a blanket over the door to keep the sun out in the mornings and when we got back a curtain had been hung for us. What amazing customer service. The apartment was spotlessly clean; kitchen is very well equipped; plenty of spare bedding and towels; fantastic to have a washing machine and dishwasher; the apartment stays cool during the day and and night, which is ideal. The only downsides are it's quite cluttered with furniture and memorabilia - they're very charming but we felt we could have used the floorspace for our suitcases instead. We found the bed fairly uncomfortable as it dips in the middle, so we used the sofa bed after a few nights and that was much better. It's also worth noting the TV doesn't work. But overall we loved our time there and would highly recommend it.
---
Awesome location and only about 15km from the city of Kotor, where everyone should go. The view is all that it says and more in this lovely town of Perast. So easy to get the bus anywhere if you don't want to drive. It is suitable for 1-2 people ideally for the size and is well equipped with the kitchen, refrigerator, etc. Comfortable bed, nicely furnished and close to fabulous restaurants and a small market. Parking is on either side of the quaint town so very easy to get to her place! The patio was the best feature and you have a complete view of the cruise ships coming in and out of the bay, quite a sight! Great sunsets and you can swim from almost across the street or take a boat to the Lady of the Rock!
---
This place is amazing. Starting with the location and finishing with the services there was nothing to complain about. The place was very clean and equipped with all the things you need to have a great stay. As for the host, nela, she is very helpful with everything you need. With a couple of days in advance she will send you a message with a lot of information about what you can visit there, where to go shopping or what restaurants to choose when eating out. We followed her recommendations and were very pleased. Also she responde very quickly to everything you need. Had no problem communicating with her while we stayed there. In conclusion you won t regret choosing this place, it s a top pick!
---
Hi guys! Me and my husband Miloš love to travel. We both lived in different countries (I lived in Hong Kong, USA, and Italy) before we decided to settle back in Montenegro. Now we travel to different countries at least couple of times a year. We live&work in Podgorica, the capital of Montenegro, but try to spend time on the coast or mountains of Montenegro every opportunity we get :)

We have one listing - wonderful, cosy apartment with magnificent private terrace in historic town Perast. We hope you have a lovely stay there and we want you to feel at home. We are happy to host you and will help you settle in and get you familiarized with the apartment, the city and area :)
언어:
Italiano