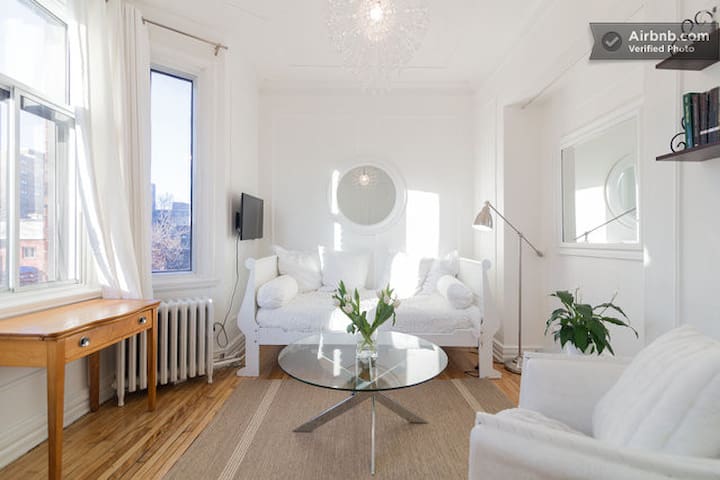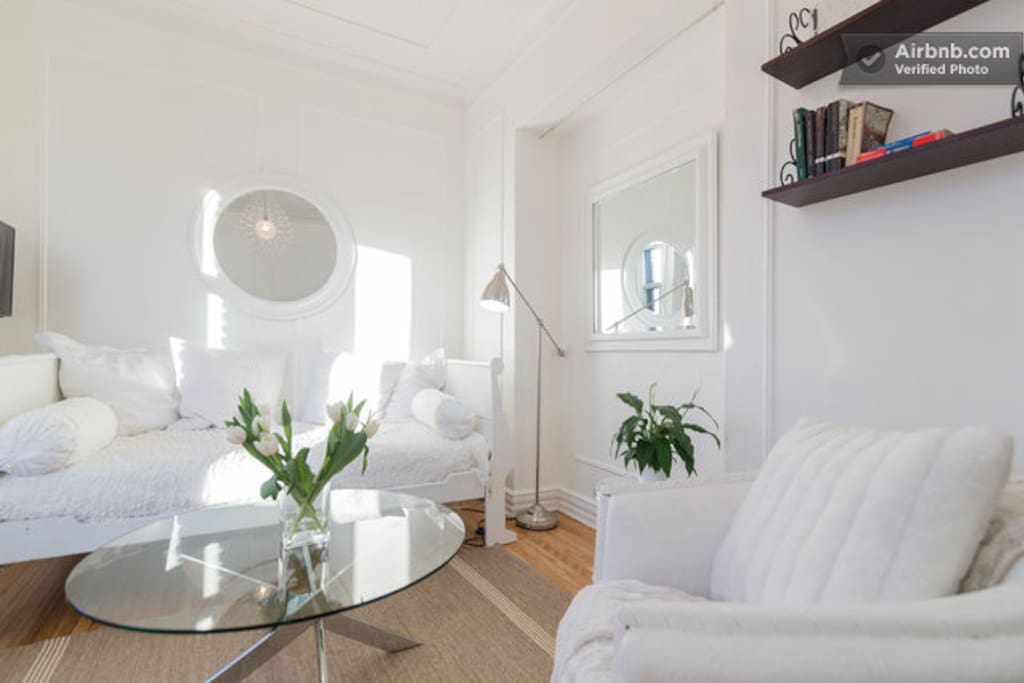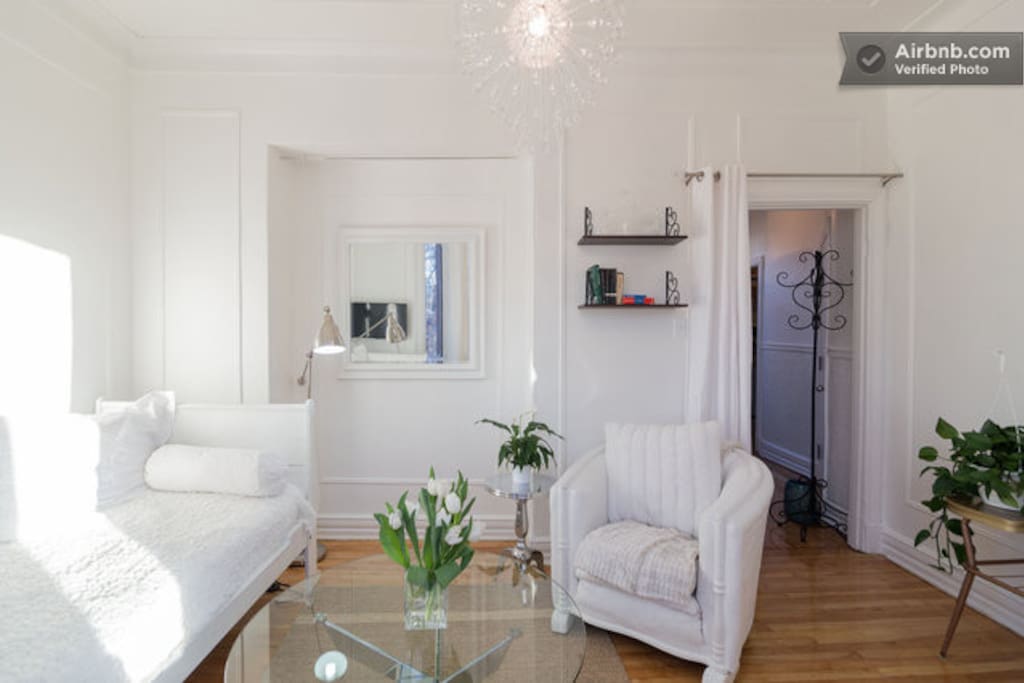 최고의 위치 !! 당신은 장소 des 예술과 Quartier des 안경에서 단계입니다! 몽트 리얼은 몬트리올을 경험할 수있는 독특하고 귀엽고 독특한 공간입니다. (HIDDEN URL) 아파트 및 지역은 모든 축제의 중심에 있습니다.
BEST LOCATION!! You are steps from Place des arts and the Quartier des Spectacles! You are practically in the midst of every festival montreal has to (URL HIDDEN) the apartment and area are quaint, cute and a unique space to experience Montreal in.
숙소
놀라운 위치 !!!!! 낮은 고원 / Mcgill 게토 / 다운 타운. 이것은 몬트리올 시내의 컬트가 즐겨 찾는 '밀튼 밀튼 (Place Milton)'레스토랑 위의 매우 귀엽고 꼭대기 층 개인 아파트입니다. St. Laurent, Mcgill, Place Des Arts에서 불과 몇 블록 만 가면 몬트리올 최고의 클럽, 커피 숍, 바, 부티크 쇼핑, 축제 등을 도보로 이용할 수 있습니다. Metro Place Des Arts는 한 블록 떨어져 있습니다! 아파트는 귀여운 빈티지 가구 및 비품, 높은 천장, 경질 마루 바닥, 아름다운 몰딩과 함께 복고풍 매력을 유지하고 있습니다 ...
Amazing location!!!!! Lower Plateau/Mcgill Ghetto/Downtown. This is a very cute, top-floor private apartment above the cult-favourite 'Place Milton' breakfast restaurant downtown Montreal. Only a few blocks from St. Laurent, Mcgill, Place Des Arts, you are within walking distance of some of Montreal's greatest clubs, coffee shops, bars, boutique shopping, festivals… This is a GREAT area for a student! Metro Place Des Arts is one block away!
The apartment has retained its retro charm with its cute vintage appliance and fixtures, high ceilings, refinished hardwood floors, beautiful mouldings…
사용가능 공간/시설
투숙객은 아파트 전체를 이용할 수있을뿐만 아니라 임시 변통의 발코니를 만들었습니다.
Guests have access to the entire apartment as well as the fire escape which I've made into a makeshift balcony.
게스트와의 교류
나 자신이나 조수 인 Amanda는 필요할 때 또는 필요할 때 이용할 수 있습니다. 우리는 유아 한 명 뿐이며 간병에 시간 제한이 있습니다.
Either myself or my assistant Amanda will be available when or if needed. We are both single mommas of toddlers and have some time restrictions around their care.
기타 사항
예. 몬트리올의 밤 생활의 허브에 가볍게 두드리는 것은 밤의 유흥과 함께 제공됩니다. 밀턴 거리는 교통량이 많은 거리가 아니지만 무거운 보행자 거리입니다. 거실은 그 거리에 있으며, 주말이나 따뜻한 여름 밤에는 크게 볼 수 있습니다. 길을 따라오고가는 대학생들의 술취한 비틀 거리는 흔들림으로 즐거움을 얻거나 머리카락을 꺼낼 수 있습니다. 그러나 침실은 조용한 안뜰을 향하고 있기 때문에 자고있을 때 거리의 소음에 아무런 문제가 없어야합니다. 당신은 또한 오래된 성격의 아파트에 있습니다. 냉장고가 윙윙 거리고 칠 필요가있을 수 있습니다. 바닥은 삐걱 거리는 소리가 나지만 매력의 일부입니다. 새롭고 현대적인 아파트를 원하면 Old Port의 다른 아파트를 확인하십시오. 오븐이 지속적으로 작동하지 않는다면, 오븐에서 토스트 오븐을 구워 작은 베이킹 필요를 발견하게 될 것입니다. 우리는 수리를 위해 부품을 기다리고 있습니다. 이해해 주셔서 감사합니다. 주차 요금은 하루에 $ 25입니다. 차고에 입장하기 전에 주차 카드를 꼭 가지고 오십시오. 우리의 가격은 할인 된 가격이므로 고객이 일반 카드를 가지고 오면 돈을 환불해야 할 책임이 없습니다. (슈퍼 중요) 먼저 카드를 가지고 차고에 입장하십시오. 추가 비용으로 추가 일일 하우스 키핑 서비스 이용 가능 추가 비용으로 조식 제공 이른 백 드롭 또는 늦은 백 보관은 추가 비용으로 제공됩니다 : 시간당 10CAD
YES.
Being smack dab in the hub of Montreal's night life does come with what comes with nightlife. Milton street is not a heavy traffic street, but it is heavy pedestrian street. The living room is on that street, and you might find it loud on the weekends or warm summer nights. You may find yourself either entertained or pulling your hair out with the drunken incoherent babble of straggling university students, coming and going along the street. However, your bedroom faces a quiet courtyard and you should have no problem with street noise when sleeping.
You are also in an older character apartment. The fridge buzzes and might need to be hit, floors will creak, but it is all part of the charm. If you would like something brand new and modern, please check out my other apartments in the Old Port.
The oven does not consistently work, you will find a toaster oven in the oven for small baking needs. We are waiting on parts for the repair. Thank-you for your understanding.
Parking is $25 per day. Please make sure to take our parking card before entering the garage. Our price is a reduced price so we do not be responsible for refunding the money if clients bring the regular card. (Super Important)
Please take our card first and then enter the garage
Extra daily housekeeping is available at extra cost
Breakfast served at extra cost
Early bag drop off or late bag storage is served at extra cost: 10CAD per time
---
---
추가 인원 요금 ₩18476 / 박 (2명 초과 시)
언제나 에어비앤비를 통해 대화를 나누세요.
안전한 결제를 위해 에어비앤비 웹사이트나 앱 외부에서 송금하거나 대화를 나누지 마세요.
더 보기
---
Please be kind! I love this space. I personally cleaned, painted, sanded and refinished every inch of floors and walls of this space. I put great care in making this a charming place to stay and enjoy Montreal in and I hope you will appreciate it by taking good care of my things. Please take your shoes off at the door.
As the apartment shares a building with four other apartments please be respectful of the other tenants by having noise at reasonable levels during your stay. Parties and smoking are absolutely prohibited.
---
---
---
Hi! Welcome to my suites. My name is Paige and I am here to make your stay as comfortable and welcoming as possible. As a passionate traveler, I have always preferred the unique stays offered in furnished apartments over hotels.

A big life change lead me from Western Canada to Montreal where I'd find myself studying at McGill University. It was during this time I started renting my furnished apartments to help finance myself through my degree. I am still working through my degree, but have found myself in another major life change: Mommy-hood. As of January 2015, I am 6 months pregnant and my business of renting corporate and vacation stays in the Old Port and Plateau/Downtown of Montreal has grown into 8 apartments/condos.

I love what I do, I love providing perfectly located apartments for business and vacation travellers. Not only have I been granted the creative outlet I crave for the designer in me to play, but my little Stays by Paige company is a part of a much bigger vision I have in equipping and fostering community growth among other entrepreneurs and visionaries with hopes of providing real tools and concrete solutions to aid the more marginalized people of Montreal's society.

Please do not hesitate to contact me with any questions.

Please also feel free to find and like my page to get great links to whats happening in and around Montreal during your stay.



Paige

Owner Stays by Paige
언어:
English