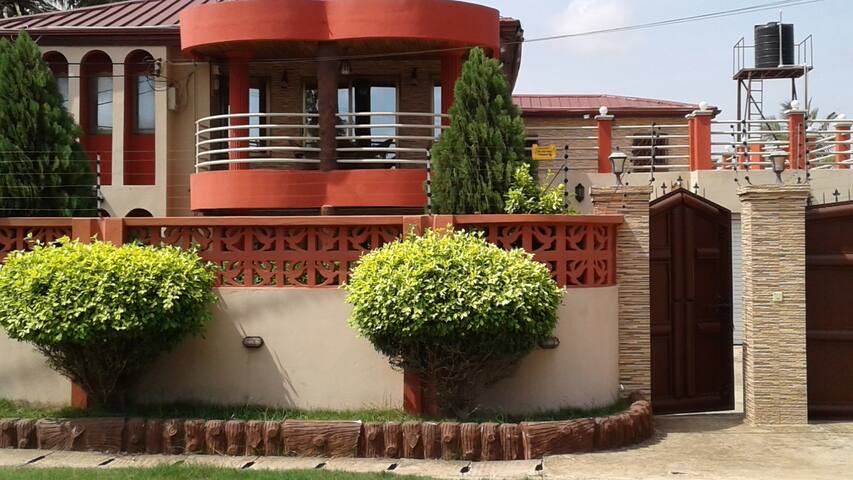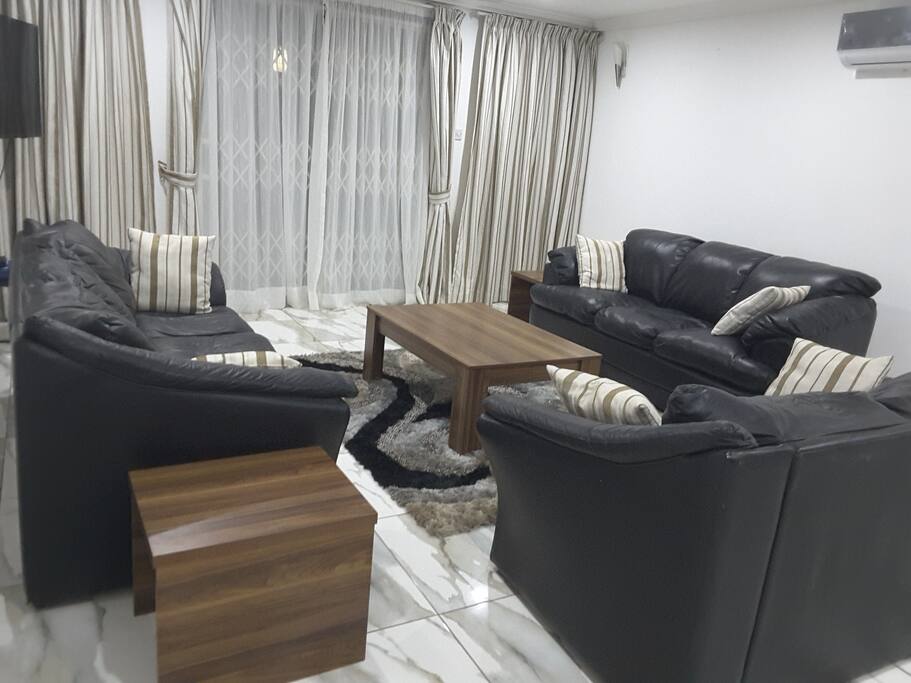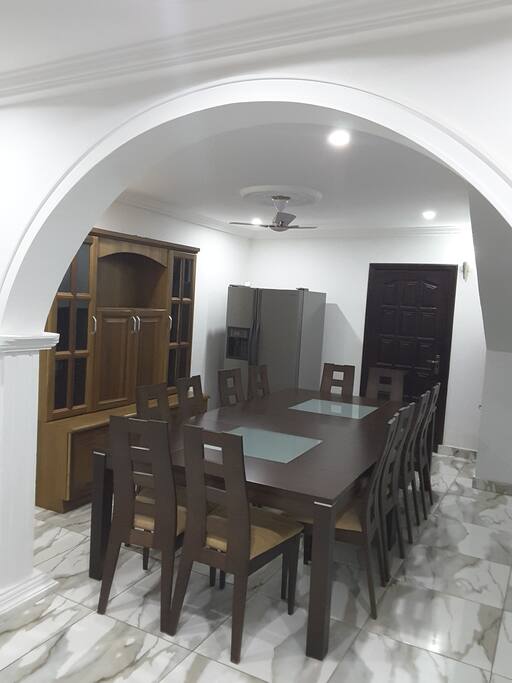 A comfortable spacious 3 bedroom furnished home located at East Legon. About 10 minutes drive from the airport, 5 to 10 minutes to the malls (A & C, Accra & Marina), very close to several restaurants, grocery shops, banks, fitness centres, hospitals and international schools.
It is secure and well protected with a 24/7 electric fence with an alarm system, security doors, burglar proof windows and the compound is monitored by CCTV. It is ideal for families, friends, work colleagues and groups.
Very nice lady but lives right up the stairs and is very possessive.Not suitable for young guests .Too many additional rules not stated on website.A bit uncomfortable about the personal book she has which she makes her guests sign with their personal information including their …
Louisa and Terrence were my first Airbnb guests and I was excited about hosting them but unfortunately things did not go as expected because they brought 5 extra unauthorised guests to stay at my place when my listing had explicitly stated that I can accommodate 6 guests. Their reservation request for 2 guests for 3 nights came late (9:40pm) the first night (August 4th, 2018). They stated that they were in Ghana from New York for a funeral and their prearrangement had been cancelled so they wanted another place as soon as possible and hope I could accommodate them. I drove to a filling station at midnight to accompany them to my place and drove them out at 12:30am to get food. The first night, I went out of my way to make sure they were very comfortable and everything went on smoothly. However, the second night they brought 2 unbooked and unauthorised guests to stay in my home without my approval. I drew Louisa's attention to the fact that as per my listing, extra guests came with an additional charge of $25 per person per night but I wouldn't charge them extra for the 2 extra guests because they probably didn't know. However, if their guest stayed that night, there would be additional charges. She said she was unaware, apologised and thanked me for my genorousity. Contrary to her words, 5 extra unauthorised local guests stayed at my place that night until they checked out the following day. At the time they checked out, the guests were 7 even though I had stated clearly in my listing that my place could accommodate 6 guests. They agreed to pay the additional charges before they checked out but refused to pay after they realised Airbnb wouldn't use their security deposit for that purpose. Even when Airbnb got involved, they still refused to pay. She was so unreasonable that Airbnb had to warn her that if this happened again, she risked beung removed from the platform. Airbnb compensated me for half of the money Louisa refused to pay. My place is very secure because I'm conscious of security. I felt safe the first night with my 2 booked guests but felt very unsafe after they brought 5 extra unauthorised guests to stay in my home the third night. I asked them (both my booked guest and the extra unauthorised guests) to sign a register so I could know who the extra unauthorised guests were but they refused and said they were uncomfortable giving me their personal information. I did not use my personal key to go into their rented space without their warning. They wanted 6 extra unauthorised guests to stay at my place without my knowledge and I had the right to know whether they were staying or not. To further explain, the third night, at around midnight, 6 extra guests were still at my place and the gate was not locked so I wanted to find out if they were staying or not so I could lock the gate. I sent Louisa a message but she refused to respond. I followed up with a phone call but she did not answer so I knocked on the main door and called Terrence the other booked guest (who was very respectful and understanding) to find out if their extra guests were staying or not because I felt very unsafe since the gate was unlocked and I didn't know who their unauthorised guests were . One of the unauthorised guests left at 1am and the remaining 5 decided to stay so I finally locked the gate so I could secure the place. Louisa and Terrence stayed at my place from midnight Sunday, August 5th to 12:30pm on Tuesday, August 7th, 2018 (3 nights) so saying I'm always home is a fallacy of hasty conclusion. I am a Law student with a busy schedule, who has taken time off work so I could focus more on the course. Even when I'm home, I stay in my room to read. I hardly even saw Louisa because most of her enquiries and our discussions were by text messaging so saying I always wanted to speak with her about additional rules is untrue. I wasn't expecting them to inform me before getting VISITORS but I needed to know if EXTRA UNAUTHORISED GUESTS were staying in my home which is even against Airbnb policy. Airbnb policy clearly states that guests cannot bring additional guests unless they have also booked their spot through Airbnb. Airbnb policy also states clearly that hosts have the right to turn away guests who have not booked their spot through Airbnb. It is very unfortunate that my first Airbnb guests were young guests who did not respect my home, my house rules and Airbnb policies. Inspite of this unpleasant experience, I'm looking forward to hosting wonderful Airbnb guests at my place. I believe subsequent reviews from my guests would be about their wonderful stay at my place.
언제나 에어비앤비를 통해 대화를 나누세요
안전한 결제를 위해 에어비앤비 웹사이트나 앱 외부에서 송금하거나 대화를 나누지 마세요.