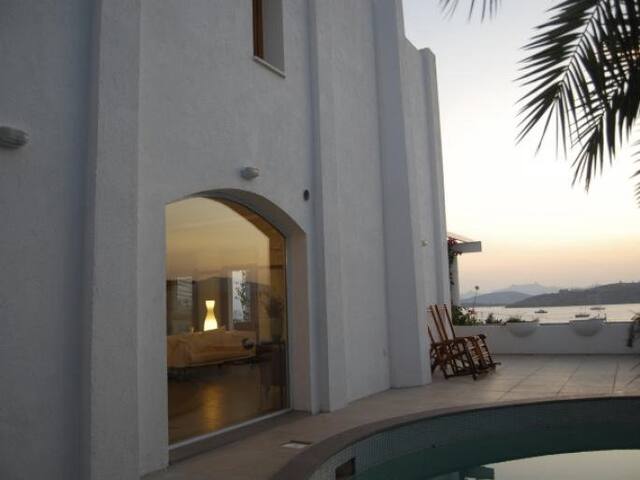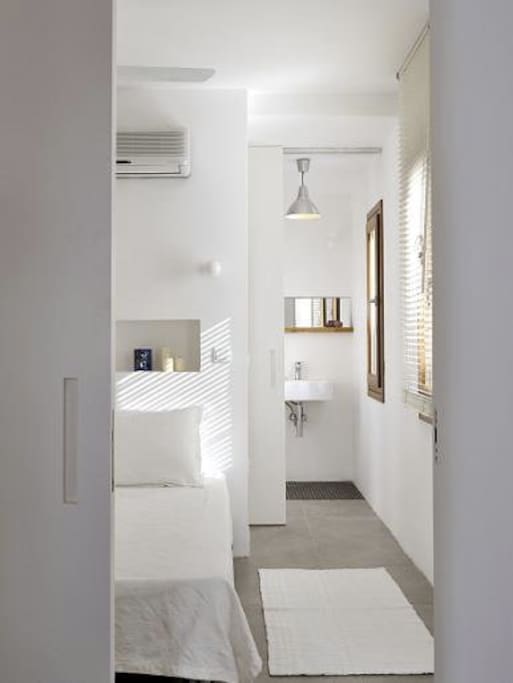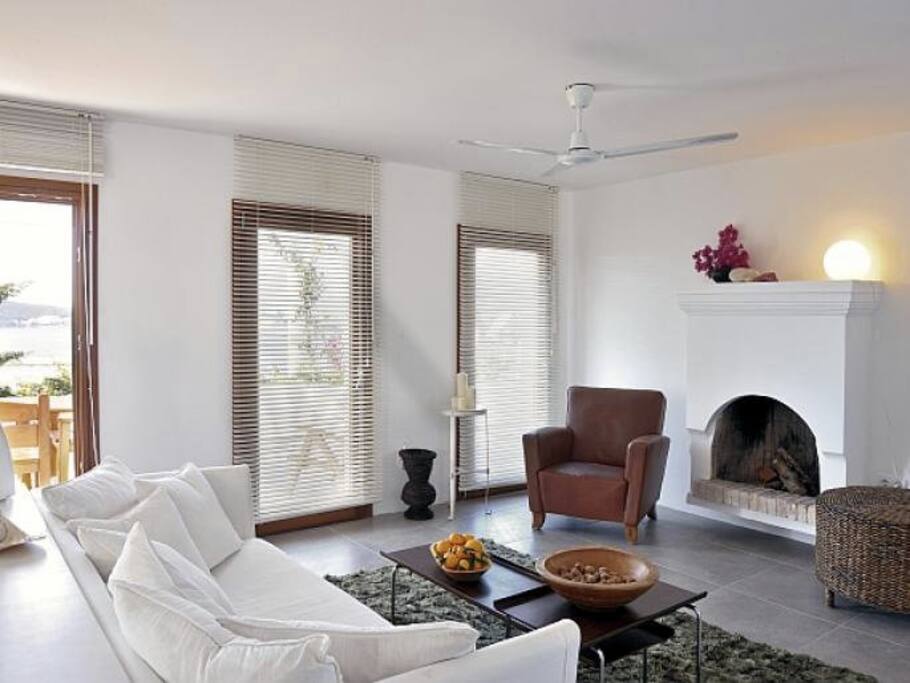 Luxury property, featured in lifestyle magazines, with panoramic views across Bodrum bay, private pool(fully private, for your exclusive use, only accessible from the appt) ; 2 bedrooms, 2 bathrooms, large private sun deck, equipped kitchen (no oven), bathroom towels provided, in a quiet residential area a few minutes walking distance from the town center, and beach
숙소
This property was featured in life style magazines as one of the best rental properties in the Aegean region. It is furnished and kept in "White" in conformity with the local colours of Bodrum. Splendid panoramic view from the sun deck / terrace across Bodrum bay. It has a large living room with open kitchen , very modern and tasteful design respecting the traditional white Bodrum style
사용가능 공간/시설
Private sun deck, private pool
게스트와의 교류
Welcoming by owner, available to provide guidance and info on Bodrum and the region. No further interaction..
기타 사항
This property was featured in life style magazines as one of the best rental properties in the Aegean region
No smoking, no pets. 4 persons maximum
Perfect luxurious apartment in a residential street just off main Bodrum drag. Very spacious with 2 bathrooms and all mod cons. Large terrace which is great for breakfast or for dinner watching the sun set over Bodrum castle. Great access to central Bodrum which is a short walk. Communication throughout booking process from Matt was spot on. I would definitely stay again if in the area.
---
We decided to do something different for our holiday this year and after careful consideration we decided to visit Bodrum via airbnb. We chose Matt's apartment and we are glad we did. I noticed some other reviews commented on cleanliness but we were more than happy with the condition we found the flat in, clean bright and welcomed by Memet in the small hours of the morning who let us in with a smile despite our late arrival. Memet is the neighbour downstairs and what a lovely man!, he takes care of the bottled water supply and is just such a gem, nothing is too much trouble. I will miss his lovely dog Minosh (not sure of spelling lol) The flat is spacious with nice comfy couch and some nice chairs to. The bedrooms are also lovely with firm but comfy mattresses the adjoining toilets and showers are at the rear with quirky sliding doors for privacy, there's a washing machine and dryer also hidden away in this area, very handy. The best thing we thought about the flat was the panoramic views you have over Bodrum and over to the castle from the large patio area. L shaped patio with the pool round the corner and plenty of chairs and a couple of tables. There are also 3 sunbeds there for use the sun hits the patio between 11.30 - 12 for sunbathing. There was a parasol that my husband would have used but unfortunately it's broken. The pool is great and a perfect size for a small family and was spotless you just scoop any leaves out in the (URL HIDDEN) was great having your own private area to swim and sunbathe The houses view comes at a cost the direct route to the beach is on a rather steep hill and not for the unfit ! However there are more gentle inclines if you head right on the adjacent street towards the city centre. The only problem we had was that the freezer seemed rather temperamental it didn't freeze our ice creams and ice took a long time to freeze.We contacted Matt about this and he sent round a few people to look at it that day! They didn't fix it but he offered to send an engineer round, we declined the offer as it was not that big a deal and we didn't want disturbed. The apartments location is great about a 10 min walk into Bodrum, Bodrum itself is a nice town with plenty shops bars and restaurants there also a supermarket ''Migros'' close to the apartment. The communication with Matt was fantastic and he answered every query we had. Matt sent an email a few weeks before we arrived which contained everything we needed to know about the flat right down to the washing machine use. He also supplied maps and pictures of the street and area to help us with locating the house on our arrival, it was so comprehensive we didn't need to...
---
This modern and sleek apartment represents the higher end of the rental market in Bodrum. Decorated in a minimalistic style with quirky modern features such as sliding doors to access zones of the house - this property is a new favourite in the Kümbahçe district of Bodrum centre. From the start of the process Matt has maintained excellent communication and replies to emails very, very quickly. He provides a detailed list of house guidance and local knowledge that would be exceptionally useful to anyone new to Bodrum or this area. The apartment itself has two large bedrooms (one double and one twin), an open plan kitchen and living area (plenty of seating and local area guidebooks and maps). Each bedroom has an ensuite with shower and toilet with separate sink area. The house is equipped with all standard cooking utensils if you feel that way inclined during your holiday, fridge freezer etc but no microwave. There is a huge sun terrace with a dining area, a sunbathing area and a pool. Linens and towels are provided. The apartment has a washing machine and tumble dryer whichever are very useful. The views from the apartment are superb, overlooking the bay and castle, and great for watching the comings and goings of the family boat trips etc. The sun sets over the mountains opposite the apartment - absolutely stunning speactacle. The sitting area has a huge picture window looking out over the pool side of the terrace and three large windows in the living space provide non stop acces to the beauty outside. On arrival you will likely be welcomed by Mehmet the key holder who is also very friendly and helpful. Mehmet helps organise rubbish disposal and water purchases if required (to save yo carrying it up from the town). The Pool was cleaned twice while we were thee by an unobtrusive character. No complaints - you get what you are expecting. A peaceful and excellent break for us after a hard summ of driving around the west coast of Turkey. The apartment is located in a higher part of the town and there are a few routes down into town but if you want to walk back it will be hilly no matter what route you take. Note taxis I need town were occasionally reluctant to bring us the short distance when we wanted to rest out weary feet! We would very happily stay here again and thank Matt for being a great host.
---
The house was not clean enough. We washed all towels and balcony. Also washed all kitchenware they were oily. Bathrooms were not cleaned after previous visitors. ( Althogh they said the house was cleaned before our entrance) House is good very modern designed but not clean.
Hasan, firstly, I' ve allowed you to check in very early (as you asked to get into the apartment in the morning hours, and not in the afternoon, as normally foreseen) The cleaning lady had therefore less time to finish her work. Beyond that, although you were in touch with Mehmet, who is in charge of all issues, and who was available throughout you stay (you knew he lives next door), you have at no point mentioned any issue neither to him (and he is in charge of coordinating the cleaning lady's work) nor to me. Yu even thanked him for his kind help and told me everything was great when you were leaving; You have never informed me about any towels, kitchenware being not cleaned properly, nor did you communicate in any way (email, airbnb, hone, sms..) about any problem. It would have been enough fo you to point out that there was a problem; if that is true, we d have simply sent back the cleaning lady immediately. It is unfair to write a comment like this, afterwards, whilst you have said nothing to us upon your arrival or during your stay.
---
Music Producer / Artist Manager
언어:
Deutsch, English, Español, Français, Italiano, Nederlands, Türkçe