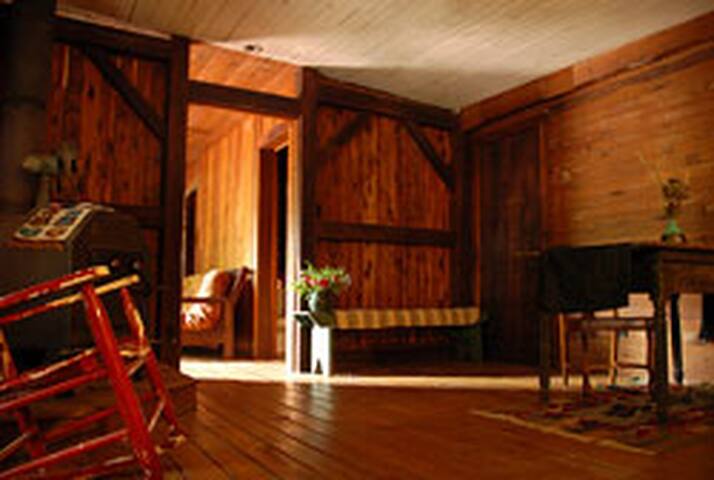 A quaint, rustic space with modern day amenities nestled above the historic town of Rabbit Hash, Kentucky on the banks of the Ohio.
추가 인원 요금 ₩11252 / 박 (2명 초과 시)
안전한 결제를 위해 에어비앤비 웹사이트나 앱 외부에서 송금하거나 대화를 나누지 마세요.
기타 알아두어야 할 사항:
고양이가 숙소에 있습니다
This is a unique booking. As far as we can tell, this place does not exist anywhere else. It's a bohemian blend of collected art, textiles, and historic ephemera. This is all cobbled together on a well-worn structure that has withstood a flood every 25 years or so. There's little going on here, which is a blessing. Once the bikers leave in the evening, you've got the tiny hamlet to yourself. If your idea of entertainment includes watching an Ohio river barge go by, this may be for you. Cabin and General Store have everything you need to whip up a basic meal. We hope to return.
---
An opportunity to experience the local vibe of a remote Kentucky community on the Ohio River. There is an old timey General Store in Rabbit Hash and it's the hub of the rural community. The cabin is spacious for one or two and has old time personality with a comfortable bed. Plenty of well lit sitting spots for reading too. I loved just hanging about for the day either in the porch swing of the cabin or sitting on the front porch of the general store visiting with the locals. The pace is slow in Rabbit Hash and the folk are kind.
---
We had a lovely time staying at this sweet cabin in Rabbit Hash! If you're looking to stay in a super cute, small town in an authentic cabin, this is the place! Terrie was very helpful, and easy to work with. Although we didn't have much time, we go out for a little walk around the area, and it appears as though it would be a great spot for a hike, too! If we ever find ourselves in the Rabbit Hash area again, we would certainly book this cabin.
---
This was an incredibly charming listing in an incredibly charming place. I was only in here for a night, which was too bad — I didn't get to use the kitchen or pause for long in the general store across the street — but I can see how this would be a great weekend place. The bed was lovely, the decor was welcoming, Terrie was charming, and the kitchen was easy to prepare food in. The only warning I would give is that if you are allergic to cats, this is not the place for you: there were many cats living right outdoors and the cabin definitely carried that odor throughout.
---
Proprietor of The Rabbit Hash General Store since 2000. Interested in dancing, traveling, music and photography