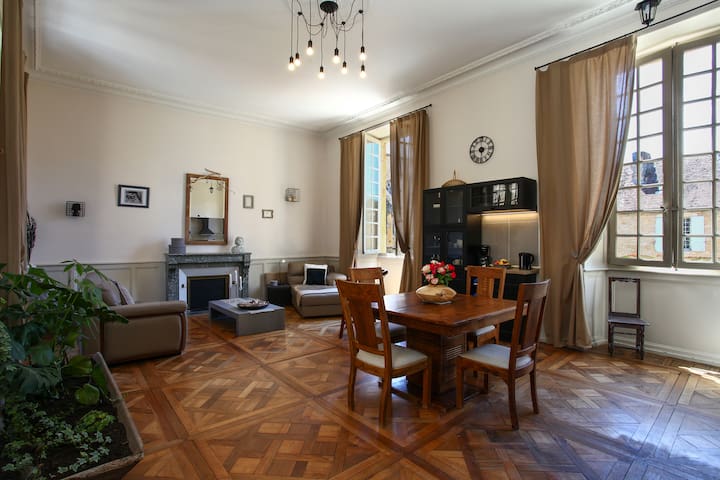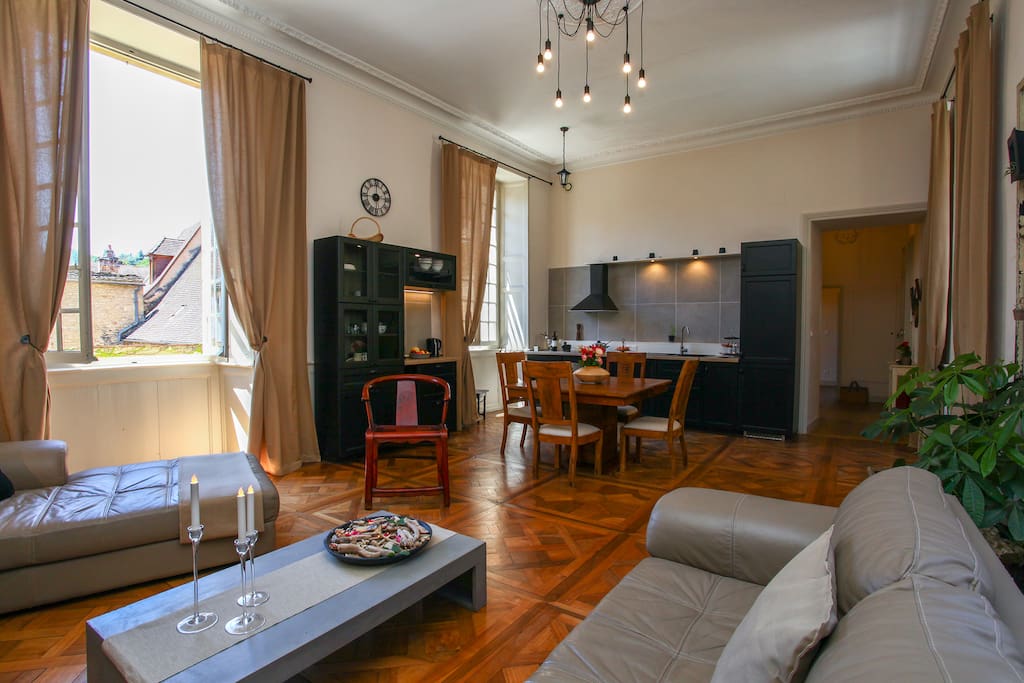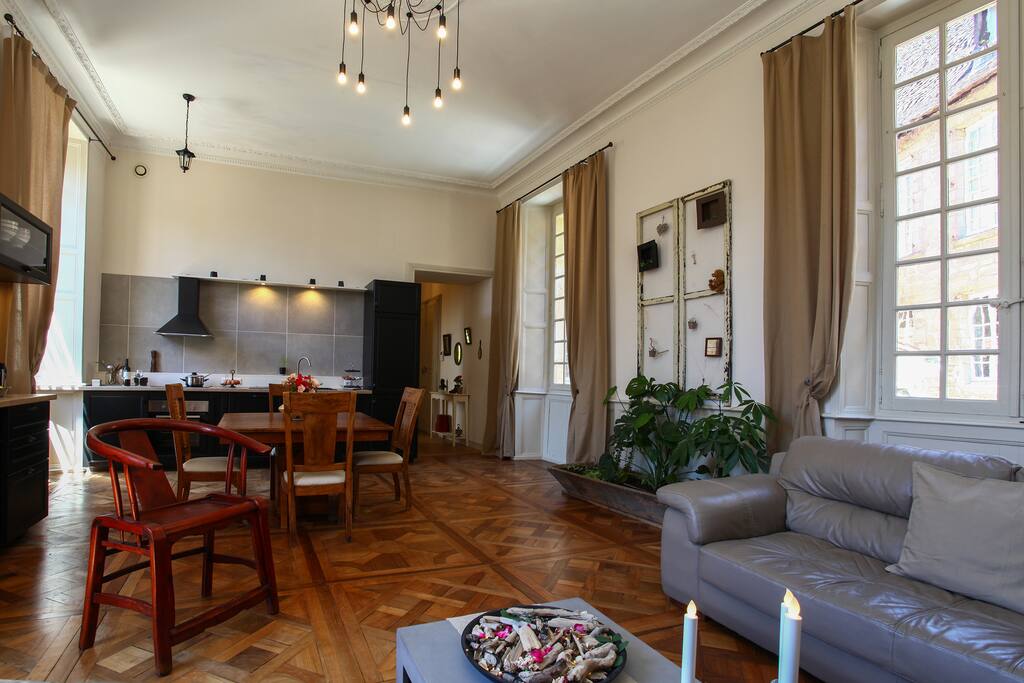 Magnifique appartement de 105 m 2 très clair , situé au coeur de la cité historique , dans le plus beau quartier de Sarlat. il offre des vues splendides sur la vieille ville et ne manquera pas de vous charmer
---
Emmanuel's place is wonderful. It is very large, with a large living area and two large bedrooms with lots of storage. There is a view of the cathedral spire from the living area and from one of the bedrooms and you can hear it chime the hour and half hour throughout the day. The church is a 1 minute walk away. The kitchen is very well equipped and the bathroom had a tub with a wonderful shower. The apartment is well decorated with artwork and other decor which is a welcome change from many places that lack these extra touches that give it personality. Emmanuel was very responsive to requests. When I asked for a better reading lamp and a different kind of spatula, he brought them around immediately. And he met me at the free parking lot and helped me with my luggage. (Note that you can not take your car all the way to the apartment which is in the medieval part of the city). And he has provided a lot of literature in the apartment to help you plan your activities. This is a perfect place to use as a base for the Perigord Noir.
---
A very glamorous apartment, full of period charm and all modern comforts. We were pleasantly surprised by the sweet views from every window. It is even more spacious than the photos suggest. Elegant and simple styling. Everthing is on the doorstep (restaurants, bakeries, sights). The kitchen was well equipped and daily necessaries like cleaning products helpfully provided. Emmanuel was very available and provided great restaurant suggestions. Highly recommended.
---
We really enjoyed Emmanuel's place. Even though we didn't meet him in person, the interaction with him over (SENSITIVE CONTENTS HIDDEN) was very prompt; he was able to accommodate our delayed check-in. The person who met us at our arrival gave us great tips for the parking, which is tricky in Sarlat especially in the July-August months. The apartment is extremely nice, stylish, clean and more than spacious for a family of four. It has a great location in the center of Sarlat, very close to nice restaurants, artisan and souvenir shops which is very pleasant and convenient. We definitely recommend this place and will be back if re-visiting Aquitaine.
---
Emmanuel est un très bon hôte. Il a su être réactif dans nos échanges et surtout il a su trouver des solutions à notre problématique (prêt de matériels pour enfants en bas âge). L'appartement est fidèle aux photos avec tout le charme de l ancien. La décoration a également été soignée. L emplacement en plein coeur de la cité médiévale de Sarlat est vraiment parfait pour découvrir la ville et ses animations estivales. Encore merci à nos hôtes.
---