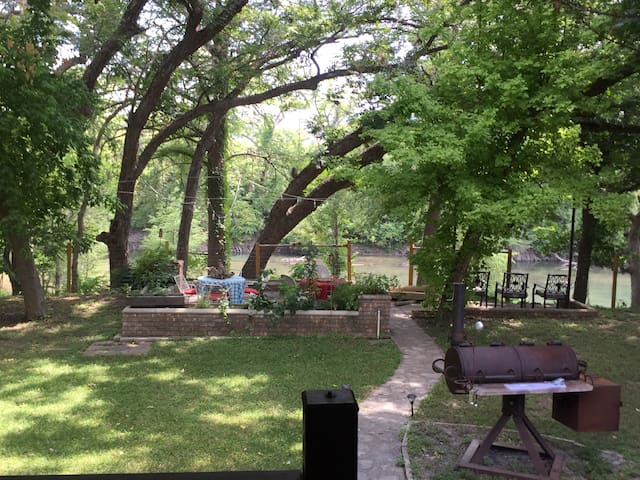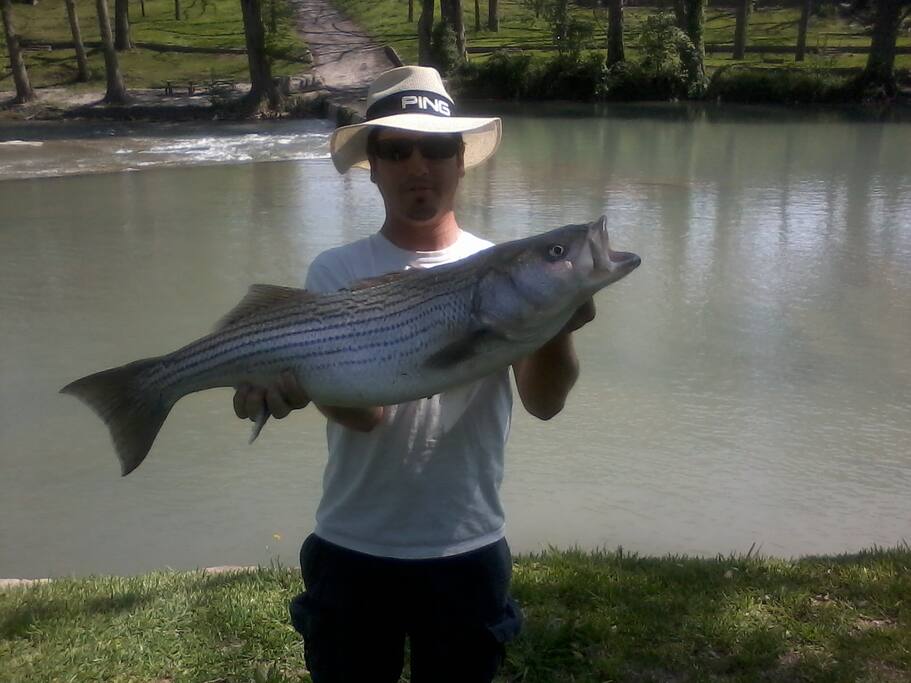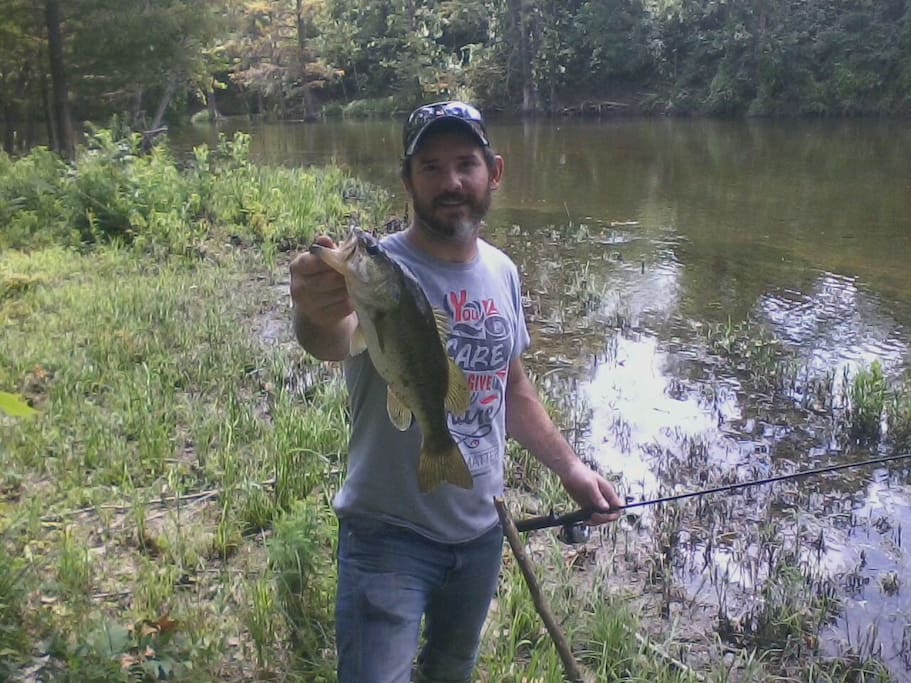 과달 루페 강의 피캔 나무 아래에 자리 잡은 빈티지 워터 프론트 휴양지에서 1 개의 가격으로 2 개의 개인 객실을 임대하십시오. 2 개의 침실과 1 개의 전용 화장실 및 샤워 시설을 갖춘 우리의 기이 한 & 시골 풍 강가의 일부에 전용 입구를 즐기십시오. 문은 집 나머지 부분을 잠그고 주최자가있는 동안에는 개인 정보가 제공됩니다. 덩이 식물의 입구와 화이트 워터 원형 극장에서 상류의 더 외딴 지역을 통해 물고기 또는 튜브. 편안하게 4-6에 맞지만 더 큰 그룹도 수용 할 수 있습니다.
Rent 2 private rooms for the price of 1 in a vintage waterfront retreat nestled under pecan trees on the Guadalupe River. Enjoy a private entrance to a part of our quaint & rustic river house featuring 2 bedrooms and 1 private restroom and shower. Doors lock to the rest of house & while host is available, privacy is given. Fish or tube through a more secluded area just upriver from the tuber's entry and Whitewater amphitheater. Fits 4-6 comfortably but can accommodate even larger groups.
숙소
Amazing value ON the river in prime fly-fishing spot! TWO rooms for the price of one because the bathroom is shared! Upriver from the tuber's entry to the Guadalupe River and within eyesight of the Canyon Lake dam, you don't get a better vacation retreat than these private rooms in a house whose owners are happy to help if needed but otherwise stay out of your hair! Just off Hwy 306 and only a short drive to I35 and 281 it's nearly equidistant to San Antonio and Austin, making this the ideal spot for a quiet stop during business travels, family or romantic vacation. Minutes from Whitewater Amphitheater and the public access tuber's entry but also great for more private tubing adventures starting in your own backyard!
LIKE US ON SOCIAL MEDIA FOR GREAT SPECIALS AND LOCAL EVENTS!
*If you are bringing a pet you must book your pet as the third guest. If you are bringing two pets please list them as the 3rd and 4th guest. When host is home she is happy to assist with pet care, feeding and walks so you can enjoy a float or a day shopping in Wimberley or Gruene. Just communicate your needs and Wendi will be happy to help!
사용가능 공간/시설
투숙객은 차고를 통과하고 집 뒤편의 이용 가능한 객실 중 한 곳에 직접 입장하실 수 있습니다. 전용 샤워 시설과 2 번째 침실의 화장실이 있습니다. (그래서 첫 번째 침실에있는 침실은 두 번째 침실을 통과해야 욕실을 이용할 수 있습니다.) 요청시 일부 옷장 및 서랍 공간을 이용할 수 있습니다. Wi-Fi 및 Wi-Fi 프린터를 이용하실 수 있으며 전용 강가, 그릴 및 실외 테이블과 의자를 이용하실 수 있습니다. 일부 튜브와 카누는 요청에 따라 이용할 수 있습니다. 객실에는 커피 메이커, 필터, 커피, 물통, 물, 커피 크리머, 간식이 갖춰진 미니 냉장고가 있으며 아침 식사를 요청하면 머핀을 제공합니다.
Guests have a private entry through the carport and around the back of the house, directly into one of the two available rooms. There is a private shower and toilet off of the second bedroom (so those in the first bedroom must walk through the second bedroom to access bathroom). Some closet and drawer space available if requested. Access to wi-fi and wi-fi printer and access to private riverfront, grills and outdoor tables and chairs. Some tubes and a canoe can be made available by request. Room comes with a coffee maker, filters, coffee, a carafe and a mini-fridge stocked with water, coffee creamer, snacks and, if you request, muffins for the morning.
게스트와의 교류
While the host may not always be on the property during your stay,the host is always available via text or the app. Also, the host has two young children and asks that there is quiet time after 10 pm within the house. Music/conversation at moderate volume is okay in patio area outside and riverside but any outrageous behavior and/or overt drunkenness will not be tolerated. This is for everyone's safety since this is a waterfront home. Visitors assume all liability. Hosts are friendly and available and happy to help with recommendations for nearby venues but will generally keep to their side of the house and leave guests to enjoy!
기타 사항
First room has a queen size bed and a pull out single bed couch. The second room has a large cedar custom-made California king bed that can easily sleep 3 guests comfortably as well as another pull-out single bed couch. Window AC for your control is in the first room.
---
---
---
---
기타 알아두어야 할 사항:
계단을 이용해야 합니다 - There is a step down and a walk-around to access the rear steps (about 8 steps up) to a back deck and your own private entry.
소음이 발생할 수 있습니다 - Hosts have two young children (3 & 5) but will try to keep children occupied in remote areas of the house while guests are staying.
숙소에 반려동물이 있습니다 - Two family dogs that are friendly. One may jump on you to lick you and play but if this is worrisome, notify host and they can be leashed. Also 1 cat.
편의시설 제한 - If you flush the toilet while someone is in the shower the water turns scalding, so beware. Also, no access to house's indoor common areas.
---
---
---
---