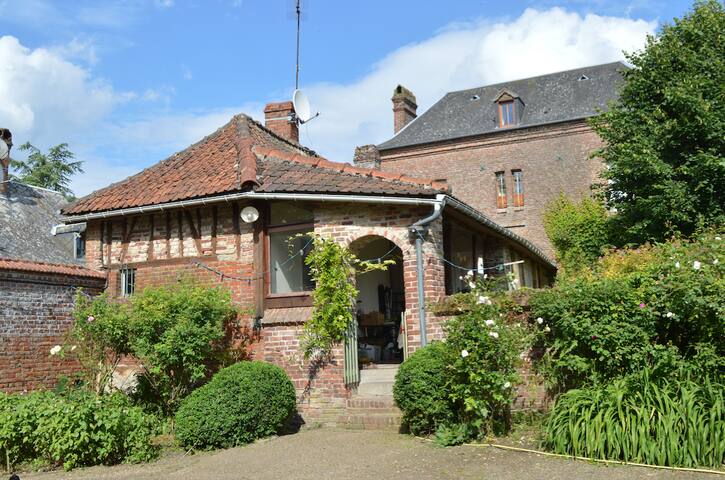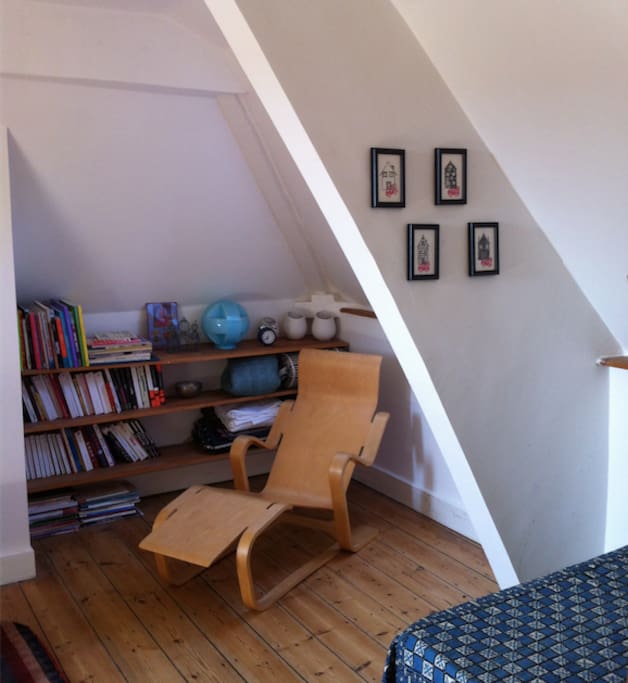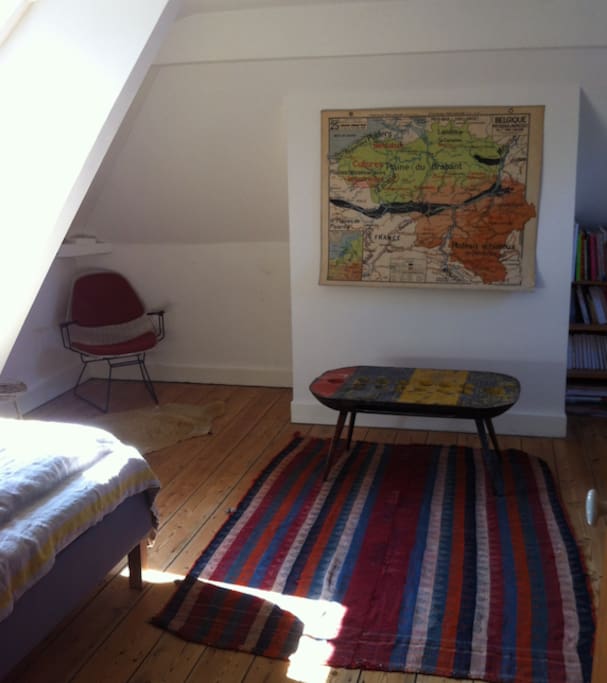 We are a couple, with child, settled in a small classified village in he north of France (Somme). The house, ex butcher shop of the beginning of the last century, near a large forest, offers possibilities for hikers and outdoor activities.
Families with children, cycling riders, or riders with horses, welcome !
숙소
Sensitive to ecology, we own orchard, vegetable garden, chicken coop, meadows...
If you like nature and animals, you will love to wake up and see the goats, horses and chickens on the meadows. We also offer the possibility to the hikers to welcome your horse (box, paddock horse carreer)
사용가능 공간/시설
We offer 1 comfortable room with bathroom on the second and last floor of our house. In this room there is two double beds.
Possibility to rent the second bedroom with one double bed.
There is a bathroom between that two bedrooms, with toilets, shower, bathroom sink.
기타 사항
As Laurene is vegetarian, the breakfast (if you want one) will be (most of the time) vegetarian with fresh eggs, fruits, homemade apple juice, cereals... (vegan also OK !) . We ask for your participation, the amount is left free.
We can also prepare a vegetarian meal ( dish + cheese + dessert) on request. We ask for your participation, the amount is left free. (But tell us what you like and dislike!)
You can, of course, also use the kitchen, or we can advise you about restaurants arround Lucheux.
And finally, if you do not want to do the cleaning at the end of your stay, we will do it for 15 €.
---
---
---
기타 알아두어야 할 사항:
고양이와 기타 반려동물이 숙소에 있습니다
---
---
---
Onze overnachting bij Laurene en Xavier was super! Ze verwelkomden ons met koffie en de kinderen mochten gelijk mee de tuin in naar de paarden en kippen en helpen met het plukken van fruit. Laurene had aangeboden om 's avonds mee te eten, een echte aanrader, simpel maar heerlijk eten! Ze spreken goed Engels en soms een woordje Nederlands en zijn erg geïnteresseerd. De slaapverdieping was ruim en alles keurig verzorgd. Het bed in de kleinere kamer is wel wat klein voor volwassenen. Beneden hebben we ons ook thuis en welkom gevoeld. Er was genoeg te spelen voor onze kinderen. Het ontbijt was ook heerlijk. In het plaatsje zelf is weinig te doen en het is ook wat verder van de snelweg. Voor ons wel een toplocatie tussen de Vendee en Rotterdam.
---
We very much enjoyed our relaxing short stay with Laurene, Xavier and their daughter Jeanette. The house has been tastefully restored and furnished, and the bedrooms and bathroom were all very clean. The -optional- evening supper was delicious and enjoyed by one and all. We were pleased to take up this opportunity for socialising, which given Laurene and Xavier's openness and easy-going natures, conversation was effortless and immensley enjoyable. They are fascinating people with wide-ranging interests and this makes staying in their historic house even more pleasurable. Laurene's insight and interest in horses was especially rewarding for Sammy and Alex, whilst Sebastian was fascinated by the goats! Laurene, Xavier and Jeanette live in a kind of paradise, we would have stayed longer if we could have and hope to visit again.
---
As we live in the same house, in any case, we will be there to help you, to inform you about hikes, touristics, and cultural activities !
Laurène, 34 ans, graphiste indépendante.

Passionnée d'équitation, jardinage en permaculture, chineuse du dimanche, cycliste, suit une formation en naturopathie.

aimerais aller :
❤ Pays-bas, Japon, Suède, Belgique, Portugal, Angleterre, Danemark ❤

a déjà été :
❤ Etats-unis, Nouvelle-Calédonie, Pays-bas, Suède, Belgique, Portugal, Espagne, Angleterre, Danemark, Italie, Cap-Vert, Antilles ❤
언어:
English