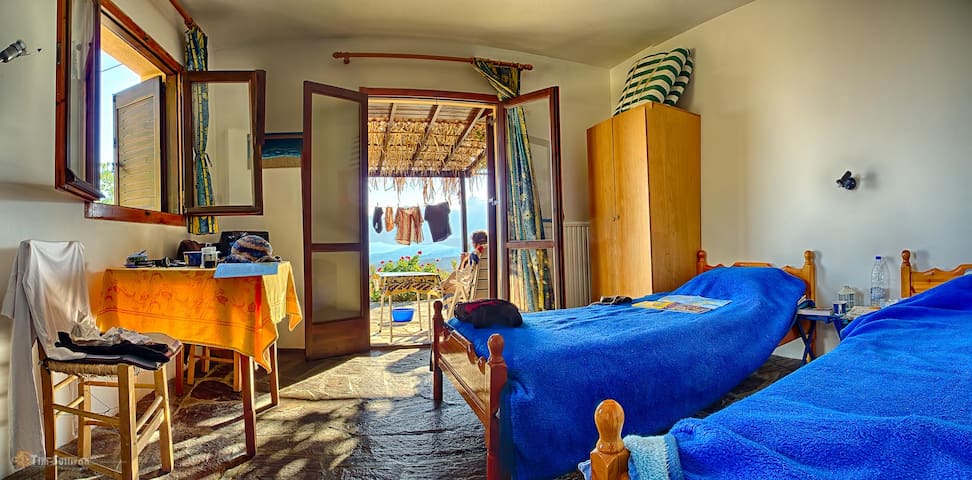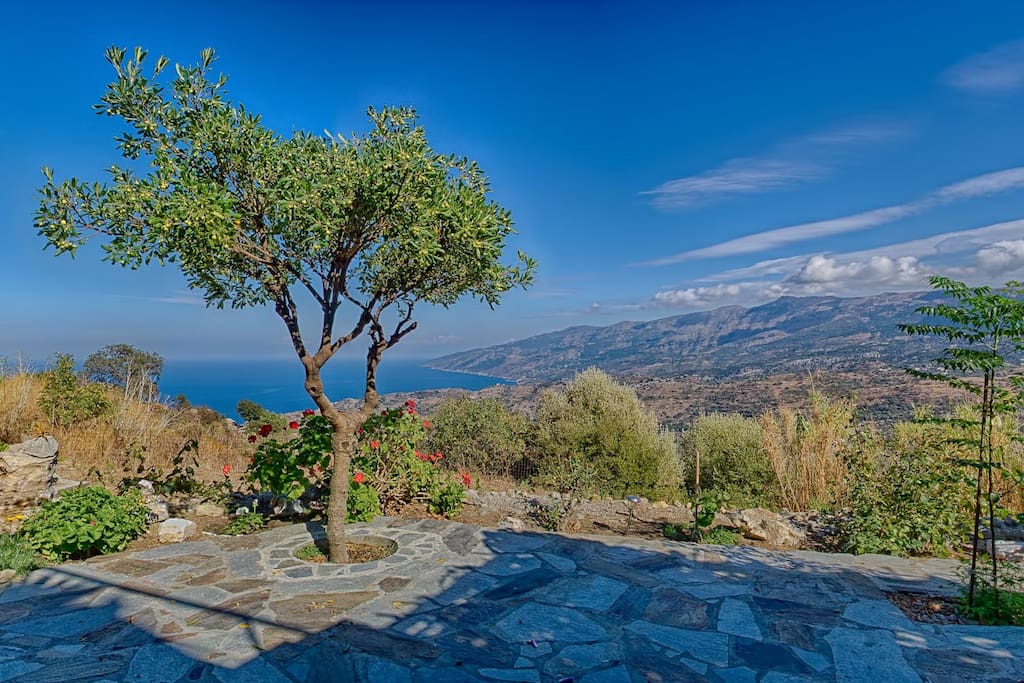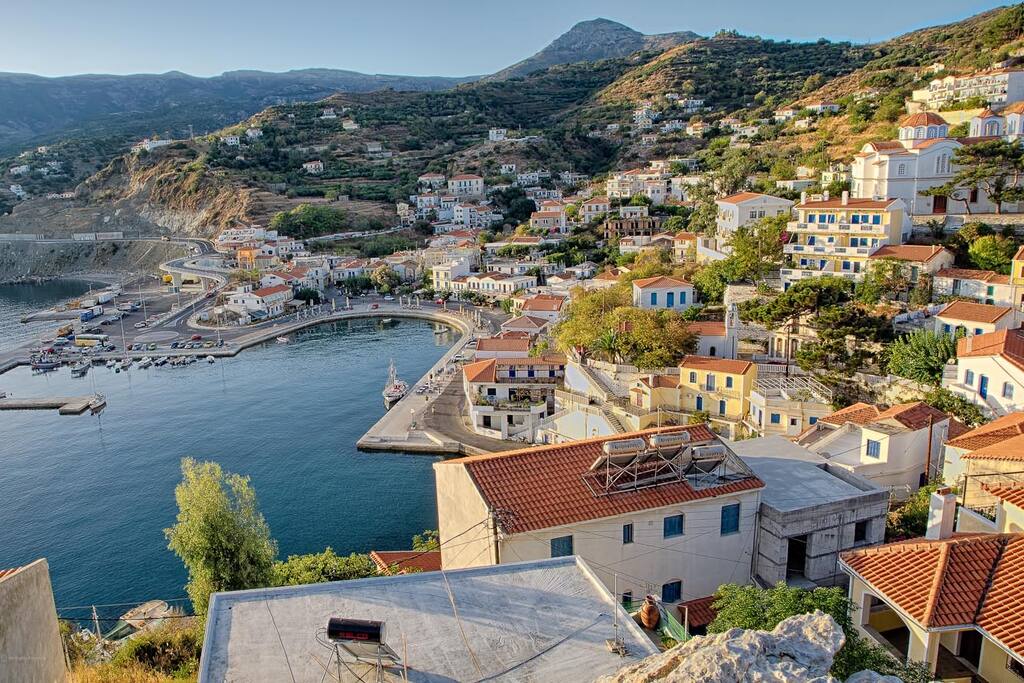 My 3 apartments are located in the tranquille village of Pigi, a village hidden in the mountains with a splendid view of the north seacoast of Ikaria. Pigi is just 5km from the port village of Evdilos and just 6km from the village of Armenistis with the beautiful beaches and only 10 minutes from Kampos beach. I have three apartments with own private veranda each.Each can accomodate 2 people.Perfect for couples or two friends. I will be very happy to have you stay with me.
숙소
My 3 apartments are in a very green area with a lot of trees around the house, which means, we enjoy "natural aircondition"!
Guests like very much my home made sweets.
---
Wer sich in der Natur wohl fühlt und einen unverfälschten und ruhigen Ort sucht, ist bei Renee genau am richtigen Ort. Ihr vollkommen freistehendes Haus, umgeben von Olivenbäumen, liegt an erhöhter Lage, fernab vom Touristenrummel. Die heimeligen und bestens ausgestatteten Appartements, mit Küche, Bad und grosser Terrasse, lassen keine Wünsche offen. Man geniesst hier eine freie und atemberaubende Aussicht auf Meer und Berge. Hierhin möchte man wieder zurückkehren.
---
If you come to Ikaria, this is the place to stay! The beautiful views and surrounding nature exceeded our expectations (and photos). Renees apartments are comfortable and well equipped, located in the picturesque village of Pigi with Theoktisti Monastery close by (need a car or scooter to get around though). I have no doubt, it's also thanks to Renee herself that our memories of the island will be unforgettable. She is a warm,charming and caring host, who went out of her way to make our stay as enjoyable as possible,sharing valuable tips and insights on Ikaria. In short: Highly recommended, would definetely love to come here again, but this time not just to visit the island, but also to visit Renee:)
---
Renée ´s place is located up the hill, in a little paradise with a great view and very quiet atmosphere. She offered us some very nice welcome cakes. It was very cool to stay at her place. She got a lot of informations to give us. To reach the place it's really mandatory to rent a car. I recommand it. See you soon Renée!
---
Me and my boyfriend stayed at Renée's for 4 days. We had the loveliest time. She is a great host, and she made us fall in love with Ikaria with her tips and sweets. Her place is a quiet place for nature lovers. If you want to go to Greece go to Ikaria, and if you are going to Ikaria, stay at Renées!!!
Cara Sabina e caro Daniele! Mille grazie for your nice (URL HIDDEN) well for me it was wonderful to have you here! I would like to stay in touch with you. Have a nice summer in pretty old Italy. Ciau Renée & MonaLisa PS: Yesterday I had to call a veterinary. I was so glad to find one in Raches and he came home to us. She has water in her lungs. We try it with antibiotica. If it came from a cold, it should help! She doesn't want to walk at all... Enjoy your dog every day!!!
---
Ich bin Renée (Deutsche) u. lebe seit über 30J. auf dieser einzigartrigen Insel IKARIA.Seit 1998 vermiete ich meine 3 Apartments im Dorf PIGI an Gäste aus aller Welt, was mir viel Spaß macht.Ikaria kenne ich so gut, daß ich viele Infos u.Tipps weitergeben kann.Mein Haus liegt mitten im Grünen u.hat eine fantastische Aussicht auf Meer und Berge.Von Pigi zur Hafenstadt Evdilos sind es 5km u.nach Arministis 6km.Die schönsten Strände sin in 15-20 Min.zu erreichen.Meine Spezialität:Selbstgebackene Kuchen! Es wird euch bestimmt bei mir gefallen!
In English:
I am Renée (German) and have beeing living more than 30 years in IKARIA.Since 1998 I rent my 3 apartments in the village of PIGI for guest from all over the world,which I like very much.I know Ikaria very well an can give a lot of tips.My house is in the middle of a green clean landscape and has a fantastic view to the sea and mountains,which you can enjoy from your big private veranda.There are only 5km to the harbour town of Evdilosand 6km to Arministis.The most beautiful beaches you can reach within 15-20 minutes. My speciality:Home made cakes! I will do my very best for a nice time at my place