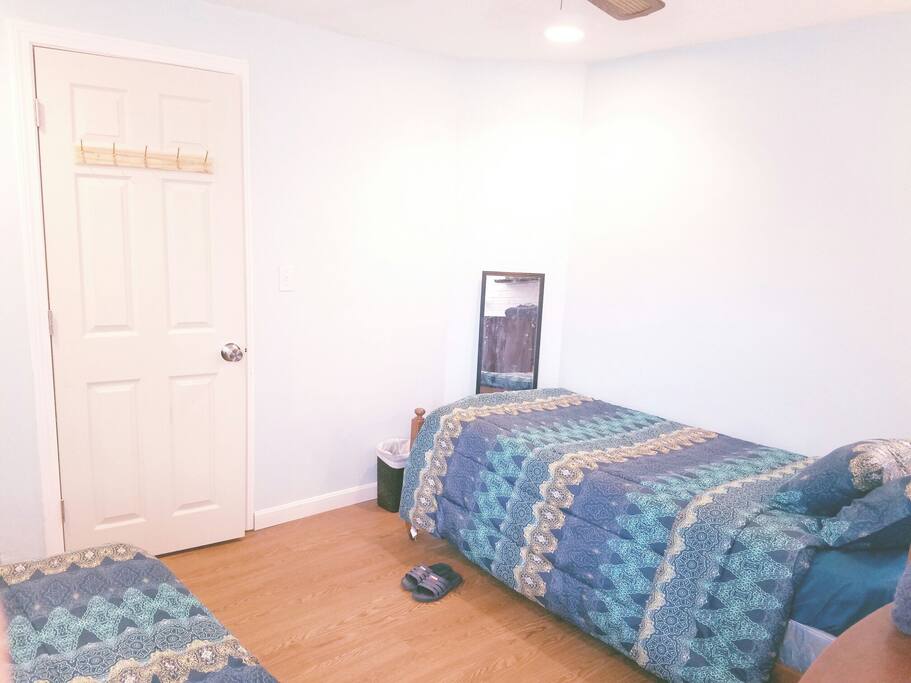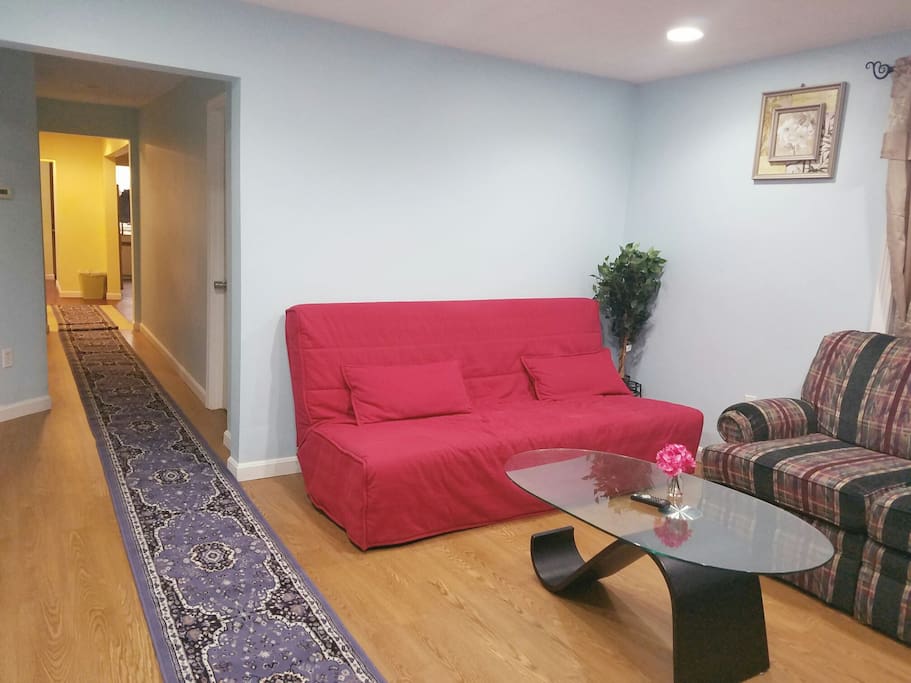 ★Lovely 1BR★Quiet,Parking|StudentsTravelers|Lowell
Welcome! So nice you will wish it wasn't temporary! A furnished private room ideal for travelers in midst of relocation, business or pleasure. Enjoy my comfortable suburban ambiance; easy access to area conveniences, services & shopping. 30min from Boston, wifi & parking! PLEASE READ everything if this listing fits your needs.
AWESOME Airbnb place for guests wanting a clean inexpensive sleeping bed and occasion interaction of other guests time to time. Just book and all your needs are provided!
숙소
There are five listed Airbnb rooms total in single family house in quiet residential neighborhood.
The bedroom #6 is located downstairs, same floor as living room, kitchen, and bathroom. A twin bed along with a full body mirror, large dresser, and cooling fan. Additional twin bed for SECOND guest only. There is NO TV and NO AC in the room. Wifi is available to stream your movie and TV show needs on your tablets/laptops. A large flat screen TV with Roku stick is for anyone to watch in the living room (Hulu is provided).
Curfew:
There is NO CURFEWS. You'll be message a unique house and room code on the day of your arrival in for quick and convenient check in. I ask of you please quietly enter and exit each time, especially during late nights so you do not disrupt other guests.
Parking:
There is a private driveway beside the house that fits 4 cars. There are additional free street parking spaces available as well. If you're not sure about parking, just ask!
Noise:
This listing is for a private room with shared bathroom in a COMMUNAL home, so there will likely be other guests in other bedrooms from time to time.
Time to time my rooms can be fully booked. My walls are not soundproof (it was not designed when it was built) so each room has carpeted rugs on hard and acoustic panels on walls to help reduce the noise level, but NOT COMPLETELY SOUNDPROOF.
Laundry:
There are NO LAUNDRY within the house. The nearby laundromat is about 8min drive or about 15min by bus. For your convenience I offer laundry service (wash+dry+fold) for $15 per load, just let me know!
Booking:
There are NO third party bookings. Airbnb's policy requires all reservations booked for any travels to be booked by the person who's going to stay at the listing.
Instead of making a reservation for someone else, consider referring them to Airbnb. You can refer them to Airbnb directly from your dashboard by clicking the Invite Friends button. When a referred friend or family member successfully completes a qualifying reservation, you'll earn travel credit!
사용가능 공간/시설
There are five Airbnb rooms in this house and common areas are shared, including one bathroom (which the host will not use). Basement, attic, backyard, and garage are off limits secured with locks.
COMMON SHARED AREAS
--Living Room—
Lounge on soft sofas while surfing on high speed wifi or hook up your laptop HDMI and stream onto 55inch flat TV.

--Kitchen—
Get ready in the morning with some choices of ground coffee, tea, powdered drinks, powdered creamer and domino sugar. All necessary utensils for cooking, eating, and drinking. Microwave, electric kettle, BRITA water filter, and Mr. Coffee maker ready to be used. Cooking oil, few condiments, and spices are supplied so you can be able to cook simple meals. I do not cook at home so NO MEALS/BREAKFAST is provided. You're welcome to store food/leftovers in the refrigerator. A kitchen cabinet is reserved for each room so you can store your pantry in.
--Bathroom—
Towels, soap, men/women shampoo and body wash are available to use for maintaining your good looking self. Cotton pads, cotton swaps, limited feminine pads, Band-Aids, and mouthwash are available. Hair dryer and hair straightener are available for anyone to use. Iron and iron board are located next to the kitchen.
게스트와의 교류
I am between locations so there are no personal items of mine in the house. Occasionally I would sleep in one of the rooms on some nights. I designed it so that guests can have a quiet clean place to sleep and stay, at reasonable prices competitive than staying at expensive small motels/hotels.
I MAY OR MAY NOT GREET YOU when you arrive depending on my school and work schedule so I communicate strictly through Airbnb messaging. I try to respond as quickly as I can. However, you can catch me when I come in for daily cleaning and restocking, throughout the day. You can even spot my mom or dad occasionally helping me out cleaning!
기타 사항
If you like to know how many guests you're staying with during your trip, please ask!
Please note I have other listings in the same house in Lowell so check them out for price comparisons that works the best for you!
You are responsible for providing any additional supplies you or your guests require during your stay. Each guest will be given a body towel and is responsible to RETURN it after reservation.
Pantry and refrigerator WILL NOT BE STOCKED except for few non-
perishables due to potential food allergies. I do not cook at home so NO MEALS/BREAKFAST is provided. You must SUPPLY YOUR OWN food and cook for yourselves. You're welcome to store food/leftovers in the refrigerator. A designated kitchen cabinet will be assigned for each room.

You are responsible for cleaning your space and return the way the room looked before you checked-in reasonably after your stay.
Wednesday mornings are trash day every week and recycling day every other week so please place your trash in the red bin and your recyclables in the green bin outside the back door before Wednesday morning and I will come to put them out for collection.
---
---
---
체크인 가능 시간은 15:00 - 23:00입니다
Please read these rules carefully and ask if you have any questions. They are detailed and comprehensive based on previous guest booking experiences.
THIRD PARTY BOOKINGS, GUEST SUBSTITUTIONS AND SUB-LETTING are not allowed under this AirBnB rental agreement, meaning YOU CANNOT BOOK FOR SOMEONE ELSE. ANY GUEST that DOES NOT MATCH the name or the number of people on the confirmed reservation WILL BE ASKED TO LEAVE and the reservation WILL BE CANCELLED WITH NO REFUND. There is NO REFUND OF ANY KIND (any cancellation or any adjustment request for earlier leave) STARTING ON THE DAY YOU CHECK IN. All communications shall be through AirBnb messages. Only registered guests are allowed to book and you may be required to show an accepted government issued form of identification that matches the AirBnB reservation Verified ID information. In addition, your guests may be required to show government issued for persons 18 years of age and over, to match the total number of occupants under the AirBnB booking agreement limited to 2 guests in total. Persons under 18 years of age may be noted. All guests' and minors' information may be recorded and will be disclosed, only for booking record purposes. If you plan on hosting an event that you may think will exceed this limit please message me through AirBnB in advance but approval is not guaranteed based on parking limitations.
PERSONS 18 YEARS OF AGE AND OVER are considered adults and are defined as guests and bound by all limits and terms under this AibBnB booking agreement.
CHILDREN UNDER THE AGE OF 18 are bound by all limits and terms of this AirBnB booking agreement. POLICY FOR MINOR CHILDREN UNDER 18 YEARS OF AGE is that you assume liability for any injury to children you bring or allow on the property and you are legally responsible and liable for any injury and damages as a result of those children's actions under this AirBnB rental agreement. There are no child-proof locks on any doors, cabinets, drawers, or shelving. There are cleaning products, kitchen utensils and knives, trash bags in non-locking drawers/on shelves that may be easy to reach locations for daily use.
THERE IS A STRICT SMOKING/DRUG USE POLICY. There is no smoking/drug anywhere within the interior of the house under this AirBnB booking agreement. You may smoke anywhere outdoors with house doors closed to prevent smoke from entering the house and you are responsible for cleaning up your butts. If you are caught violating this policy you will be asked to leave without a refund for the remainder of your reservation. If the room smells of smoke/drugs after you leave we will hire a third party professional service to verify & document in writing that the smoke/drug odor exists and then clean the damage. You will be requested for compensation damages of the amount based on the bill I received through Resolution Center in AirBnB. The next guests should be comfortable in a clean odor free environment.
PETS ON THE PROPERTY POLICY. Due to many allergies, NO PETS are allowed on the property to maintain an allergen free environment for the next guest.
There is a strict NOISE POLICY. No late night parties and keep the noise level low after 10pm. Be respectful to neighbors. This is a QUIET PEACEFUL residential area where parents work all day and expect to come home to relax. First warning will be given if I receive any complaints. Second time warning, you will be asked to leave without a refund for the remainder of your reservation.
VISITOR POLICY. Due to limitation of house space and to ensure a safe peaceful environment for all my guests, ANY GUEST who wish to have visitor MUST HAVE A WRITTEN CONSENT FROM THE HOST in ADVANCED. Each guest is LIMITED TO (1) VISITOR. Visiting Hours are between 10am-7pm. ANY VISITOR PAST 7PM are considered NOT VERIFIED AIRBNB GUEST and must leave the house premise IMMEDIATELY. First warning will be given. Second time warning, guest(s) and visitor will be asked to leave without a refund for the remainder of your reservation.
OPEN FIRES & FLAME SOURCES. The fireplace in the family room cannot be used by guests under the AirBnB booking agreement due to insurance restrictions. You cannot use any device/source that creates open flames, including scented candles, anywhere inside or outside of the house. Use caution when using cigarette lighters outside of the house. There are Airwicks plugged fresheners and refillable oils available if you need them, just let me know.
BATHROOM/KITCHEN PLUMBING: Only natural waste products can be flushed down the drains or toilet. If you have doubts on whether or not something can be in the drains, put it in the trash. This is a partial list of common household items that cannot be flushed down the drains: egg shells, fruit/vegetable peels, coffee grounds, tea bags, gum, food scraps, cigarette butts, excess hair, dental floss, sanitary napkins, bandages, cotton balls, disposable diapers, baby wipes, rags, newspapers/paper, paper towels, wrappers, dirt/sand, fats/greases/oils, latex/plastic items, household trash, etc. All drains are checked, recorded, and maintained before check-in time. You are responsible for all costs associated with the repair of plumbing blockages or failures caused by you or your guests which is not the result of normal use. Defective/failure plumbing will be determined and documented by a third party professional plumbing service. The costs requested for compensation damages through Resolution Center in AirBnb.
KITCHEN POLICY: You are responsible for all costs associated with the repair/failures of kitchen appliances (microwave, stove top, oven, refrigerator) caused by you or your guests which is not the result of normal use. All appliances are checked, recorded, and maintained before your check-in time. The costs will be determined by a hired professional for repairs, and if beyond repairable, a receipt of similar/same model will be provided. These costs will be claimed through Resolution Center in AirBnb.
You may not use this address as your postal address for any mail/packages without express written permission from the host. Any mail/packages whose name is not the host's (without letting the host know first) will be subjected under suspicious behavior conduct, may be reported to the local police, and the your AirBnb booking agreement will be considered terminated without any refund.
ACCESS & EXCLUSIVE USE:
Normal maintenance on the house, facilities and property is an ongoing activity. You will be notified in advance if access to your exclusive use space is needed to perform routine maintenance. In case of emergency service where immediate access to your exclusive use is needed to inspect, identify, and make repairs we will attempt to notify you in advance but you may not receive the notification until after the fact.
The host reserves the right to enter your exclusive use of space to inspect and determine if there's been a suspected breach of the House Rules. If you are not present, you will be notified of the access and reason for entry.
The basement, attic, and garage are strictly off limits with secure lock. Any signs of tampering will be documented and reported to AirBnb.
THERE IS NO PHYSICAL HOUSE KEY of the front door and back door. You will be given the house keyless code in person. If you or you guests should be locked out at any given time, you must contact and wait for me so that I may come and open the front door for you. That means you or your guests are not to attempt access into the house except through the front door (actions such as tampering with either front/door locks, windows will be documented and reported to local authority and AirBnb). Therefore, it is you and your guests responsibility to maintain the security of house during your reservation. It also means keep all windows closed shut and locked each time you leave the house for any given time. You and your guests are responsible and liable for any damaged/missing house properties, including the interior walls, floors, ceilings, light fixtures, windows of the house. Household items, properties, and condition of the house are recorded and maintained before your check-in time. Local police will be called on site and you or your guests will be reported to AirBnb if there is vandalism issue. Any costs of repairs/replacement will be determined and documented by a third party professional and the amount of the bill will be claimed through Resolution Center in AirBnb.
Please be aware that you or your guests' actions may affect other house guests and I as well. Please ask if you need any policy/house rule clarified or wish to request an exemption.
I look forward to hosting you.
기타 알아두어야 할 사항:
일부 공용 공간이 있습니다
---
---
---
Hi there! I love how easy to use Airbnb and I have enjoyed staying at Airbnb places few times, so why not let some other people enjoy mine as well?! I'm so fortunate located in the best area of Lowell, MA, away from traffic but close to everywhere!
I'm not home much due to my school and work schedule. Other times I'm eating my mom's home cooked meals nearby. I believe in being helpful to my guests while giving them a lot of privacy space. I really stress about comfort beddings and cleanliness, so I'm confident my home reflects that.
About me: eating sweets, drinking boba tea, Disney/Pixar/Marvel movies, same haircut since middle school, longest marathon I ran was Criminal Mind seasons ;)
언어:
English