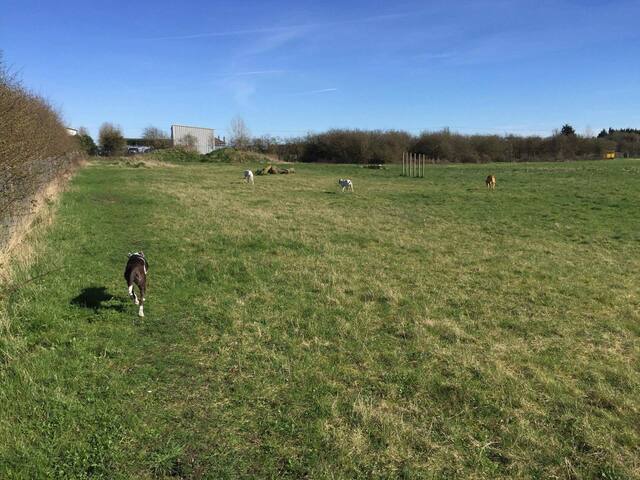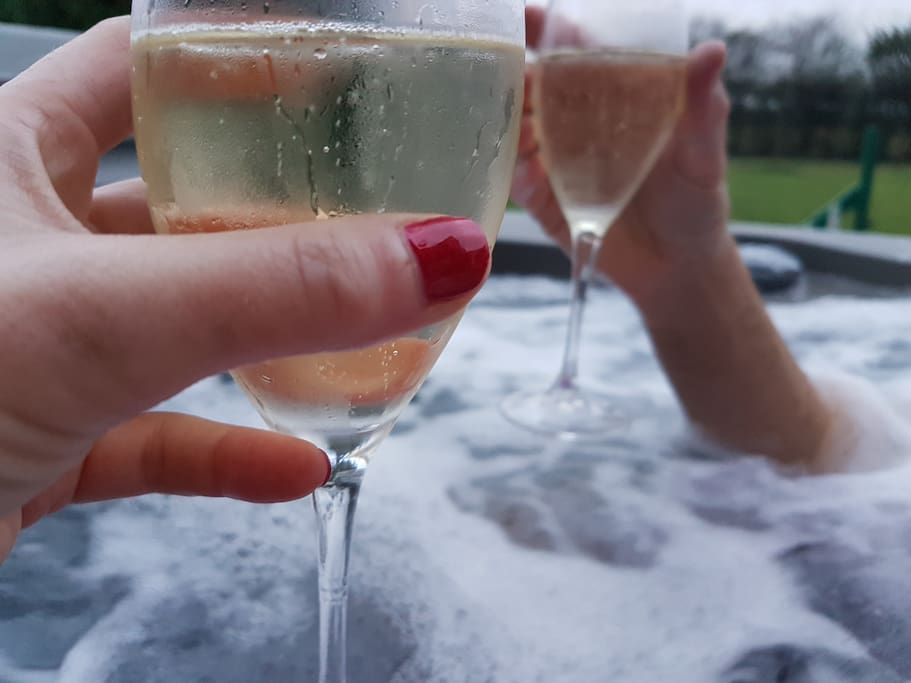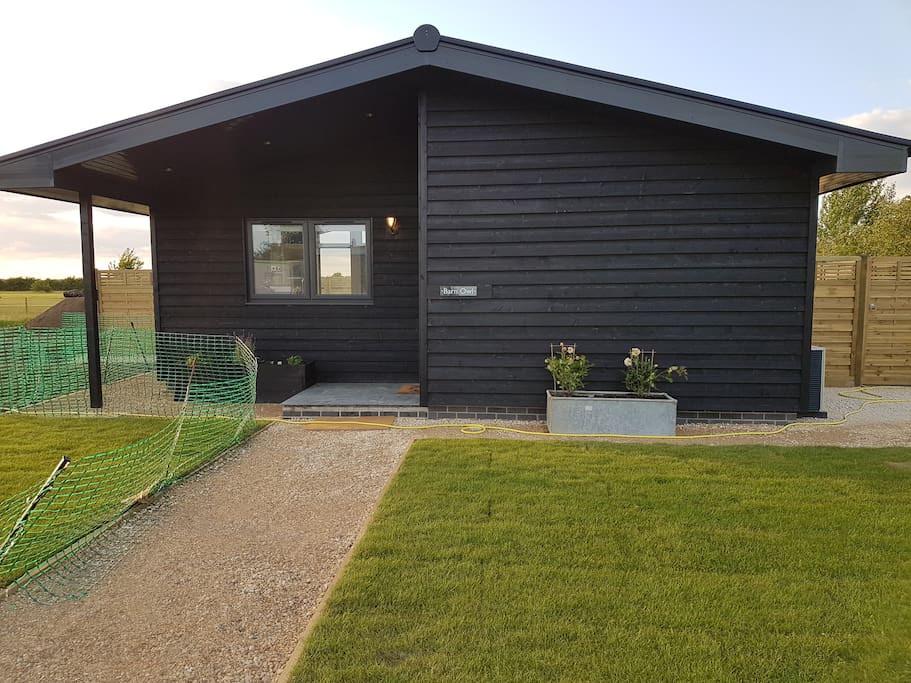 Our beds are large & comfortable with fluffy duvets & a choice of pillows. Our kitchen is well stocked, with good quality equipment (& sharp knives!).
The views from the rear of the cottage are spectacular. The big skies of the Fens are perfect for a bit of star-gazing from your hot-tub.
We are just 5 minutes from the historic city of Ely, 20 minutes from Cambridge and an hour's drive to the wonderful Norfolk beaches.
We look forward to welcoming you to White Cross Farm.
숙소
We are the most dog friendly cottage you will find. No limits on dogs, who can sleep wherever they like, and have prearranged access to our 8 acre field. Your hot tub, in your securely fenced garden gives you perfect opportunities to relax under our big Fen skies. Luxury cottage, complete with welcome hamper, for up to 4 people and unlimited dogs.
사용가능 공간/시설
As well as your own secure garden, detached from anyone else, you have a paddock you can access at any time, and prearranged exclusive access to our 8 acre field. You can also book training with the team from Developing Dogs if you wish!
게스트와의 교류
Whilst we live on site, we leave you in peace to enjoy your stay. You are in a separate part of our 10 acre plot.
---
---
---
언제나 에어비앤비를 통해 대화를 나누세요.
안전한 결제를 위해 에어비앤비 웹사이트나 앱 외부에서 송금하거나 대화를 나누지 마세요.
더 보기
---
HOLIDAY COTTAGES BOOKING TERMS & CONDITIONS
THESE TERMS AND CONDITIONS ARE A LEGALLY BINDING DOCUMENT. THEY SET OUT THE TERMS ON WHICH WE HIRE OUR HOLIDAY COTTAGES TO YOU
DEFINITIONS In these terms and conditions, where the expressions "Arrival Date", Cottage", "Departure Date", "Deposit", "Holiday Period" and "Holiday Price" are used they shall have the meanings given to them in our written Booking Confirmation. Please see section below
Booking Confirmation
A booking is only confirmed by us when we have sent you a written confirmation of your booking (which may be done by e-mail) and received your Deposit in cleared funds
Nature of the Booking
Once we have issued a written booking confirmation and received your Deposit in cleared funds (and in return for you complying with these Terms and Conditions including your payment obligations) you are granted a licence to occupy the Holiday Cottages during the Holiday Period for the purpose of a holiday. The Booking is not intended to create any relationship of landlord and tenant between us. You are not entitled to any tenancy, or to an assured short-hold tenancy or to any statutory protection under the Housing Act 1988 or to any other statutory security of tenure now or when the licence to occupy ends. The booking is personal to you. You must not use the Holiday Cottage except for the purposes of a holiday by you and your group during the Holiday Period and not for any other purpose without prior agreement
Arrival and Departure
The Holiday Cottages should be ready from 4pm on the Arrival Date. Late arrivals are not a problem as we have key safes with each of our holiday cottages.We will provide you with the relevant code for that cottage that week if this is the case. You must vacate the Cottage by 10am on the Departure Date in order that we may have it ready for the next guests. Please help us by ensuring that you vacate on time. We'd love to let you stay but we do need to ensure that it is spic and span for the next guests!
Payment
Please pay via our Secure payment system online. You may also pay by cheque or bank transfer. Please contact us for details in this event
When you need to pay
If bookings are made within one month of the Arrival Date the Holiday Price must paid in full. For booking made in excess of one month from the Arrival Date you must pay a deposit. The deposit will be £100 per Cottage per booking, with the balance of the Holiday price payable one month prior to the Arrival Date. For Bookings across the Christmas and New Year periods the balance payment is due 8 weeks prior to the booking start date, if the booking is cancelled after the balance is paid then 100% of the balance will be repaid dependent on the cottage being resold, if the cottage remains unsold then no monies can be returned. During this period the deposit is forfeit. We will contact you to take the balance payment
Cancellation / Changes to a Booking
We cannot guarantee that we will be able to change a confirmed booking but will accommodate you where we can. Either of us may fully cancel a booking at least one month before the Arrival Date, in which case your deposit will be returned to you. We do reserve the right to charge a £25 admin fee, which will be deducted from the deposit. If you cancel a booking less than one month before the Arrival Date you will lose your Deposit and you may also lose the balance of your Holiday Price; the balance will only be repaid to the extent that we are able to re-let the Holiday Cottage during the Holiday Period. We may cancel your booking or cut your holiday short where you breach this agreement or because we have been affected by events beyond our reasonable control. Please see the 'Early Termination' section below for further details.
For bookings across the Christmas and New Year periods the balance payment is due 8 weeks prior to the booking start date as stated above. If the booking is cancelled after the balance is paid then 100% of the balance will be repaid only if the cottage is re-let upon being made available, which we will do immediately. If the cottage remains unsold then no monies can be returned. During this period the deposit is forfeit.
For group bookings where all the cottages are booked, we are unable to cancel any of the cottages as our group booking policy ensures that no-one else finds themselves in the middle of someone else's party.
We are happy to hold payments made and credit your account in the event that you wish to postpone a booking, but your deposit will be forfeit if you request a refund at a later date. If you have paid in full, then the balance will only be repaid if the dates you booked are re-let.
Prices
The price quoted is our current price list. Prices may change, so please confirm the price before making a booking. The price at the time of booking is what you will pay
Welcome Hamper
We provide a welcome hamper with a selection of local produce. Contents will vary dependent upon availability but it will include tasty treats for you and your canine companions.
Extra Charges
All our cottages are adequately heated and we provide you with a starter pack of logs, matches etc for the woodburner. You may buy more from us, at cost, if you need it.
Your booking includes 3 (for weekly bookings) walks in our secure field, at times to be booked prior to your arrival. We will contact you to arrange these. You can also pay for additional sessions, subject to availability.
Housekeeping
Please leave the Cottages tidy and rubbish free on departure – cleaning materials are supplied for this. If the cottage is left in an unacceptable state we reserve the right to invoice you £50 to cover for this and will deduct from your security deposit. You should keep the Cottage and the furnishings, kitchen equipment, crockery, glasses, bedding and towels clean and in good condition. We are sure that you will take care whilst you stay with us, and we acknowledge that accidents sometimes happen. We do however reserve the right to charge for any damage or breakages, which we consider, was deliberately or recklessly caused. You will be notified in writing as soon as is reasonably practicable, if the damage is discovered after you depart. We also reserve the right to charge further sums if we are unable to re-let the cottage as a consequence of the damage. To this end, by booking you authorise us to invoice for any additional sums in the unlikely event of damage and the £50 for extra cleaning should the cottage be left in an unacceptable condition on your departure. If reasonably possible, we will discuss with you the extra charges in respect of damage or cleaning before taking the funds.
Value Added Tax
The Holiday Price is inclusive of VAT. Whilst we are liable to pay VAT it is clear that guests would not want to pay an additional amount. So, we have paid the VAT due ourselves without passing on the charge to you and therefore any change in the rate of VAT has no effect on the prices because you are not charged it and we have to pay it whether it is 1% or 20%.
Registration
All guests must register their names, addresses and email addresses with us – and let us know in which Cottage they are staying, this is a legal and insurance requisite. Groups – No more than the maximum number of persons, as stated in our written Booking Confirmation may occupy the Cottage. We may refuse to allow you to occupy the Cottage or require you to vacate the Holiday Cottages if group numbers exceed that maximum number and/or the number of guests which you told us would form your party. We reserve the right to refuse or revoke any bookings from groups or individuals which in our reasonable opinion are unsuitable for the Cottage. For example, because taking a child into the particular Cottage would be unsafe or because the group is too large or rowdy. Babies And Children Parents and guardians must ensure that their children are supervised by a responsible adult and are not left unattended. You must take particular care when children are around animals, equipment and water.
Dogs
We welcome unlimited dogs in all our Holiday Cottages and do not make additional charges for their stay. Please bring bedding and bowls for your pet. We provide throws which we ask you to use to cover sofas / beds before your dogs get on them. If your dogs are happy to be left alone without causing damage or disturbance then we are happy for you to do so. We can supply a list of local people who are happy to dog sit in our cottages if you would like to go out for the day and don't want to take your dogs. Dogs must be on lead everywhere outside your garden, the exercise paddock or secure field. Many of our guests are nervous dogs and they do not want to greet your friendly dog. Please respect the space of everyone on site. Please ensure you pick up everything they leave behind.
Open Fire & Wood-Burners
Each of our Holiday Cottages has a complimentary basket of logs, firelighters and kindling. All cottages have independent air source heating systems and do not depend on the fires for heating. If you require extra logs etc then we do offer these to you at cost
Amenities
The Holiday Cottages are complete homes with TV, DVD/ CD Player, Docking Station, bed-linen, towels, soap, fresh & instant coffee, tea, sugar, salt, pepper, olive oil, fresh herbs, matches, candles, firelighters, cleaning equipment etc. We give an honest impression of what the cottage looks like through our published images but please be aware that items such as furniture and furnishings are replaced when broken or damaged and that rooms and gardens might have changed since photography; if you wish to be certain that any specific item is still at the cottage please do check with us first.
Hot Tubs
The Hot Tubs all have printed conditions of use, which are basically the guidelines from the manufacturer, as well as common sense rules. The main thing that we ask is that the Hot Tub is purely for use by guests staying in that cottage in order to avoid unwanted noise levels, disturbing other guests or our neighbours. For the same reason, we do not allow music near the Hot Tubs. We have worked hard to make White Cross Farm an oasis and want it to remain that way for all our guests. Additionally we insist that users have a good shower beforehand in order to maintain the mechanics correctly as things such as tanning creams, hair products, make up, the oil in skin etc all clog up the filters and pipework. Strictly NO SMOKING or EATING in or near the Hot Tubs and NO DOGS in the Hot Tubs.
Please note that any damage to the Hot Tubs or ancillary equipment caused by neglect or a contravention of these necessary rules, may result in an invoice being sent and as with other terms, be accepted as due to us upon booking and accepting our very necessary terms and conditions.
Security, you and your cottage
While the Cottages have locks you are responsible for ensuring the security of your belongings. You are responsible for ensuring the safety of yourself, children and vulnerable adults, and dogs in your group. You are also responsible for ensuring that your property is not damaged or destroyed. Unless caused by our negligence, we are not responsible for any death, personal injury or damage to your property.
Our Holiday Cottages are all non-smoking
Your Obligations
No furniture, bedding, plates or cutlery etc should be moved from or between any of the Holiday Cottages. You must not do anything that may reasonably be considered to cause a nuisance or annoyance to any other occupier of neighbouring premises. We may require you and your group to vacate the Holiday Cottages if you are too rowdy. Flowers and plants are not to be picked or pulled up. You must not litter the area. You must also comply with any other regulations which we reasonably make from time to time and notified to you from time to time during the Holiday Period and ensure that they are observed by all members of your group.
Early Termination
This section sets out when we may cancel your booking less than one month before the Arrival Date (including during the Holiday Period).
Please see the 'Cancellation/Changes to a Booking' section above for details of other circumstances in which we or you may cancel your booking before the Arrival Date.
We may terminate your booking less than one month before the Arrival Date or during your Holiday Period by notice to you only if you are in material breach of these terms and conditions or because we are affected by events beyond our reasonable control (such as, but without limitation, flood, fire, adverse weather conditions, act of God, war, terrorist threat, government action or some other catastrophic event of the type covered in a comprehensive insurance policy or the breach or failure of third parties who supply goods, services or property). In which case, if your holiday has begun, you will have to vacate the Cottage.
In the situation that the cottage you have booked is not accessible from one of the nearby major roads due to flooding, snow or other adverse weather conditions the cost of the booking will be refunded to you.
We cannot be held responsible if you are not able to reach the cottage because of your local adverse weather or travel problems.
Please note that, without limitation, we consider non-payment of fees when due, your being rowdy, smoking in the Cottage, exceeding group numbers, badly behaved animals, wilfully damaging the Cottage or allowing pets or children to be unsupervised a material breach of these terms and conditions.
If, in accordance with these terms, we terminate your booking less than one month before the Arrival Date or during your Holiday Period otherwise than by reason of your breach of these terms and conditions we shall return to you that part of the Booking Costs which relate to the part of the Holiday Period during which you did not occupy the Cottage due to such termination.
Notices Any notice to be served on you under these terms and conditions may be given during the Holiday Period by delivery through the letter box or putting under the front door of the Cottage and shall be deemed received on delivery.
Thumbs up for our holiday cottages terms and conditions
Sorry about all the 'legalese' but I'm sure you understand this is just standard stuff to protect our guests and our business. You are directed to this page upon booking and your acceptance of these terms is deemed by your arrival.
Apologies if some of the terms seem harsh but these are based on experience of guests who we would rather not return!
---
---
---
---
이 숙소에 대한 후기가 아직 없습니다. 이 숙소에 머무시면 회원님의 후기가 여기에 표시됩니다.
Owner of Developing Dogs, near Ely, Cambs.