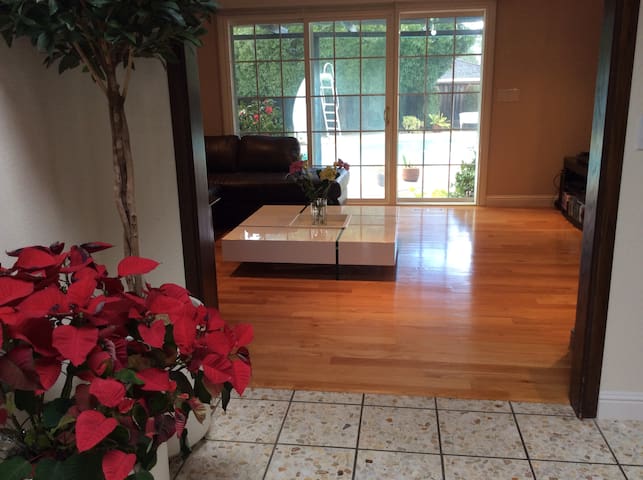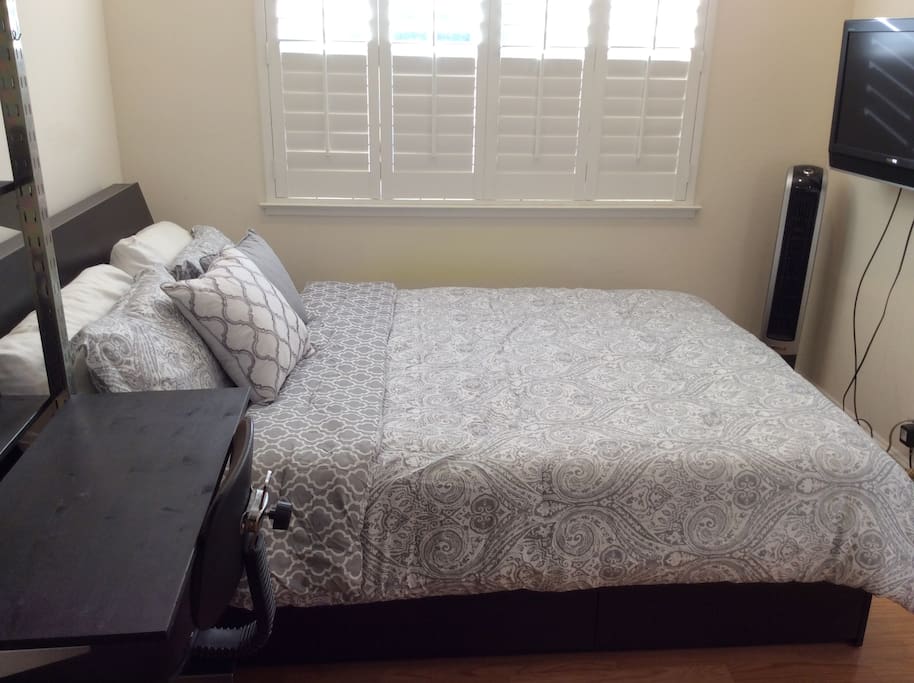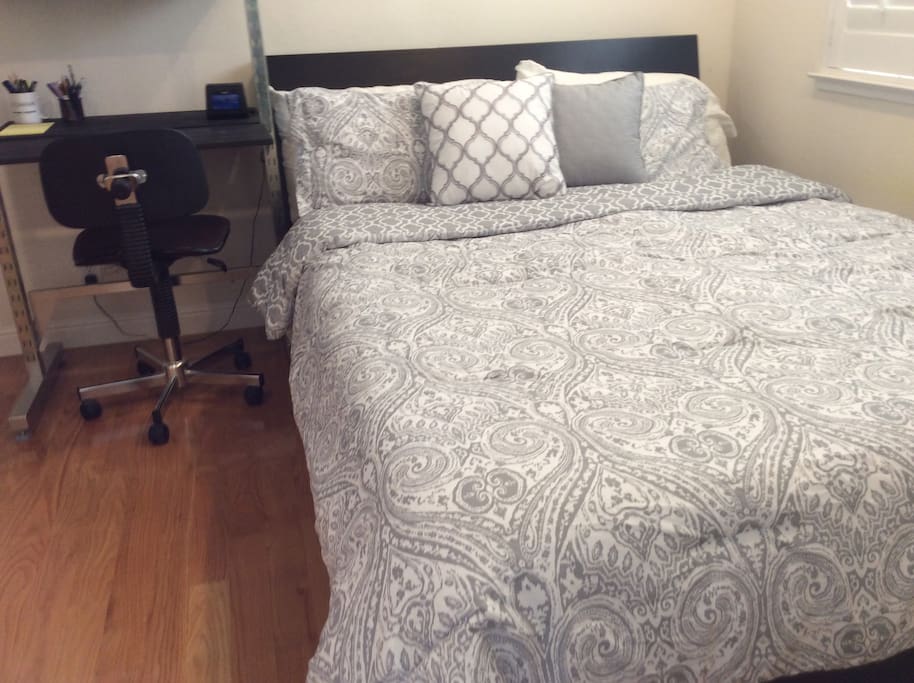 Private Room and Bathroom in Saratoga, CA
It is a quiet, safe neighborhood, close to major Silicon Valley companies, and easy access to all major freeways.
1. Private room with queen size bed, computer desk and chair.
2. Private bathroom
3. WiFi high speed internet
4. 4 miles from my house to Apple new HQ
5. 5 minutes to hwy 85
6. 20 minutes to San Jose Int'l airport (SJC)
7. 45 minutes to SFO airport
8. Easy access to Kaiser and Good Samaritan Hospitals
숙소
Beautiful house in the Saratoga area.
Curbside parking in front of the house.
The guests have access to the following:
1. Kitchen, Microwave, Refrigerator
2. Washer/dryer
3. 55-inch TV in the family room
게스트와의 교류
We are a friendly & helpful family while we love social interaction with guests. We also do value and appreciate privacy. We're more than happy to leave guests to their own adventures.
---
---
어린이(만 0-12세)에게 안전하거나 적합하지 않음
- No shoes allowed in the house.
- No swimming allowed in the pool
---
Ping and his family were very friendly, gave us a warm welcome, and we had a very satisfying stay. The location is quiet and peaceful and Ping was easy to communicate and talk with. There are many amenities and some of them exceeded our expectations. There are shopping center, restaurants, and gas station nearby so the location is pretty convenient. We would definitely stay at Ping's place next time when we visit the South Bay. Thank you, Ping!
---
Ping's house is great. Location was very convenient and Ping was a very welcoming host. It all worked out for us so well we will definitely be back.
---
Ping's place was great! It was very clean and quiet, and the room is nicely separated from the rest of the house. Water pressure of the shower was fantastic, too! Ping and his wife were also very accommodating with my schedule changes, and were both very nice and friendly. Thanks so much for a great trip!
---
Ping and his wife were wonderful hosts this weekend. They were hospitable and very understanding of my schedule (late check-in due to delayed flights). They were also really responsive to communication and made my short trip to NorCal very enjoyable. The room and bathroom were both clean and the neighborhood is really quiet.
---
Our stay at Ping was not good. We were in San Jose for a friend's wedding on labor weekend and it was super hot at that time, it was over 105 degrees. When we got in our room, it was super hot and didn't feel cooler in our room even if Air conditioner was on. I was asking for a fan but Ping didn't have it at the house. We couldn't sleep at all when it was so hot in our room. So I asked Ping if he could set AC lower at that night . Literally I saw AC was set at 79. Omg, I was thinking that was ridiculous. How could people set AC at 79 when it was over 90 degrees outside at night. I couldn't stand it and said I'm gonna go buy a fan. Ping took us to get a fan but everywhere was out of stock. That night was awful. The next day when I woke up, saw them and was asking if they could set AC at 75 degrees and they said the news recommended set AC at 78-79. Well, you have guests stay at your house, it is fine if the guests are not there but when the guests there, the host should make them feel comfortable, not suffering the heat at the house, at least at night should set AC lower but they didn't, still 79 for the second night. We had to take the heat in 2 nights for paying that room. Luckily I could borrowed the fan from my friend otherwise our last night at Ping was a nightmare. The bathroom was not clean at all. There were a lot of hairs on the floor and sinks. I also wasn't sure our bed sheet was clean or not. Ping and his wife were really nice but their hospitality wasn't great. Their location was great, in good neighborhood. I wouldn't recommend this house for young people, especially you can't stand the hot weather.
It's very unfortunate that you felt that way. It's also unfortunate that you selected the unprecedented record heat in over hundred years in here as we do not have fan stocked up. I did check all stores, Home Depot, Lowes, Walmart, Target, Orchard Supplies, they all sold out. You mentioned hairs on the floor, sink, I could only imagine they might be your own hair as our previous guest was a very clean Japanese man with very, very short hair. You also suspect the cleaness of the bed sheet, I consider it's an insult and defamation to our character.
---
We're both retired, I was an IT professional and my wife was a financial analyst of defense company. We have a son graduated from UCLA. We live a healthy lifestyle through exercise. We enjoy going to the movies, sporting events.
언어:
English, 中文