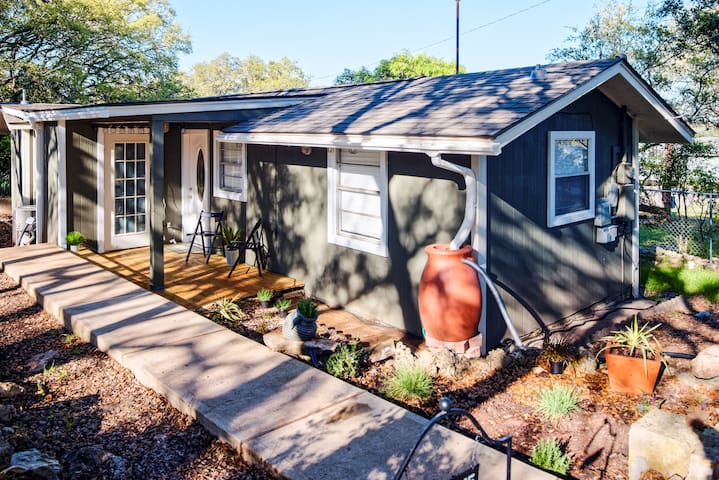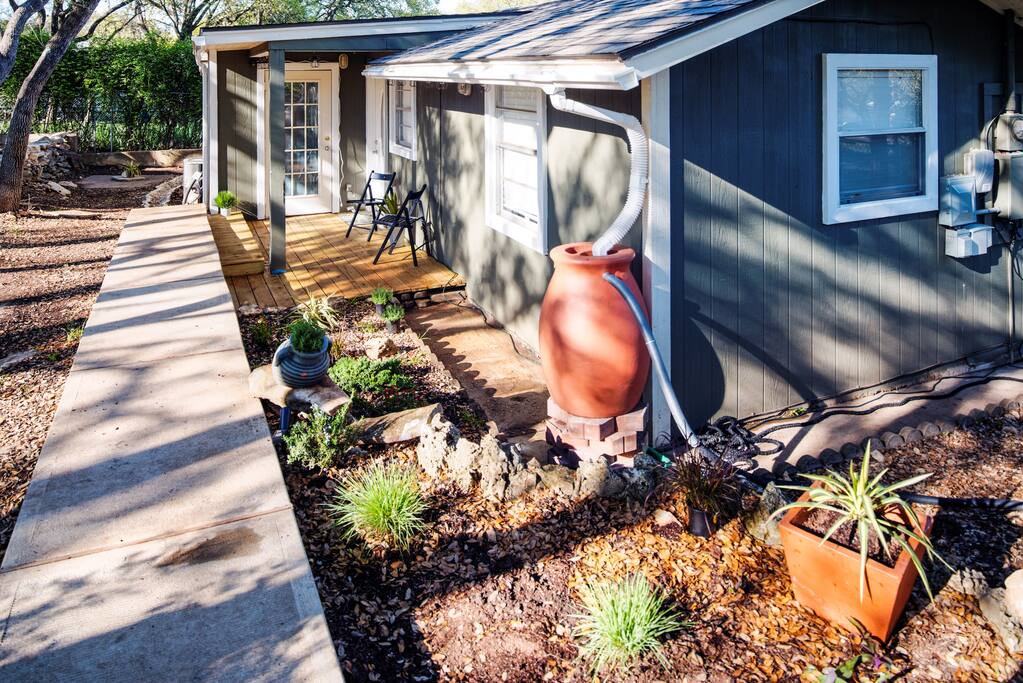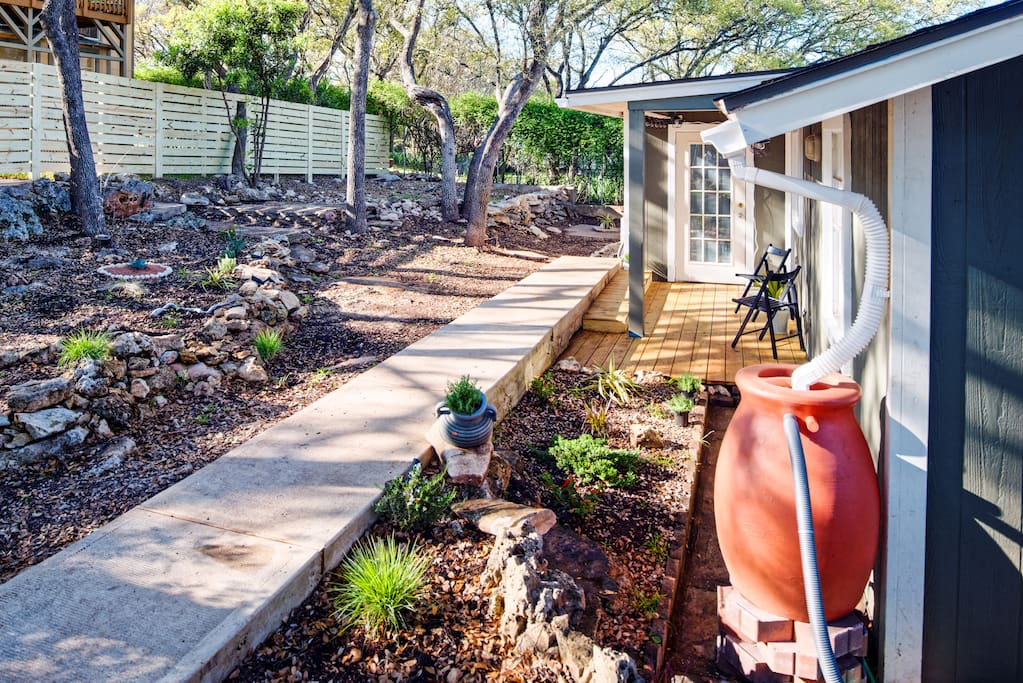 Our wooded retreat is nestled among old growth oaks in the Potter's Creek area, just five minutes north of Canyon Lake. It is the perfect weekend spot to unwind, decompress, and get back to what's important in life. The scent of cedar will reinvigorate you, while the green hills and crystal clear rivers will call your name. Strategically located, you will be less than an hour away from Pedernales, Blanco, Wimberley, Fredericksburg and all they have to offer. Local Tax (Word CC) of 4% Included.
숙소
One of the most striking features of the Emerald Gem House is its garden. Shaded by old growth oak trees, you can walk up and down the concrete pathway and admire the native vegetation. Texas Mountain Laurel trees easily sprout from fallen seeds, and the native plants we've added are low maintenance but attractive to the eye. We have outfitted the gutters to a rain barrel, so we encourage you to water our plants if you ever notice they need some Love!
Sit down at the porch, listen to music, and relax. Use the charcoal grill or light up the chimenea for those chilly nights out!
In the kitchen we have snacks, and a Keurig® coffee machine, (you can either use the disposable cups in the carousel or the refillable pods with Cafe Bustelo.) As of Monday May 8th, we've added a Keurig Carafe, so you can brew four cups at once.
You'll also have access to whatever is in the fridge; you'll find frozen croissant sandwiches in the freezer. You will find cups, glasses, pots, pans, and utensils in the pantry and drawers. The pizza pan is ready in the oven. We provide shampoo, body wash, linens, etc. Most everything to make your stay as comfortable as possible!
If you want to bring your pets, please send us an inquiry before hitting "Instant Booking." We do charge $25 per stay for each well behaved, house trained pet. Once you send us the inquiry, we will send you a special offer reflecting the extra charges, or you can send pet fee via (SENSITIVE CONTENTS HIDDEN). PLEASE do bring its own blanket and towel!
사용가능 공간/시설
You can access all areas of the house, just be careful around the gutter ditch and the top of the septic system tank. You will notice the ditch where the left gutter ends with the river pebbles that borders the house and hugs the corner.
게스트와의 교류
We live in Houston, so you will have total freedom. With our keyless entry system, you don't need us around to check in or check out. We do have qualified people in the area if you need anything, so we are only a text, call, or e-mail away.
기타 사항
Ask us about early check-in., as we may be able to offer it if no one is checking out that day...
If you have pets, please send us an inquiry before hitting "Instant Booking." We do charge $25 per stay for well behaved, house trained pets. Once you send us the inquiry, we will send you a special offer reflecting the change. PLEASE do bring its own blanket and towel if you want your pet to sleep with you.
We have a recycling bin next to the trash bin. Please drop cardboard, paper, plastic, and aluminum cans in it.
Please put trash bags in the outside container. If you stay happens to fall on a Monday, we ask to kindly move container curbside, as that is trash pickup day.
We provide all natural cleaning products for you to use. From dish washing liquid to hand soap, they all are eco-friendly and biodegradable.
We ask you to conserve and reuse. Please follow water conservation tips while doing dishes and using bathroom. There is no public sewage system in the area, so consider this as to not put added stress on the septic system.
2번 침실
더블 베드 1개, 에어 메트리스 1개
체크인 가능 시간은 15:00 - 02:00(다음 날)입니다
Dear guests,
It is our pleasure to share with you our Emerald Gem. We hope that you feel at home and that you treat it in the same way as you would treat yours, with respect and care. Please consider the following guidelines:
- We are a party-free zone. No loud, unruly, or drunken behavior. Please let your guests know about this.
- Quiet Hours are from 10 PM to 7 AM.
- The Emerald Gem accommodates up to four people. We only have available bedding for four. Let us know if more guests come as there would be an extra charge per person of $12 per day.
- If you are using the chimenea or the grill outside, be considerate of our next door neighbors, see rule #1, #2. Put down any fires with the hose attached at the end of the house.
- Please, be gentle with utensils and other necessities. Let us know if you break something by accident so we can replace it for the next guests.
- Please wash dishes before checking out. You may leave these inside the dishwasher rack to dry.
- For any spills, use paper towels found in kitchen.
- We provide a basket in the main bedroom where you can leave used towels. Don't worry about the bedding.
- Trash pick-up falls on Mondays. If you happen to stay on such day, we'd appreciate if you move container curbside. Note: All trash needs to be in trash bags.
- The Emerald House is on a septic system, please help us conserve water.
- We ask that you maintain the AC temp at 73 or more while you are in the house. Lower than that, you risk freezing up the lines and the compressor. Trust us, 73 is plenty cool in the efficient small space of the Emerald Gem. Please turn temp up to 76 if you won't be in the house. Turn it off upon final departure. Thanks!
- We charge $25 per dog staying at the house. If you're bringing your pet, please let us know and we'll send you an adjusted price quote for your stay. We do not provide blankets or towels for your pet, so please don't forget these!
This basically a modified trailer made to rent out. Low ceilings, irregular floors, and there is not one, not two, but three air fresheners plugged in - the immediate smell of these is over powering. The 2nd bathroom has no door jam and the floor is off kilter so you stub your toe here, and then you realize the shower does not work since the handle for the cold water is stripped. Great location for our event, very clean, and two bedrooms is great for this price. But once the numerous dogs next door started barking we wish we had stayed home.
Hello John! The Emerald Gem here; I've asked my owners, Silvio and Liset, to respond to your review myself! First of all, thank you kindly for your honest words. I fell a bit hurt than you've seen my irregularities as defects rather than "quirks and charms" of an middle-aged single family house, (low ceilings, irregular floors, etc), but I'll live. My owners have already fixed the shower handles and the door jam. I'm sorry I didn't let them know about these ones before in time for your stay. About the air fresheners, you have a choice to keep them plugged in or not! And last but not least, I can't apologize for all my neighbors having pets, but this fact is clearly stated in the listing, so my potential guests can decide whether or not to pick me as their short-term residence. Thank you very much and God Bless You!
---
Silvio is a great host. The entire process was incredibly easy and his responsiveness and detailed instructions were outstanding. The welcome basket with snacks and apple juice for my sons was such a nice touch. This was my first time using airbnb and it was seamless. The home was very clean and comfortable. The linens made for a very comfortable night's sleep. The home is nicely decorated and welcoming. It had all the amenities we needed including toiletries, coffee, snacks in the welcome basket, ice etc. The only issue we had was with a toilet. Silvio responded quickly with what to do and that helped. My family was very happy with the stay.
---
Silvio's home was amazing! The living area comfortably seats 4-6 people. Our dog is an escape artist, so we were thrilled to find out that the house is gated completely around - AKA completely dog escape proof. We were 3 miles away from several restaurants, as well as Fawncrest Vineyard, a great little find in the area. We walked to the lake from the house, which was only a mile or so walk. We loved our stay here, and we would totally stay here again, especially once it cools off. Great yard for a barbeque and a fire in the chiminea.
---
Once again, Silvio and Liset have provided the best hospitality service while staying at their home. I love how quickly Silvio responds to questions and concerns. We were there while the gas-apocalypse happened. I was amazed at how helpful Silvio quickly provided different gas stations with fuel! The best thing about the location of the house is the proximity to the river where we floated. You'll fall in love with this gem!
---